Standard size, average design.
The Kenmore 71052 is a standard French door refrigerator. Its 36-inch wide frame is marketed as being able to hold up to 27.6 cubic feet worth of groceries, putting it on the more capacious end of the spectrum. The layout is quite basic: Fridge shelves slide forward for rear access, while adjustable shelves on the right fridge door give you plenty of gallon-sized storage.
The symbols on the external control panel glow bright blue when you open the fridge door or make a selection and fade out after a few seconds of disuse. Buttons labeled in a small (but readable) font manage not to detract too much from the glossy white fridge exterior.
The 71052's only unusual design elements are its crisper drawer handles. I found the handle ridge on top easier to grip compared to typical handles, and it doesn't get in the way of the bottom shelf. Unfortunately, the crisper's sliding switch was so stiff; adjusting it pulled the entire drawer to the left and right.
Bright LED lights illuminate the fresh food storage, while the freezer relies on a yellow incandescent bulb. The freezer itself is standard pull-out fare: two buckets on the bottom with a drawer on top. It comes with a large ice bucket even though the freezer lacks its own icemaker. That means the bucket will likely be more useful as segregated freezer storage.
For folks who like this fridge's look and layout but have too small of a kitchen, you're in luck! The 71032 is a slightly smaller, thinner version of the otherwise identical 71052.
High highs, but disappointing lows
This Kenmore had enough strong points that we really wanted to like it. The freezer got very cold—and stayed that way—and our tests indicated low energy consumption for a fridge this large.
Unfortunately, fridge temperatures were all over the map, with average temperatures coming in two to three degrees both over or under the target 37ºF depending on where in the fridge we looked. Moisture retention in the crispers was only so-so—bad news for salad lovers.
As far as features are concerned, this fridge neither surprises nor skimps. An on-the-door icemaker should handle mixed drinks, but you'll need to buy a bag of ice if you're having a summertime barbeque. Also, a temperature control drawer in the fridge sports three nebulous settings: Deli, Meat, and Produce. We know nothing beyond that; even the manual doesn't have any specific temperatures for the different settings.
For in-depth performance information, please visit the Science Page.
Too pricey for a flawed fridge
While holiday sales gave the 71052 a pretty steep discount, current prices on the Sears website peg this model for just over $2,100. That's still a huge drop from the much higher MSRP, but don't be fooled—it's not that much of a bargain.
The good news is that there are some great budget French door models out there. While they may not have an icemaker or some other features, they do offer up really great performance for equally budget-friendly prices.
Our lab tests done on the Kenmore Elite 71052 produced a mixed bag of findings. Some of its performance was great, but the overall results varied enough that we'd recommend looking for something else.
Perfect freezing, flawed refrigeration.
The biggest issues were with fresh food temperatures. Lab results indicated that this Kenmore never hit the ideal 37ºF mark: average temps of 38.5ºF at the top and bottom were too warm, while an average of just 35.7ºF in the middle proved too cool. Fluctuations of 0.64 degrees throughout the whole compartment were definitely wider than we're used to seeing for fresh food storage.
The saddest part about the fridge's performance, though, is that the freezer is actually fantastic. Temperatures clocked in at average -1.11ºF at the top of the freezer, cooling even further to -3.31ºF at the bottom. It's consistently cold, too, with average fluctuations of only 0.3ºF. That means everything that gets cold stays that way, cutting down on the risk of freezer burn. It's a shame the main fridge compartment did so poorly, as we'd recommend this freezer on its own in a heartbeat.
Not enough salad days
This Kenmore's crisper drawers lost an average of 0.21 grams of water per hour over the course of our three-day test. That's about 25% more moisture loss than we'd expect from an average drawer.
Near to frozen perfection
If we weren't clear that the 71052 had a great freezer already, let's take a moment to cement that opinion. The freezing times on this model are some of the fastest we've come across: Room-temperature test materials crossed the 32ºF threshold after only 1 hour and 16 minutes. While it's no Green Giant flash freeze, it is much faster than average, especially for a freezer that large. That should ensure frozen foods retain their texture when thawed.
Speaking of which, thawing shouldn't be an issue, either, unless you've got the worst electric provider in the country. After 36 hours unplugged, temperatures in the 71052's freezer had crawled up to just 27.12ºF.
Roomy and efficient
The 71052 may not cross over the line into super-sized territory, but its advertised 27.6 total cubic foot capacity places it at the larger end. An assortment of both adjustable and fixed shelves, two crispers, and a temperature control drawer make up the bulk of fresh food storage. Door shelves on the left are quite shallow due to the in-door icemaker, while shelves on the right—depending on how you arrange them—are deep enough to comfortable fit gallon-sized containers. In total, you get 12.39 usable cubic feet.
The freezer, with its very basic layout, has a pull-out upper drawer, as well as a deep lower bin divided by an adjustable plastic partition. No surprises here, just 5.69 cubic feet of usable frozen food storage. The ice bucket that comes with this model can be taken out, used to store ice (which you'll have to load yourself), or serve as a way to further organize your frozen food.
Perhaps most exciting is the Kenmore's excellent energy efficiency. At a rate of $0.09 kWh, we determined that this product would cost $37.55 per year to operate, affordable for a product this size. Spread out all that power and you find that this fridge only needs 0.06 kWh per cubic foot, making it exceptionally economical compared to any fridge type or size. Keep in mind that our figures were reached with the icemaker running from empty to full once. If you don't use a lot of ice, or live in an area with cheaper electricity, take that into account; the inverse is also true.
Meet the testers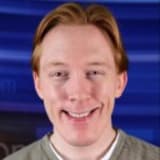 Matthew Zahnzinger
Logistics Manager & Staff Writer
@ReviewedHome
Matthew is a native of Brockton, MA and a graduate of Northeastern, where he earned a degree in English and Theatre. He has also studied at the Gaiety School of Acting in Dublin and spends most of his free time pursuing a performance career in the greater Boston area.
See all of Matthew Zahnzinger's reviews
Checking our work.
We use standardized and scientific testing methods to scrutinize every product and provide you with objectively accurate results. If you've found different results in your own research, email us and we'll compare notes. If it looks substantial, we'll gladly re-test a product to try and reproduce these results. After all, peer reviews are a critical part of any scientific process.
Shoot us an email