Big, bold, and beautiful
If there's one thing this Kenmore Elite platform does well, it's style. Bright LED lights thoroughly illuminate every inch of the pristine white plastic interior and its stainless accents. Drawers slide like they've been freshly greased, and several of the adjustable shelves boast retractable front halves for storing tall or bulky items.
The main selling point for this fridge is its door-in-door component. As with this LG, push a button on the right fridge handle to unlocks a compartment in the front of the right-hand door to reveal a small interior storage compartment. Condiments, butter, and other often-used items are on hand for quick and easy access without releasing as much cold air into the kitchen. The catch is there's no door customization, but you can still store up to two gallon-sized containers. It makes a lot more sense if you see it in action, so check out the video.
Down in the freezer, you'll encounter a typical pull-out design: sliding drawers with a removable ice bucket. The interesting part is that the door opens on a hinge instead of just pulling straight out, maximizing how much room you have to root around for that last bag of frozen peas or loose veggie burger.
A fridge that's too cold? Better believe it.
Oddly enough, the Kenmore 72372 actually got a touch too cold. The top of fridge came in about 0.3ºF cooler than the calibrated 37ºF—and that's fine. As we moved lower, though, it became even colder, winding up around 32ºF at the crispers. Frozen vegetables! Typically the crispers experience slightly warmer temps, which is good for produce. This Kenmore manages to go in the other direction, which is bad news for carrots and zucchini.
Temperatures also fluctuated as much as three degrees on average over a 72 hour period. Such inconsistencies are particularly bad for sensitive food items like soft cheeses or meat, and also mean that you can't fix the chilly crisper problem simply by adjusting the thermostat.
What's really disappointing about all this is just how well the 72372 did in virtually every other respect. The Airtight Crisper drawer proved yet again that no other drawer can match its moisture-retaining powers, while energy consumption was quite low for a fridge this size. The freezer, too, got food cold quickly and kept it that way so much so that freezer burn shouldn't be an issue.
For in-depth performance information, please visit the Science Page.
Great in many ways, but a cold fridge holds it back.
There's a whole lot to like about the Kenmore Elite 72372. It looks fantastic, the door-in-door feature makes organizing and accessing frequently used items a breeze, and the freezer was excellent all around. Unfortunately, if a fridge doesn't do a good job… well, refrigerating things, then it's simply not a very good product.
With a high MSRP—the Sears sale price brings it down to about $2,715, which helps a bit—we recommend you shop around for any of the other models in that price range. Nearly every single one of our top five French door fridges can be found for about that price or less, and offer comparable storage, better performance, and more interesting features.
Our rankings and reviews are based first and foremost on scientific testing and concrete data. After running the Kenmore Elite 72372 (MSRP $3,549.99) through our battery of fridge tests, the results painted a picture of an appliance that excelled in many respects but struggled with the most basic task of refrigeration. The numbers don't lie.
A frozen fridge
Temperatures at the top of the fresh food section of this refrigerator clocked in at 36.69ºF, really spot on given the 37ºF calibration on the external control panel. The middle cooled things down to 35.37ºF, while temperatures around the crispers came in at a very chilly 31.88ºF—far too cold for fresh food preservation. Most fridges get warmer at the bottom for optimal fruit and vegetable storage. The 72372 does the opposite.
Even worse is that temperature fluctuations averaged about 1.74ºF at the top to 2.97ºF near the bottom, making this Kenmore one of the least consistent fridges we've ever tested. To give some context, an average fridge likely won't shift more than half a degree over time.
The freezer in the 72372 averaged -3.47ºF at the top and -2.94ºF near the bottom, but there's really no drawback to an overzealous freezer. As long as temperatures stay below 0ºF, there's less risk of freezer burn, which means less risk of spoiled food. With average temperature shifts of just 0.9ºF, the 72372 kept everything appropriately chilly.
Amazing Airtight retention
Since this wasn't the first time we've encountered Kenmore's Airtight Crisper, we expected consistently strong results. Happily, we weren't disappointed. A pinnacle of moisture retention, the Airtight Crisper lost a mere 0.06 grams of moisture per hour over the course of our three-day test. As a counterpoint, the standard crisper lost an average of 0.18 grams per hour, somewhat on the poorer edge of average.
Fast freeze, slow thaw
Yet again the 72372's freezer shone when it came time to check its ability to freeze and thaw. Our room-temperature test materials crossed the 32ºF mark in one hour and 27 minutes, a slightly faster-than-average time that should ensure items retain their texture when thawed.
And speaking of thawing, this French door model aced our power loss test. Interior freezer temperatures had warmed up to only 27.79ºF after 36 hours without power.
Roomy and efficient
With all that extra door-in-door plastic, the 72372 isn't quite as capacious as the visually similar 72052, but it's still plenty roomy. Lots of adjustable shelves in the main fridge section are bolstered by more than the usual amount of door storage, with two crispers and a temperature controlled pantry drawer rounding things out. For fresh food, you've got 11.86 usable cubic feet at your disposal.
The freezer is very straightforward, with a wide sliding drawer at the top (complete with a removable bucket), a thin sliding tray in the middle that's perfect for pizza storage, and a large bucket on the bottom divided by an adjustable partition. It all comes to 5.88 usable cubic feet.
Even with the in-door icemaker filling up from empty, this fridge proved to be exceptionally energy efficient. Despite its large size, we calculated that it would cost only $33.20 per year to operate at a rate of $0.09 per kWh. That translates to just 0.06 kWh needed to cool each usable cubic foot of storage, making this an exceptionally efficient fridge.
Meet the testers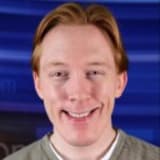 Matthew Zahnzinger
Logistics Manager & Staff Writer
@ReviewedHome
Matthew is a native of Brockton, MA and a graduate of Northeastern, where he earned a degree in English and Theatre. He has also studied at the Gaiety School of Acting in Dublin and spends most of his free time pursuing a performance career in the greater Boston area.
See all of Matthew Zahnzinger's reviews
Checking our work.
We use standardized and scientific testing methods to scrutinize every product and provide you with objectively accurate results. If you've found different results in your own research, email us and we'll compare notes. If it looks substantial, we'll gladly re-test a product to try and reproduce these results. After all, peer reviews are a critical part of any scientific process.
Shoot us an email