Design & Usability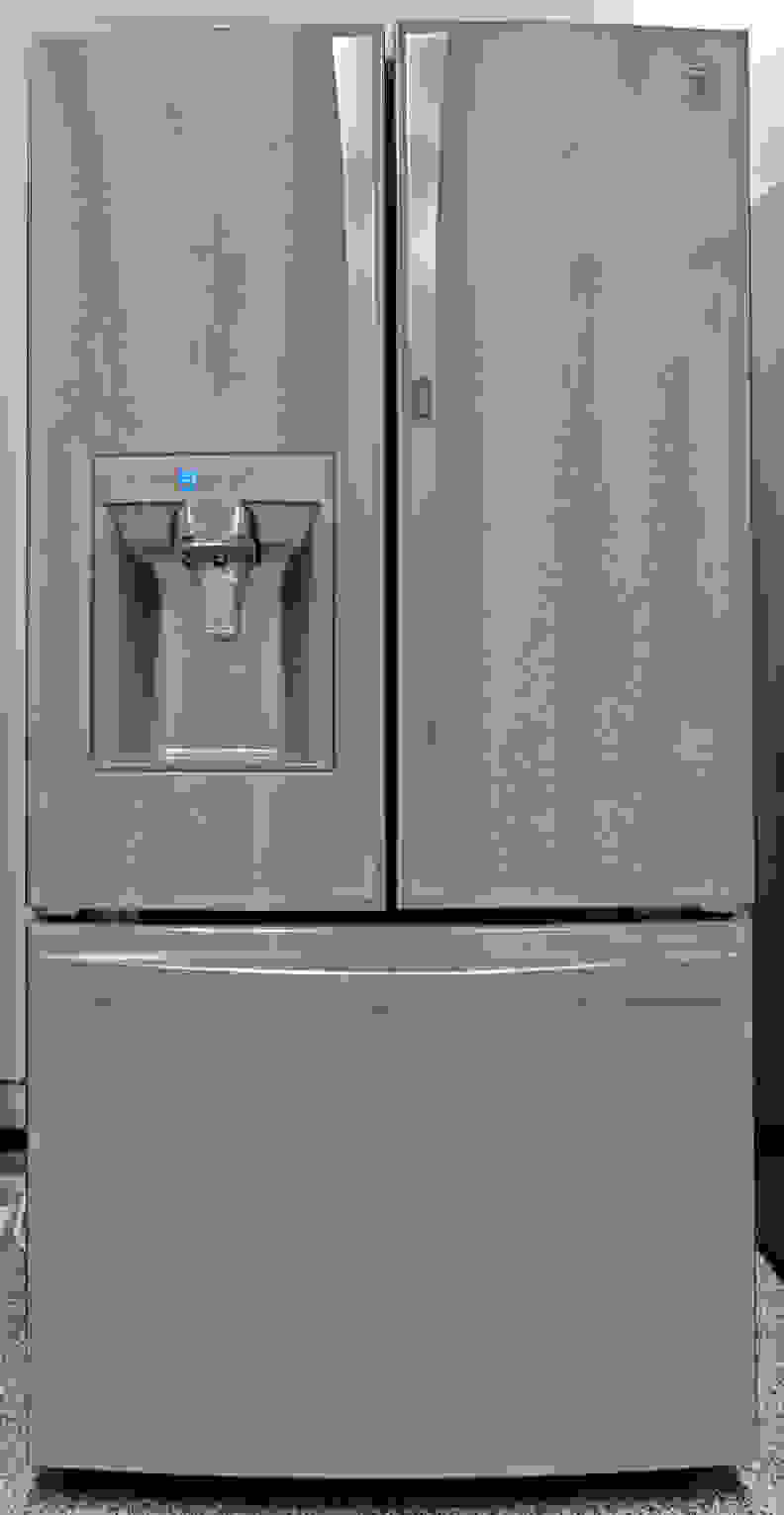 Sleek and modern, with door-in-door perks
Aside from its door-in-door fridge compartment, which Kenmore calls a Grab-N-Go Door, this LG-built Kenmore Elite is identical to the 74025. Bright LED lighting, plenty of adjustable storage, and smooth-sliding drawers are all hallmarks of this high-end fridge.
The exterior control panel takes a minimalist approach, and deals solely with dispenser options. If you want to toggle anything else—temperature levels, Ultra Ice mode, even the light for the external dispenser—you'll have to open up the fridge and access the internal controls.
The interior of the fridge offers plenty of adjustable storage, but the door-in-door compartment does not. Varying space between the shelves allow for items of different heights, but none of those shelves can be moved into other positions. They can be removed entirely, however, should you need to clean them.
We can only recommend this fridge if you have a large kitchen: The freezer door not only pulls out, it also tilts down. This allows for superb freezer access, but also takes up a lot of floor space when fully extended.
×
Design
Performance & Features
Turn down the thermostat for best performance
Our only real complaint with the 74033 was that the main fridge section ran warm, despite being set to 37°F. The interior of the door-in-door compartment was the worst offender, averaging about 43°F. Foods stored at temperatures warmer than 41ºF are at risk of spoiling prematurely.
This doesn't hurt the 74033's score too much, because you can always adjust the thermostat. Excellent temperature consistency in the fridge compartment over time makes the excess warmth easy to fix—we recommend turning it down by three degrees.
Every other element of this fridge—from the Airtight Crisper to the exquisitely chilled freezer—aced our tests. The 74033 also proved spacious and energy efficient, which makes it an excellent all-around package.

Inside the fridge, you'll find a pantry drawer with three adjustable temperature settings: Meat, Deli, and Produce. You also get a control lock—which seems rather redundant, given the height of the control panel—as well as an Ultra Ice mode for the door-mounted icemaker and an optional ice bucket for the freezer.
For in-depth performance information, please visit the Science Page.
×
Features
Luxurious Accessibility
High-end performance meets door-in-door flexibility
Thermostat imperfections aside, the Kenmore Elite 74033 is a fantastic fridge. It's also the best model equipped with door-in-door storage that we've tested to date, so fans of that convenient compartment should take notice.
The only real downside is cost: A sale price of $3,400 makes it about $200 more than the 74025, which is the same fridge without a door-in-door compartment. That said, it's still one of the largest fridges you can buy. If you're looking for style and storage, the Kenmore 74025 is hard to beat.
The Cold Hard Facts
The Kenmore Elite 74033 (MSRP $4,299.99) is an all-around excellent refrigerator. We got perfect results from nearly every test we put it through. True, the main fridge compartment ran warm, but it was consistent enough over time that simply turning down the thermostat should mitigate the issue.
Temperature Performance
The single biggest issue we had with the 74033 was fridge temperature. Our sensors recorded averages of 39.56°F at the top, 39.48°F in the middle, and a startling 43.28°F at the bottom of the door-in-door compartment. This is simply too warm.


Fortunately, temperatures were very consistent over time, fluctuating just ±0.2°F on average. That consistency means that you can simply turn the thermostat down—we'd recommend by about 3°F—and you'll be left with perfect temperatures.
The freezer, on the other hand, was unquestionably excellent. We recorded average temperatures of -2.64°F and -2.07°F at the top and bottom, respectively. Temperatures were also just as consistent as they were in the fridge, fluctuating an average of just ±0.22°F over time.
Moisture Retention
We used the Elite's Airtight Crisper, and it certainly lived up to its name. Over the course of three days, our test materials lost a mere 0.08 grams of moisture per hour. That's ideal for storing produce, and better than the majority of fridges we test.
×
Crispers
Freezing & Thawing
Freezing times were adequate in the Kenmore. Room-temperature test materials were chilled down to 32°F in one hour and 32 minutes.
After the fridge sat unplugged for 36 hours to simulate a power outage, our test materials were still sufficiently frozen, having thawed to just 27.7°F.
Storage Space & Energy Efficiency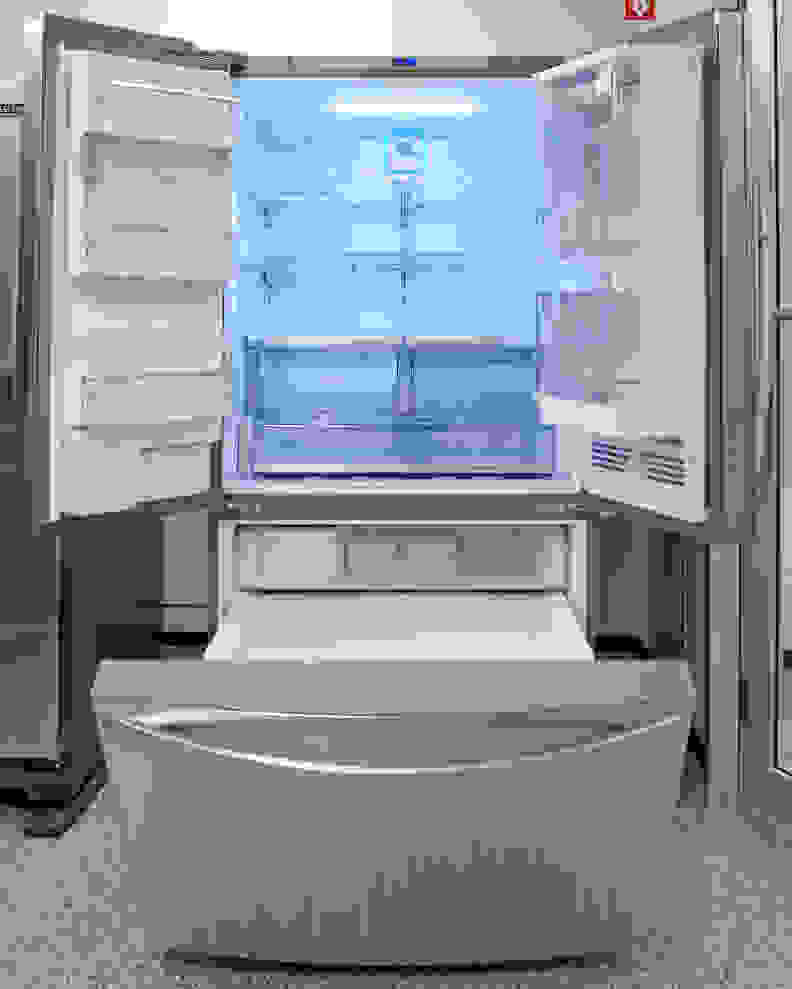 Compared to the nearly identical Kenmore Elite 74025, the 74033 actually has marginally less available storage space, thanks to the door-in-door compartment. The extra plastic walls and barriers take up more room than the open buckets found in the simpler model.
Fortunately, you're not losing all that much—a bit less than half a cubic foot, at the end of the day. In total, all the storage areas in the main fridge section—including the door-in-door—total up to 14.09 usable cubic feet.
The 74033's LED-lit freezer, on the other hand, is completely identical to that of the 74025. Across the three sliding drawers, we calculated a total of 6.04 usable cubic feet.
Unsurprisingly, the efficiency levels were also similar between the two fridges. Based on a fixed rate of $0.09 per kWh, the 74033 will cost you about $44.89 each year to operate. This all translates to 0.07 kWh needed to chill each usable cubic foot, making this sizable fridge an exceptionally efficient appliance. Turn the icemaker off to increase efficiency.
Meet the tester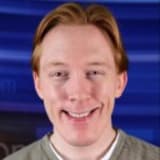 Matthew Zahnzinger
Logistics Manager & Staff Writer
@ReviewedHome
Matthew is a native of Brockton, MA and a graduate of Northeastern, where he earned a degree in English and Theatre. He has also studied at the Gaiety School of Acting in Dublin and spends most of his free time pursuing a performance career in the greater Boston area.
Checking our work.
Our team is here for one purpose: to help you buy the best stuff and love what you own. Our writers, editors, and lab technicians obsess over the products we cover to make sure you're confident and satisfied. Have a different opinion about something we recommend? Email us and we'll compare notes.
Shoot us an email