Pros
Contrasting stainless steel design

Has unique 5 door layout

Temperature controlled drawer
Cons
Fridge runs a bit warm on default settings
Part of the manufacturer's new black stainless steel collection, this French door refrigerator also debuts the first five-door design sold in the U.S. Instead of a single temperature-controlled drawer above the freezer, the KRMF706EBS sports two, so you can store your kids' snacks and hors d'oeuvres for your dinner party.
What's more, an herb tray, a water dispenser that can follow instructions, and plenty of adjustable storage make this fridge an organizational dream come true. With its glistening, smooth finish and more doors than we've ever seen, there's never been another fridge like it. And if you prefer a traditional stainless exterior, that's also available. Just opt for the KRMF706ESS, which retails for around $3,419 on sale.
Design
A suave fridge for your modern kitchen
Folks love stainless steel because it doesn't tarnish and offers a timeless, professional look. Conversely, folks hate stainless steel because it feels cold and impersonal. To appeal to the best of both worlds, KitchenAid—as well as Samsung and LG—has released a variation of a darker stainless finish. The exterior of these appliances are still stainless steel, but chemically processed to result in a darker hue.
The black stainless finish is one of this KitchenAid's key differentiating factors, and it's definitely an eye-popper whose name says it all.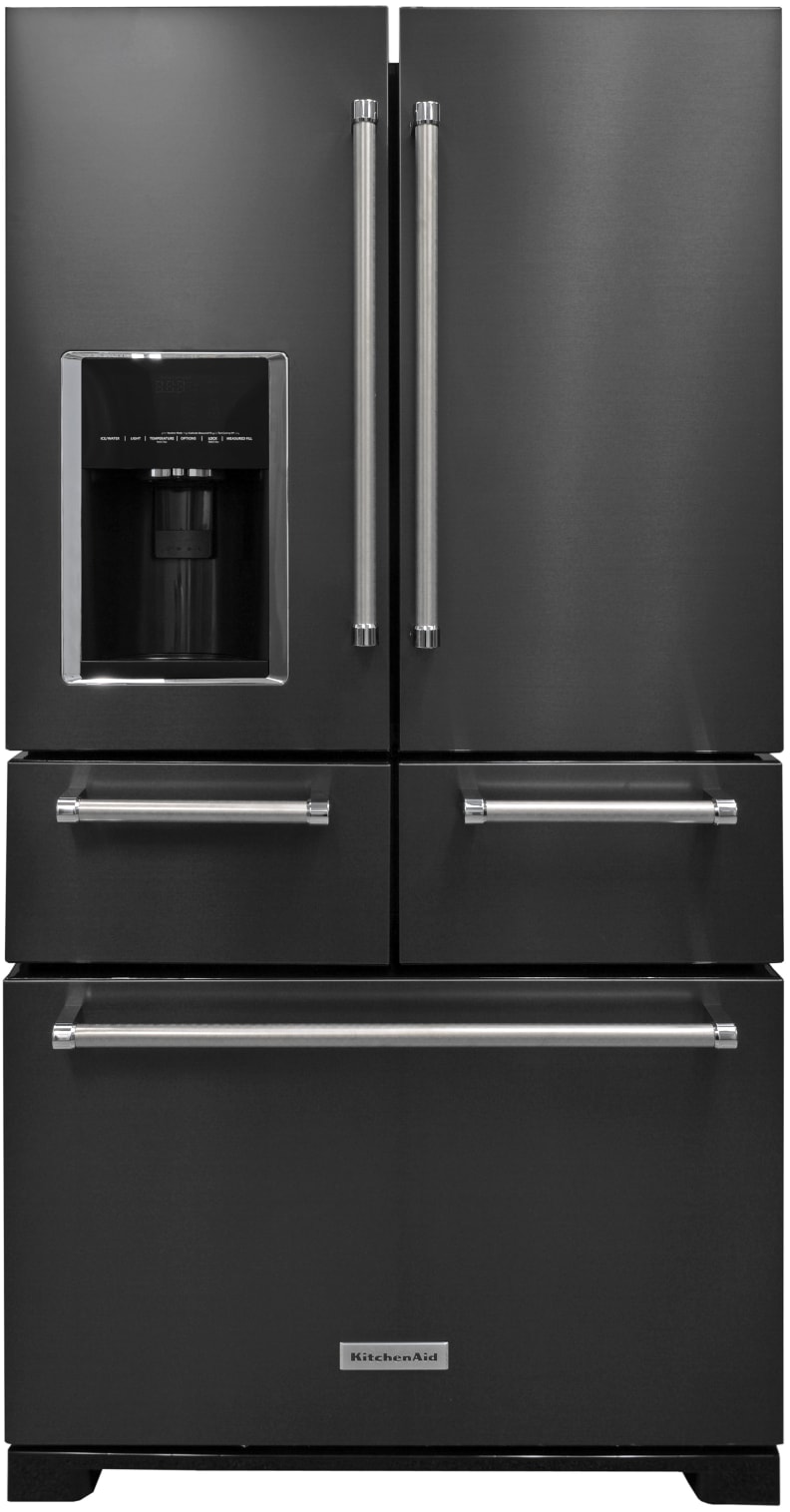 ×
Design – Exterior
The stylish, dark finish is further accented by the manufacturer's new handle design, which features a textured silver diamond pattern and vibrant red KitchenAid logos on each end. The cylindrical handles give the fridge a sturdy look and feel.
Open the doors and you'll see an interior that's tinted grey to match. KitchenAid included plenty of bright white LED's to offset the darker color, including some that underlight shelves. Door bins sit in mirrored trays, while the crispers have grips that match the door handles.
The freezer shares this sultry look, with mirrored edging on its sliding drawers, more LED lights for superior visibility, and more of that grey tinted plastic lining the walls. It won't work for everyone, but it's a very cohesive—and highly impressive—overall aesthetic.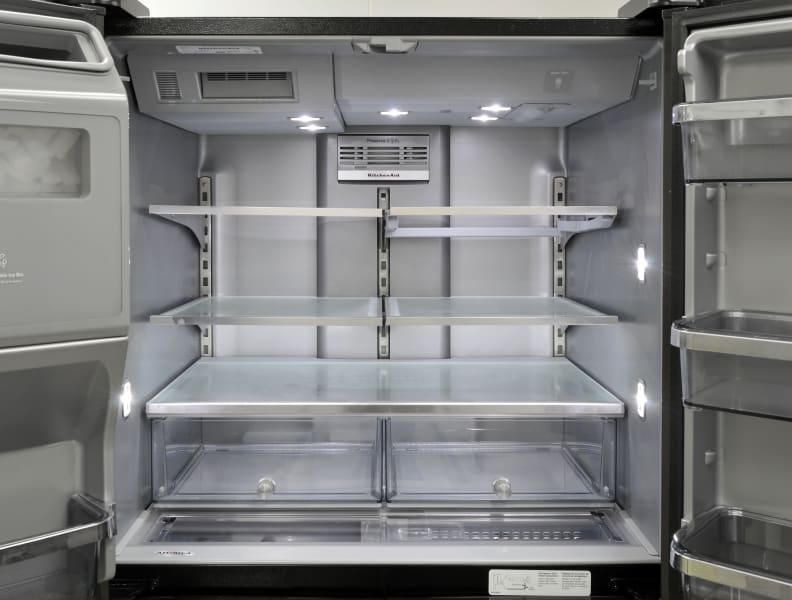 ×
Design – Interior
Features & Usability
Lots of drawers and lots of options
First off, KitchenAid includes all the basic features you'd expect from a high-end fridge: An ice maker with a Max Ice option for accelerated cube creation, a through-the-door water and ice dispenser, and a Sabbath mode. But there's so much more…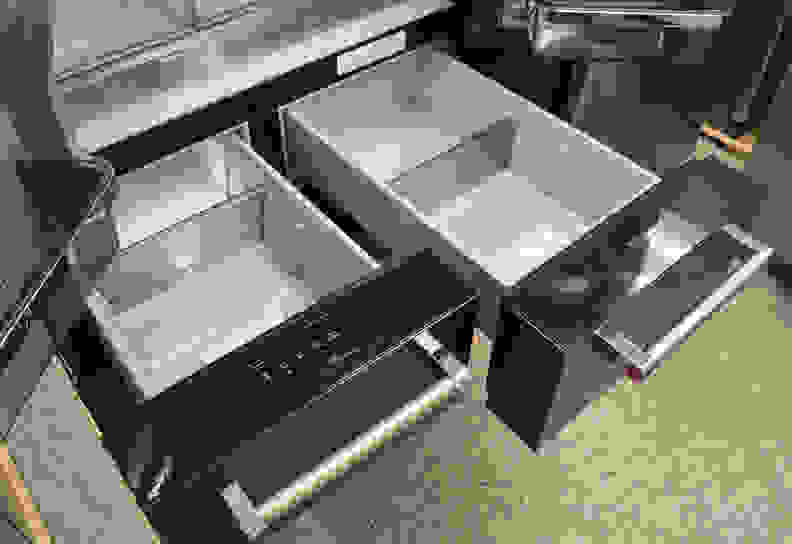 Perhaps the most exciting element is the manufacturer's decision to include two distinct drawers separate from the main fridge compartment. The right drawer serves as additional crisper storage, making this an excellent choice for consumers that like to buy lots of produce.
The left-hand drawer is more versatile, boasting five distinct temperature settings: Meat / Fish, Cold Drinks, Greens / Herbs, Deli / Cheese, and Thaw / Marinate. Both drawers come with an adjustable divider, which adds even more organizational options. Both drawers are equipped with a soft close feature, as well, which keeps the drawer from slamming shut.
Back up in the main fridge compartment, you'll find a small plastic box labeled Herb Tray. Open the lid, and inside you'll find an angled plastic interior. To use it, pour a small amount of water into the bin before popping your parsley inside. The idea is that the stems of your herbs can sit in the water, while the leaves—angled up and away from the moisture—stay dry and fresh.
To top it off, the fridge has KitchenAid's Measured Fill water dispenser. It lets you select an exact amount of water to dispense for a given recipe.
Performance
Style over substance
If you're looking for the roomiest fridge around, this KitchenAid isn't quite it. Don't get us wrong, it's still a really good fridge overall—but the unique way of dividing the interior space has some drawbacks.
First off, the total usable space available in the main fridge compartment plus its corresponding drawers is less than you'd get from a traditional French door. We prefer the organizational benefits of the five-door design, but some users may find it cramped, especially if you're fond of buying large items like rotisserie chickens or multiple gallons of milk and juice.
The fixed crispers weren't any better at moisture retention than what we found in fridges that cost thousands less—noticeably worse, in fact, compared to some—and overall temperatures ran a bit warm in the upper compartment. Fortunately, this last bit is easy enough to fix: Just turn the temperature down by about one or two degrees for optimal results.
The highlight of this five-door was easily the freezer. Temperatures were cool and stable, creating the perfect environment for frozen food storage. Freezer burn should be kept to a minimum here, which is great news for folks who like to shop or cook in bulk and save things for later.
For in-depth performance information, please visit the Science Page.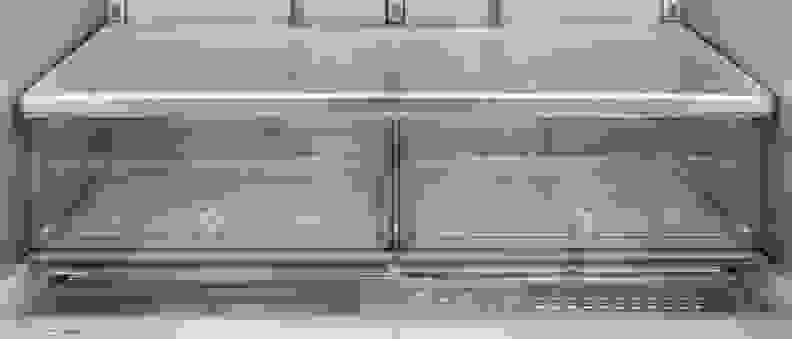 Warranty
This fridge may look unique, but its warranty is distinctly familiar. In the first year of ownership, parts and labor for all manufacturer defects or failed parts will be covered, as long as you're not abusing the fridge.
For the second through fifth years, KitchenAid covers parts and labor relating to both the cavity lining (the grey interior walls) in the fridge and freezer, as well as the sealed refrigeration system—compressor, evaporator, condenser, dryer, and connecting tubing. Finally, KitchenAid will continue to cover the sealed refrigeration system for an additional five years. Coverage is limited to parts only; potentially high labor costs are on you.
A Kitchen Statement
No black marks for black stainless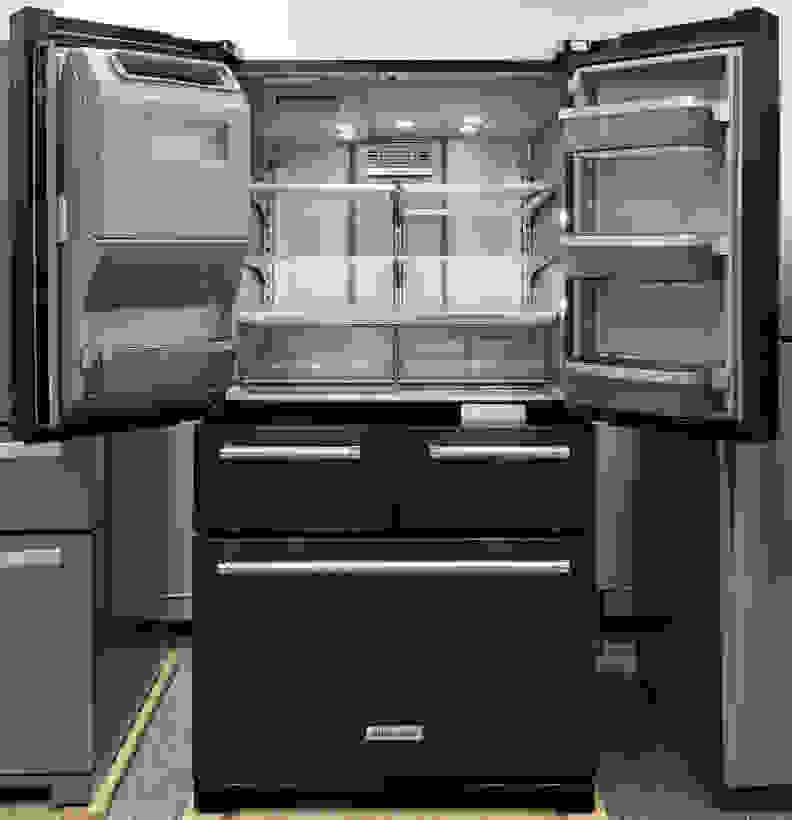 The five-door KitchenAid KRMF706EBS is a unique fridge design, with its user-friendly drawers and singular look. With its black stainless finish, this fridge is unlike anything else on the market.
Performance could be a bit better, but it's still an effective appliance that will make a real statement in your kitchen. Whether you love the idea of having the extra organizational control over your food, or are just looking for a stylish new aesthetic for your kitchen, the KRMF706EBS won't steer you wrong. To find this specialty product, check out KitchenAid's Where To Buy page.
And if you simply love the look of the fridge but don't want to replace all your other matching appliances, this model is available in regular stainless for a few hundred dollars' savings at most major retailers.
The Cold Hard Facts
The KitchenAid KRMF706EBS (MSRP $3,999) may be a visual stunner, but its unique design also comes with some drawbacks. Our tests captured all the highs and lows.
Temperature Performance
Up in the shorter, main fridge compartment, our sensors found that things were warm on the whole. Average temperatures were recorded at 39.06°F near the top, 38.17°F in the middle, and 40.14°F down by the crispers. While not bad, it is warmer than we like to see; if you own this fridge, consider turning the thermostat down to 36°F instead of the recommended 37°F for optimal results. Over time, temperatures fluctuated an average of ±0.32°F—not as stable as other high-end models we've seen, but enough so that it shouldn't have a noticeable impact.
Down the freezer, on the other hand, things were as excellent as we could have hoped for. At the top and bottom, respectively, average temperatures clocked in at -5.03°F and -1.81°F. With average shifts over time of just ±0.34°F (a more flattering figure for frozen food storage), the chances of freezer burn are kept to a minimum.
Moisture Retention
Despite their elegant look and smooth sliding action, the crisper drawers in this KitchenAid's main fridge compartment were disappointing for a model in this price range. Over time, our test materials lost an average of 0.2 grams of moisture each hour. Generally speaking, we like to see a loss half that size. It's all the more frustrating in the case of this KitchenAid because the drawers lack any adjustable humidity control.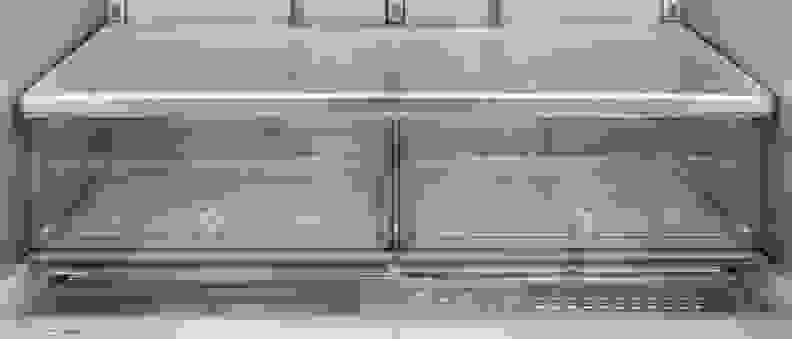 Freezing
Freezing times in this model were average. We put sensor-laden room-temperature food substitute into the freezer, at which point it took about 1 hour and 24 minutes for them to reach 32°F. Neither great nor bad, merely run of the mill.
Storage Space & Energy Efficiency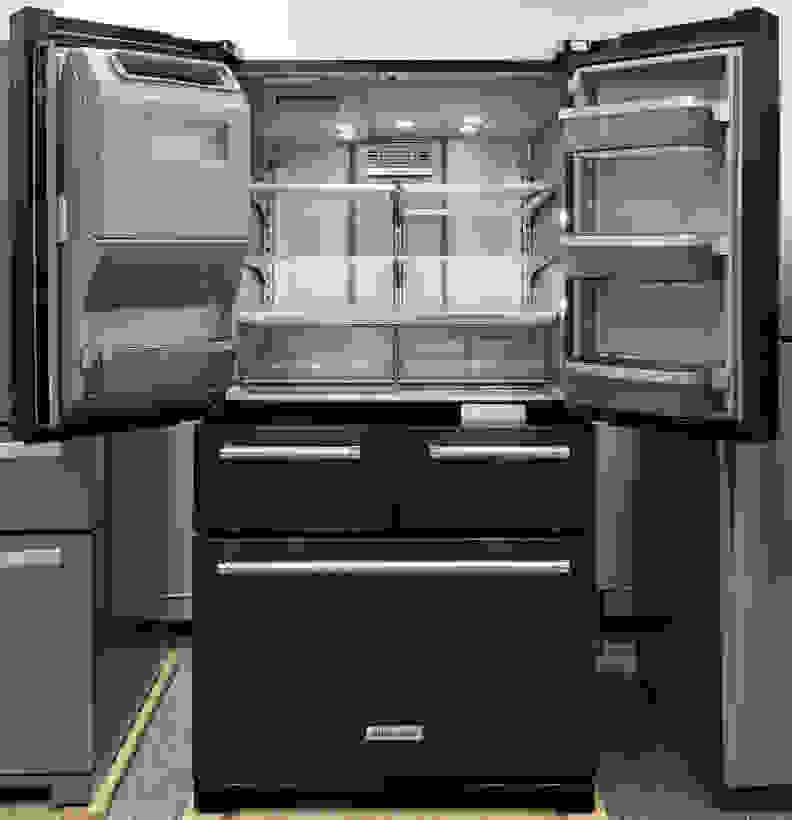 With the inclusion of so many separate drawers and added bits, storage space in this KitchenAid is actually a little tight. The overall capacity is sacrificed for the sake of organization, though—a layout we prefer.
In the upper fridge compartment, you've got your standard assortment of adjustable shelves and drawers, in addition to a little "hidden" nook right in front of the crispers. There's a decent amount of door storage on the right, but not much on the left due to the door-mounted ice maker. For the sake of our measurements, we lumped the independent drawers in with our fresh food capacity, which totaled 11.18 usable cubic feet of space.
The freezer, too, opts for organization over raw capacity: It features three sliding drawers instead of the oft-seen two drawer set up, as well as a frozen pizza caddie just inside the door. This all adds up to 4.94 usable cubic feet of frozen food storage.
Energy consumption for a fridge with less than 16 cu. ft. of usable space was somewhat high—with a standard rate of $0.09 per kWh, it'll run $59.23 in electricity costs each year. Other fridges with a similar exterior footprint use less energy.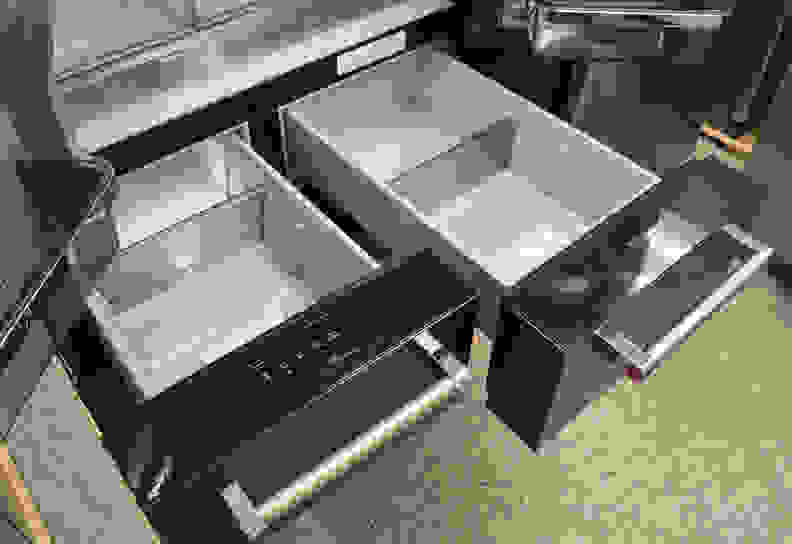 Meet the tester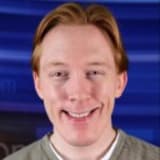 Matthew Zahnzinger
Logistics Manager & Staff Writer
@ReviewedHome
Matthew is a native of Brockton, MA and a graduate of Northeastern, where he earned a degree in English and Theatre. He has also studied at the Gaiety School of Acting in Dublin and spends most of his free time pursuing a performance career in the greater Boston area.
Checking our work.
Our team is here for one purpose: to help you buy the best stuff and love what you own. Our writers, editors, and lab technicians obsess over the products we cover to make sure you're confident and satisfied. Have a different opinion about something we recommend? Email us and we'll compare notes.
Shoot us an email