Few apartment fridges manage to combine attractive price, performance, and design quite so well as the 10.1 cubic foot LG LBN10551PV (MSRP $899.99).
The replacement for the now-discontinued LG LRBP1031T, this compact bottom freezer is perfect for stylish—but small—kitchens.
It can hold its own with the big guys in terms of food preservation. For some people, the higher quality design may trump even strong budget models that have a less attractive layout. As long as you aren't craving a built-in water dispenser or icemaker, this apartment fridge is a great deal.
It's getting' cold in here
The main fridge compartment did a fine job cooling our test materials. The middle and bottom sections clocked in at 36.95°F and 38.86°F respectively. A little warmth at the bottom is good for produce. An average deviation of ±0.17°F means this fridge is nice and consistent.
-->
A little warmth at the top isn't great, but it's a common flaw for apartment fridges: The LG displayed temps averaging 40.11°F. We'd suggest turning the fridge thermostat down just one notch for truly optimal performance.
The freezer, on the other hand, couldn't have been better. At the top and bottom, we recorded average temperatures of -5.58°F and -4.75°F respectively. That may seem like overkill, but excess freezing will in no way hurt your food. The average ±0.14°F deviation, paired with that excellently chilled zone, means your food will be kept very safe from freezer burn.
-->
Smooth and stainless-ish
The LG's vinyl-coated stainless-style exterior, with its delicate horizontal grain, is not only snazzy—it's also incredibly hard to smudge. That, combined with the seamless look provided by the recessed handles, gives this fridge a decidedly high-end appearance. Plus, the doors are reversible. Beware—if you're looking to outfit a whole kitchen, the LG's finish won't quite match other true stainless appliance.
On the inside, you've got glass shelves with a mix of white and clear plastic. Both the main section and the door offer a small amount of customizability, but not a ton. The shelves are lightweight enough that adjusting them or taking them out to clean is a snap. It's a relatively bare-bones design that still feels quite sturdy.
In the freezer, you've got a set of four drawers that slide fairly smoothly, though none of them glide open quite so effortlessly as the fridge's crisper. The freezer drawers offer a varying range of depths and heights, so you should be fine in terms of easy organization despite the lack of door storage.
Sure, you might not be able to fit a family-sized frozen pizza in there, but then again, there really aren't any apartment-sized fridges that allow you to do that.
Stellar performance with minimal fringe benefits
What really blew us away about this LG was just how well it managed to cool our test materials. Both sections were spot on in terms of temperatures, aside from a warm spot near the top of the fridge. It's a common flaw in apartment-sized models, and definitely not a deal breaker.
-->
Small freezers in compact refrigerators are often less consistent compared to their full-sized counterparts, but this LG's freezer was fantastic. Exceptionally consistent and outstandingly cold, it'll do a great job keeping freezer burn at bay.
This LG's freezer was fantastic.
The crisper was only so-so, slightly worse than average but not by a ton. It has something called a Vitamin Plus filter affixed to one side. There wasn't anything in the user manual describing exactly what it's for, but we're going to use contextual clues to assume that it's supposed to keep your produce fresher. Whether or not it works, well… your guess is as good as ours.
Features definitely aren't a selling point for this model. You get a small ice cube tray—no built-in icemaker for this model—and a removable tray for... eight eggs? It's a bit of a random number, but at least the small tray can be placed wherever you like.
Technical features are slightly more prominent. In addition to adjusting the temperature, the controls—which are built into the top of the main fridge compartment's frame—have buttons for an express freeze and an eco-friendly mode. Additionally, this model is capable of getting error information using LG's Smart Diagnosis.
For in-depth performance information, please visit the Science Page.
Not quite perfect
The crisper drawer, despite its smooth-sliding runners and the mysterious Vitamin Plus filter, proved to be only mediocre. After three days, we measured an average loss of 0.22 grams of moisture per hour. It's worse than average, but not by much. Keep an eye on your produce and don't expect things to last more than a week, and you should be fine.
-->
Average all around
Despite the exceptional cooling prowess of the LG's freezer, actual freezing times weren't all that fast. Test materials went from room temperature to 32°F in one hour and 38 minutes, slower than average by roughly 10 minutes. Much like the performance of the crisper, it's not terrible, but you might want to think twice about freezing a prime swordfish steak in here.
Fortunately, the LG's insulation did a great job keeping cold air inside. After 36 hours without power, internal temperatures had only risen to 27.9°F.
-->
High-end style supported by excellent performance
If you're unwilling to compromise on design for your stylish-but-small kitchen but don't necessarily want to spend an arm and a leg, be sure to check out the LG LBN10551PV.
While you may not be getting a ton of extra gadgets or a built-in icemaker, this compact little jewel gives you excellent performance at a reasonable price.
Niche products like this don't usually get big discounts: We tracked down a typical retail price of about $800—quite reasonable for a fridge this good. If that's still too high, consider getting it in white for $100 less.
An effective use of space
-->
Despite its small size overall, the LG makes excellent use of the space it's got. The main fridge section has three shelves and one crisper, plus five bucket shelves—four small and one full-width—on the door. This all adds up to 5.67 usable cubic feet.
The freezer only has four drawers, with no door storage whatsoever. There's one very short tray at the top, with three taller drawers of varying depths underneath. In total, they provide 2.84 usable cubic feet of frozen storage.
Based on our tests, it only requires 0.09 kWh to cool each usable cubic foot of storage space, making this LG a very respectably efficient product. At a fixed rate of $0.09 per kWh, that translates to an annual expense of $24.32.
Meet the testers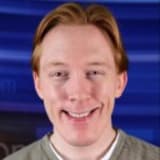 Matthew Zahnzinger
Logistics Manager & Staff Writer
@ReviewedHome
Matthew is a native of Brockton, MA and a graduate of Northeastern, where he earned a degree in English and Theatre. He has also studied at the Gaiety School of Acting in Dublin and spends most of his free time pursuing a performance career in the greater Boston area.
See all of Matthew Zahnzinger's reviews
Checking our work.
We use standardized and scientific testing methods to scrutinize every product and provide you with objectively accurate results. If you've found different results in your own research, email us and we'll compare notes. If it looks substantial, we'll gladly re-test a product to try and reproduce these results. After all, peer reviews are a critical part of any scientific process.
Shoot us an email