The bells and whistles are nice and the design is solid, and we only found a few hiccups in our performance tests. If you're willing to spend this much on a fridge, you've got a lot of great products to choose from. This LG stands out with a unique interior design.
Design & Usability
We heard you like doors, and icemakers...
Outside, this LG presents you with a typical high-end stainless steel finish: light horizontal graining that's prone to fingerprints. Inside, cool LED lighting illuminates white-trimmed shelves; a see-through bottom shelf and smooth-slide produce drawers make it easy to check what's inside from any angle. All the shelves have raised edges which will prevent spills from dripping to the bottom. Most of the shelves are adjustable, and one comes with a retracting front half to accommodate the rare extra-tall purchase.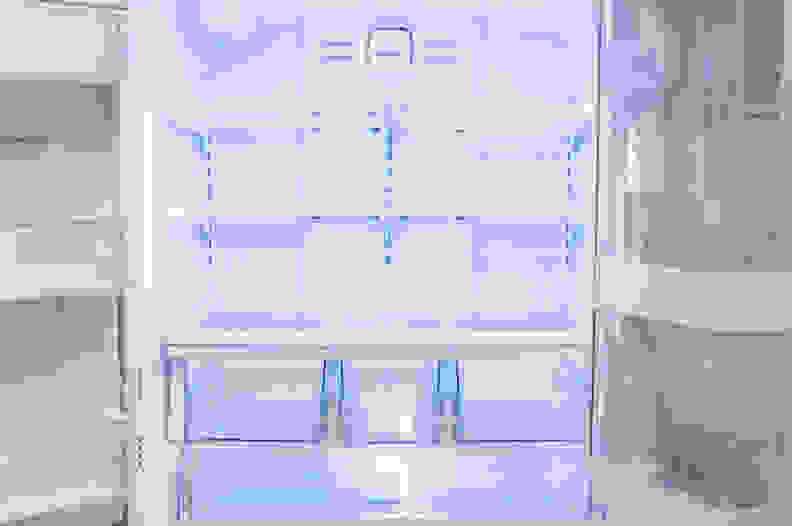 Mounting the icemaker on the door frees up space in the main compartment for your groceries. That said, it's actually the right-hand door that serves as this LG's key selling point. LG introduced door-in-door storage on last year's LFX31945ST, and now a whole lineup of French door models incorporates this feature. A series of six shelves are housed in a door-mounted storage cavity, which can be accessed through a secondary fridge door on the front. It's best explained through video.
If you want to get at something stored on the door while you're accessing the main interior zone, you have to pop open a plastic panel. The whole design is meant to keep cold air from escaping the fridge.
The door-in-door storage can fit anything from a gallon of milk to a stick of butter, but there is a downside: You can't adjust any of the shelves inside the door-in-door compartment. Tall items, like wine bottles, need to find a home elsewhere.
The freezer drawer is also spacious, but part of its upper drawer is blocked by a second icemaker and a removable bucket for bulk ice. It's rare to see dual icemakers in any fridge, but LG says this fridge has one specifically to serve folks who do lots of summertime entertaining. Fortunately, both icemakers are easily switched on or off to accommodate less leisurely lifestyles, but the bottom one still takes up space even if you're not using it.
Performance & Features
The freezer shines
We measured a surprisingly wide spread of temperatures throughout this LG's fresh food compartment. On average, the entire refrigerator section hovered around the ideal 37ºF, but it had hot and cold spots that varied ±3ºF. Different foods do need different temperatures, and the LG did prove consistent over time, so we give the fridge a pass. As long as you're not swapping your Brie or organic avocado from one shelf to another on a regular basis, you should be okay.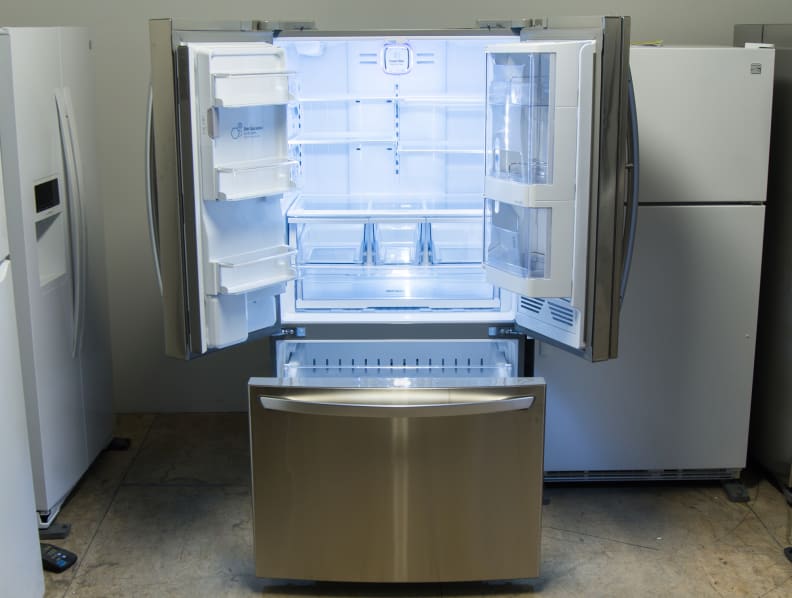 ×
gallery
The LG's crispers were underwhelming, and retained slightly less moisture than average. People buy French door fridges for fresh food storage, so we were disappointed by these results.
Down below, the freezer proved truly fantastic. Temperatures were consistent over time and never rose above 0ºF during our testing period, which means a low risk of freezer burn. This is what we expect from a $3,000+ fridge.
For in-depth performance information, please visit the Science Page.
Conclusion
You're paying for size and style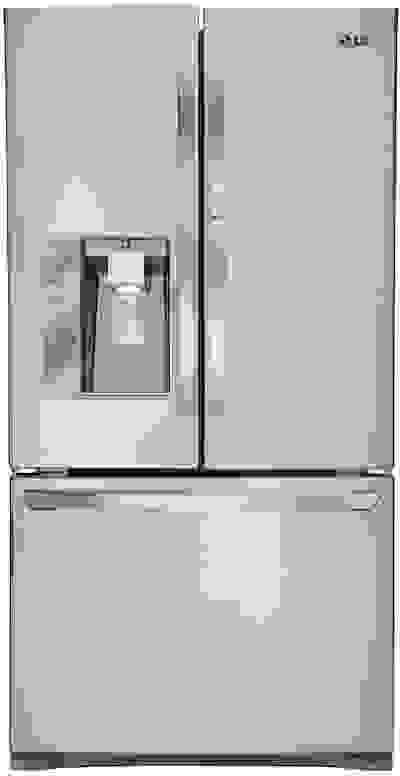 LG's LFX29945ST is a great fridge, but there are a lot of great fridges that sell for around the same price. Whether this one is for you depends on your needs. There's no question that everything from the smooth drawers to the user-friendly controls look and feel great, but everything else is a bit divisive.
Two icemakers are awesome if you host a lot of dinner parties, but some people might prefer extra freezer space. Similarly, the freezer is great for people who buy meat in bulk, but mediocre crisper drawers might cut short your lettuce's lifespan. We were fans of the customizable interior and double doors, but others might want something more straightforward.
If you decide this is the fridge for you, go in search of a sale. Most retailers offer it for just under $2,900, but we've tracked down discounts that go as low as $2,600.
The Cold Hard Facts
Great freezer, OK fridge: that's the story of this LG LFX29945ST (MSRP $3,199.99). Polarizing features aside, it's an alright fridge when it comes down to pure performance.
Temperature Performance
Temperatures inside the fridge compartment averaged 37.76°F overall, but that average comprises a wide range of temperatures: from about 34°F to 40°F, depending on the shelf. In terms of consistency, standard fluctuation was about ±0.32ºF over time. That's quite good, but there was a definite increase in fluctuation as we moved closer to the top.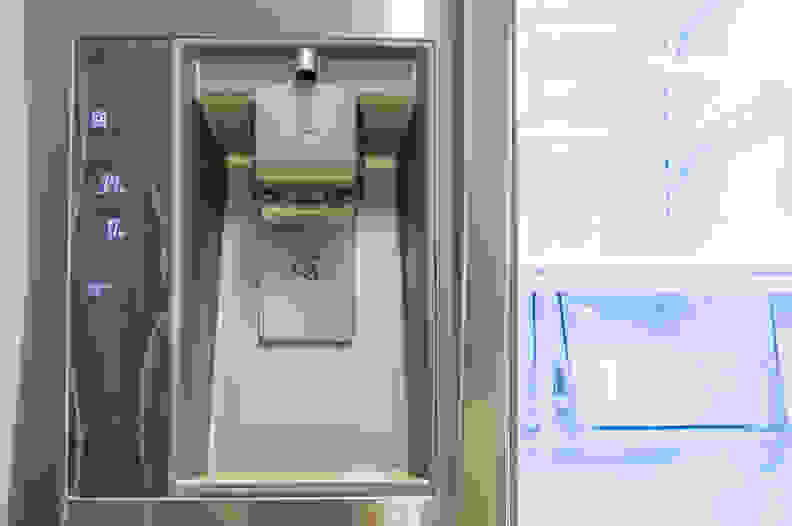 The freezer is a different story. We see the same wide range of temperatures, but never more than 0°, meaning freezer burn should be virtually nonexistent. Average freezer temperature in our tests was an icy -1.46°, which is excellent.
Moisture Retention
Moisture retention is a key drawback of the fridge compartment. Even though two of the produce drawers have dedicated "Vegetable" settings, moisture retention was still just a bit worse than average. Our controlled produce analog lost an average of 0.20 grams of water per hour (average is closer to 0.16 grams per hour). Expect fruits and especially veggies to lose their texture and flavor a tad sooner than expected.
Freezing & Thawing
The LFX29945ST's freezer brought our room temperature test materials—designed to simulate the properties of ground beef—to 32° in 1 hour 29 minutes, which is slightly worse than average and will impact the texture of frozen meat or fish.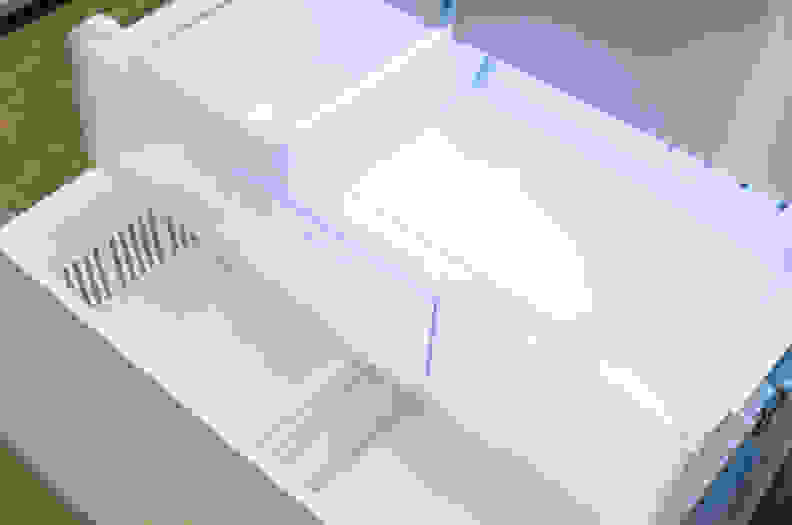 On the other hand, the freezer's contents should survive a power outage. Even after unplugging the LG for a full 36 hours, internal temperatures of the "meat" reached only 28.97°.
Storage Space & Energy Efficiency
Usable storage space is far below LG's claim of 29 cu. ft. After subtracting obstructions like partitions, icemakers, and slanted walls, we calculated 19.3 cu. ft. of storage was more accurate—13.34 cu. ft. in the fridge, 6.16 cu. ft. in the freezer. Just remember, everybody exaggerates their storage space claims, so we do consider this refrigerator a rather roomy one.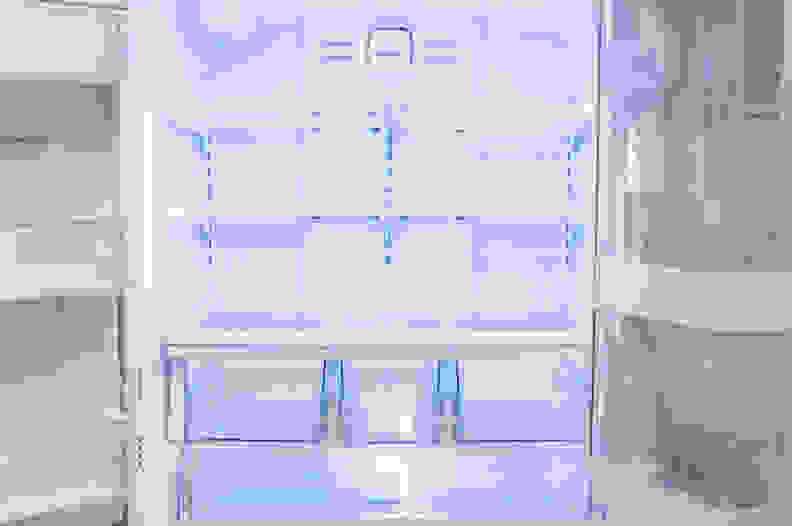 That brings the energy use of this model to 0.09 kW/h per usable cu. ft. Not bad, but we've seen plenty of fridges achieve 0.06 kW/h per cu. ft. Based on a fixed electricity cost of $0.091 per kW/h, we expect the LFX29945ST will cost about $56.81 to run per year, assuming both icemakers are running.
Meet the tester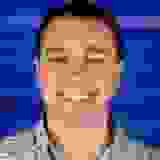 Christopher Snow
Managing Editor
@BlameSnow
Chris was born and raised less than ten miles from our editorial office, and even graduated from nearby Merrimack College. He came to Reviewed after covering the telecom industry, and has been moonlighting as a Boston area dining critic since 2008.
Checking our work.
Our team is here for one purpose: to help you buy the best stuff and love what you own. Our writers, editors, and lab technicians obsess over the products we cover to make sure you're confident and satisfied. Have a different opinion about something we recommend? Email us and we'll compare notes.
Shoot us an email