It's not perfect—we had some issues with the crisper—but for a retail price of about $1,900, the LSXS26466S has a lot going for it. We'd definitely recommend giving it some serious consideration.
Temperatures in the fresh food section were a touch too high. We recorded average temps of 39.12°F on top, 38.96°F in the middle, and and 42.27°F on the bottom. However, average temperature fluctuation over time proved negligible at ±0.28. This means that bumping the thermostat down a few degrees should keep your food safe.
The freezer proved even better, with temperatures averaging -1.84 on top and -1.48 on the bottom. That moderately subzero cold should keep your food safely frozen and free of freezer burn, and even temperatures throughout mean indicate this to be the case throughout the cavity. An average temperature deviation over time of ±0.34 adds to this freezer's demonstration of stability.
Simple, sturdy, and spacious
This 26 cubic-foot side-by-side should easily accommodate enough food for a small family. The refrigerator is sturdy, with a stainless finish that's attractive, unless it gets covered in fingerprints.
There's a water and ice dispenser set fairly deep into the freezer door. Beside it, responsive touch screen controls glow subtly, allowing users to select from this fridge's short list of features.
Inside, top-mounted LED lights brightly illuminate the interior of both the fridge and freezer compartments. Glass shelves in the fridge and freezer are adjustable, and boast a silvery edging that visually breaks up the white plastic inner walls. The freezer also has a door-mounted ice maker.
A little something extra
This side-by-side has a secret, albeit not a very well-kept one. The door-in-door compartment is all but hidden from view— unless you know which button to press. Tug on the handle and the fridge will open normally, but if you press a button on the fridge's curved handle, you can pull open that nifty door-in-door compartment.
It's a vital trick to know, since most of the door shelves are encased in plastic and hard to access when you open the fridge the regular way. However, the door-in-door compartment gives you easier access to those shelves from the other side. There are also three additional small shelves that can only be used by opening the door-in-door compartment.
It's important to note that—unlike this fridge's predecessors—this compartment doesn't extend down the entire length of the door. Also worth mentioning is that closing the fridge when the door-in-door is open requires a little extra force if you don't want it to pop back open.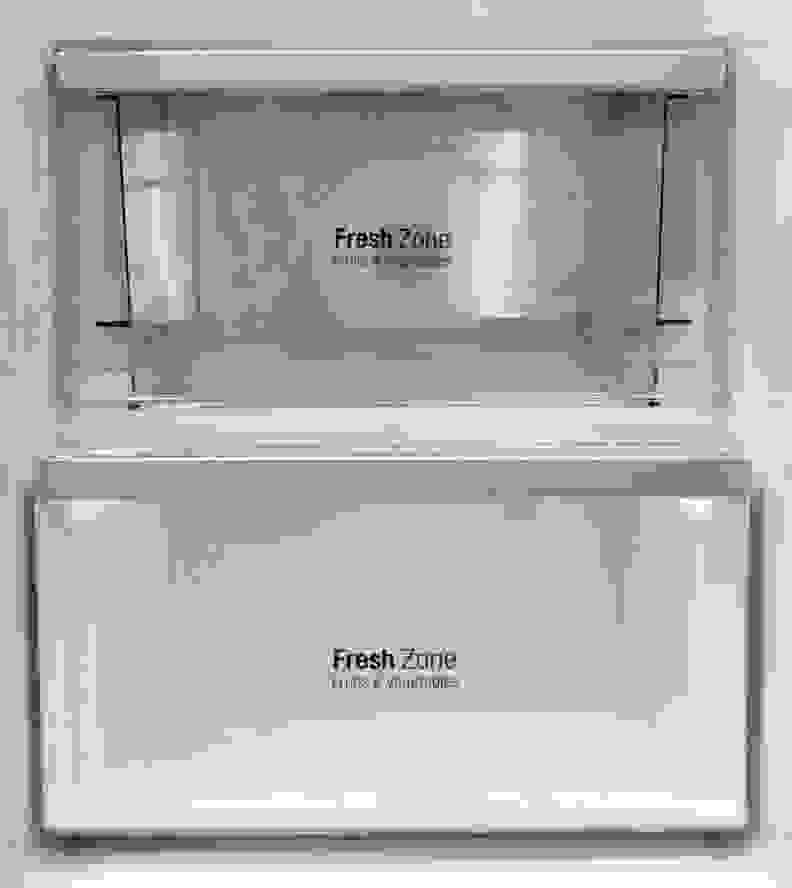 While any issues with refrigerator temperature can be addressed via a small adjustment, there's no fixing its crisper drawers' inability to hang onto moisture. Our test materials lost an average of 0.34 grams of moisture per hour over the course of three days. And with no humidity adjustment options to speak of, that could mean an early death sentence for your produce. It's the biggest weakness we measured on an otherwise high-performing fridge.
The LSX26466S didn't chill our test materials as quickly as we'd like, earning a decidedly mediocre score. 1 hour and 38 minutes passed before our room temperature test materials finally dropped to 32°F. It's a disappointment when the freezer is otherwise so excellent, to be sure, but it's not exactly awful either.
Consistent cooling
In our scientific testing, the fridge compartment's temperatures proved consistent over time, if a little warm overall. However, bumping the thermostat down a few degrees should give you temperatures cool enough to keep your food safe.
We'd like to heap praise—and vegetables—in this fridge's crisper drawer, but unfortunately it didn't perform particularly well in our tests, losing more moisture than average over time. Without a humidity adjustment option, there's nothing users will be able to do about this. Go ahead and keep your produce there, but perhaps take care not to buy in bulk.
The freezer worked quite well, with consistent below-zero temperatures across the compartment. However, it was a little slow to freeze room-temperature foods, increasing the possibility of freezer burn.
When it comes to features, this LG has little more than the basics, including crushed or cubed ice and a speedier Ice Plus option.
For in-depth performance information, please visit the Science Page.
This side-by-side is on the larger side, which means there's plenty of space for groceries. The main fridge compartment has has four adjustable-height shelves, plus a fourth fixed shelf atop one of the two crisper drawers. The door holds six fixed shelves, but only two are easily accessible by just opening the fridge door. Two others can be accessed by pulling open a hinged plastic covering, but you'd be better off opening the door-in-door compartment, which opens up the top four shelves for easy use. The door-in-door compartment doesn't extend all the way down to the fridge door, and sports three additional shelves. Despite a door layout that's not particularly user-friendly, you'll find loads of space for condiments and gallon jugs alike. The fridge itself is relatively roomy, offering 12.16 cubic feet of usable space.
The freezer is quite spacious for a side-by-side, with three adjustable-height shelves and one fixed shelf, plus two drawers. The door-mounted ice maker takes up some space, but 6.65 cubic feet of storage will fit a lot of food. Just don't try to cram a full-size frozen pizza in there—like all side-by-side freezers, this one is on the narrow side.
Despite its large size, this LG proved quite energy efficient during testing. This fridge requires just 0.07 kWh to cool each usable foot. This puts you on track for a low running cost of $0.09 per kWh, or $41.94 per year. That's pretty darn good.
For one year from the date of purchase, LG will cover the parts and labor required to repair any defects found in this refrigerator under a limited warranty. Parts (but not labor) for defects in the sealed system—which includes the condenser, dryer, connecting tube, refrigerant, and evaporator—will be covered for seven years after the date of purchase. Parts from the linear compressor will be covered for ten years from the date of purchase.
An great side-by-side worth considering
The LG LSXS26466S is a really excellent option for those seeking a side-by-side refrigerator. The door-in-door storage is a nice touch, but accessibility issues may turn off some consumers who don't need a secret compartment.
Thanks to this LG's even temperatures, your food should stay nice and cold, so long as you turn the fridge thermostat down a few degrees. Plus, this LG is nice to look at and should match most kitchens. Bottom line: this is one of the highest-performing side-by-side refrigerators we've had the pleasure to test.
Meet the testers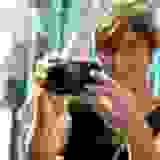 Kori Perten
Former Editor, Home & Outdoors
@Reviewedhome
Kori began her journalism career as a teenage fashion blogger and has enjoyed covering a wide variety of topics ever since. In her spare time, she's an amateur poet, avid reader, and gluten-free cake baker extraordinaire.
See all of Kori Perten's reviews
Checking our work.
We use standardized and scientific testing methods to scrutinize every product and provide you with objectively accurate results. If you've found different results in your own research, email us and we'll compare notes. If it looks substantial, we'll gladly re-test a product to try and reproduce these results. After all, peer reviews are a critical part of any scientific process.
Shoot us an email