The good stuff is behind the French doors.
At first glance, this Maytag doesn't look particularly special. The through-the-door ice and water cavity isn't big enough to fit anything but a standard drinking glass, there's a tactile seam at the back of the handles where the metal was fused together, and the control panel is a bit more convoluted than it needs to be, requiring users to do a lot of three-second button holding in order to access... well, almost anything.
At first glance, this Maytag doesn't look particularly special.
On the inside, though, things start to pick up. Lots of white plastic and glass shelves look clean and stylish thanks to bright LED lighting, and both the water and air filters are easy to access but take up little storage space. Even the humidity control is well placed.
Oddly, there's no dedicated dairy bin, but between the fridge proper and the right-hand door, you've got tons of large, adjustable storage options that could fit anything from a gallon of milk to a stick of butter or anything in between. There's a retractable half-shelf, and a wide drawer on the bottom with three independently adjustable temperature settings. Versatile, accessible, and streamlined? We're definitely pleased.
Versatile, accessible, and streamlined? We're definitely pleased.
The freezer is fine, with almost identical upper and lower racks broken down into three sections. Like the crispers, the freezer drawer slides smoothly without snagging on anything. You've also got a nifty little compartment built into the freezer door which serves as pizza storage.
The Icemaker Worketh
Let's start on a high note: fridge temperatures remained consistent over time, and the top wasn't that much cooler than the bottom. That's good for storing delicate foods like produce and soft cheeses. The freezer, though, was a little less ideal. Thanks to some temperature inconsistencies, our test materials routinely rose and fell above and below zero degrees. That's what causes freezer burn, so we recommend turning the thermostat down even lower than the general standard of 0ºF. Similarly, the crisper drawers lost too much moisture over time to earn any praise.
The freezer, though, was a little less ideal.
For a fridge this size, energy efficiency wasn't bad. We calculated that it would cost you a little over $60 per year to run. The freezer compartment was plenty spacious, but our measurements of the fridge showed that it doesn't offer as much usable space as its 26 cu. ft. competitors. With that said, it's still a pretty big fridge, so you probably won't run out of room.
We do have one very positive element to bring to your attention: the store-in-door ice maker. As its name implies, the icemaker is entirely relegated to the fridge door, and it still holds a ton of ice. It's also really easy to remove for a party or filling a cooler. You've also got access to a fast ice option, which should help keep the cold drinks flowing at a backyard barbecue.
It's the price that really distinguishes this fridge.
With a $2,399 MSRP, this Maytag is one of the most affordable French door fridges of its size. Sure, we picked some nits when it came to performance, but no flaws were so glaring that we'd withhold our recommendation. In fact, this fridge appears to be a good value for folks who want extra features like a trick ice maker, a deli drawer, and customizable shelves. Yes, better fridges are out there, but you'd be hard pressed to find one that matches this Maytag for such a low price.
After running the Maytag MFT2673BEM through our rigorous testing procedures, we made no great discoveries. The data paints a picture of a truly average (and occasionally sub-average) refrigerator.
A great fridge, but a bit of trouble in the freezer.
The fridge compartment was actually the strongest element on this model. An average temperature fluctuation of just 0.28 degrees proved very consistent, and, as such, very good. The temperature itself was almost spot on, too, averaging 36.6ºF at the top and warming to about 40.84ºF around the crispers. That's typical and expected: You generally don't want your produce to be as cold as your milk.
The freezer, on the other hand, was almost as good in terms of balanced overall temperature output but couldn't quite maintain its chill with as much regularity. The average temperature in the upper portion of the freezer was -0.58ºF, but it fluctuated a relatively high amount: an average of 0.8 degrees over time. The bottom, on the other hand, only got down to 1.74ºF but managed to shift just 0.38 degrees. That sort of performance is OK if you're not storing anything for too long, but the shifts going above and below zero degrees means your food will be at an increased risk of freezer burn the longer you store it.
Don't plan on stretching your salads.
Over the course of three days, the test materials which we placed in this Maytag's crisper lost an average of 0.26 grams of moisture per hour. That was with the drawer set to its highest retention setting, the norm for vegetable storage. That rate of moisture loss is markedly below average, which hovers around 0.18 to 0.2 grams per hour. While your produce may not become dried and wrinkly over night, fresh produce may stay fresher in another fridge.
Roughly average ratings make for satisfactory performance.
The closer you can get to flash freezing your food, the better it will be when thawed. More nutrients will be locked in, and the original texture of items such as meat and fish will be better preserved. In the case of this Maytag, our room temperature items were officially frozen after one hour and 40 minutes inside the freezer. This isn't bad, but other fridges do it in under an hour and a half.
Fortunately, in our power loss test, the freezer's insulation proved to be more than up for the job. At the conclusion of our other tests, we unplug the appliance to simulate a power outage. After 36 hours without power, and without ever opening the freezer door, the internal temperature of our test materials had risen to just 29.44ºF. That means you'll have plenty of time for the electric company to bring power back after a nasty storm, for instance, without having to worry about defrosted food.
A little cramped.
The fridge interior of this Maytag felt quite open and accessible, but the numbers don't lie: the amount of fresh food storage is slightly below average in this model. Four adjustable half-shelves, a full shelf, two crispers, and a wide temperature controlled drawer make up the bulk of the storage. The right-hand door has three gallon-sized adjustable buckets, as well as a shallower one on the bottom. There's not much room on the left-hand door given the presence of the ice maker, but two small shelves do what they can to add a little extra space. All together it adds up to 10.68 cubic feet of usable storage, almost half the 19.38 cubic feet you'd get if you ripped out all the shelves and packed it to the corners.
The freezer fairs a bit better proportionally, but overall it's also a bit smaller than average. The upper and lower racks are divided into three sections, with a fairly wide left and right section bisected by a thinner sliding divider. The lower shelf is somewhat deeper than the upper, but not much. There's also a shallow compartment found just inside the freezer door for storing wide, thin items such as frozen pizzas. It all adds up to 4.49 cubic feet of usable space, only slightly less than the advertised 6.76 cubic feet.
French door models this size always tend to cost a fair amount to run, and the Maytag is no exception. Over the course of one year, assuming you lived in an area that charged $0.09 per kWh, you would have to pay $62.43 to operate this appliance. That, of course, assumes that you're regularly using the ice maker. Don't use ice, and you'll pay less. For what it's worth, spreading all of that energy throughout the usable storage space leaves you with an energy requirement of just 0.13 kWh per cubic food, which actually makes this a moderately efficient fridge among those in its size class.
Meet the tester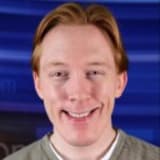 Matthew Zahnzinger
Logistics Manager & Staff Writer
@ReviewedHome
Matthew is a native of Brockton, MA and a graduate of Northeastern, where he earned a degree in English and Theatre. He has also studied at the Gaiety School of Acting in Dublin and spends most of his free time pursuing a performance career in the greater Boston area.
Checking our work.
We use standardized and scientific testing methods to scrutinize every product and provide you with objectively accurate results. If you've found different results in your own research, email us and we'll compare notes. If it looks substantial, we'll gladly re-test a product to try and reproduce these results. After all, peer reviews are a critical part of any scientific process.
Shoot us an email