But as the world moves away from traditional paper notes—and refrigerators move away from traditional magnetic finishes—the focus begins to shift away from the fridge and toward digital solutions.
Samsung's new Family Hub fridge looks to bring that focus back to the kitchen by adding a 21.5-inch tablet to the front of one of its Flex Four Door models and loading it with apps designed to put your family's most important info back where it belongs.
Design
The most striking feature of the Family Hub is, obviously, the giant tablet embedded in the top right door. At CES, on first glance it seemed to make most booth visitors shake their head.
Really? A tablet on a fridge? Come on.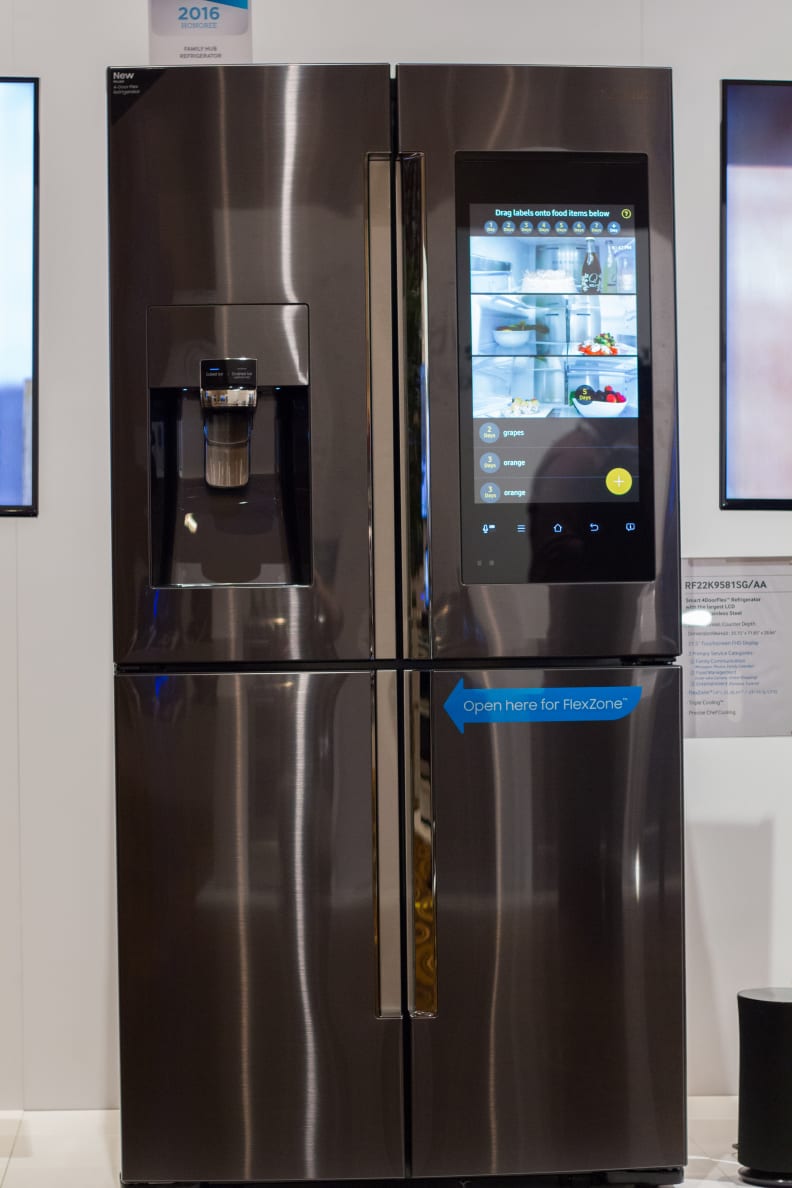 ×
Fridge Design
But after watching it in use, it kind of makes sense—especially on a non-magnetic stainless-steel front. Samsung has put a tablet on a fridge before, and the results weren't stellar, but the Family Hub seems like a solid stab at redeeming the concept.
The fridge itself is a standard Flex Four Door design, which we've reviewed and genuinely love. On the top right panel of the Family Hub is a 21.5-inch, WiFi-enabled touchscreen tablet with 4 GB of memory. It runs the company's Tizen operating system and comes pre-loaded with 18 different apps, including news, weather, calendars, sticky notes, Pandora, and Groceries by Mastercard, among others.
A speaker has been built into the fridge door so you can hear your music and videos, and you can also connect Bluetooth speakers if you feel inclined to turn your fridge into a kitchen sound system.
There are also three cameras built in that take a picture of the inside of fridge every time you close the door. These photos can then be accessed from a smartphone, giving you a look at exactly what you've got and what you don't when you're at the supermarket.
Last but not least, the tablet will include a SmartThings smart home control app, allowing you to access and use all of your smart home devices from the kitchen. It doesn't function as a hub, like the 2016 Samsung SUHD TVs do, but it can still control your whole ecosystem provided you have a standalone hub or one of the aforementioned TVs. Conversely, you can control the fridge itself from the SmartThings app on your phone, tablet, or TV, as well as the old Samsung Smart Home app.
Features
According to the company, the Family Hub fits into three categories: family connectivity, food management and entertainment. Most of that comes courtesy of the apps loaded into the tablet.
For family connectivity, the Family Hub's tablet can sync multiple calendars, share photos uploaded from family members, and write or draw notes, all on its screen. It comes pre-loaded with a "Morning Brief" feature to provide news, weather, and even traffic data.
The sticky notes app and photos are also available through a smartphone app, allowing users to send notes or photos to the fridge at any time, from anywhere. There's also a "Paper Roll" app that adds a free-drawing space to the fridge for notes and doodling.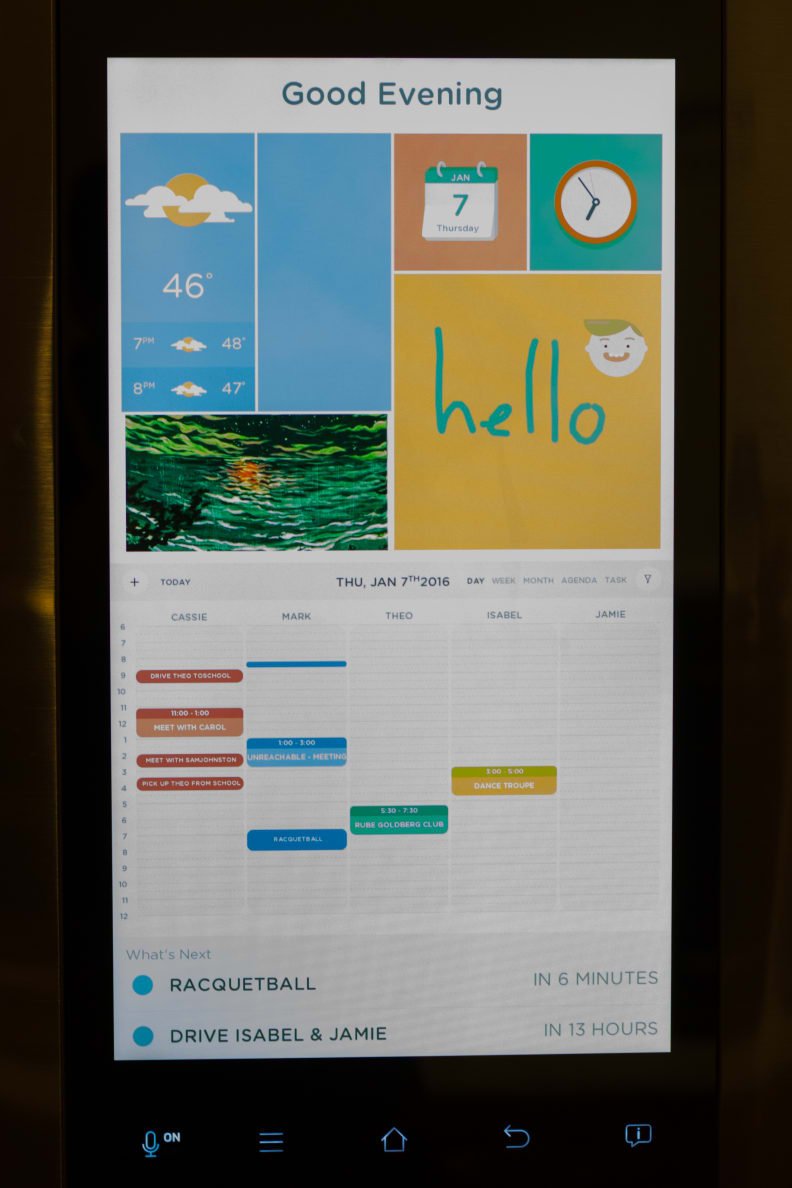 ×
Fridge Features
On the entertainment front, the tablet comes pre-loaded with Pandora and TuneIn Radio, among other apps, and will mirror a Samsung smart TV (6400 Series or newer), allowing you to keep up with what the family is watching while you cook dinner.
But this is a refrigerator, let's not forget, so the main focus should be on food. The fridge's food management features not only include the cameras that take wide-angle pictures of the contents, but an app that allows you to place small sticker-like images on each item in the fridge, denoting how many days you have until they expire.
The Family Hub's tablet can sync multiple calendars, share photos uploaded from family members, and write or draw notes, all on its screen.
There's also a Shopping List app and a Groceries by Mastercard app that allows you to shop for food directly from the front of your fridge.
The company is rolling out the fridge this year with 18 pre-installed apps, but promises more in the future, as well as voice-recognition software that will work with Amazon's Alexa virtual assistant.
Usability
While the fridge offers a wealth of features, it was definitely rushed out the door for CES. Many apps were buggy and didn't always load. Sometimes you had to press an app icon multiple times to get it to load, if it would even load at all.
Some apps even crashed the system, causing the fridge to reboot. Yes, this fridge reboots. But when the apps worked, they worked quite well. I was able to draw, type, and move images around the screen with relatively little lag.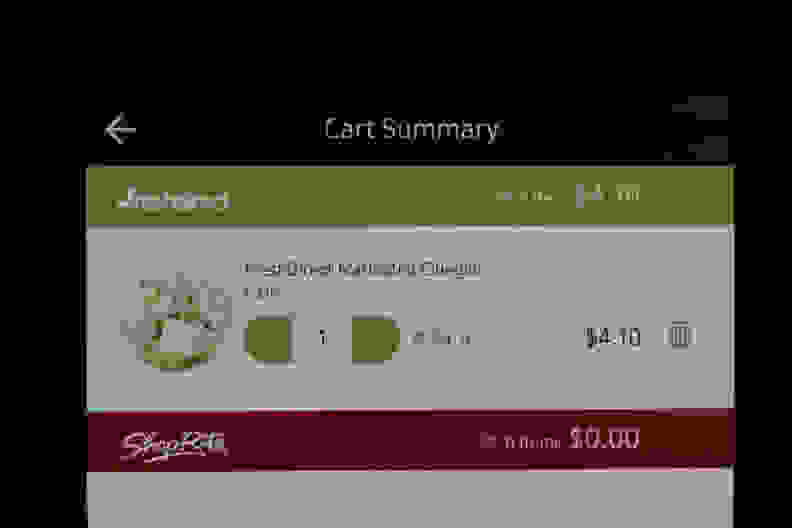 In the fridge's SmartThings app, I could activate routines and toggle lights on and off in the "home" that Samsung set up to demo SmartThings. There was a noticeable delay between pressing buttons in the app and seeing lights turn on or off, but it's unclear if this was an issue with the fridge, or the booth's WiFi network.
Yes, this fridge reboots.
From our recent smart bulb roundup, we know that the SmartThings hub is very responsive, so the delay in controlling products from the fridge was rather surprising.
A Samsung representative told us that the issues and bugs that we saw will be fixed before the fridge actually goes on sale, but we can't help wondering if the tablet will still be slow like Samsung's old RF28HMELBSR smart fridge. We'll simply have to get a production model of the Family Hub into our labs to find out.
Conclusion
All in all, the Samsung Family Hub fridge is pretty cool. We have to admit we were skeptical at first blush, but in this paperless age, where every member of the family is connected digitally, it makes a lot of sense to put all our notes and memories on the one appliance you're virtually guaranteed to use at least once per day.
With the Family Hub, you can once again easily display those moments in your kitchen without heading for the printer or notepad.
There are still questions about functionality, of course, and whether the company's Tizen operating system is secure and robust enough to handle its customers' uses. There's also the question of whether the tablet will become obsolete well before the fridge itself. Most appliance have a life expectancy of about a decade, while tablets (and OSes) tend to have a far shorter shelf life.
Will the tablet become obsolete well before the refrigerator?
But the truth is, this fridge is designed for families. It's meant to help organize all of those band practices, soccer games, and PTA meetings, and keep everyone fed in between. If it works for 10 years, it should get you through those busy times, and in the end you've still got a pretty nice fridge.
The only remaining question is the price point, which will be high—expect it to cost between $5,000 and $6,000. That's well above a standard fridge, even a Black Stainless Four Door Flex model. Samsung's cutting-edge tech tends to trickle down pretty quickly to more affordable models, but most families probably won't be tossing out their souvenir magnets any time soon.
Is the Family Hub fridge necessary? Of course not. But truth be told, if we had a few extra grand to burn, this fridge would be in our kitchens.
Related Video
Meet the testers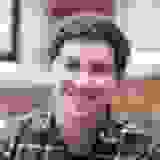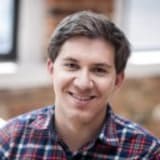 Daniel Wroclawski
Former Managing Editor, News & Features
@danwroc
Daniel Wroclawski is a tech-obsessed editor and reporter. In his spare time, you can probably find him hurtling through the air in a tin can-sized airplane.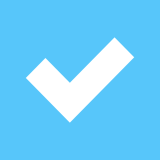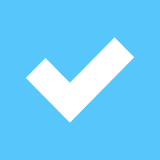 Brian C. Beckley
Contributor
@revieweddotcom
Brian C. Beckley is a valued contributor to the Reviewed.com family of sites.
Checking our work.
Our team is here for one purpose: to help you buy the best stuff and love what you own. Our writers, editors, and lab technicians obsess over the products we cover to make sure you're confident and satisfied. Have a different opinion about something we recommend? Email us and we'll compare notes.
Shoot us an email