Refrigerators
2012 RefrigeratorInfo Best of Year Awards
We've seen some great fridges in 2012. Here are the absolute best.

Credit:
Refrigerators may all look similar on the outside, but they couldn't be more different when it comes to how they treat your food. Of all the refrigerators tested to date that are still in production, only a few displayed the right combination of even cooling, moisture retention, energy efficiency and user friendliness to earn a coveted Best of Year award.
We've recognized fridges of all styles, shapes and sizes that will fit nearly any kitchen or lifestyle—whether you're in a tiny apartment or have a growing family. These are the finest refrigerators on the market, and the ones we'd recommend to our own friends and family.
---
Best Refrigerator
(MSRP $2,399)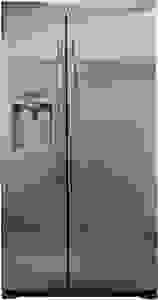 The Samsung RSG257AARS has managed to retain the crown of Best Refrigerator for the second year in a row, and its clear to see why. The high quality performance in terms of temperature consistency is unmatched among the side-by-sides that we've seen, and the moisture retention in the crisper drawer is fantastic. True, the freezer is a bit cramped, but overall, this model has plenty of storage space. It looks and feels great, too, with interior LED lighting and an on-the-door ice maker. It's a superior fridge that will add a touch of class to any kitchen.
Runner-up
(MSRP $3,199)
If it's a French door you're looking for, you couldn't do much better than the LG LFX31925ST, the runner-up in this category. Its cavernous interior exhibited tremendous cooling consistency, and the design choice to move the icemaker to the fridge door makes for a user-friendly interior.
Read the full review of the Samsung RSG257AARS Read the full review of the LG LFX31925ST
---
Best Innovation
(MSRP $3,499)
LG's Blast Chiller may seem like a simple feature—in five minutes, it can cool a can of soda or beer about 20 degrees down from room temperature (or anything else in a can, for that matter), and in eight minutes it can do a bottle or two cans—but it's the simplicity that makes it so fantastic. The Blast Chiller takes up very little space, has a very specific function that is surprisingly useful, and carries out that function quickly and effectively. With the Blast Chiller, you'll never have to worry about warm drinks at a summer barbecue again.
Read our review of the LG LFX31935ST's Blast Chiller
---
Best French Door Fridge
(MSRP $3,199)
While we've tested lots of excellent French door models, the very best to date is the LG LFX31925ST. It has an enormous amount of storage space, is exceptionally energy efficient, and is also quite elegant. We especially like LG's decision to move the icemaker to the inside of the left fridge door, an increasingly popular design choice that improves access and increases storage capacity in the fridge. There were a few temperature issues in the freezer, but with an excellent fridge compartment, superior moisture retention, and very fast freezer times, you'd be hard-pressed to find any other drawbacks.
Runner-up
(MSRP $2,699)
If the LG's high price tag scares you, then consider our runner-up in this category, the Whirlpool Gold WRF989SDAM. It's a truly excellent fridge and one that came close to unseating the LG in this category. It's a brand new product from Whirlpool, and it's clear that they've put a lot of work into making a high quality appliance. It feels fantastic, sporting features like LED lights inside the fridge, a slim on-the-door ice maker, and a temperature control drawer with several easily-labeled preset functions. It's very energy efficient for a fridge of its size, and has quality performance that's surpassed by few.
Read the full review of the LG LFX31925ST Read the full review of the Whirlpool Gold WRF989SDAM
---
Best Side-By-Side Fridge
(MSRP $2,399)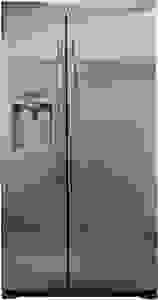 Our award winner for Best Refrigerator, the Samsung RSG257AARS is naturally the best side-by-side that we've tested. Due to their tall, narrow layout, side-by-sides typically suffer from major temperature discrepancies, storage compartments that are less than spacious, and a mediocre finish. None of these issues are found on the Samsung. Its performance is top notch, you get plenty of storage space (despite the slightly cramped-feeling freezer), and it looks and feels like the high-end fridge that it is.
Runner-up
(MSRP $1,499)
The Frigidaire Gallery FGUS2642LF is a whopper of a fridge, and also happens to be our runner up for the best side-by-side fridge available today. It's a spacious model that's fairly energy efficient. Temperature consistency was steadier than with much of the competition. It's certainly a good product, but one that will remain firmly seated at number two.
Read the full review of the Samsung RSG257AARS Read the full review of the Frigidaire FGUS2642LF
---
Best Top Freezer
(MSRP $1,349)
There are a slew of mediocre top-freezer refrigerators out there, but occasionally we have one that really shines above the rest. The Whirlpool WRT779RWYM is an exceptional product that really gives you value for money. The stainless finish makes it more attractive than the old white fridge you may have had in your first apartment, and its storage compartments are quite versatile and easy to access. Its performance wasn't perfectly spot-on, but with high rates of energy efficiency and an interior water dispenser (an unusual perk for a top freezer) we think it's worthy of some recognition. If you can't find it, the WRT771RWYM is a similar fridge that's just a little bit larger.
Runner-up
(MSRP $999)
The runner up—the Whirlpool WRT351SFYW—happens to be a Whirlpool and is also our pick for the Best Value Fridge. The differences between these two are minimal: performance, layout, and storage capacity were comparable between them both. What causes the WRT351SFYW to take second place instead of first is its versatility and usability: it lacks both an ice maker and water dispenser, and the controls are slightly more vague and therefore easier to set incorrectly.
Read the full review of the Whirlpool WRT779RWYM
Read the full review of the Whirlpool WRT351SFYW
---
Best Bottom Freezer
(MSRP $1,119)
We cannot be emphatic enough: the Kenmore 79009 is a fantastic product. The LG-made fridge's temperature consistency was high, moisture retention was above average and energy efficiency ratings were great. It's a perfect all-in-one package. The only complaint we had was with the layout of the interior. Tall vegetable drawers resulted in a fridge compartment that felt cramped, and the bottom freezer inherently requires lots of stooping and bending to access. If you don't mind the overall set up, though, this is without a doubt one of our favorite fridges of the year.
Runner-up
(MSRP $1,849)
If you don't mind spending a little extra money, you could always consider the Fisher & Paykel E522BRXU2, our runner up in this category. It has solid temperature control, decent moisture retention, and high levels of energy efficiency. It looks and feels fantastic, with an unusual, streamlined design. Its size, along with some mediocre performance attributes and the lack of an external ice dispenser, prevents it from taking the crown in this category, but it's still a fantastic product that would be an excellent purchase.
Read the full review of the Kenmore 79009/79002
Read the full review of the Fisher & Paykel E522BRXU2
---
Best Value Fridge
(MSRP $999)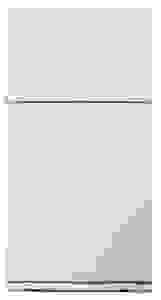 For our best budget fridge, we looked for a product that wouldn't cost an arm and a leg, but would still do a good job taking care of your food. Our selection—the Whirlpool WRT351SFYW—is a little expensive for a budget product (most retailers are selling it for about $800) but its performance quality was exponentially higher than other models in that price bracket or cheaper. It's a very energy efficient product, with a clean white finish and plenty of storage room. If you're looking to save some money but don't want to worry about poor refrigeration and spoiled food, this is definitely the one to go with.
Read our full review of the Whirlpool WRT351SFYW
---
Best Apartment Fridge
(MSRP $1,049)

You may be wondering just what exactly we mean by "apartment fridge." For this category, we looked at products that are slightly smaller than full-size refrigerators, but not so small as to be considered a mini-fridge. Common in Europe, these products are also popular for apartments where space is at a premium.
With those parameters in place, we've selected the Blomberg BRFB1040SL, a fridge that balances price, function, and size in a way that will make any consumer happy. It boasts excellent moisture retention and solid temperature consistency in both the fridge and freezer. Since compact fridges make up a specialized corner of the market, they tend to be rather expensive; the Blomberg, however, can easily be found online for about $900—very reasonable, indeed.
Read our full review of the Blomberg BRFB1040SL
---
Best Food Preservation
(MSRP $2,799)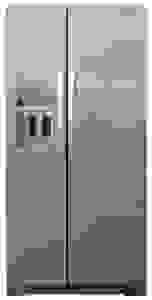 KitchenAid has recently come out with a line of fridges equipped with their new Preserva technology. It uses an improved cooling system to retain moisture, plus a "Produce Preserver" and an upgraded air filter. We found the Preserva's crisper drawers to be extremely effective in our tests, and appreciated the other advancements. The Produce Preserver is a small filter that you can hook into the crisper drawer that removes ethylene gas, a very unpleasant substance that causes many fruits and vegetables to spoil faster (it's what causes brown spots on sliced apples, for instance). Lastly, KitchenAid said the FreshFlow Air Filter is 15 times stronger than baking soda; as such, it helps to remove unpleasant odors. You'll still have to change out both the product preserver and air filter, but we think increase in food preservation is well worth the small increase in labor.
Read our full review of the KitchenAid Preserva KSC24C8EYY
---
Best Counter-Depth Fridge
(MSRP $3,199)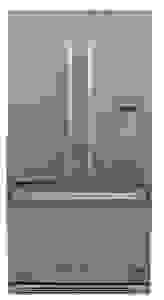 If you don't want your fridge to stick out past your cabinets but can't fathom buying a pricey built-in, a counter-depth refrigerator may be the way to go. One model in particular caught our attention: the DCS RF195AUUX1, a French door counter-depth made by Fisher & Paykel. This particular product is one of the better fridges we've ever tested. Its moisture retention is among the best we've ever seen and the temperature performance in both compartments proved to be stellar over time and across shelves. The control panel takes some getting used to, there's no in-door ice dispenser, and the price tag is quite high—we're talking about a $3200 fridge, after all—but despite those small drawbacks, you're still definitely getting what you pay for.