Refrigerators
6 Easy, Healthy Breakfasts for Kids on the Go
Feeding the brood takes effort, but it doesn't have to be a struggle.

Credit:
They say breakfast is the most important meal of the day. If only our children saw it that way.
Today's kids aren't looking for sit-down breakfasts. They want to wake up as late as they can, take as much time in the bathroom as possible, and grab a quick bite on their way out the door. And if sales of sugar-laden cereals and fatty breakfast foods are any indication, we don't always do a great job of getting our kids the nutrition they need.
But fast food doesn't have to be "fast food." Nor does it have to be taxing for parents, who are usually just as strapped for time.
For a few fresh ideas, I turned to my sister and sisters-in-law who are, collectively, raising a total of nine kids. They've each got different work and home situations, but all have faced the pressure of hustling children out the door efficiently and healthily, day after day.
---
1. The Parfait Bar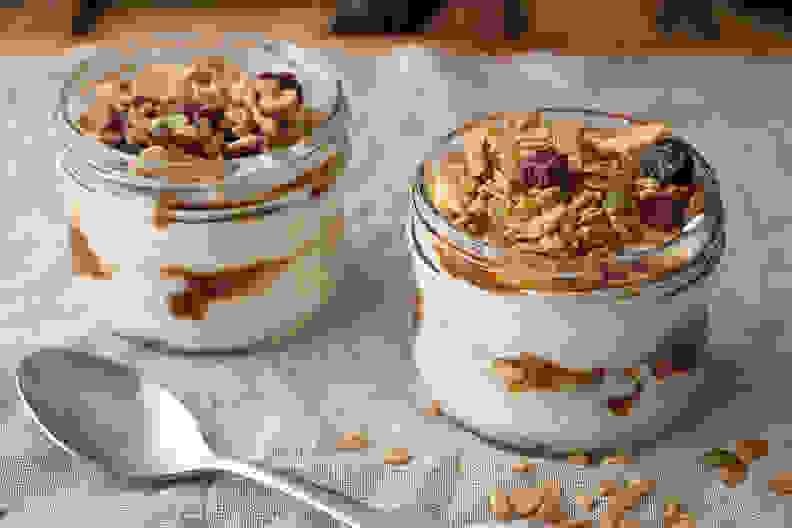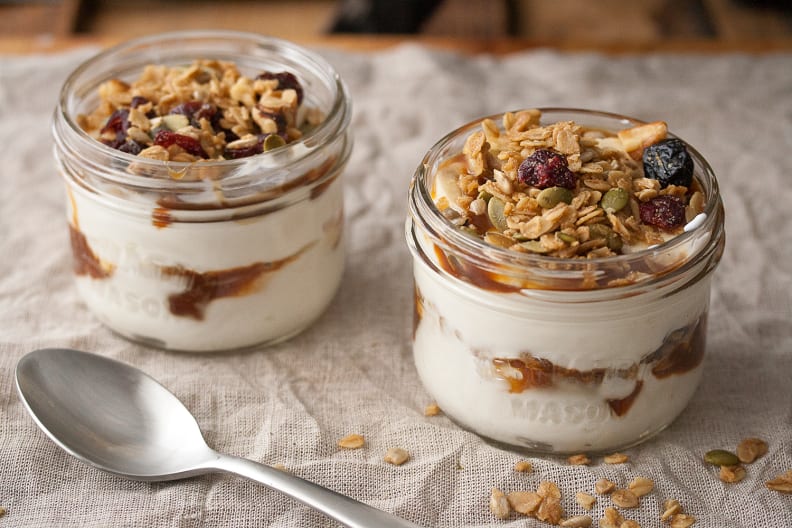 Yogurt and granola have been close pals since time immemorial, and for good reason. Despite the great nutrition, it's almost like starting off the day with dessert.
Sister-in-law Mia takes the concept a step further, setting up a parfait bar on her kitchen counter. There's granola in one jar, nuts in another, compote in the next, and raisins or other dried fruits in another. Only the yogurt needs to be stored in the fridge.
I like how this breakfast option empowers kids, giving them a feeling of control. You can even get them involved in the planning, letting them choose a new topping to rotate in each week. To top things off, you can prepare fresh, sliced fruit at the start of the week to help round out the offering.
If you want to keep it really healthy, use tangy Greek yogurt. It offers up to double the protein, half the carbs, and typically lower sugar content than most commercial yogurts.
---
2. Open Face Peanut Butter & Banana Sandwich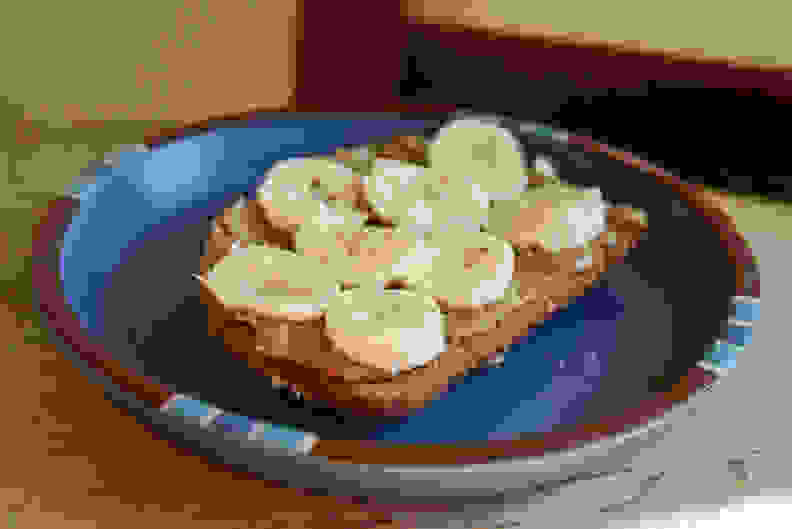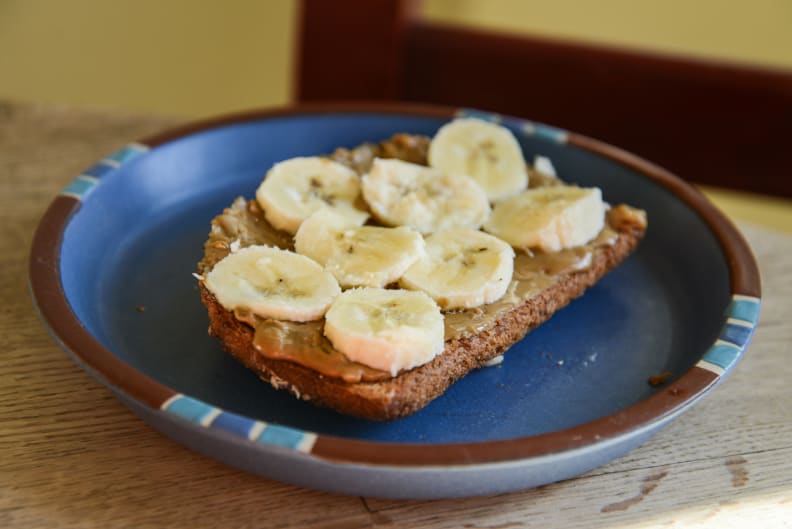 My sister-in-law Leigh chimed in with this simple, healthy option her kids absolutely adore.
Peanuts offer a great plant-based protein source, and what kid doesn't love peanut butter? Turn it into a meal by spreading unsweetened peanut butter onto 100-percent whole grain toast, and top it off with half (or more) of a sliced banana.
Together, the trio is delicious, and also nutritionally balanced. Whole grain toast has bran that provides fiber, nutrient-rich wheat germ, and complex carbohydrates. In addition to protein, peanut butter is a good source of omega-6 fatty acids (but read the label: the #2 ingredient for many name brands is sugar). And bananas are great for potassium, fiber, manganese, and vitamins B6 and C.
A small number of people are allergic to peanut butter, but there are good (even healthier) alternatives on the market, such as almond, sunflower, and cashew butters.
---
3. Buried Treasure Oatmeal
My sister Sarah is a stickler for nutrition and, since she's also a nurse, I tend to listen.
She says oatmeal is one of the best ways to start the day. It's high-fiber, low-fat, and a single serving keeps tummies full for hours. While many families resort to prepackaged individual servings, I find these actually don't save much time, usually include unhealthy additives (i.e. sugar), and tend to cost more per serving than simply making oatmeal in a pot the traditional way.
Including cooking time, this tasty recipe for two takes less than 10 minutes to prepare:
Ingredients:
• 2 cups water
• 1 cup whole grain rolled oats
• Handful of dried fruit (raisins, sliced apricot, prunes, dates)
• ½ teaspoon ground cinnamon
• dash of salt (optional)
• milk for topping
Directions:
Bring the water to a boil and add the oats, fruit and cinnamon (and salt if desired). Cover, lower heat and simmer for 3 to 5 minutes. Serve with milk and top with fresh fruit or coconut flakes—makes two servings.
For her 14-year-old, Sarah makes a couple substitutions. She swaps out a half cup of the oats and replaces it with 4 tablespoons of almond meal and 2 tablespoons of ground flaxseed meal.
The almond meal is high in vitamin E and calcium, and provides a boost of protein to the cereal. Flax seed is another great protein and fiber source, and it's high in omega-3 fatty acids. (Note that flax seed is naturally mucilaginous, so adding it will make your oatmeal a bit thicker than usual.)
---
4. Breakfast Muffins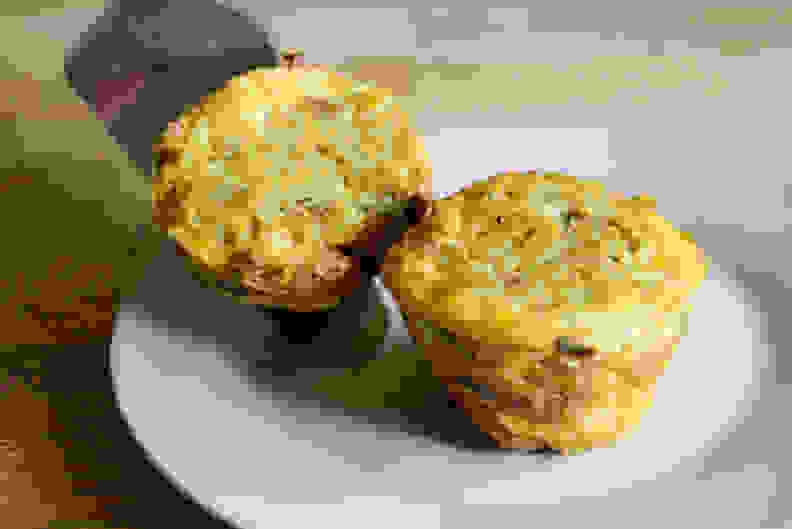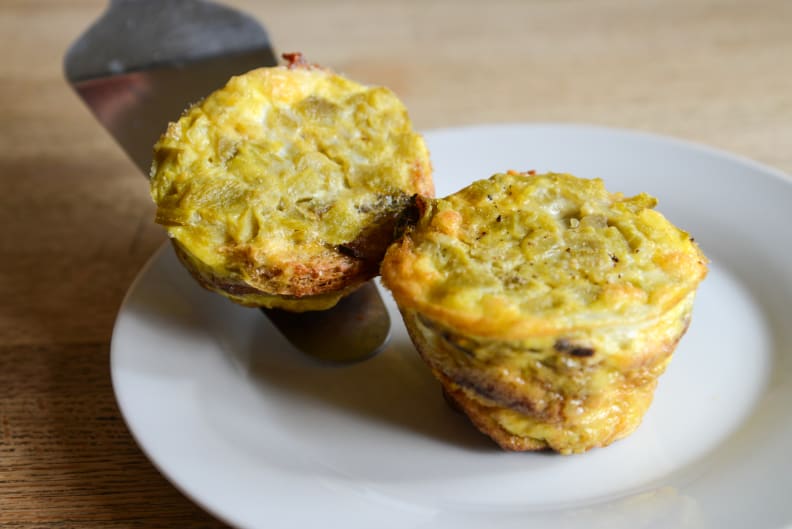 Okay, this suggestion from my sister-in-law Denise takes a little more time—maybe 30 minutes, including baking time—but you can prepare a tray on Monday morning and they'll last all week. They'll freeze easily, too—just relocate them to the fridge to thaw the night before.
Here's what you need.
Ingredients:
• 6 slices of sandwich bread
• 4-oz can of diced green chile
• 10 eggs
• ¼ cup half and half
• 1½ cups shredded cheddar cheese
• ½ cup cooked, crumbled bacon (about 6 oz pre-cooked)
• salt and pepper to taste
Directions:
1. Use scissors to cut the bread into 12 two-inch circles.
2. Spray a muffin tin with non-stick coating and press the circles of bread into each cavity.
3. Spread a teaspoon of chopped green chile onto each piece of bread, then sprinkle the cheese and crumbled bacon onto the chili.
4. Whisk together eggs and half and half, and pour mixture into each muffin cavity (muffin liners make cleanup easier).
5. Bake at 350 degrees for 15-20 minutes or until cooked through. Allow to cool before removing them from the muffin tin.
Eggs are the key to these breakfast muffins—they're are loaded with protein, iron, minerals, and disease-fighting nutrients. While bacon and cheese have fat, they're just sideshows to the main attraction, and in a small enough portion to provide flavor without torpedoing the muffins' nutritional value.
That said, feel free to substitute sautéed mushrooms or spinach in place of the bacon and/or cheese.
---
5. Smoothies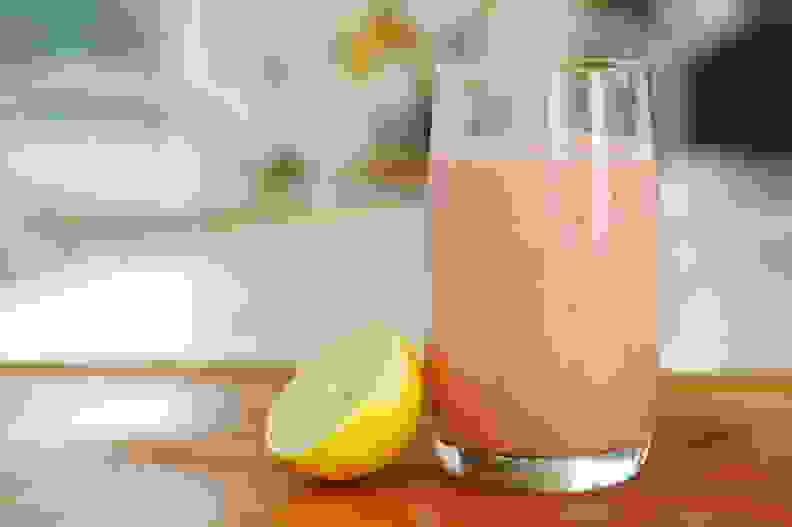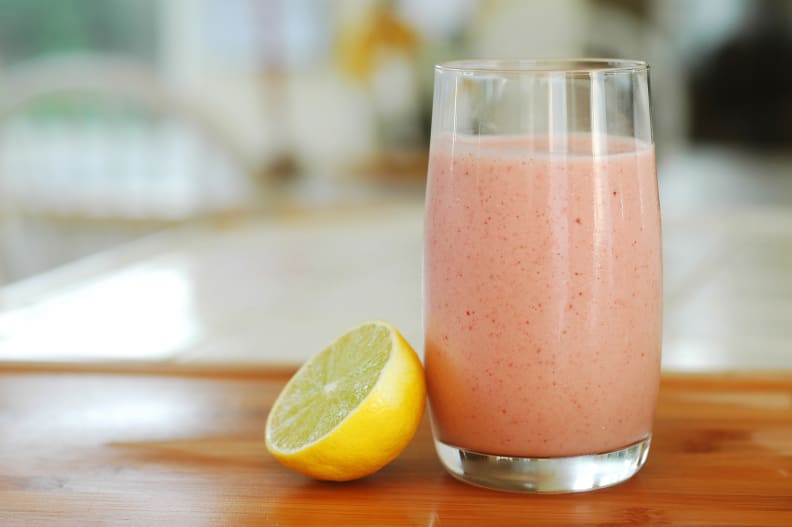 When my nieces and nephews first started visiting from out of town, I was at a loss when it came to making a quick, easy breakfast to get on the road. Eventually, I turned to smoothies, and the trick stuck—their moms took the recipes home to incorporate into their daily routine.
My basic recipe for one serving is simple.
Ingredients:
• Medium sized banana
• ⅓ cup orange juice
• ⅔ cup frozen fruit—strawberries, blueberries, mango, pineapple
Directions:
Well, this is easy. Just throw it all into a blender, blend until smooth, and serve in the glass of your choice.
To minimize déjà vu, I change it up every morning with different fruit (usually I find the best frozen fruit buys at Trader Joe's or Costco), but I've added a few other twists that met with approval.
Per serving:
• A heaping tablespoon of yogurt provides a creamy texture
• A quarter-sized slice of orange or lemon peel gives nice tang
• Grapefruit juice instead of orange provides an ambrosial flavor
• A few pitted dates are so sweet
• A couple tablespoons of light coconut milk (not water) make me think of tropical isles
The benefits of the various fruits are well-known and don't need to be restated here. But while I'm pretty flexible as to what I'll put in my smoothies, there are three things I absolutely will not add: ice, ice cream, sweeteners. No one complains.
---
6. Hot Lemon Water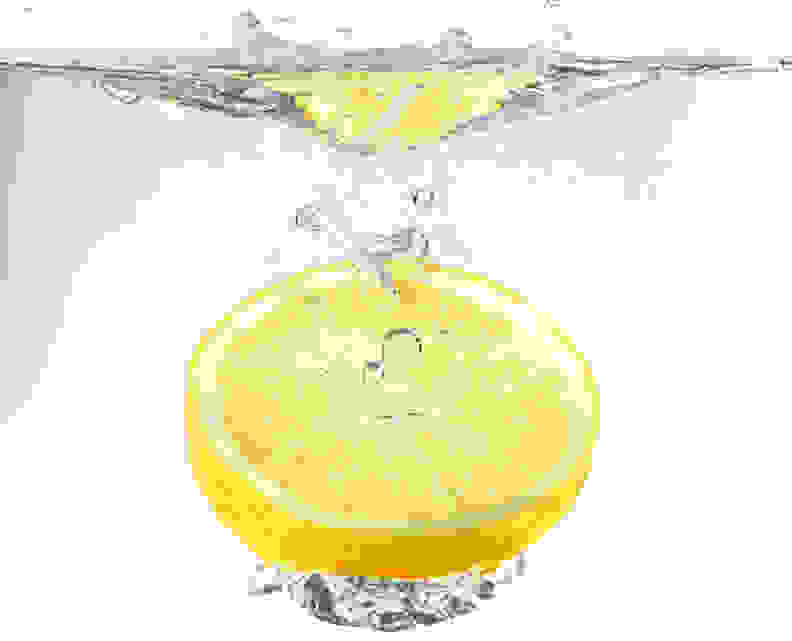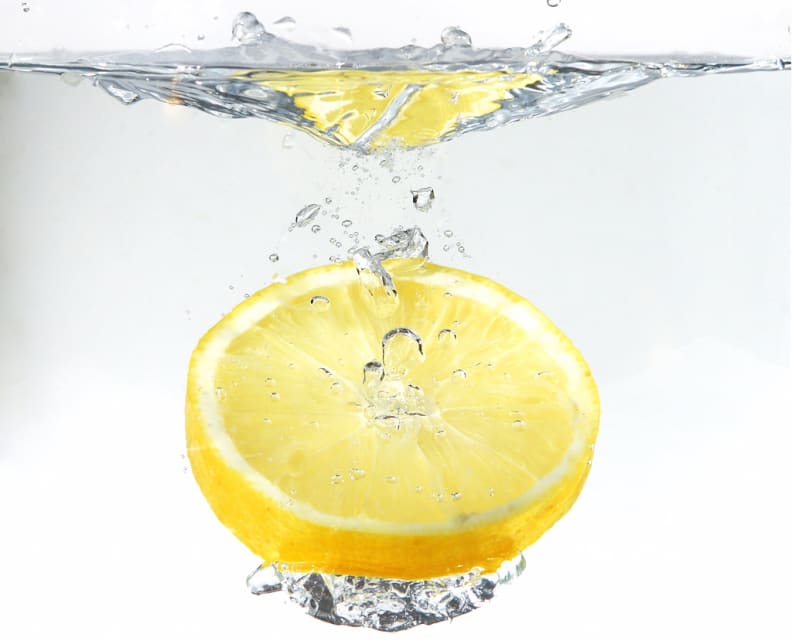 (Okay, this one isn't exactly breakfast, but bear with us...)
The Starbucks bug has bit Leigh's teens and just won't let go. So, inspired by her yoga instructor, she started making a simple hot beverage that her kids find almost as quenching. Starting with a cup of boiled water, she adds the freshly squeezed juice of half a lemon. Then she stirs in a dollop of local raw honey, creating a sort of hot, refreshing lemonade.
The lemon juice is loaded with vitamin C and antioxidants, but there are other bonuses.
If weight control is a concern, drinking hot lemon water is conducive to staying trim. And, by using locally sourced honey, you may be dosing your children with a natural allergy remedy. Research hasn't proven that honey is an allergy reliever, but the bees' handiwork has other benefits.
And really, who doesn't enjoy a spoonful of honey to start the day?
---
Need more ideas?
There are plenty more healthy breakfast options for kids at Epicurious. Most of these are somewhat more involved, and a might be a bit too sophisticated for younger taste buds, but try them out some weekend and see.
---
Hero image: Flickr user "wworks" (CC BY 2.0)