Refrigerators
A Whisky Lover's Tour of Scotland
Distillery tours invite us to fall in love with Scotch all over again.

Credit:
Midway through researching the ins and outs of Scotland for an upcoming vacation, I realized I was in over my head with one essential piece of destination mythology.
A friend of Scottish heritage mentioned that his favorite Scotch whisky was Talisker, a fierce brew produced on the Isle of Skye. I should definitely stop by for a tour, he said.
Tally-who?
Though I've been known to nip on the odd glass of Scotch when the mood strikes, I confess that I knew little about the spirit, nor the fact that Scotland had 100 different distilleries, each producing whiskies with distinct characteristics. I was familiar with the names Dewar's and Johnnie Walker, the two best-selling brands in the U.S., but the distilling nuances, let alone the labeling terms on a bottle of Scotch—blended, single malt, grain—were all a mystery to me.
In fact, I wasn't even sure what makes Scotch different from whisky to begin with. Clearly some on-the-ground research was in order.
Getting Out the Map
Whisky is produced throughout Scotland, with the greatest concentration found in and around Speyside, a region just southeast of Inverness. But distilleries dot most of the countryside, and since I was starting from scratch, I saw no need to begin my tour with the most famous names.
-->
My driving route through Scotland began in Glasgow and headed north to the Highlands, circling around to Edinburgh. The first stop was the town of Oban, a lively port perched between the western Highlands and offshore islands.
Oban is also the name of a distillery—one of Scotland's oldest, dating to 1794. It's unique in that the facility itself is lodged in the center of town, a half-block from the wharf, making it a rare "urban" distillery.
My visit here was guided by a young lass (forgive me, I'm in Scotland), who looked barely old enough to be of drinking age. Still, she delivered the basics efficiently. Here I learned that all Scotch is whisky, but not all whisky is Scotch. It was a refrain I would hear again and again in the days ahead.
In the broadest sense, whisky is a spirit distilled from a combination of grains, yeast and water. Local variations tend to be named after the area where they're produced. Scotch comes from Scotland, Irish whiskey (like Jameson) is made in Ireland, Canadian whisky (Crown Royal) is produced in Canada, and Tennessee whiskey (Jack Daniel's) is crafted in Tennessee.
But the differences aren't solely down to geographical location—each country (or state) has its own specific recipe guidelines. So, in addition to being bottled in Scotland, Scotch whisky can only be made from malted barley. By contrast, Tennessee whiskey must be distilled from at least 51 percent corn mash.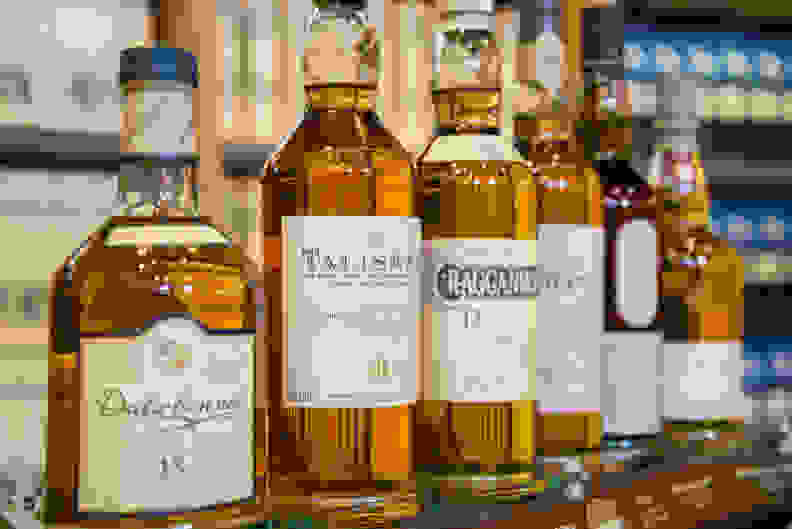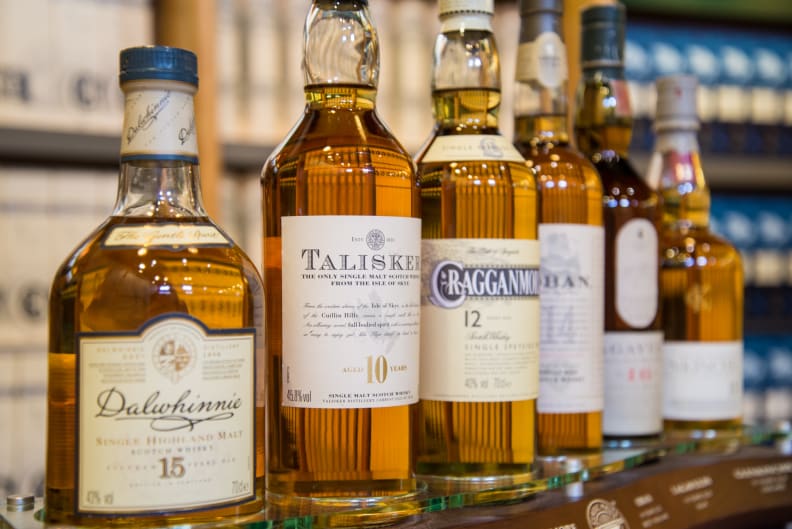 Every distillery tour ends with a sample, and at Oban we took in the 14-year-old single malt. The tour guide urged her group to seek out salty nuances, courtesy of Oban's coastal location.
After a teasing swirl in my mouth I could only taste fire in my gullet. But then the blaze receded, and Oban began to reveal hints of orange peel and smokiness, with sea air coming through the back door. That wasn't a bad thing.
Sampling the Lava of the Cuillins
I ventured onward to the magical Isle of Skye, largest of the Inner Hebrides and just one of about 90 inhabited islands flanking Scotland's coast. Though sparsely populated, more than a dozen distilleries thrive on these islands today, including my friend's favorite, Talisker.
Founded in 1830, the Talisker distillery sits on the sea, near the base of a ridge of volcanic outcrops, the Cuillins, Scotland's most dramatic mountains. From these, the whisky got its flashy nickname, "the lava of the Cuillins."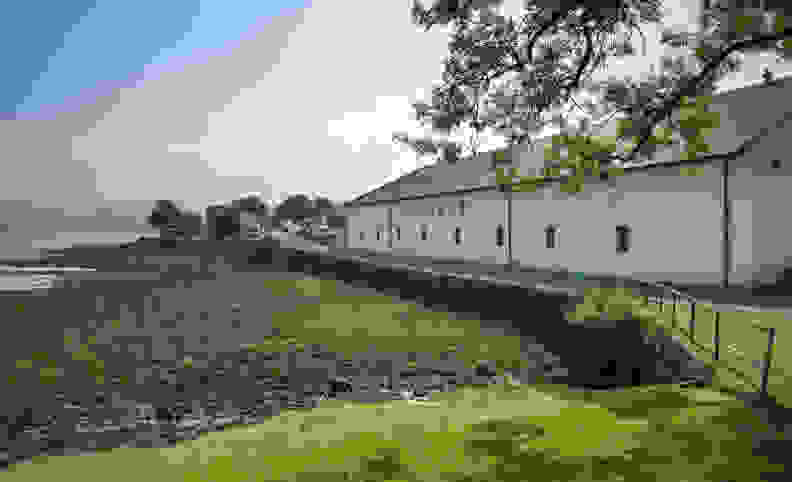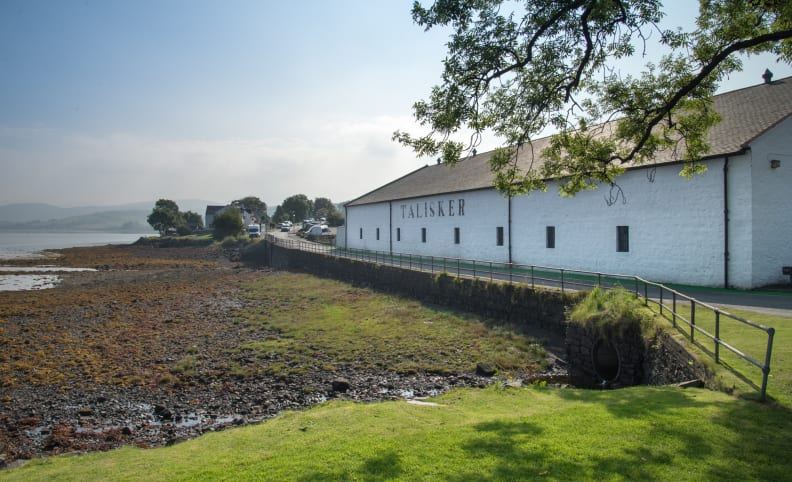 With only three ingredients required for Scotch, each distillery does its utmost to amplify characteristics and create a distinct, unique final product.
At Talisker, a guide explained that the key ingredient is water sourced from a nearby spring. If the spring's output falls below a certain level, production is stopped to avoid using water from other sources—not unusual in late summer.
The more time barley spends roasting with peat, the smokier the final product.
Another characteristic of Scotch whisky is the use of peat in roasting the barley. Peat is partially decayed moss and bog turf, found in the moors covering much of Scotland. In a million years or so, peat becomes coal, but when it's used during barley roasting, its earthy smoke becomes an added flavor in whisky. The more time barley spends roasting with peat, the smokier the final product.
Whiskies made on the island of Islay, such as Laphroaig and Lagavulin, are particularly noted for their peat-heavy flavor; it can be off-putting to some. By contrast, whiskies such as Glenlivet and Glengoyne use little or no peat during roasting, giving them delicate, floral nuances.
-->
The whisky of Talisker has a heavier peat influence than most. At the requisite tasting that finished our tour, the 10-year-old single malt left not just smoke on my palate, but hard pepper flavor, with a brooding finish. A few drops of water softened the assault, but not the bold flavor profile.
No wonder Talisker is the one whisky James Bond drinks (in Ian Fleming's original books, anyway).
A Wee Pleasure
Since 2000, Scotland's whisky distilleries have undergone a major consolidation. London-based Diageo is the giant, with more than two dozen distilleries under its belt, including Johnnie Walker, Oban and Talisker. Other big liquor producers like Pernod Ricard and Bacardi are in the Scotch game, too. It led me to wonder if there were any small, independently operated distilleries left.
"Modern methods and machinery have killed off most of Scotland's farms," said John Galt, my guide on a tour of Edradour distillery, a sweet little facility I discovered through Rick Steves' Scotland guidebook. "What we produce in a year, the biggest distilleries will produce in a week."
"What we produce in a year, the biggest distilleries will produce in a week."
Located just outside the charming burgh of Pitlochry, Edradour proudly claims to be Scotland's smallest distillery, looking itself like a quaint village wrapped by a tumbling stream.
I'd go so far as to say the old-fashioned distilling craft showcased at Edradour is no hindrance—it's an invaluable sales hook.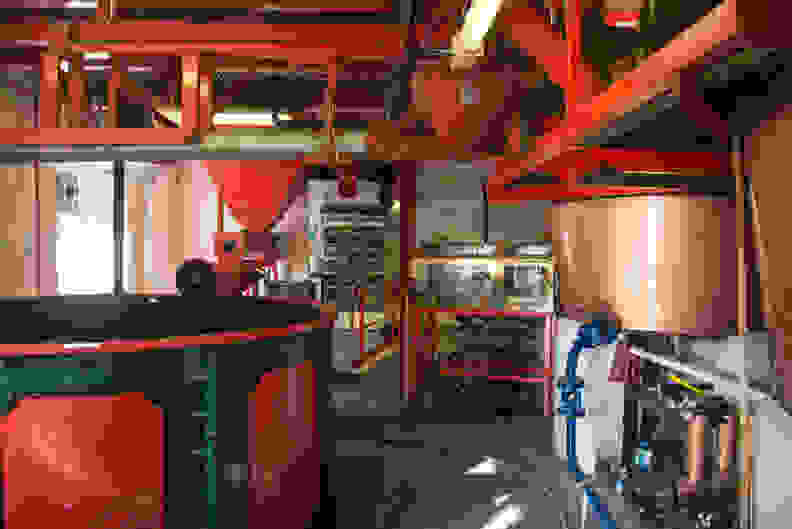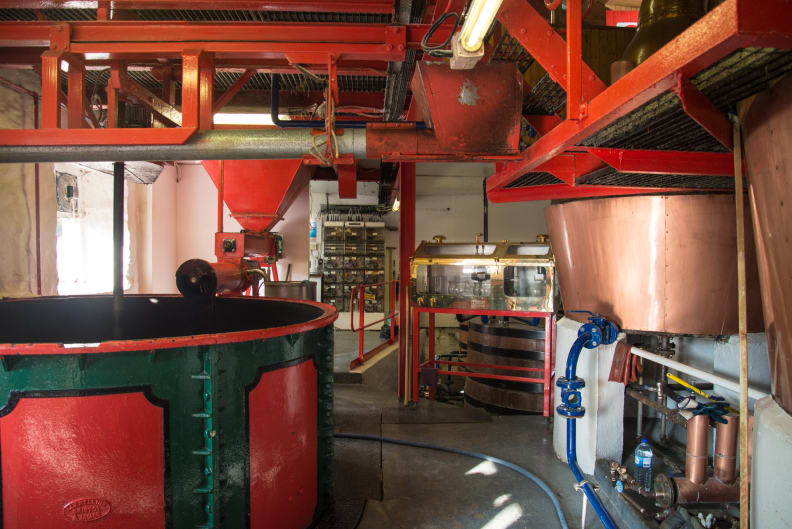 Originally a cooperative of local farmers, the distillery dates to 1825. During the 19th century, Edradour was probably typical of dozens of other distilleries of its time—small, hand crafted, and locally distributed. But in 1938 Edradour was taken over by Irving Haim, an agent for mafia boss Frank Costello (no doubt looking for post-prohibition revenue opportunities). After Costello's death the distillery traded hands a few times until 2002, when it landed back in Scottish ownership.
Using the smallest copper pot stills in Scotland, Edradour says it's the last place producing handmade single malt whisky from a farm distillery. Although the barley farming and malting takes place elsewhere, the balance of the process takes place under one roof. So, unlike tours at the bigger distilleries, virtually every aspect of production is visible and even tangible at Edradour.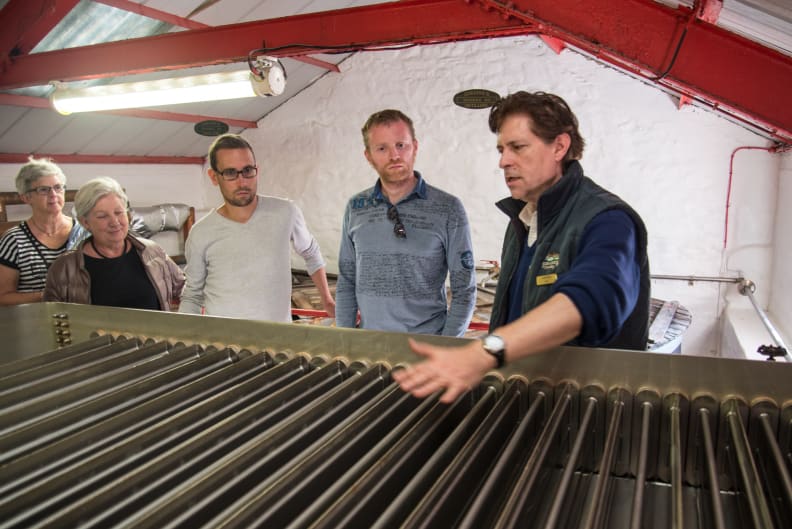 "There are just four words you need to know," said Galt as he began the tour. "Single malt Scotch whisky."
Unlike blended Scotch, which comes from multiple distilleries, single malt is made only from malted barley and produced at a single distillery using pot stills. Most of the Scotch market's biggest names—Johnnie Walker, Chivas Regal, Dewar's—are blended whiskies.
-->
Galt's tour took us through the still house, where an open mash tun mixes the malted barley and hot water to create worts, the sugars that will be used for brewing. At Edradour the liquid is cooled with cold water, using an old Morton Refrigerator—the only one still in use in the whiskey industry—and then stored in a wash back, a giant pine barrel where the mixture ferments for three days.
Distilling at Edradour involves two copper stills, the second of which is the smallest in Scotland. In the stills, alcohol is converted to vapor, allowing it to be extracted from the water. The alcohol then runs through a spirit safe, a Victorian-era device that separates the heart—the good stuff—from the feints, or excess.
It's in the last stage of the process that nuances are developed. To be labeled Scotch whiskey, the product must be aged for a minimum of three years—most single malts are aged for eight to ten years, or even longer.
Secondhand American oak casks are used to age the whisky, usually recycled from bourbon manufacturers. At Edradour, casks from Jack Daniels, Buffalo Trace and Jim Beam are among the many in use. Some whiskies are "finished" in a wine cask, adding another layer of complexity to the final product.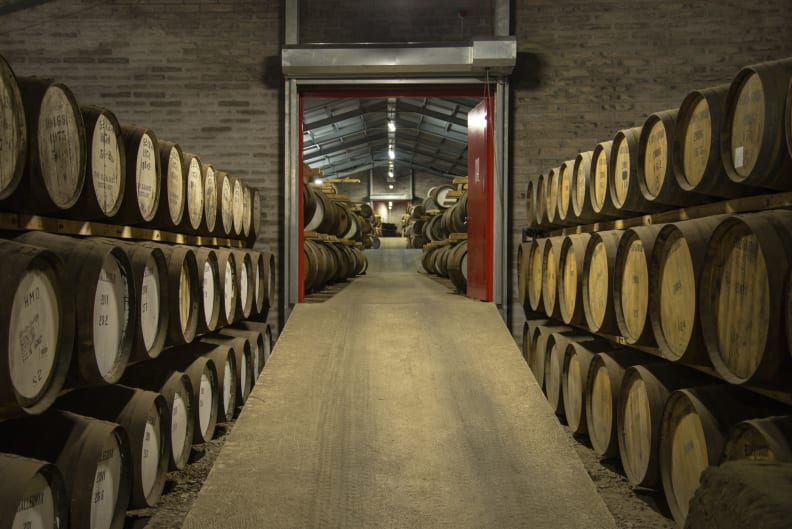 In the warehouse, row after row of this magical brew sits waiting quietly in the dark. Galt points to one barrel with labeling unique from the others. "A barrel like this that has been aging for 40 years might be worth a quarter-million pounds."
No wonder these bottles and barrels are so carefully numbered.
Up next
Get Reviewed email alerts.
Sign up for our newsletter to get real advice from real experts.