Refrigerators
All-American Juicer Makes Super Food a Cinch
Now juicing pomegranates is as simple as squeezing your own oranges.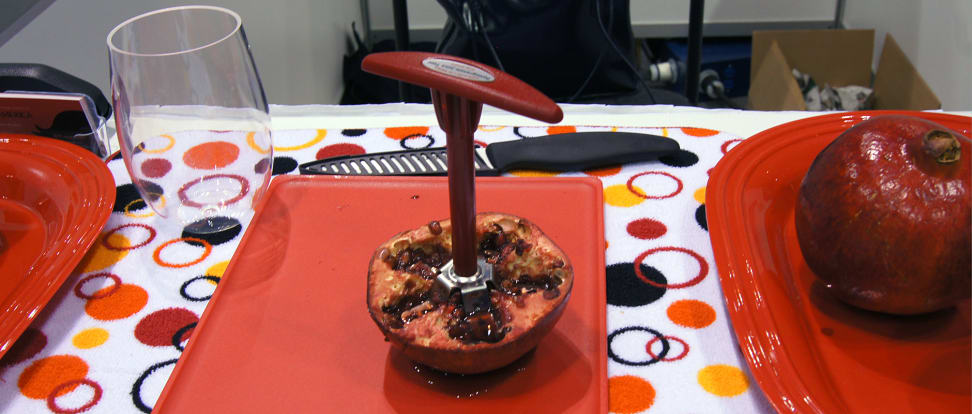 Credit:
Getting fresh-squeezed pomegranate juice usually involves a blender, a strainer, and some skillful knife-jutsu. Having to carefully extract the sweet, juicy seeds from the inedible pulp is a lot of work—work that most people would skip in favor of buying processed pom juice from the grocery store.
With the frenzy surrounding the alleged health benefits pomegranate juice, VIC America aims to make juicing a pomegranate as simple and convenient as squeezing juice from an orange.
The company's Pomegranate Juice Tool is a hand tool designed to squeeze the juice out of the seeds without having to extract them first. You simply cut the fruit open, mash the seeds with the tool, then pour the juice directly from the husk into a glass.
The Pomegranate Juice Tool is the first U.S.-patented hand tool designed to juice the pomegranate in this way, without the need for a blender or mixer. Since it's a simple hand tool, it doesn't require any power cords and is easy to clean and store.
The tool also has the distinction of being a truly "all-American" product. The stainless steel blade is produced from U.S.-sourced steel, the plastic T-handle is molded in the U.S., and all aspects of sales, warranty claims, and distribution are located in the U.S.
It first launched at the 2014 International Home and Housewares Show in Chicago, where live demonstrations were given. If you want to get your juice on, you can order one from VIC's website for $19.95.
Up next
Get Reviewed email alerts.
Sign up for our newsletter to get real advice from real experts.