Refrigerators
Are see-through fridges the future? We have the answer.
LG wants you to come a-knockin', but you may not want to answer.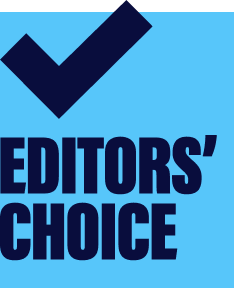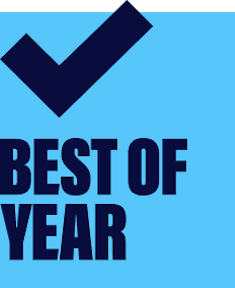 Credit:
There's a new refrigerator you can see inside even when the doors are closed. It's from LG, it's called the InstaView, and we got the chance to try it out.
The idea behind the InstaView is simple enough: An opaque glass panel covers one half of the refrigerator door. Knock twice on it and it goes clear, giving you a view of what's inside. That way, you can see what's in your fridge without opening the door—but you can also conceal the mess inside your fridge when you want to.
Read our full review of the LG LFXS307 InstaView refrigerator
Currently, LG offers two InstaView fridges: the 30-cu.-ft. LFXS30796D standard-depth French door, and the 24-cu.-ft. LFXC24796D counter-depth French door. (Two four-door French door models are coming soon.)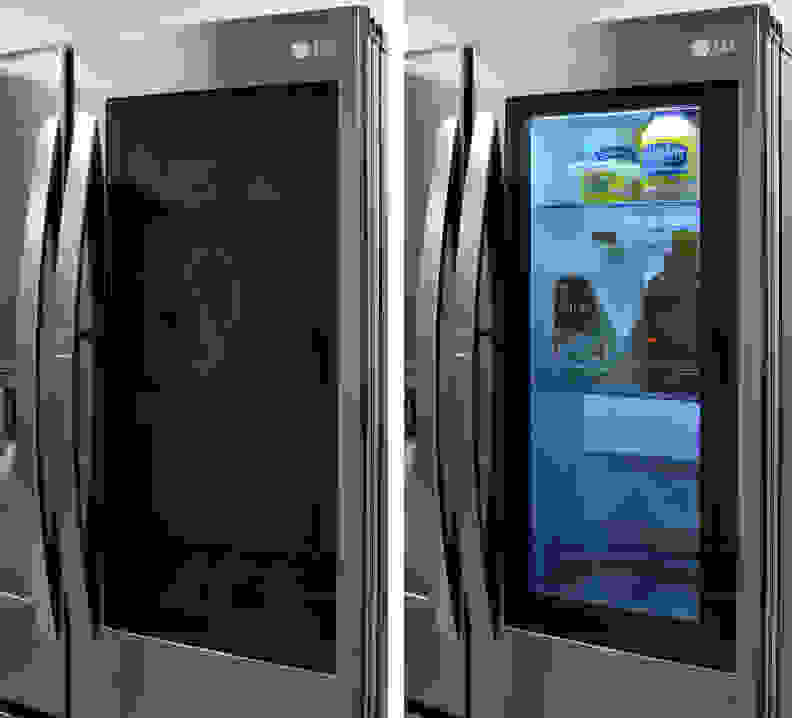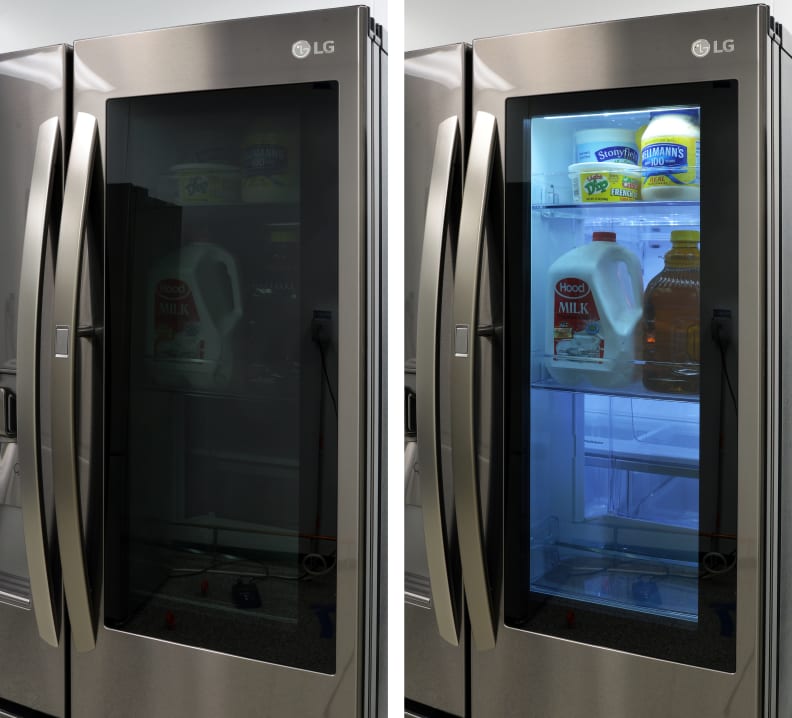 Should you put one in your kitchen? Well, after more than two weeks spent living with an InstaView-equipped refrigerator, I have some opinions—and some reservations.
Before I even took it out of the box, the first thing I noticed about the see-through fridge was its price: Both InstaView fridges retail for $3,549 on sale. That's a lot—especially considering we've seen sale prices on a similar LG fridge without InstaView drop as low as $2,499, which means you're paying up to $1,100 extra for one feature.
Once it was installed, the next thing I noticed was color. Currently, LG only offers InstaView on fridges with its special black stainless finish. In theory, it should complement traditional stainless—but it will never be an exact match.
Even though InstaView buyers are paying top dollar for a front-row seat, the tiny window only offers an obstructed view.
Not only is it expensive, I couldn't even get the window to work consistently—and neither could our other reviewers. Sometimes a quick, double tap would make the glass go clear as intended, but other times it wouldn't change until five or six knocks in. At that point, our knuckles started aching.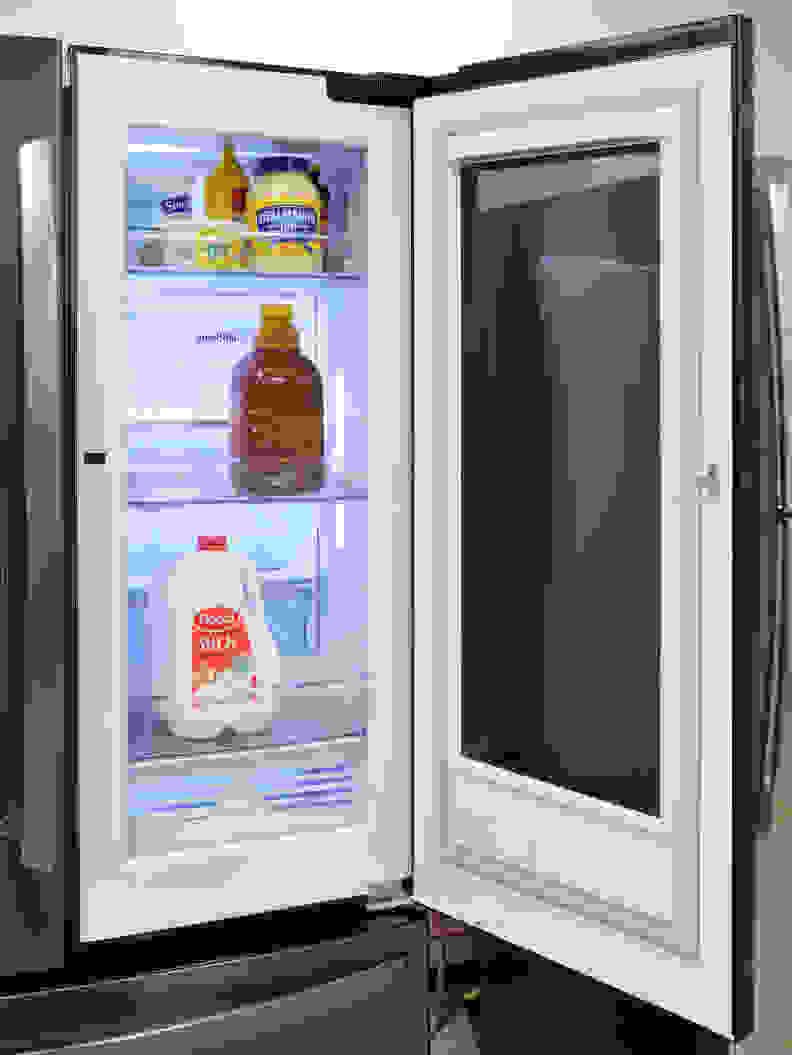 But my biggest complaint involves just how much of the fridge is visible through the glass. Even though InstaView buyers are paying top dollar for a front-row seat, the tiny window only offers an obstructed view.
In fact, all you can really see is what sits on the door shelves immediately behind the window. In my case, a wall of salad dressings and condiments block my view of the main shelves, and I have to open the door to see if my girlfriend left me any sweet potato casserole.
It's not all bad news, though. The concept of a see-through fridge is still a solid one, and we wouldn't be surprised if LG expanded it to more products. In fact, shallower fridges with fewer on-the-door shelves may be a better fit for the InstaView technology.
The underlying fridge is also excellent at food storage and preservation. We tested a conventional three-door version of this fridge earlier this year and liked it, which is good news for produce and frozen food alike.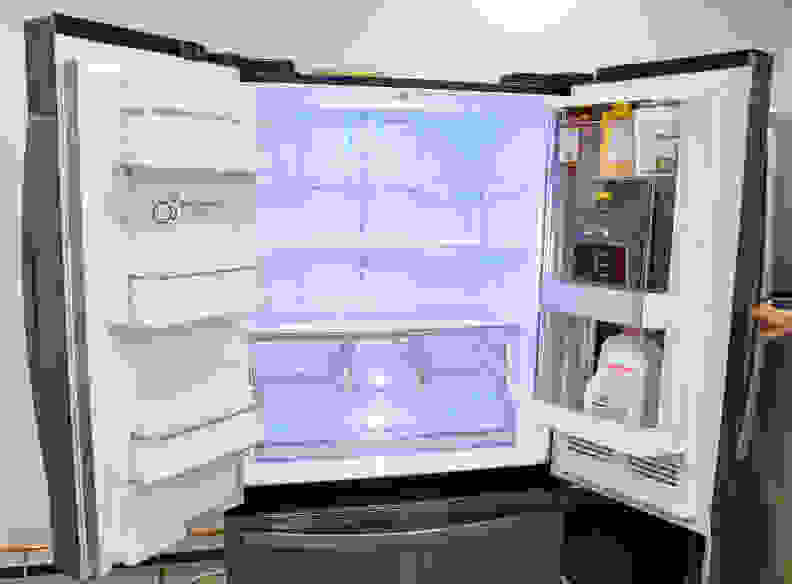 For now, InstaView remains an expensive novelty for early adopters. But if any company can bring it into the mainstream, it's LG—who has a long history of innovation in the fridge. The door-in-door fridge, the four-door fridge, and even the French door fridge all started as niche products until LG brought them into the mainstream.
If the InstaView's fate is similar, maybe we'll be lucky enough to all own fridges with a window some day.