Refrigerators
The Coolest Ways to Store Your Wine
There's an innovative storage solution for every kind of drinker.

Credit:
Whether you're the kind of person who only drinks at parties or a serious oenophile, properly storing your wine can be a daunting prospect.
Most standard American fridges aren't set up to handle wine bottles, so drinkers just lay them on the shelf or stand them up in a door tray. Those who are a bit more serious about their wine can invest in a dedicated wine fridge, but not all of them provide the features or control real wine nuts desire.
At this year's EuroCucina kitchen show in Milan, we saw a number of innovative storage solutions from our wine-crazy friends across the pond. If you're looking for a better way to house your vino, these are the best we've seen.
---
The Timid Tippler
If you only drink wine occasionally, you probably have a bottle of red lurking somewhere in your cupboard. That's fine—that's where it should be.
But what about whites and rosés? If you're like most people, you probably just throw them in the door of your fridge, right next to the ketchup bottle and Brita jug. But depending on which fridge you own, getting it to fit can be a pain. Wine bottles are often simply too tall.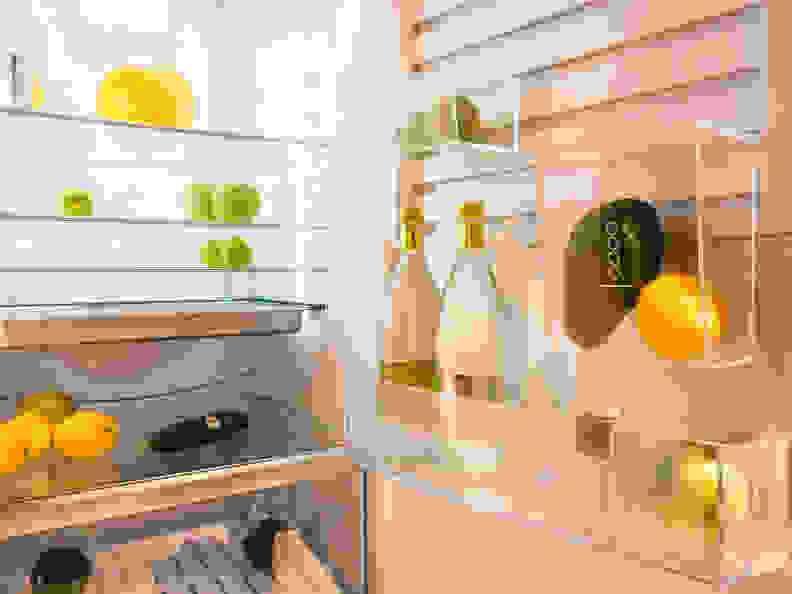 A new fridge door concept from Electrolux offers an easy way around that particular conundrum. Rather than fixed door shelves, it has one shelf and then a series of modular compartments that can be moved around as you see fit. Not enough room for the bottle of Pinot Grigio? No problem, just move the butter container up a little.
---
The Entertainer
Okay, so you like to host fancy dinner parties. Alongside the hors d'oeuvres and crudités, you probably like to put out white wines and champagne for your guests. That means you need room to chill at least a few bottles.
At EuroCucina, we saw a few different takes on multi-bottle storage, from a wide variety of brands. Some, like Electrolux's clever crisper drawer implementation, stand the wine up. Others take a horizontal approach, either slinging the bottles under a shelf on a wire rack or carefully arranging them on the shelf itself.
The one thing they have in common is that they're brilliant uses of space. (That's something Europeans are particularly good at thanks to their generally smaller homes and kitchens.) When they're not in use, they take up hardly any room in the fridge. And when they are, they don't take up a whole shelf.
---
The Connoisseur
If you can tell a Merlot from a Tempranillo just by sniffing it but can't afford to excavate for a wine cellar, you're probably in the market for a dedicated wine fridge. Good news: There are plenty to choose from! Bad news: The coolest ones are only in Europe.
We saw walls of wine fridges, side-by-sides with wine fridges built into them, and even French-door units at this year's EuroCucina. We saw an Electrolux with a bottle-height 15-bottle standing drawer rack at the bottom. We saw dozens and dozens of prop wine bottles. (And, yes, we drank our fair share of wine. It's Italy.)
One fridge, from German manufacturer Liebherr, even offered display shelving alongside its traditional horizontal storage.
The point is: If you really love wine, you should probably move to Europe—for a number of reasons.
---
The Eccentric
Let's say you decide you do in fact want a wine fridge, but you don't want to run with the pack. You're a renegade. A loose cannon. An outlaw.
What you need is a miniature Fiat 500 that's been cut in half and turned into a chest fridge with working headlights.
Just trust us on this one.