Refrigerators
DIY Stainless Steel: Kitchen Makeovers on the Cheap
A low-tech appliance facelift... for less than $100.

Credit: Thomas' Liquid Stainless Steel
For over a generation, stainless steel appliances have been the benchmark of high-end American kitchens. With their shiny, easy-to-clean surfaces reminiscent of the swankiest restaurants, stainless has long been the reigning champion of appliance finishes.
Stainless is still the reigning champ of appliance finishes.
However, a number of manufacturers are working to topple the king, including a prototype Cupcake Blue and Red Pepper finish from GE's Artistry line, and Whirlpool's debut of its more subtle Sunset Bronze.
Of course, a lot of consumers are still enamored of stainless steel... just not so much the price of a full kitchen makeover. Modern appliances are often prohibitively expensive, and stainless models tend to cost about $100 more than their black, white, or bisque counterparts. In true DIY fashion, though, we've looked into two clever solutions that will give your kitchen a shiny new lease on life—and at a fraction of the cost.
Liquid Stainless Steel
Just paint your appliances! Easy, right? This is a real hands-on approach that requires some of the most prep, much like any painting project. Thomas' Liquid Stainless Steel is one of the first companies to adopt this approach, offering everything from a basic quart of paint for about $56, to an $80 all-in-one fridge kit that includes each of the necessary painting tools.
Most liquid stainless steel is harder to fingerprint, easier to clean, and just as durable as sheet steel. You can even use magnets on it, making it a great option for households with kids. Be careful using it on ranges, though, as high heat can cause something called "seasoning," which bronzes the liquid material for up to an inch around each burner.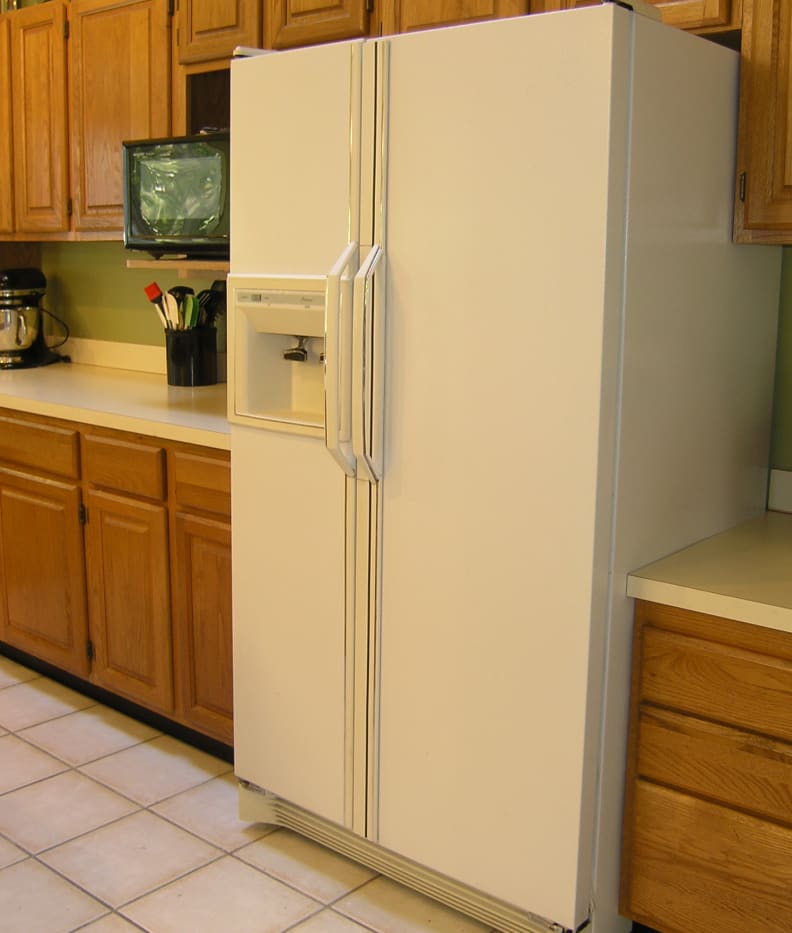 ×
Liquid Stainless Steel
We've found helpful videos online that show how to use liquid stainless on both a smooth and textured finish, meaning any fridge can be overhauled (though the product works best on metal surfaces). Try to attach a magnet to your appliance first to make sure you're not dealing with plastic.
The biggest thing to remember is that you have to clean the product.
The biggest thing to remember is to clean the product. Any oil, grease, or caked-on-crud can cause the paint to separate and look pretty darn awful. Of course, unlike painting a wall, there's not really any way to reverse the effect. Scraping paint out of the little runs in a textured fridge door just isn't going to happen, so make sure you definitely want to do this before starting.
DIY pro tip: Practice painting the side of the fridge first so you can perfect your technique and see how it looks. Most people don't even see the side, so screw-ups are less consequential.
Stainless Steel Contact Paper
If you only want to try out the look of stainless steel, consider adhesive contact paper. Like the paint, it's smudge-resistant; some products, like Faux Steel Film, are also advertised as scratch-resistant. It's designed to resist heat, as well, so the front of your stove should be fine. Plus, it's incredibly easy to remove, meaning you can always go back to the original look if you get tired of stainless.
Sold in 36-inch-wide sheets, the film can be purchased at multiple lengths. Converting a tall side-by-side refrigerator may be a bit more unwieldy than a mere dishwasher door, but it's all possible.
You can easily find more detailed instructions online, but the paper essentially works like a big ol' stainless steel stamp. Slowly peel the backing and press it onto the surface in question–sort of like a giant smartphone screen protector. Any leftover materials can be cut off with a pair of scissors.
Any little bump, blemish, or errant crumb caught under the paper will pop through.
The catch, though, is that any little bump, blemish, or errant crumb caught under the paper will pop through. Cleaning the surface in question is incredibly important, to the point that you may want to consider sanding down any imperfections that can't be washed away. For this reason, you'll want to avoid using it on textured appliances.
A two-foot length sheet of stainless steel contact paper will run you about $20, plus any shipping and handling. A ten-foot swath of the stuff runs for about $75. If you've got a steady hand and are confident in your cleaning abilities, this is definitely an affordable option, and the best choice for folks who like to redecorate periodically.
A Whole New Kitchen...
...for an incredibly low price! You could fully revitalize your gnarly old appliances for less than the cost of a new microwave. There are enough horror stories on the web relating to both of these techniques, which means—above all—you need to follow the instructions and take the cleaning part seriously. With some care, time, and elbow grease, you can create a brand "new" stainless steel kitchen in a single afternoon. Enjoy, fellow DIY-ers!
Related Video