Refrigerators
Hands-On With Samsung's New Smart Refrigerator
Want a fridge that needs software updates?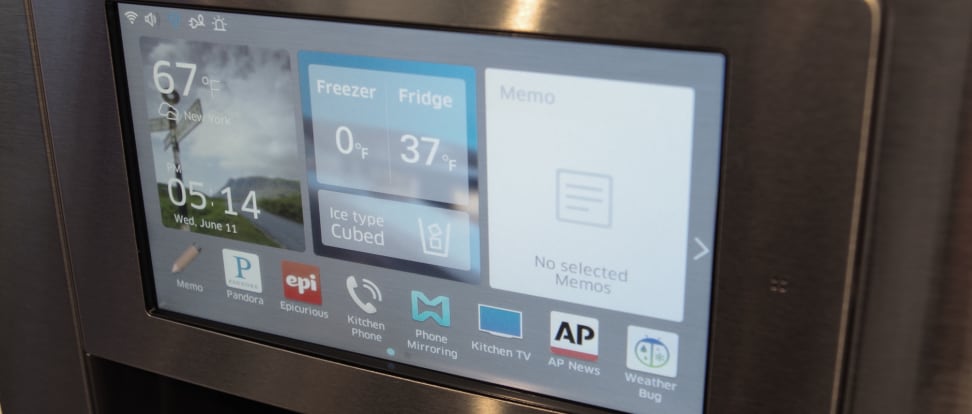 Credit:
Samsung's latest smart fridge debuted earlier this week, and we got some hands-on time with it in our lab.
The RF28HMELBSR features an upgraded tablet-like panel and claims to offer mirroring of Samsung phones, tablets, and TVs, but limited applications, a clunky interface, and a $3,599 pricetag made us second guess this Samsung.
Some smart appliances can be great, but this one likely offers less functionality than the tech you already own. Our recommendation? Snag a cheap tablet and prop it up on your counter.
If you're still interested, we'll delve into the details. An eight-inch touchscreen features two home screens you can scroll between, and each can display a row of apps and three widgets.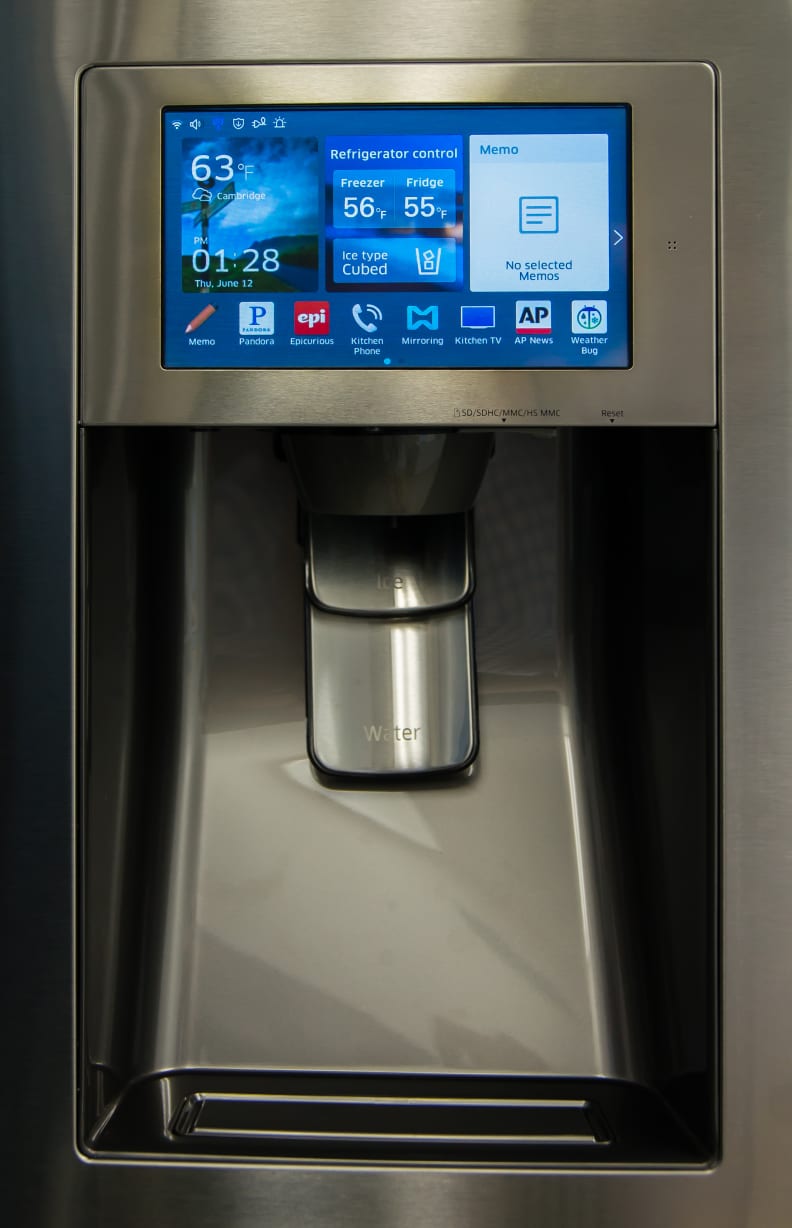 Unlike an honest-to-goodness tablet, you've got a limited list of apps to choose from including WeatherBug, AP News, Pandora, Epicurious, Google Calendar, and an array of Samsung-specific apps like Kitchen Phone, Mirroring, and Kitchen TV. As for widgets, there's weather, temperature controls, memos, news, a photo slideshow, and a calendar.
We'll come back to those Samsung-specific apps in a moment, but let's explore the interface first.
When Keith put on his Hall & Oates Pandora station, "Maneater" cut out as soon as he left the app to check back on his Epicurious recipe.
Yes, Epicurious is great for finding a recipe using only the ingredients you have in your fridge. Memos could be pretty handy for leaving notes for family members since this stainless steel fridge isn't magnetic, and Pandora would be nice to listen to while cooking.
Unfortunately, all these apps had significant bugginess. We kept trying to click on ingredients in Epicurious, but the screen thought we were trying to scroll. And when Keith put on the Hall & Oates Pandora station he created, "Maneater" cut out as soon as he left the app to check back on his Epicurious recipe.
The AP News app suffers from information overload—headlines only, please!—and the photo slideshow app displays pictures so tiny they're almost useless.
None of those struggles were as great as the problems we faced when we tried to use the dedicated Samsung apps. In the end, we just couldn't get them to work.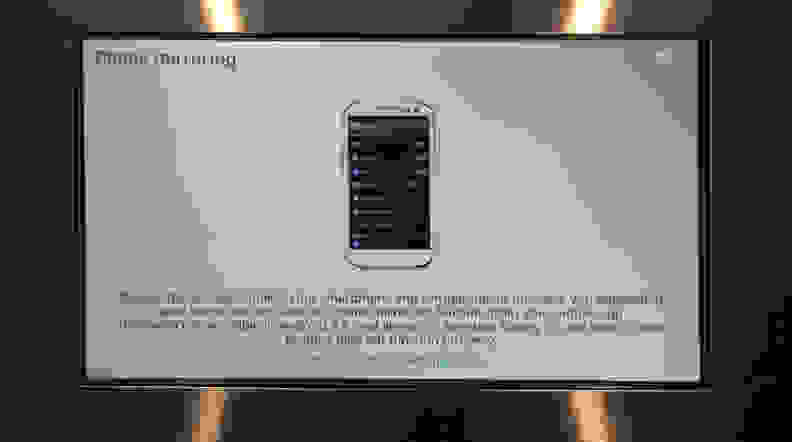 The Kitchen Phone and Phone Mirroring apps promise the ability to leave your Samsung phone in your pocket and use your fridge as an interface.
Eventually, we managed to connect a Galaxy S4 to the fridge, but the process was quite lengthy.
When we first plugged in the fridge, it said that mirroring required a Galaxy S4 or higher running at least Android 4.4 KitKat. Then it prompted us for a software update, which changed the requirements to demand a Galaxy S5, Note 3, or higher.
Eventually, we managed to connect a Galaxy S4 to the fridge, but the process was quite lengthy. In fact, the fridge froze during our first attempt to connect the S4, requiring us to unplug the fridge and start over. Once we connected it and launched the Samsung Smart Home app, the S4 was only able to view the fridge's temperatures and whether the water filter was still in good condition. We couldn't even change the temperature of the fridge or freezer from the app.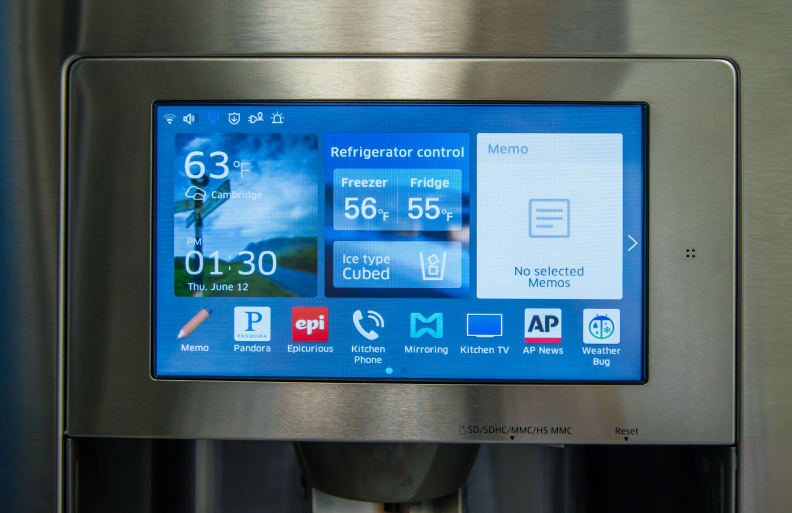 ×
Samsung RF28HMELBSR Smart Fridge Photo Gallery
The fridge's Kitchen TV app also has severe limitations. It requires a virtual connection to an existing Samsung TV, features vague instructions, and will not work if your Samsung Smart TV is connected to a set-top box. If you've got HD cable and live in the U.S., it's almost guaranteed that this will make TV mirroring impossible.
For the RF28HMELBSR's $3,600 MSRP, you could easily buy a great fridge, a new tablet, and a TV that fits in your kitchen. Sure, they wouldn't feature a unified, snazzy, smart interface—but neither does this refrigerator.