Refrigerators
How You Organize Your Fridge Can Help You Lose Weight
It's all about location, location, location.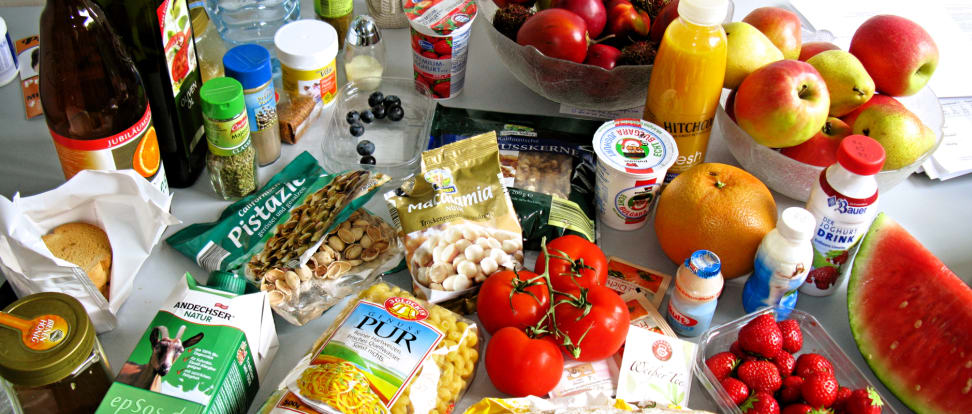 Credit: Flickr user "epsos"
Springtime is here! Over this long, laborious winter many of us have packed on a few pounds. All those heavy beers, holiday meals, and lethargic winter nights can really make the calories stack up. A little spring cleaning may help you slim down on that winter stomach, but your diet is just as important, and a properly stacked fridge is more helpful than you think. Here are a few tips for making your fridge a little more spring-friendly.
Keep your veggies at the forefront
Justin Klosky, author of Organize & Create Discipline, suggests keeping fresh produce at eye level or in the most visible places. Studies have shown that one of the leading causes of produce waste in homes is that it simply goes bad before owners have a chance to consume it.
By keeping your veggies front and center, not only will your produce stare you down every time you open the fridge, you'll have a better idea of what's available and when it's likely to spoil.
Out of sight, out of mind
You know how some people freeze their credit cards in blocks of ice? (Yeah, it's a thing.) Well, RDN (Registered Dietitian Nutritionist) and author Jessica Fishman Levinson says you should do the same thing with your junk food. Hiding your junk food in the freezer may seem like a small deterrent (you could also just throw it away), but when combined with the upfront placement of your fruits and vegetables, it may actually help you re-think your meal plan.
Have a (healthy) snack attack
So you're too busy to cook a few meals, but you have reservations about reaching for those fatty comfort foods. To stave off temptation, yoga instructor Kristin McGree suggests keeping healthy snack pairings together.
A great way to do this is to fill one of the shelves on your fridge door entirely with healthy foods. For example, you could have a few bags of carrots, celery, and apple slices next to some low-fat cottage cheese, greek yogurt, and almond butter. That way you can open up the fridge and grab one item from each side and instantly have a healthy snack. With this idea, variety and convenience are rolled into one.
Science is on your side
Research from the Princeton University Neuroscience Institute showed that the way a room is organized can have an impact on your ability to process information. Scientists found that a cluttered room led to an unfocused mind. It'd stand to reason that a well organized fridge would make it easier to keep a healthy diet. But of course, like most things in life, will power and motivation are the most important ingredients.
Related Video