Refrigerators
Indoor Gardening Just Got a Lot More Stylish
These lights aren't just for show.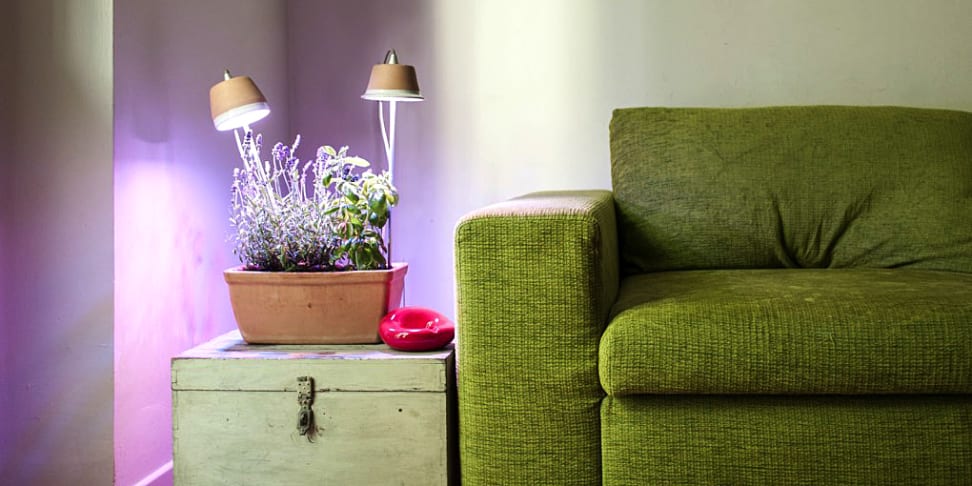 Credit: Bulbo
Growing your own food is tricky if you live in an urban area. Depending on how you're situated, your windows might offer a captivating view of the neighboring building, blocking out direct sunlight.
What can you do if you have a desire for a little bit of self-sustainability, or simply an itchy green thumb? And more importantly, how do you avoid making it look like an amateur hydroponics lab?
Italian lighting designer Lorenzo Antonioni came up with a beautiful, elegant solution: Bulbo. These lights use LEDs similar to hydroponic grow lights you can find at hardware stores or on Amazon, but Antonioni blends them into stylish casings that feel at home in an urban dwelling. After all, a bulky rectangle of UV lights hanging from the ceiling doesn't exactly match most urban décor.
Bulbo gets around this by building its LEDs into decorative fixtures. For example, the Cynara looks like a desk lamp and works well with single pots. It can be mounted directly into the pot with an aluminum rod or suspended overhead like a pendant light.
The Quadra is an adjustable frame suitable for showcasing multiple pots. The basic design draws from the traditional suspended grow light frames readily available from other retailers, but it looks more refined and streamlined. There's not as much dead space up top, and the LEDs are integrated into the frame.
The Systema is meant to be mounted into existing cabinetry. The slim, recessed fixture can modify a shelf or cabinet to provide plant-growing light, opening many possibilities for interior design. The LEDs can also be set to automatically turn on and off to simulate a day-night cycle, but most importantly, they don't look out of place among typical furnishings.
All Bulbo light fixtures are produced in-house, in Italy, so they aren't exactly cheap. But at least their low wattage means you won't be paying much to keep them running, either. Compared to common grow lamps, even ones that use LEDs, Bulbo LEDs are far more energy efficient.
If you want an indoor garden without sacrificing aesthetics, this is one of the best solutions that exists.
Related Video