Refrigerators
A Look at Samsung's 2016 Home Appliance Lineup
From washers to fridges, there's something for everyone.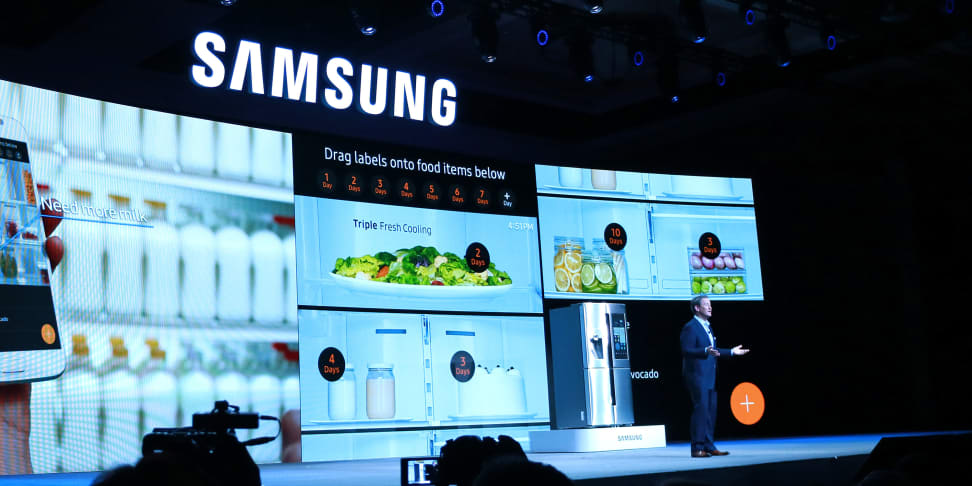 Credit: Reviewed.com / Johnny Yu
CES isn't just about televisions and laptops. Some of the biggest names in the home appliance world have started to show off their latest products at the technology-focused trade show, which means there are dishwashers and fridges to be found on the show floor.
Samsung had some big home appliance debuts at last year's CES, including the revolutionarily simple ActiveWash.
This year, the Korean conglomerate is introducing an equally-large lineup of products—including a smart fridge, as well as a washing machine that we first saw at IFA 2015 in Berlin.
Keep in mind that all the prices we have listed are estimates—and they're certain to drop when products hit stores. Without further ado, here's what to expect from Samsung in 2016.
---
Refrigeration
Samsung Family Hub Refrigerator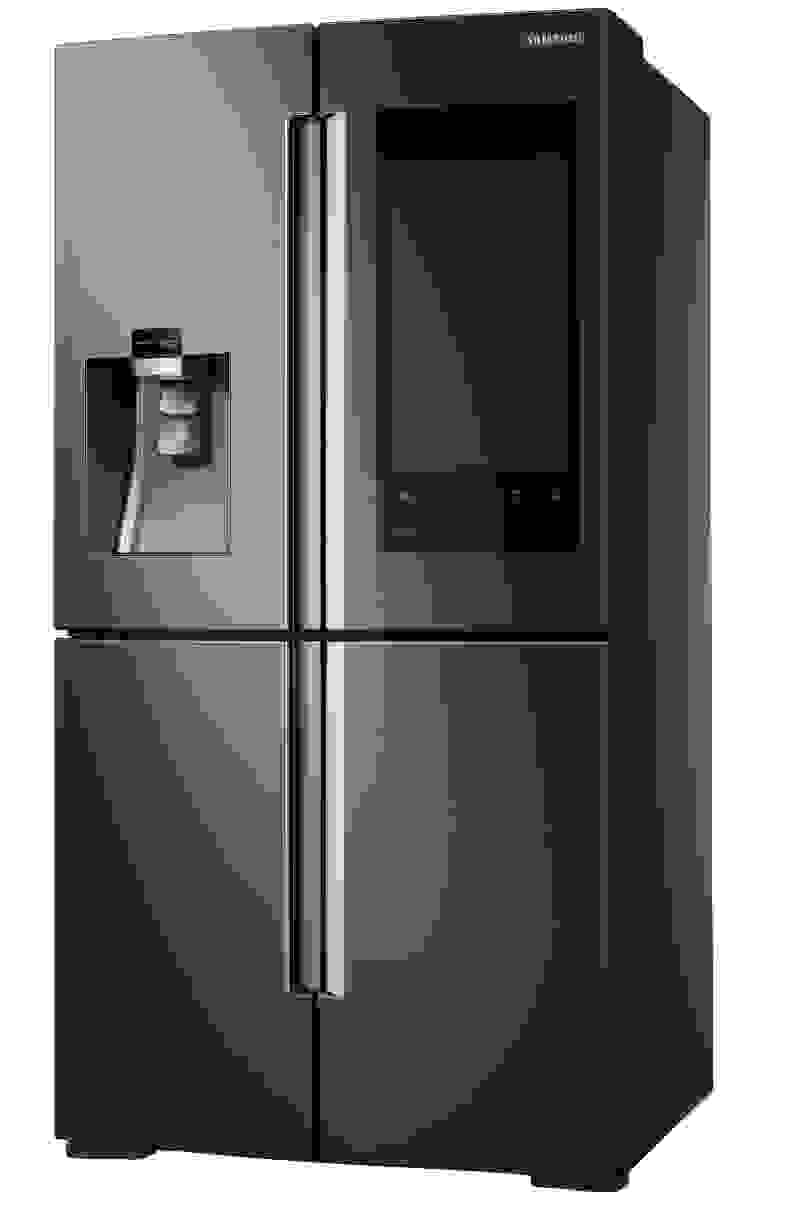 With a 21.5-inch touchscreen, plus planned integration with SmartThings and Amazon Alexa, this refrigerator is designed to be the hub of your smart home.
Apps like a calendar and memo pad are visible when users get near the fridge. A Food Management Camera lets you peek at what's inside the refrigerator from your smartphone, even when you're at the grocery store.
KEY SPECS:
• Planned compatibility with services like Instacart
• Debuting May 2016
• 1080p touchscreen
• Runs Samsung's Tizen operating system
• 5GB, expandable to 64 GB
• Built-in Bluetooth and speakers
• Starting MSRP $5,999
Samsung RF28JBED Four-Door Flex Refrigerator
Samsung has been promoting four-door refrigerators with a compartment that can change from fridge to freezer. This model is slightly smaller than previous iterations and can fit in a standard-depth cutout.
KEY SPECS:
• Available in stainless steel and Black Stainless
• Starts at $2,999
• 22 cu. ft. of usable space in a 28 cu. ft. platform
• Takes four hours to convert Flex Zone from fridge to freezer
---
Washing Machines
Samsung WA45K7600 with ActiveWash
Samsung continues ActiveWash for 2016, with an updated machine that integrates the control panel right into the lid. Along with its matching dryer the DV45K7600, it will come in either white or Black Stainless and should be on sale by March.
KEY SPECS:
• SuperSpeed for fast washing
• 4.5 cu. ft. washer drum
• Shallower for better laundry room fit
• Improved detergent dispenser and sprayer
• Starting at $849
Samsung WF50K7500 with AddWash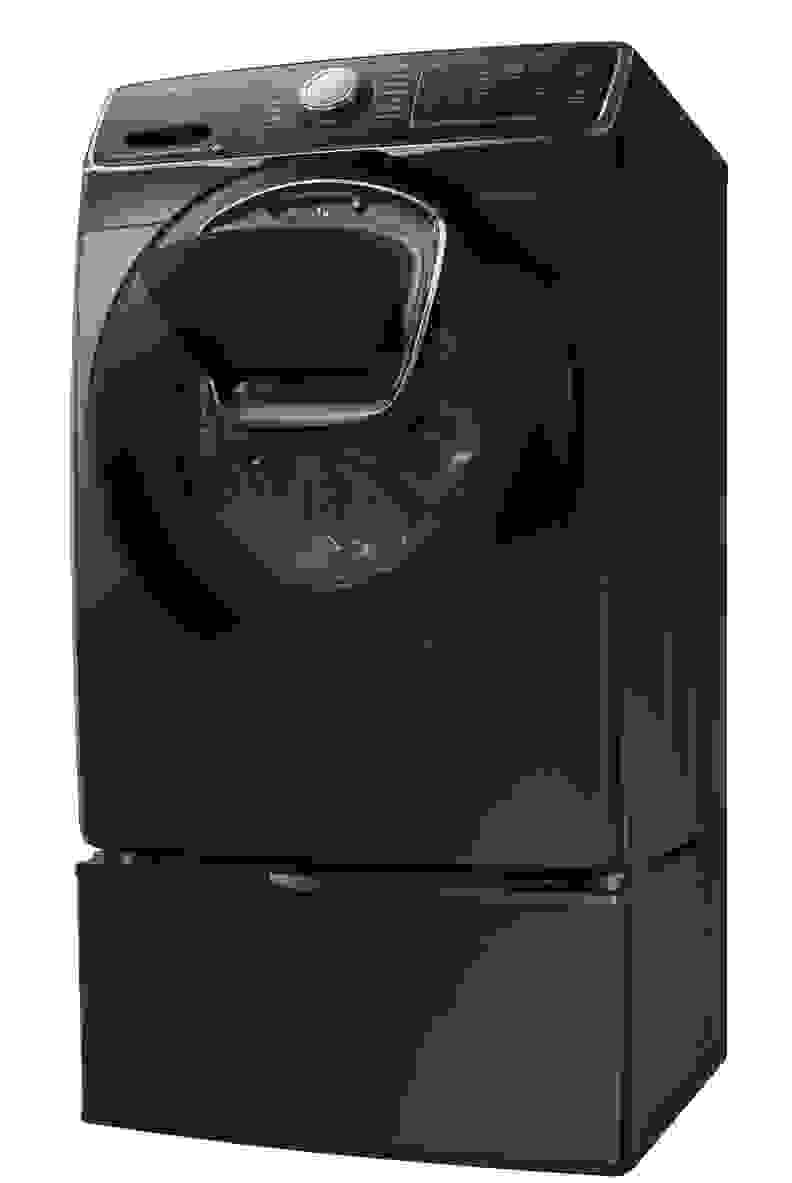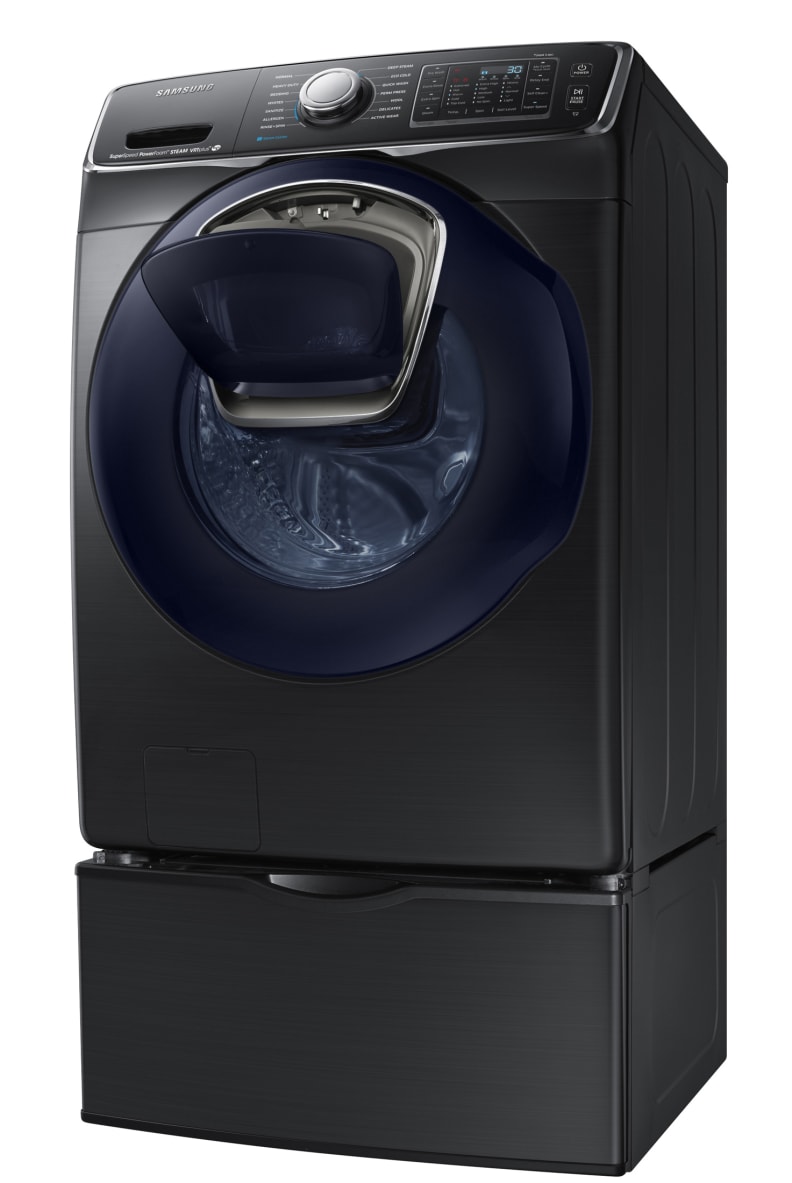 AddWash puts a tiny door on the front of a front-load washing machine so you can throw a sock or shirt in at the last minute—even when a cycle is running. Samsung introduced this innovation in response to consumer complaints that front-load machines made you wait a long time to pause a cycle in order to open the door.
KEY SPECS:
• At 5.0 cu. ft., the world's largest 27-inch washer
• On sale in April 2016 along with DV50K7500 dryer
• Starts at $1,399
• 4.5 cu. ft. WF45K6500 will start at $1,199
• WF45K6200 will be available in blue for $1,099
Samsung WW22K6800/DV22K6800 Compact Washer and Vented Dryer
Most 24-inch compact dryers are ventless, using condensation or heat pumps to remove moisture over an extended cycle. Samsung's new 24-inch dryer is vented like a conventional dryer, so it should take less time to dry clothes.
KEY SPECS:
• Designed for the U.S. market
• Washer has 2.2 cu. ft. capacity
• Will go on sale in March, 2016
---
Dishwashers
Samsung DW80J9945US with WaterWall
There aren't a lot of new offerings in the world of Samsung dishwashers for 2016. Still using WaterWall technology, the new flagship comes in stainless steel and Black Stainless, and features a third rack and 44 dBA noise rating.
---
Cooking
Samsung NX9000K/NX9000K/NX7000K, NE58K9850WS, and NE58K9650WS Ranges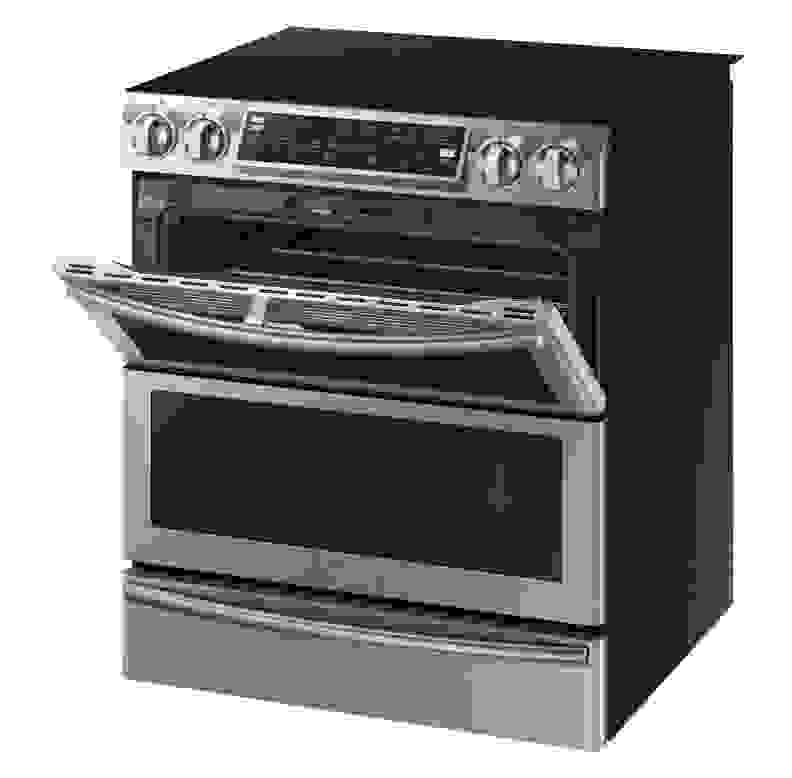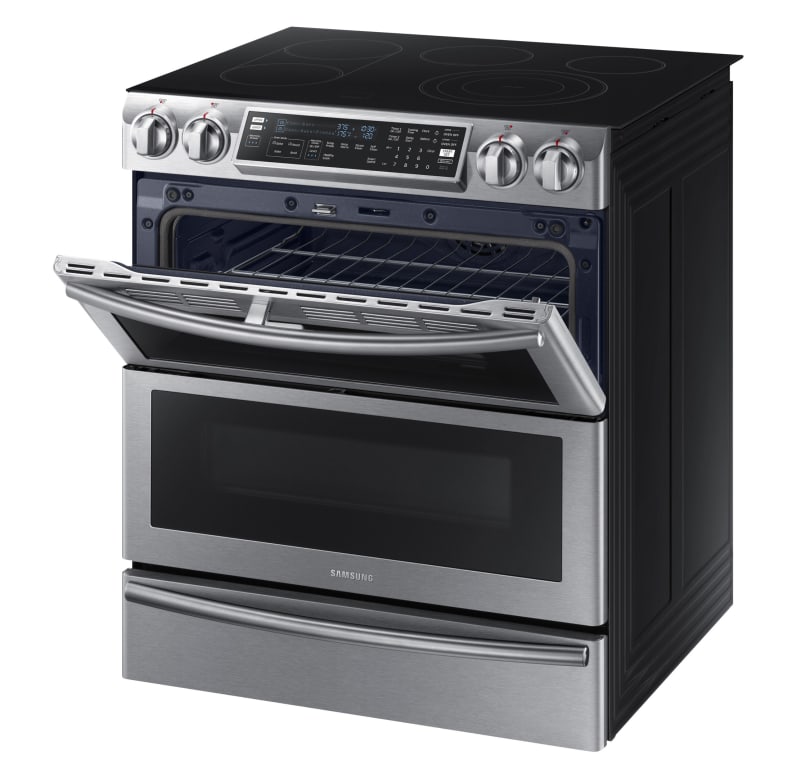 Samsung is adding dual-door Flex Duo to gas, electric, and induction models in both freestanding and slide-in designs. The electric slide-in model gets WiFi remote control, and the slide-in induction range has Virtual Flame.
KEY SPECS:
• Prices range from $1,899 to $3,299
• WiFi can tell whether a cooktop is on or off
• WiFi cannot turn burners on or off
• Slide-ins can fit in freestanding cutout w/ fitter kit
Samsung MC11K7035CT Microwave with Power Convection
This microwave has convection heating that allows you to bake, forcing heat through miniature holes for ideal airflow. It also has a 1600 watt grill for toasting and browning. It's the first ever over-the-range microwave that can also be used for grilling. It goes on sale in March for $399.
Samsung MS11K5023AS Microwave
This countertop microwave uses an intuitive dial control. If you want to add time while the machine is cooking, simply turn the dial to the right. To reduce cooking time, turn it to the left. The amount of cook time remaining will show up on the display. Pricing starts at $149.
---
Robot Vacuums
Samsung PowerBOT Turbo with WiFi and Essential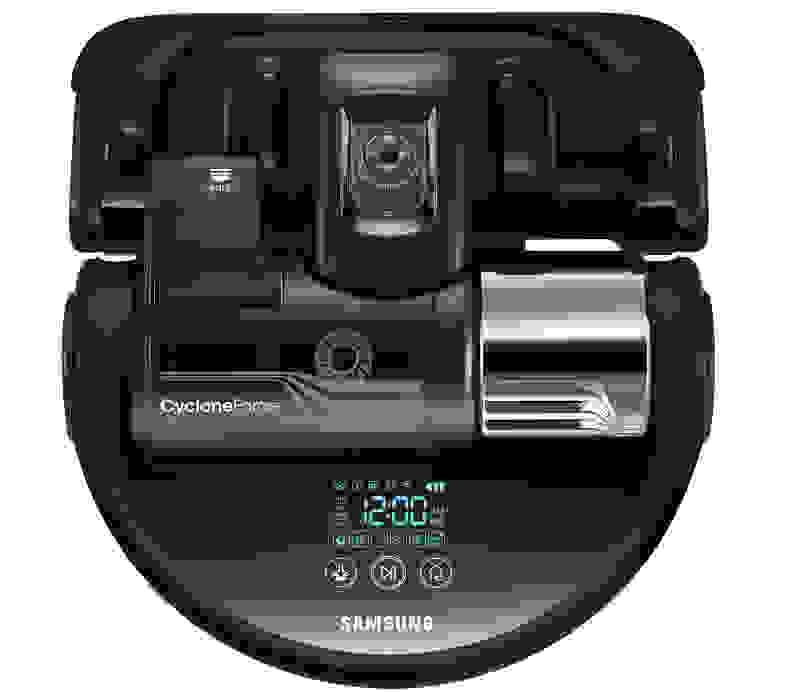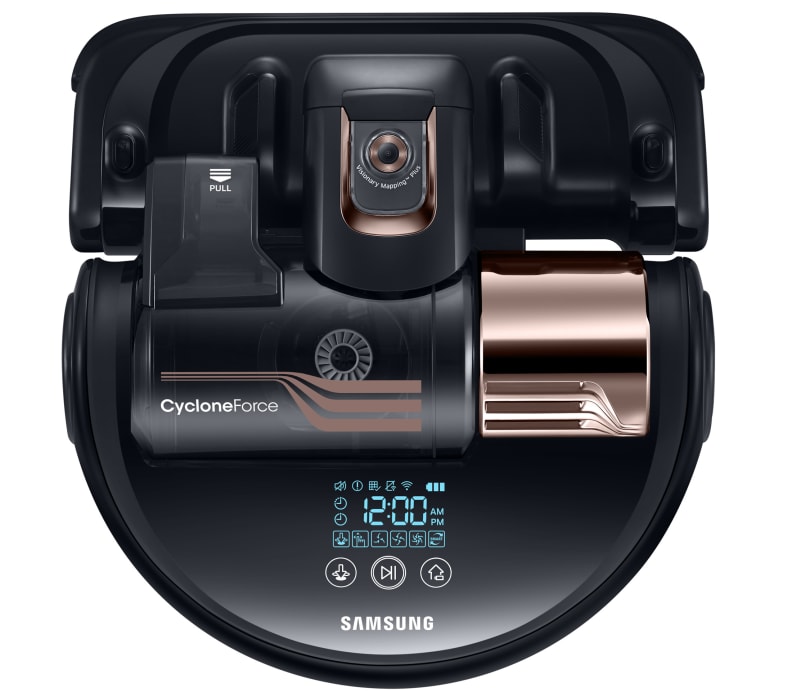 Samsung has added a few new robot vacuums to its lineup, starting with a $699 model designed to compete with less costly models from Roomba and Neato, all the way up to a WiFi-connected PowerBot Turbo.
On the Turbo with WiFi, Select and Go lets users map their homes and choose which rooms to clean and when.
Related Video