Refrigerators
Samsung vs. LG: The Side-by-Side, Door-in-Door, Head-to-Head Showdown
Let's get ready to refrigerate!

Credit:
Refrigerators with door-in-door storage compartments aren't new. Up until recently, though, you'd only see those nifty little "secret" compartments on French door models. Both Samsung and LG are pushing that envelope with two recently released door-in-door side-by-side fridges: Samsung's RH29H9000SR Food Showcase and LG's LSC22991ST
Each product has its ups and downs, but they both stand together as unique machines in the industry. That said, we couldn't resist pitting these two fridges against one another to see who comes out on top.
---
---
Design
Smooth Elegance or Industrial Sturdiness
The Samsung RH29H9000SR and the LG LSC22991ST have remarkably different aesthetics, but their respective layouts are more or less the same: Both products have door-mounted icemakers, through-the-door dispensers, and bright LED lighting.
The Food Showcase focuses on minimizing seams: Tall lines, thin edges, and mostly unbroken exterior surfaces result in a fridge that looks both elegant and vaguely futuristic.
LG's fridge looks and feels more industrial. It has handles that operate like those found on a car door, and a sense of weight that makes everything feel sturdy and firm. The interior color scheme is made up entirely of white plastic and metal trim, while the Samsung throws in a bit of color with two blue shelves.
The fact is, these are two aesthetically different but incredibly attractive refrigerators. At the end of the day, each consumer's taste is unique, so in the spirit of objectivity, we have to give these fridges equal credit for exploring new designs that are both stylish and new.
Winner: Tie
Performance
It's all about the cooling
Regardless of how pretty or efficient or accessible a fridge is, it's worthless without the ability to cool food. Both of these fridges do a great job, but there are some subtle differences.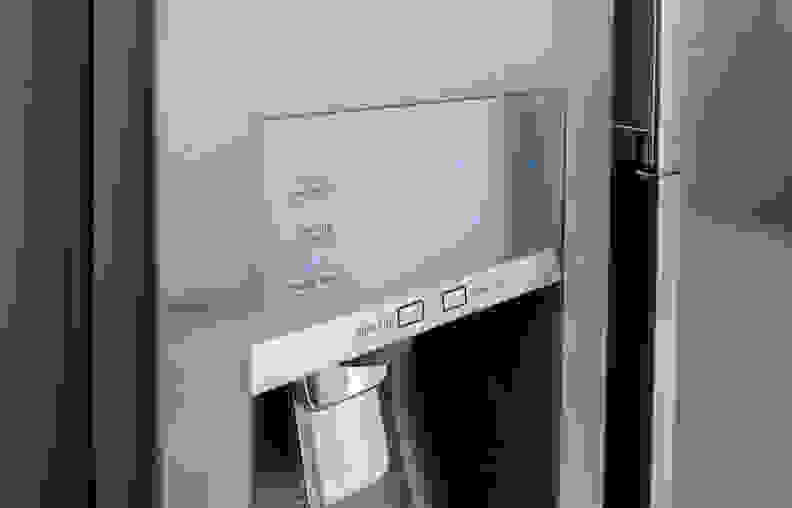 The Food Showcase is by far one of the best refrigerators we've ever tested. Test materials were cooled to perfect levels of 37°F and 0°F in the fridge and freezer, respectively, with almost no temperature variation over time. That means longer-lasting produce, minimal (if any) freezer burn, and the ability to move food from one shelf to another as needed.
Conversely, the LG—while excellent—couldn't quite match the Samsung's prowess. The freezer was perfect, but in the fridge we noticed a pronounced increase in warmth from the top of the fresh food compartment to the bottom. We test fridges with the thermostat set to 37°F, and that's what we got at the top. Down by the crisper, however, we recorded average temperatures of 42°F. Bacteria wakes up to get jiggy with your lettuce around 41°F.
While you certainly can turn the thermostat down to compensate, this lack of consistent cooling throughout the compartment is an undeniable black mark on the LG's record.
Winner: Samsung
Price
Neck and neck
The MSRPs for both products are pretty darn close: Samsung's Showcase goes for $2,999, while the LG will hit you up for $2,699.99. Current retail figures for the Showcase drop prices down to a range of roughly $2,095 to $2,400. At the cheapest, that's a decrease of nearly $1,000. On the other hand, retailers are churning out the LG door-in-door for between $1,989 and $2,699—almost the full MSRP.
The Samsung's lower average price gives it a serious edge over the LG.
The LG is actually at an inherent disadvantage here. Despite offering less storage space overall, counter-depth fridges tend to cost more because they're considered somewhat of a specialty product. It's true that the LG boasts a greater potential discount, but the Samsung's lower average price (about $200-$300 depending on the retailer) gives it a serious edge.
Winner: Samsung
Door-in-Door
Full-length or half-length?
Now we come to the main feature that sets these machines apart from a sea of otherwise similar fridges: door-in-door storage.
LG is one of the initial proponents of door-in-door in the American market, but the company has repurposed its traditional half-door design in the new LSC22991ST. Accessible by the simple push of a button, the door-in-door compartment provides a lot storage space, including one shelf that slides up and down with a built-in drawer for a touch of customization. A plastic "shell" covering (purportedly) keeps too much cold air from escaping, but it can be a bit of a pain when you want to access larger items in the main fridge cavity.
Samsung comes at this design from a different angle, breaking up the entire fridge door into an inner and outer panel. The outer door is coated with a Metal Cooling sheet, which also (purportedly) helps keep the interior cold. None of the shelves are adjustable, though some near the bottom do slide out for easier access. Several storage areas are equipped with folding wire bars for improved organization, as well as removable plastic dividers.
Which is better? Well, that really depends on what you're buying. The Samsung makes it easier to access food from either side, especially large items, but the slightly superior customizable compartment in the LG could be more appealing for spur-of-the-moment, European-style grocery shoppers. In this case, we have to leave the final decision up to you.
Winner: Tie
Efficiency
Both spatial and electrical
When we test for a fridge's efficiency, we take a two-pronged approach. The first—energy efficiency—is to be expected. Here, the Samsung and LG are essentially standing on equal ground. Both products are very efficient, even with their icemakers running.
Both products are very efficient, even with their icemakers running.
Spatial efficiency is a little less obvious. What you see on a store display in terms of internal space is a bit misleading. That number doesn't take into account space taken up by shelves, light bulbs, water filters, or any other "optional" piece of hardware.
What we do in our tests is take all of those things into account, measuring the usable storage space inside any given fridge. Using a ratio of usable space to advertised space, we're able to compare two fridges like this Samsung and LG without giving the larger unit any unfair advantage.
With that in mind… they're still actually on fairly even ground. The LG offers marginally less freezer space proportional to the Samsung, but not enough to sway this category in favor of one or the other. Sure, the plastic screen on the LG door-in-door compartment may make accessing some of its shelves trickier, but that doesn't have any impact on the actual amount of available storage.
Winner: Tie
The Final Verdict
-->
It's Samsung for the win! Unless…
The judges have finished tallying the votes, and the results are in: Ultimately, the Samsung Food Showcase has proven to be the superior fridge, winning on the strength of its cooling prowess and lower average retail cost.
Of course, buying a new appliance is always going to be—at least partially—a subjective affair. If you need something that's a counter-depth fridge, the LG will always be the better choice for you regardless of how much data is available about the Showcase's performance. (There is a counter-depth version of the Showcase, but we haven't tested it yet.)
If trends are anything to go by, more fridges of this kind are bound to keep coming out. The available variety will continue to expand to accommodate as many tastes as there are consumers. Even if you aren't currently looking for a fancy new fridge at the moment, make sure you keep doing your research to remain an informed consumer. As the saying goes: Won't hurt, might help.
Up next
Get Reviewed email alerts.
Sign up for our newsletter to get real advice from real experts.