Refrigerators
Step Aside, Stainless: This Fridge Is a Whiteboard
Think your kids love scribbling on the walls? Wait till they get a load of this.
Credit:
Growing up, my family had a whiteboard that clung to the front of our fridge. It was our communal signpost—the place where we left notes to each other, shopping lists, doodles, and even the occasional game of tic-tac-toe.
Italian appliance maker Indesit understands the appeal of the whiteboard. The company understands so well, in fact, that it made a fridge whose entire surface is a whiteboard. Called the Graffiti, it's one of those products that's so simple you can't believe it wasn't invented sooner—and hasn't been brought to the U.S.
[Ed. note: Turns out, it was invented sooner. Amana actually introduced a very similar fridge called the Jot back in 2008.]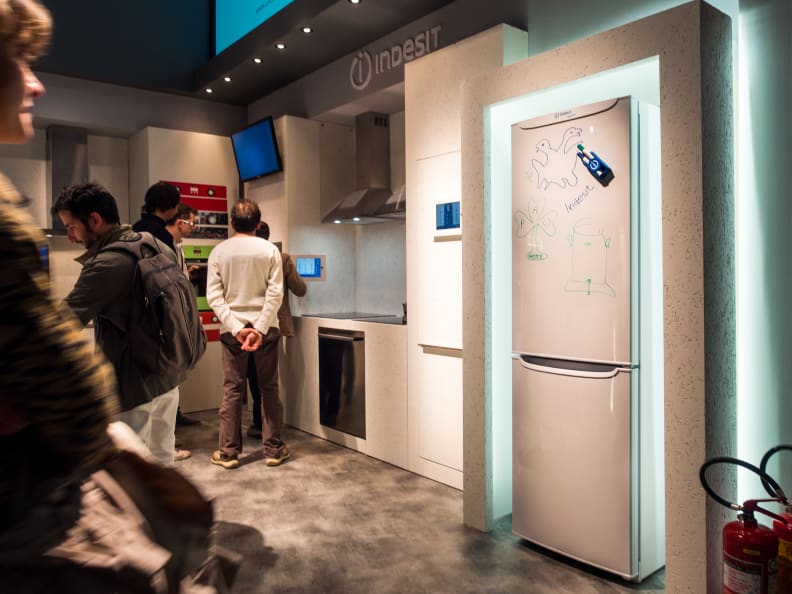 We went hands-on with the newest Indesit Graffiti fridge at this year's EuroCucina kitchen design show in Milan. Of course, the first thing we did was play a game of Hangman.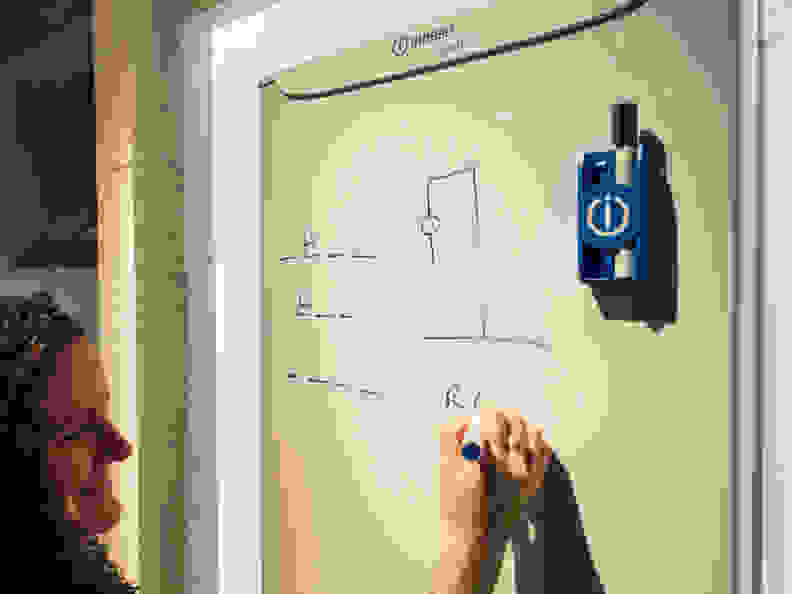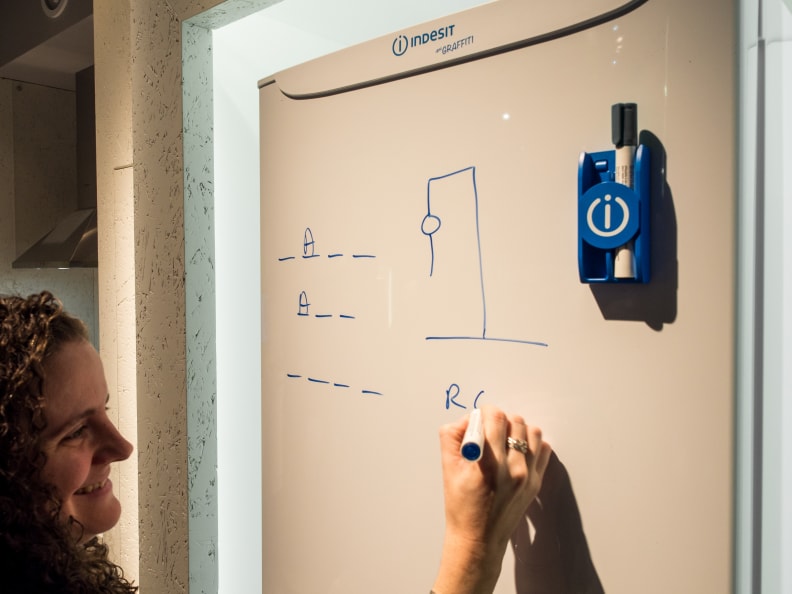 I lost—even with the help of one of Indesit's extremely attentive booth models—but had a great time anyway. That seems to be what Indesit is going for with the Graffiti series: It's a way to make being in the kitchen more fun, to reinforce it as the center of the home, and to ensure the fridge is more than just the place where you throw your leftovers.
In the user manual, Indesit goes out of its way to warn buyers that the dry-erase markers included with the Graffiti kit shouldn't be used with other fridges, and you shouldn't try to use other markers on the Graffiti fridge.
The kit comes with a magnetic marker-holder with room for two pens (blue and green, in the case of the display model). Turn the holder around and you'll find a felt eraser. It's simple as can be, but works really well. We did notice a little streaking left behind in the wake of the felt-covered magnets, but it wasn't a big deal.
Aside from the Graffiti functionality, this is a fairly mundane European fridge: taller and skinnier than American models, with a bottom freezer separated into three pull-out bins. Despite its slim profile, it actually offers quite a bit of interior space, and seems like it would be a great option for smaller apartments.
Unfortunately for American doodlers and list-makers, this particular Graffiti fridge is destined for France, and there don't appear to be any plans to bring it (or Indesit refrigerators in general) to the U.S. any time soon. Reps at the booth said pricing isn't yet available for the new model, but it's likely to cost about €50 more than the non-Graffiti version.
But hey, don't despair: While you can't get an all-whiteboard fridge, you can still get a magnetic whiteboard for less than $15.
Update: A reader let me know that Mead makes a peel-and-stick whiteboard product called WallMates that could be applied to a refrigerator with a little DIY skill. Cool!