Smart appliances—ones that connect to a wireless network for added functionality—have been around for a while, and Samsung is one of many companies developing this particular technology. The range of products that support wireless functions, on-the-go control and smart phone connectivity is steadily growing, and refrigerators took center stage at IFA.
Smart Home appliances by Samsung are already available in America, as well as Korea, but haven't yet been released in the European market—one of the few appliance features at Berlin's IFA conference where the reverse hasn't been the case.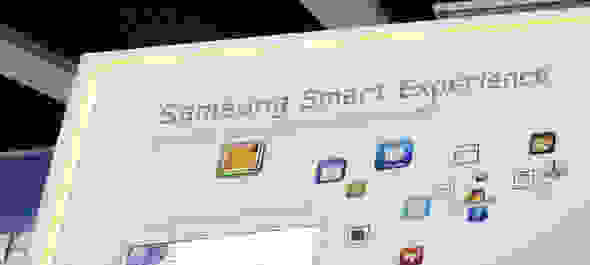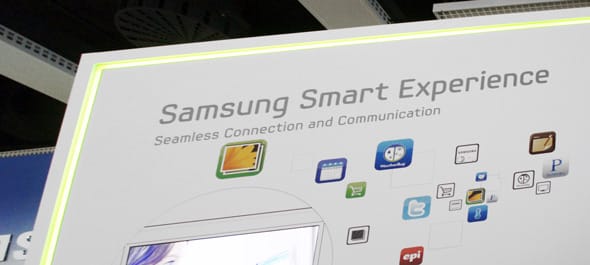 Samsung representatives couldn't tell us how many new European models would debut with Smart Home technology on board, but assured us there would be quite a few. As might be expected, they all more or less fall on the high-end range of Samsung's product stable, such as the RF428HARS. It's a stainless steel French door fridge with dual freezer drawers and a flip-down panel on the fridge door. Like we said: high-end products. As the technology continues to grow—and it has been around for quite a few years—we bet that its most popular functions will slowly trickle down into the more affordable models.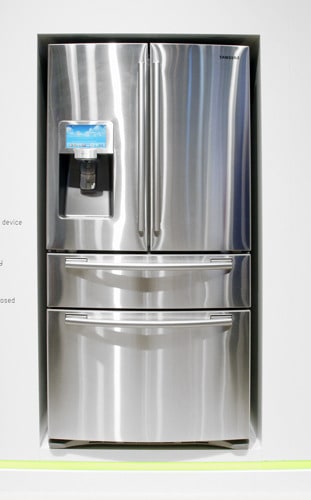 Speaking of functions, you may be surprised as to just how many things you can spend time doing on one of Samsung's Smart fridges. After you get home and put your groceries away, you can go into a food database on your fridge and input what food items have been stored where, when they were purchased, and how long it'll be until they expire. The fridge will also remind you when this happens in case you forget and something starts to go bad. It's very similar to the technology that Haier is working on now, though the Samsung version isn't capable of reading information off of bar codes at this point: you have to manually enter every food item you want to keep track of.
The Samsung app—in theory—also allows you to buy groceries online. While we weren't told which companies will be providing this support, a rep showed us how you can compose grocery lists and then add those items to your cart, or pull up some recipes based on particular ingredients from an online cooking database. We can see this feature becoming popular in the US, but how this will play in the land of bakeries, fruit markets and wine merchants remains to be seen.
The converse is also true: by downloading Samsung's app to your iPhone or other smart communication device, you can access all these functions while away from your kitchen. Pull up shopping lists while at the grocery store, or get creative. If you find something on sale, you can look up what recipes use a particular food item, and then check your fridge to see if you've already got it. You can also write and store memos, such a reminder to your teenage son to "Feed the dog!" when he gets home from school.
Surprisingly, one thing you can't do remotely is control your fridge temperature. If you need to adjust temperatures or do anything that involves physical fridge functions, it has to be done in person. That said, should you be operating the product while standing in front of it, you'd find yourself using a very responsive touch screen pad to navigate a number of menus. Basic functions include looking up the weather, managing a calendar, checking the time, and tweeting about what delicious meal you're going to cook next.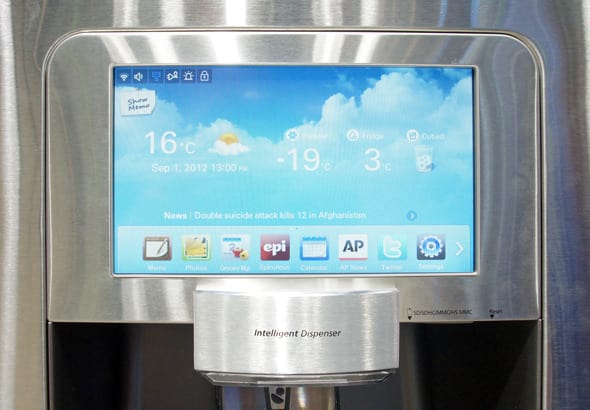 Not all the added functionality seemed as "smart." Just inside the flip-down access door on this particular model was a port that can be used for a USB drive. While we have to question the logic behind this placement—yes, it's nice that you can download pictures, but you're letting the cold air out—it allows you to set up photo galleries to use as background images. You can get pictures on or off your fridge using your phone as well, and you can even snag stored images off your fridge... but surely there's a less convoluted way to build a photo album.
Like the photo gallery, some of the functions seem to have questionable or limited use. For instance, there's a button on the main touch screen for access to breaking news from the Associated Press. On one hand, it may be useful to have on your phone, and it's nice that it comes with the Samsung app. On the other hand, the Associated Press has been more than able to manage their own internet accessibility, and how much time do you really think you'll want to spend reading news stories off of your kitchen appliances? Still, it could be fun perusing the headlines while waiting for your pasta to boil.
As we move further into a world where appliances can be accessed anywhere there's an internet connection, the number of available smart functions is going to continue to grow. It may only be a few short years before the wireless capabilities of these fridges becomes common place in all corners of the large appliance industry. Just think of the possibilities: you could activate your washer and dryer so laundry is finished and ready to be put away right when you get home, or compare a recipe in progress by watching what happens on a cooking show projected off a screen located on the back of your oven! Who knows where the future will take us? We can't say, but we are confident that the Samsung Smart Home is only the tip of the ice cube.
---
Our editors review and recommend products to help you buy the stuff you need. If you make a purchase by clicking one of our links, we may earn a small share of the revenue. Our picks and opinions are independent from any business incentives.