Refrigerators
This $6,000 smart fridge isn't as ridiculous as it sounds
The Samsung Family Hub fridge is a starting line, not a punchline.
Credit: Reviewed.com / Keith Barry
I'll admit it: The first time Samsung showed off its Family Hub fridge, I didn't get it. Who would pay twice as much as a normal high-end fridge for a 21.5-inch touchscreen, a proprietary operating system, and a handful of connectivity functions?
Of course, it turns out that Samsung doesn't totally get the Family Hub, either, which is exactly why it's currently available to order. Sound counterintuitive? Well, it's actually quite a brilliant strategy.
The average American fridge gets opened 40 times a day, and the Family Hub is the world's first attempt to turn all those interactions into opportunities to control a connected home. It's also Samsung's first opportunity to study how customers use an upgradeable, connected appliance in the real world.
At its big, public coming-out party at Samsung's impressive Chelsea event space, company representatives were clear to stress what the fridge means over what it does.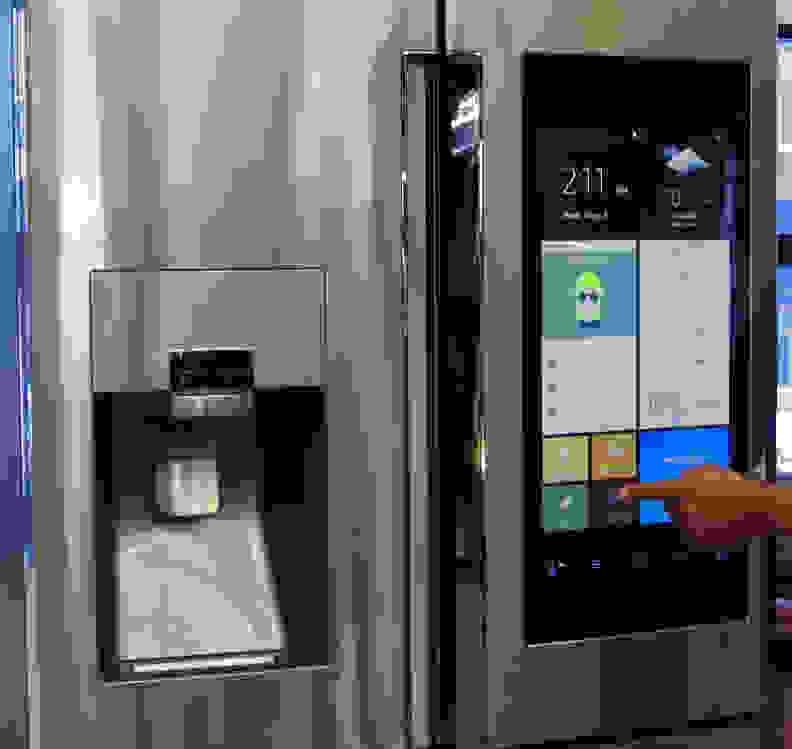 That's understandable, because a lot of what the Family Hub does—at least at the moment—isn't tremendously impressive when measured against how much the fridge costs. It has a neat calendar app that only syncs with Outlook and Google, it has a tiny TV app that mirrors Samsung's newest smart TVs, and it can play music from TuneIn and Pandora. There's no Spotify, no Alexa—heck, no SmartThings integration, which was promised back at CES.
But what the fridge can do? That's pretty impressive. For instance, the fridge has three cameras that take a photo of what's on the shelves every time you close the door. You can then check what's inside your fridge from your smartphone, even if you're at the grocery store.
There's no Spotify, no Alexa—heck, no SmartThings integration.
"If we back up six or eight months, the camera wasn't the number one story," said Dean Brindle, Samsung's VP of product marketing for home appliances. "The consumer told us that."
So Samsung fine-tuned its marketing to focus on the camera aspect of the fridge. According to Brindle, there's a chance that less-expensive fridges will get the camera, too.
"Being able to check what's in your refrigerator when you're standing at the grocery store is a much bigger benefit than people realize," he said.
Other forward-looking benefits include voice recognition in the kitchen. Despite what was promised at CES 2016, the Family Hub doesn't yet work with Alexa or any competing virtual assistant, and it's unclear if and when that will change. But the inclusion of dual microphones and a dedicated WiFi connection means future compatibility should be as simple as a software update—not a big feat for a company as far-reaching as Samsung.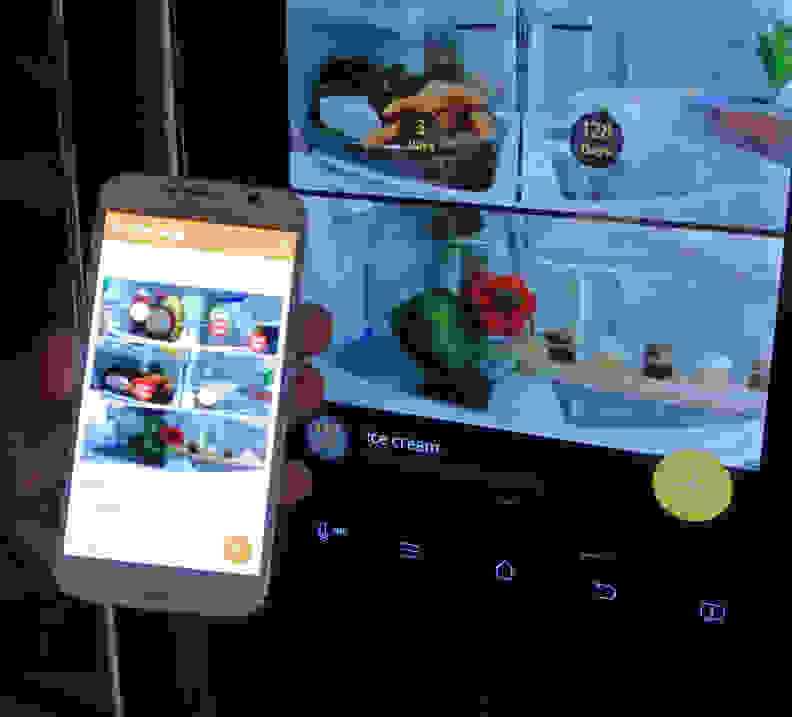 "The nice thing about having WiFi updates is that we can push out content upgrades quarterly," Brindle said. For Samsung's part, they can track how owners interact with the Family Hub. As an example, Samsung knows that owners of existing smart fridge models use Pandora an average of six hours a day—so engineers added Bluetooth streaming and upgraded speakers to the latest model.
That means early adopters aren't just buying a fridge—they're buying a platform that Samsung is promising to evolve over time based on consumer demands. With its foothold in display, mobile, and smart home tech, if any company can make a smart fridge relevant, it's Samsung.
"We'll continue to do research on this product to better understand their use patterns," Brindle said. That includes everything from focus groups to connecting with owners in their homes to get feedback.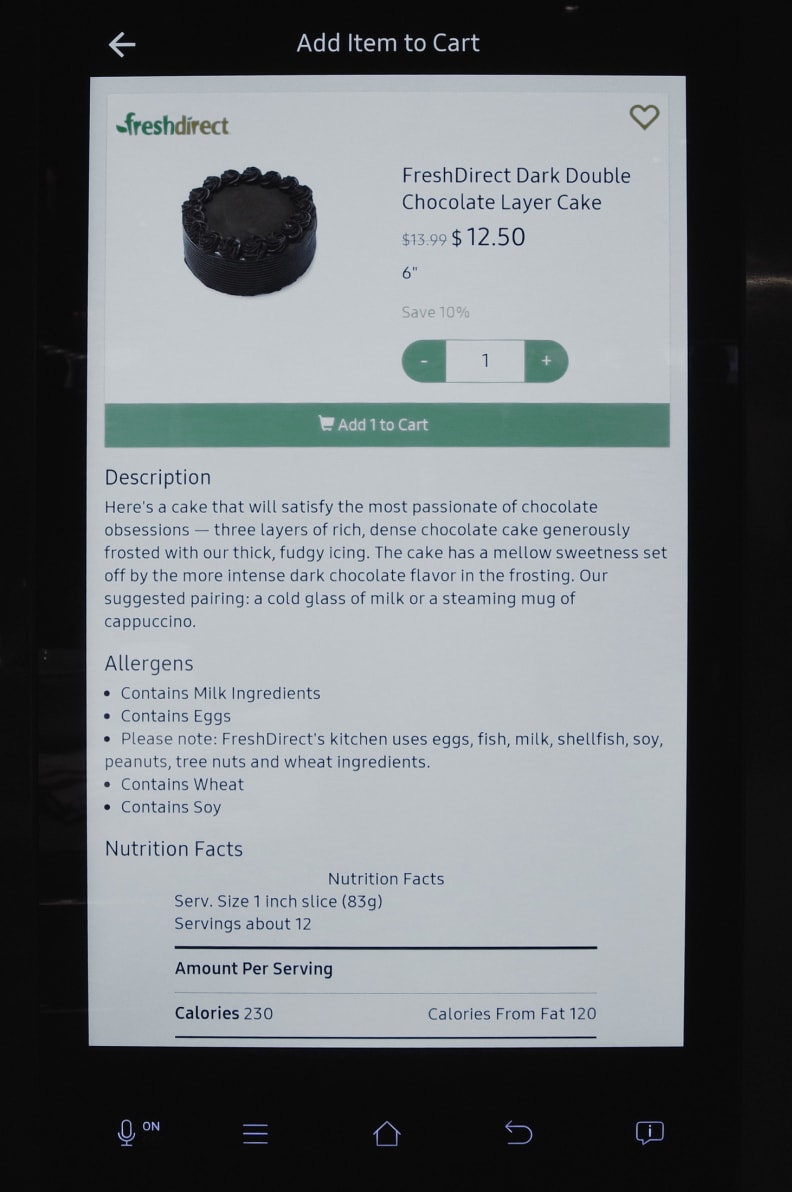 ×
Grocery Ordering Photos
That even extends to the form factor of the fridge. For instance, the Family Hub integrates with grocery delivery services, which is a great feature for busy urbanites who can't drive to the store—but the fridge itself is too big to fit in a Manhattan kitchen. So Brindle said there's a chance a smaller version may debut specifically for urban markets.
If you think the Family Hub is a waste of money, it's probably not for you. It's a fridge aimed at early adopters—the folks who already own VR headsets and Teslas, who back Kickstarter projects, and who don't mind a product that isn't perfect as long as it's at the cutting edge.
It's not hard to envision a future where technology developed for the Family Hub platform evolves into features as common as an icemaker.
For Samsung's part, getting the fridge into the public consciousness—and into customer's homes—was job number one. "We focused on getting the base level content for launch," Brindle said. That's why Samsung representatives answered so many questions about compatibility and features with, "Wait and see."
Wait and see, indeed. The Family Hub may be a fridge for a select few. But it's not hard to envision a future where technology developed for the Family Hub platform evolves into features as common as an icemaker.
According to Katie Cheng, VP of home appliance marketing for Samsung, the Family Hub represents evolution from technology that's "'nice to have' into 'can't live without.'" Consumers might be able to live without the Family Hub, but whether they like it or not, they'll be living in the future it represents.
Related Video