Refrigerators
LG's Lineup of Smart Fridges Seem To Have Invisible Touches
LG unveiled the new Smart Control that will streamline home automation.

Credit:
The representatives at LG's CES press conference this year were very clear about the company's focus for appliances: convenience, convenience, convenience. Oh, and wireless connectivity.
According to LG CTO Skott Ahn, consumers haven't been quick to embrace home automation, mostly because the options currently available are cumbersome. The company said the One Touch Smart Control unveiled today is the next step in the Smart ThinQ technology that we saw last year, and is meant to streamline how consumers access the LG appliance app that is already available for download.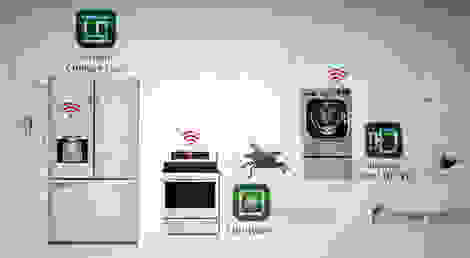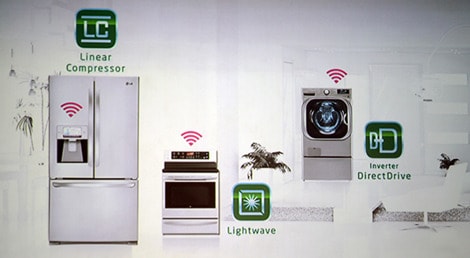 For LG, said Senior VP of Marketing James Fishler, "smart" isn't just an adjective to LG, it's a verb. While that doesn't make a ton of sense grammatically, it does indicate that LG wants a more seamless, wireless kitchen. Right now, you can "verb" all of your applicable LG appliances from your smart phone, but the Smart Control takes things just a little bit further thanks to near field communication (NFC). Once the technology is officially for sale on the new 2013 lineup, you'll simply tap your NFC-enabled phone onto the little wireless symbol found on your appliance, and the appliance's individual app will automatically download.
Theoretically, you'll be able to start cleaning with your robotic vacuum on the train home (it even has built-in cameras so you can track its progress), start your laundry while eating dinner, or remind yourself what you need to purchase at the grocery store by checking your fridge's "food manager" — a fancy touchscreen shopping list.

LG didn't go too in depth with all the specific functions of each appliance at the conference, but we were assured that more hands-on time with each product—including their fancy door-in-door fridge—will be available once the CES show floor opens later in the week. They also told us to expect improved functionality and added versatility compared to the smart appliances that debuted last year, so we look forward to getting our hands on each specific item to see just how useful everything really is.
Given that spokespeople said the new 2013 product line is going to include 27 ranges, 7 top load washers, 15 front loaders, and 72 fridges, you can bet there's going to be a lot to see. Check back with us throughout the week for more CES coverage, including more detailed looks at LG's offerings.
---