Refrigerators
Video: Easy DIY No-Cut Rustic Coffee Table
Put a personal touch in your home decor with this easy-to-make rustic coffee table.

Credit:
James and I have been spending a lot of time scouring the web for great DIY projects. We started #DIYwednesday on Twitter at the beginning of October and found so much amazing stuff to share with our readers. There are countless projects—big and small—that you can do yourself in order to save money or just add a personal touch to your home decor.
This easy DIY coffee table is based on Ana White's brilliant Rustic X Coffee Table design. We made a few changes to make it easier for first time carpenters, so if you're feeling a bit more adventurous (or experienced) we recommend you try out Ana's original plans.
About the Table
Like all of the DIY projects that James and I do, this rustic coffee table was chosen (and designed) to be an easy, quick, and affordable project:
All of the materials can be purchased for less than $100.
The whole thing can be built in less than a day. (It took us about 6 hours to do all the shopping, building, and clean-up.)
We built this in our kitchen—not a dedicated shop, garage, or driveway.
We didn't have to cut any of the wood ourselves. You should be able to get the friendly staff of your local Home Depot or Lowe's to make all the cuts for you.
We didn't use any special tools. That said, you definitely need a drill and we suggest that you use a power driver and a socket wrench (rather than a manual screwdriver and manual wrench).
This is easy to build, even for first-time DIYers. If you've never done any carpentry, you should still be able build this with no problem.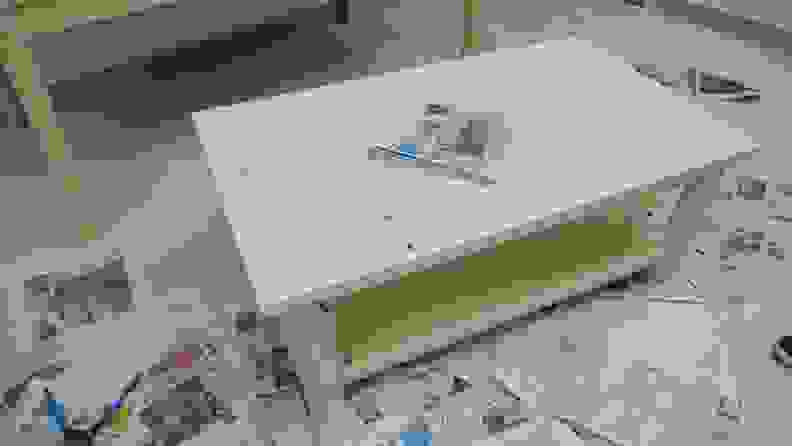 What You Need
Shopping List
2 2x4 (approx. 13' total)
1 1x12 (approx. 6'3" total)
2 2x2 (approx. 12'6" total)
2 2x6 (approx. 20' total)
2½" wood screws (about 20)
Supplies List
Cut List
4 22½" end trim pieces (from 2x4 lumber)
4 16½" legs (from 2x4 lumber)
4 37" side trim pieces (from 2x2 lumber)
2 37" bottom shelf pieces (from 1x12 lumber)
5 4' table top pieces (from 2x6 lumber)
Putting It Together
Once you have all your supplies (and your cut lumber), you're ready to start building.
Step 1: Making the Surfaces
Use 8 flat braces (mending plates) to screw together the five 4' 2x6 boards that make up the tabletop. Then use two more braces to screw together the two 37" 1x12 boards that make up the bottom shelf.
Before attaching the braces, use wood glue between the boards for a better connection and pre-drill your holes to guard against splitting wood. If the boards are uneven, you can use sandpaper to make minor adjustments or smooth out any rough edges.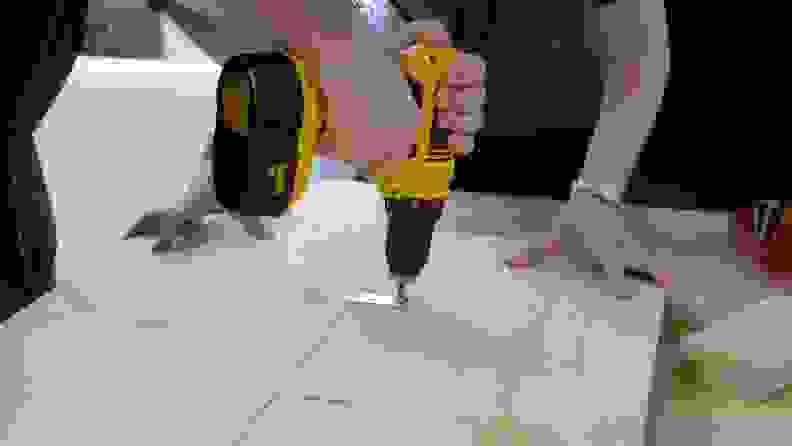 Step 2: Building the Frame
Attach the four corner brackets to the bottom side of the two 37" 1x12 bottom-shelf pieces. We just used the tiny ¾" screws that came with the corner brackets. If your brackets don't come with screws, make sure you get screws that are both short and have a large enough head to not slip through the screw holes on the bracket.
Next, mark drill holes for the 2x4 end trim and 2x2 side trim pieces. Again, use wood glue and pre-drill your screw holes.
Once everything is pre-drilled, attach the two side trim and two end trim pieces to the corner brackets. We used the ¾" screws that came with the brackets for the side trim and the longer 2½" screws for attaching the end trim.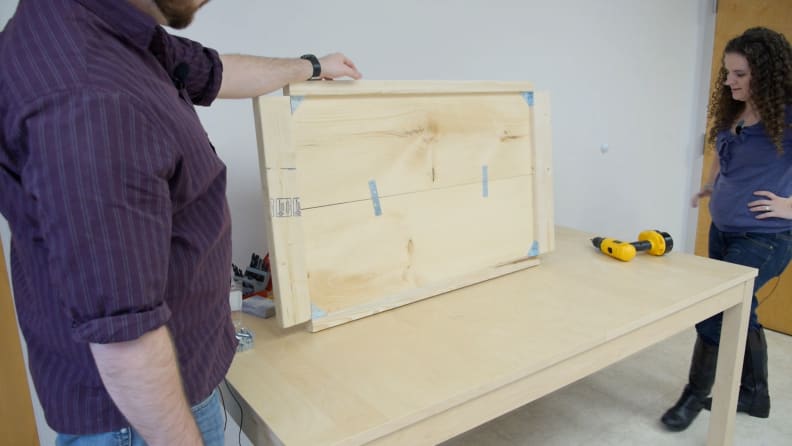 Step 3: Attaching the Legs
First, mark the spot where the legs will connect to the bottom shelf. We made our bottom shelf about 3 inches high, but yours can be as high—or as low—as you like. Once you've measured and marked, drill holes in the legs and the side trim where the legs will attach. (Make sure you don't run into the screws from the corner brace when you're choosing the position for your bolts.)
Using a socket wrench (trust us... they make this step so much easier!), screw the long bolt through the pre-drilled holes in the legs and into the side trim.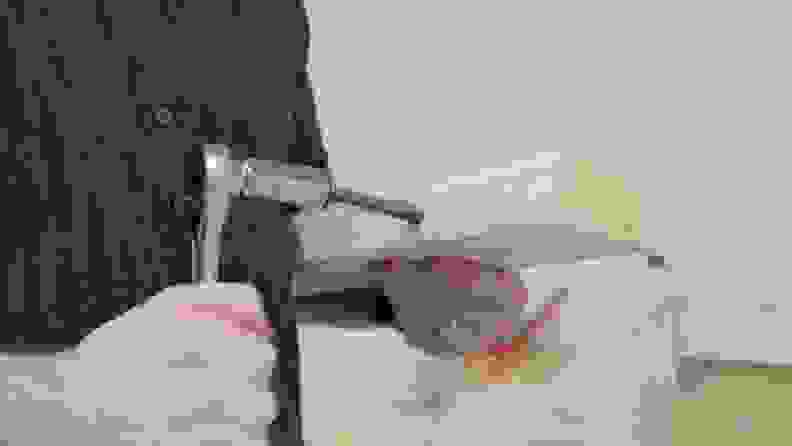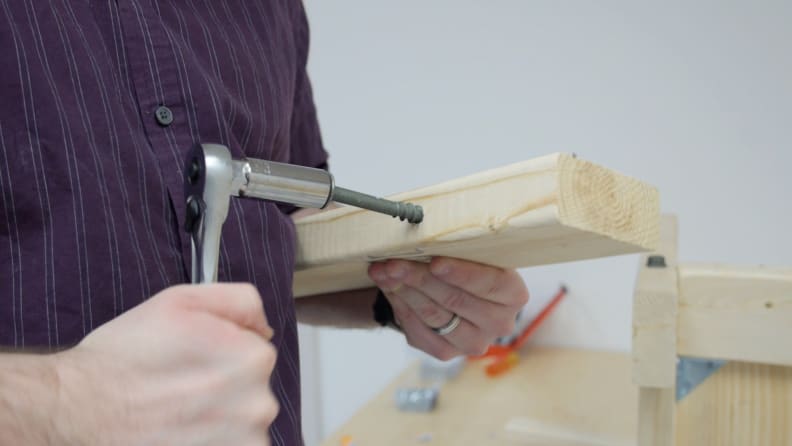 Step 4: Finishing the Frame
To finish the frame, take the remaining side trim and end trim pieces, and screw them together using the four remaining corner brackets. Again, it's a good idea to use wood glue and pre-drill each hole.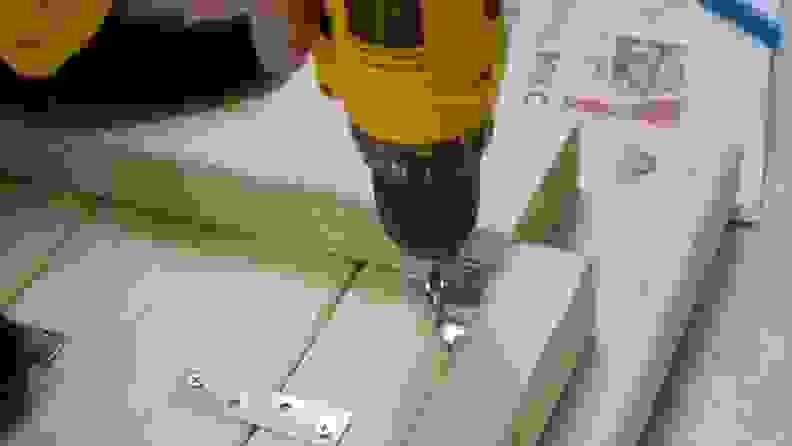 Step 5: Adding the Table Top
Take the frame and screw each corner bracket to the bottom of the table top. Add two more 2½" screws through the end trim pieces and into the table top for extra support.
To secure the table top to the legs, add four more bolts, following the same process you used when attaching the bottom shelf to the legs.