Refrigerators
Yogurt Is the Next Weapon in the Fight Against Cancer
MIT's Sangeeta Bhatia wants to put an end to colonoscopies.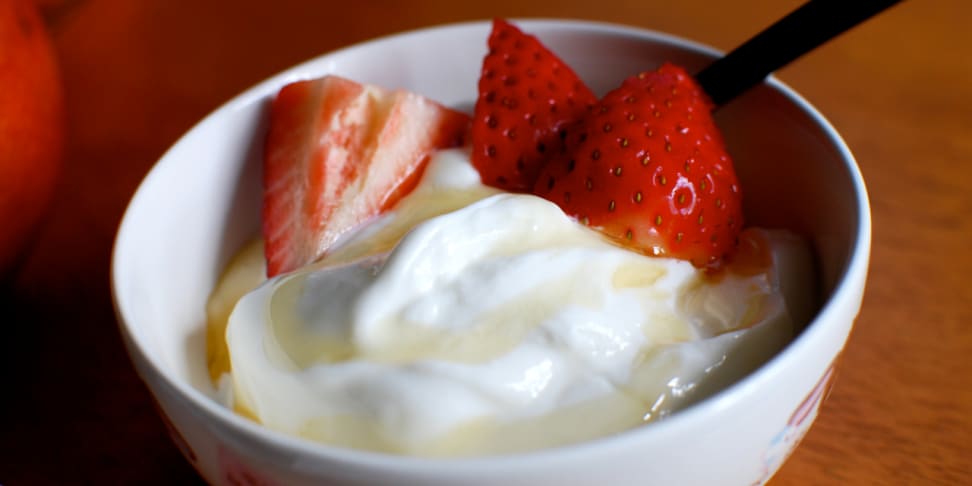 Credit:
We've all seen the commercials: A group of women (why is it always women?) stand around discussing how an amazing new brand of probiotic yogurt keeps them regular.
Yes, we've known for a while that yogurt not only tastes good, but has clear health benefits. And if one MIT professor has her way, everyone's favorite fermented dairy product will soon be a new weapon in the war on cancer.
Over 50,000 Americans die of colon cancer each year, and more than 50% of at-risk individuals don't get regular screenings.
Professor Sangeeta Bhatia is developing a yogurt that will provide an affordable, simple way to screen for colorectal cancer. Specifically, she has discovered a way to modify the bacteria found in yogurt, causing it to deliver synthetic molecules into a patient's renal system.
Once inside the body, these molecules can be broken down by certain cancer-related enzymes, passed through the kidneys, and expelled in urine. The urine can then be tested for signs of cancer in a procedure not unlike current pregnancy tests.
Over 50,000 Americans die of preventable colon cancer each year, and according to the American Cancer Society, over 50% of at-risk individuals don't get regular screenings. It's not surprising: Anyone who's ever been subjected to a colonoscopy can tell you how invasive and uncomfortable they can be.
With any luck, this new process will soon become a reality and make the screening not only less painful, but also considerably less expensive.
Via: MIT Technology Review
Hero Image: Flickr user "geishabot" (CC BY 2.0)
Up next
Get Reviewed email alerts.
Sign up for our newsletter to get real advice from real experts.