Refrigerators
How GE Is Manufacturing the Third Industrial Revolution
Plans to build a "microfactory" in Louisville shed light on the tech giant's plans for the future.

Credit:
GE wants to revolutionize hardware manufacturing, and it thinks open collaboration with small-scale designers is the key.
Last month, the company announced it had partnered with Local Motors, an open-source hardware development network designed to empower hobbyist innovators.
The initial partnership is billed as means to build and commercialize next-generation GE products through co-creation and "micromanufacturing." Specifically, the initiative will dot the globe with "microfactory" spaces where inventors, engineers, and designers can work to build cutting-edge products—particularly appliances.
But this isn't GE's first foray into community collaboration. A recent partnership with crowdsourced development platform Quirky has already produced several interesting products, including a smarter wall A/C unit and a multi-purpose WiFi sensor. Both initiatives seem to reflect GE's desire to facilitate manufacturing and design through small-scale development efforts.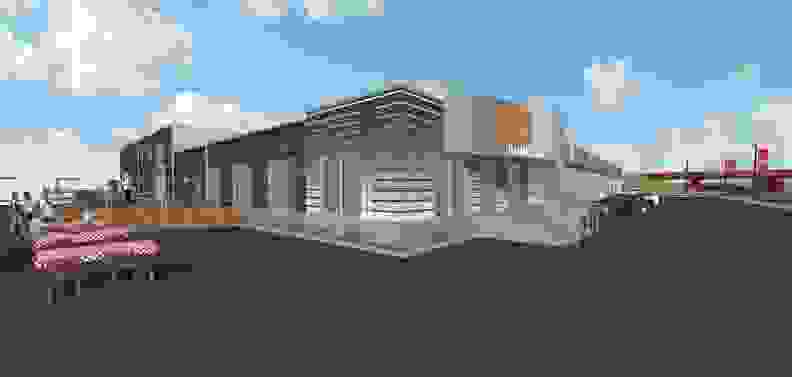 This week, GE and Local Motors announced plans to build their first "micro-factory"—dubbed FirstBuild—in Louisville, Kentucky. The space will be located on the University of Louisville's Belknap Campus, and is scheduled to open this summer.
"To win in the appliance industry, we have to innovate faster than ever," said Kevin Nolan, vice president of technology at GE Appliances. "This new model will enable us to be more creative in the design and delivery of the products, and do so with lower risk and cost while drastically reducing the time from mind to market."
The partnership is reflective of the so-called "third industrial revolution."
Jay Rogers, CEO of Local Motors, asserted in a press release that this partnership is reflective of the so-called "third industrial revolution." Put simply, this refers to the digitization of manufacturing and the various social, political, and economic consequences that go along with it.
At this year's CES, the Consumer Electronics Association's chief economist and director Shawn DuBravac touched on this subject in a keynote speech. Whereas previous industrial revolutions focused on mass production, he claimed, this one is based in mass customization: From 3D printing to wearable tech, today's nascent technologies allow unprecedented levels of personal control.
This is why GE is so invested in smart tech—particularly home automation and the Internet of Things (IoT), a term used to describe a network over which physical objects like thermostats, cars, and utility grids can all communicate with one another.
Last month, a group of major tech companies, including GE, launched a consortium that will set standards for the development and implementation of the IoT. The goal of that project is to improve machine-to-machine communication and, in a sense, unite the physical and digital worlds.
It's part of GE's long-term vision for the home of the future. Last fall, the company unveiled its "Home of 2025" project, depicting a home of the future that is fully automated, connected, and smart. Washing machines, refrigerators, dishwashers, and other home appliances all sync with utilities to optimize energy consumption. They are also smarter, and feature such diverse elements as fridges that know when food has gone bad, and mirrors that can read your biometric information.
It's an ambitious outlook, and even it does come to fruition, it's likely to take some time to trickle down to the middle class. That said, it will be interesting to see how GE's micromanufacturing ventures work toward realizing its vision.