Refrigerators
Knock, Knock. Who's There? LG's New See-Through Fridge
This fridge's door features are even cooler than its temperature.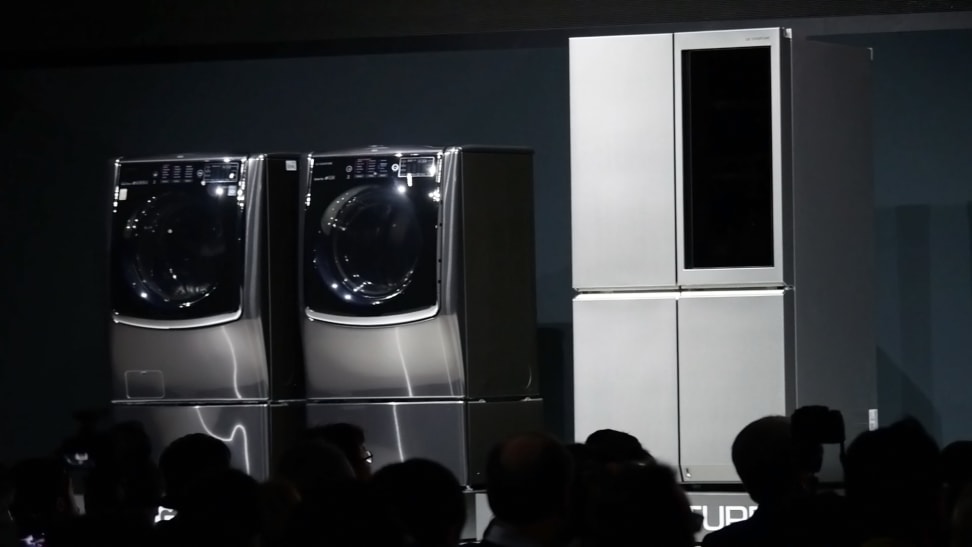 Credit: Reviewed.com / Michael Roorda
During a press conference at CES 2016, LG announced new additions to its premium Signature lineup. Among the newcomers is a fridge that's loaded with some neat, never-before-seen features.
The Signature series fridge has a door-in-door design, but takes it one step further by adding a Knock-On feature. An exterior window into the door-in-door compartment remains darkened until you knock on it, signaling the window to light up so you can peek inside. This way, you can check how much milk or how many eggs you have left without having to open the door and let out all that cold air.
But what if you do want to open door? Sure, you could pull it open with your hands like a normal person, but this premium fridge has a neat Auto-Door feature. Just stick your foot near a sensor at the bottom of the door and it'll pop open—perfect for when your hands are full of groceries, snacks, or beer. According to LG, the sensor is smart enough not to open for your pets or babies, although we have yet to hear an explanation as to how exactly that works.
With a release date sometime in 2016, we're looking forward to getting this into our labs and gathering some test data—not to mention playing with the features.
Related Video