Refrigerators
New Coating Gets Every Drop Out of the Mayo Bottle
Less waste, more taste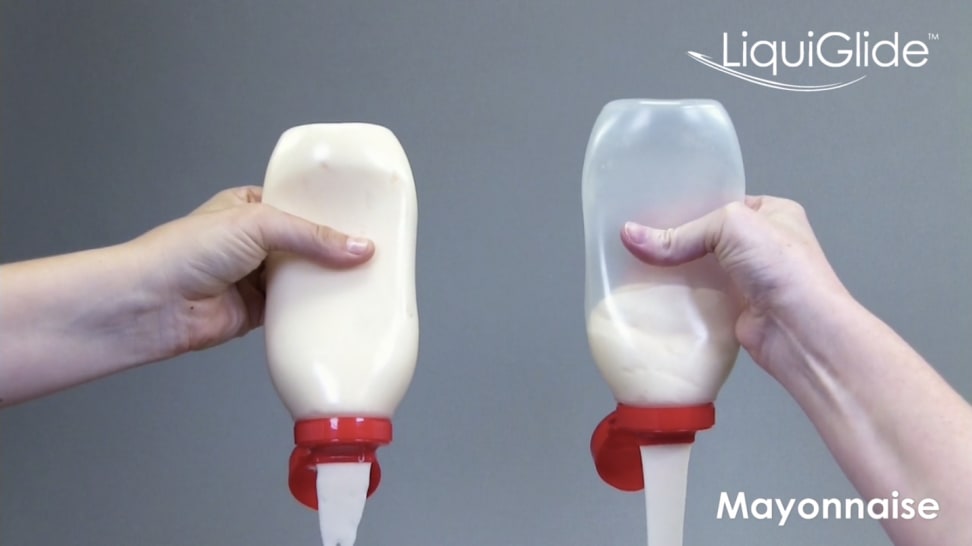 Credit: LiquiGlide
We all know how frustrating it can be to try to get that last bit of ketchup or mayo out of a bottle. For crying out loud, it's 2015! When is someone going to solve this problem?
Well, it turns out the geniuses at MIT already have. They developed a unique coating that prevents condiments and other liquids from sticking to their containers. The technology was then turned into a real product called LiquiGlide, which a team of entrepreneurs is working to get out into the real world.
According to the company, LiquiGlide is unlike any other super-hydrophobic surface on the market today:
"LiquiGlide is a permanently wet, liquid-impregnated surface which is designed to be hyper slippery, with the product sitting directly on a layer of liquid. A liquid-impregnated surface is a multi-layer surface, consisting of a customized solid texture and a liquid. The highly textured solid surface is composed of a matrix of features spaced sufficiently close to stably contain the impregnating liquid that fills in the spaces between the features. The liquid is held in place within the texture, creating a permanently slippery, liquid surface. The product is actually sliding on our liquid layer, in a liquid-to-liquid interface."
Boston.com reports that LiquiGlide has partnered with Orkla ASA, a European food manufacturer, to put the coating in bottles of a new brand of mayonnaise. That partnership follows on the heels of another deal with Elmer's Products, which makes various glues.
The company's FAQ suggests that the coating must be tailored to individual liquids, to suit their expected shelf life and storage temperature. Regardless, the possibilities are intriguing and far-reaching. LiquiGlide has posted videos of the coating being used in everything from nail polish bottles to laundry detergent caps and toothpaste tubes. Just imagine: No more rolling up the tube to squeeze that last bit out.
There's no word just yet on when we'll see LiquiGlide's coatings in American products, but the company is working to license its material worldwide. All we can do is hope manufacturers take note.
In the meantime, you can make your own condiments at home and forgo the bottle entirely.
Related Video