Refrigerators
Showcasing the ShowCase: Samsung's New Door-In-Door Fridge
Multiple doors and an interior redesign showcased in a stylish new way.

Credit:
It says a lot when BK Yoon, the CEO and President of Samsung's Consumer Electronics Division, launches into a lengthy talk about enhancing lives through technological advancement... and opens by mentioning a fridge.
Yoon explained that "I asked our designers to develop a new concept for refrigerators. The first thing they did? Study how people use their refrigerators. How families compete for space. The result? A clever storage system. No more chaos, and a happier home."
That fridge is the Food ShowCase refrigerator. From the outside, this fridge looks like a fairly traditional side-by-side, but the fridge door can be opened in two ways: open the external door to access what would normally be fridge door storage. A glass barrier blocks off the main fridge interior, preventing cold air loss and simplifying what areas of the fridge can be accessed. It's meant to minimize food loss (anyone who overstocks knows what that means), and theoretically keeps things more efficient, a big theme at this year's IFA.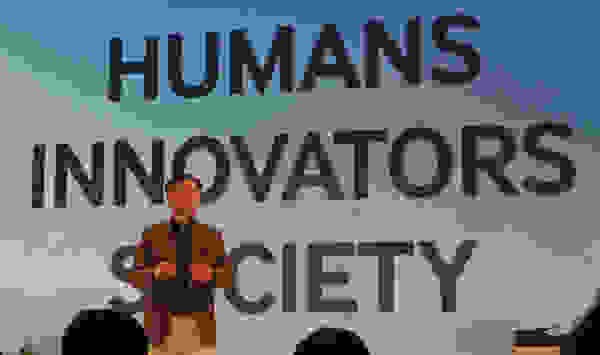 Andrew Seidler, Director of Digital Appliances Sales & Marketing, went on to explain that the main interior of the fridge (the space where we as Americans tend to store... well, everything) is meant more for items that you don't need all the time. It's been revamped to suit each member of the household: a Cooking Zone is at the top, a Family Zone is in the middle, and a Kids Zone is on the bottom. It's a neat idea, putting appropriate items roughly at eye level for the member of the family that would need it, but it would require some alteration of American shopping and storage habits to really work.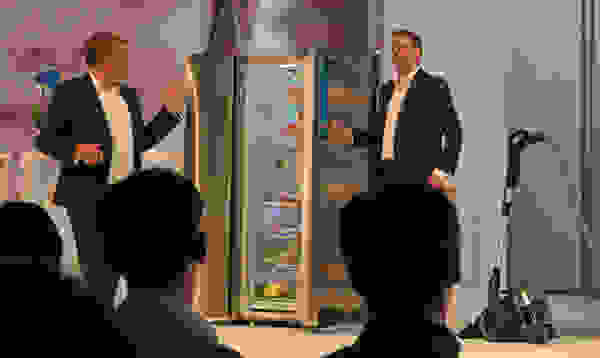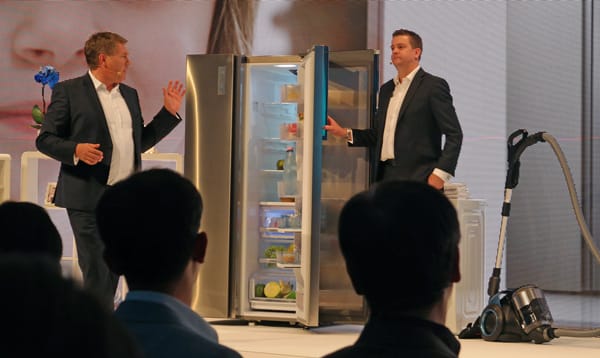 Door-in-door fridges aren't terribly common in the states; so far, we've only tested one model made by LG. There's no confirmation of a US release at this point, but there is a precedent in place working in our favor: What was known as the Samsung T9000 four-door fridge debuted in Europe last year and just recently came to the US. The Food ShowCase is set to release in Europe early in 2014, so we may very well see it in a couple of years. No news on pricing at this time, either.
Other appliance announcements included the Samsung Motion Sync vacuum, a small canister vacuum designed for maximum usability and maximum cleaning. The 14 separate internal chambers are meant to clean the air that's coming into the vacuum, finally pushing out clean air that won't spread dust throughout the house. There's also a dust sensor with a detector light that theoretically comes on when the floor is clean. Whether this is a useful tool or a frustrating acknowledgement of the nastiness of your 15-year-old carpet remains to be seen. The Eco Bubble Drum washing machine was also touched upon, but it seems to be nothing more than a European equivalent to the PowerFoam tech that already exists in American models.