Refrigerators
This Town Just Became The World's Biggest Beer Commercial
... and the locals aren't happy.
Credit:
Are you the kind of person who mutes the television during the commercials or lets out an audible "tut-tut" when driving past the massive billboards that pepper U.S. highways? If this sounds familiar you may want to look away, or at the very least spare a thought for the small Colorado town of Crested Butte.
As part of a promotional push by Bud Light purveyor Anheuser-Busch, the town was temporarily transformed into a branded adult playground, and rechristened Whatever, USA.
The move was part of a promotion for the Bud Light "Up for Whatever" ad campaign. Five hundred Bud Light customers and their plus-ones were awarded a ticket to the event, which took place September 5-6th. As part of the temporary transformation, the main street, Elk Avenue, was painted blue, music stages were erected, businesses were temporarily renamed and provided with Bud Light beer taps, and volleyball courts and giant chess sets were installed. Regardless of your thoughts on Bud Light, the event certainly sounded like a fun party.
But as it turned out, the people of Crested Butte weren't really down with the whole "whatever" thing. The residents of the Colorado hamlet are justifiably upset at the commercialization of their town, as well as the seemingly underhand manner in which the deal was struck. A report by the New York Times reveals that Anheuser-Busch paid $500,000 to turn the town into a Bud Light branded borough, and that the deal was struck without any consultation with town residents.
Town officials justified the deal by explaining that the half-million dollar "donation" from Anheuser-Busch is a significant addition to the towns $10 million annual budget, and will be used for a capital development project.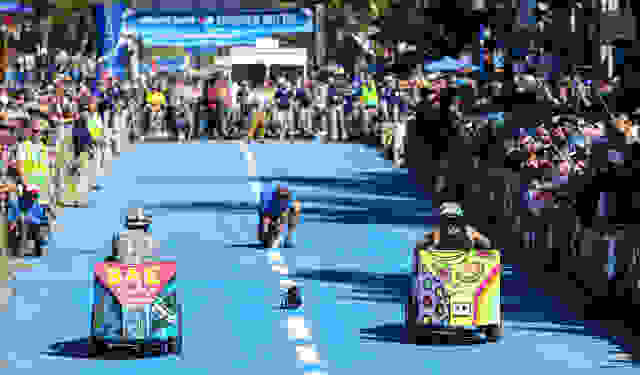 With the (much welcome) rise in the popularity of craft beer, consumption of mass produced beers such as Bud Light and Coors are in free fall. Companies like Anheuser-Busch are scrambling to maintain the relevance of their flagship products, and they're employing increasingly desperate marketing strategies to do so.
To that end, the (slightly sordid) Whatever, USA, campaign may actually be a sign of things to come.
Via: New York Times
Hero Image: Flickr user "gmeador" (CC BY-NC-SA 2.0)
Up next