Refrigerators
This Tiny House Has a Roof Made of Fridge Panels
And that's just the start.
Credit: Tiny House Hotel
Here's something that gives new meaning to "upcycling." This unique dwelling, called "Skyline," is part of a complex of "tiny houses" that make up an offbeat hotel in Portland, Oregon (of course).
Its roof, siding, and flooring are made entirely from repurposed materials. The stairs are from a factory, the floors are salvaged decking, and the shower was fashioned in part from an old street sign. The siding—made from wood shingles and corrugated aluminum—gives the place its "shanty" vibe.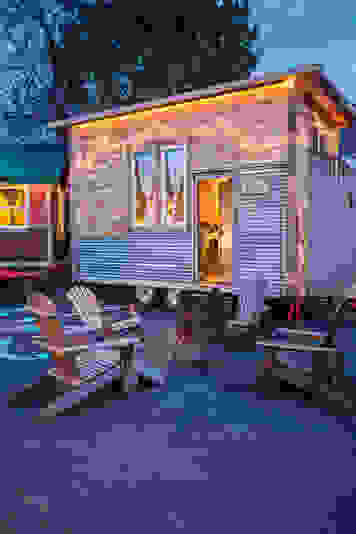 Best of all? The roof is made from repurposed refrigerator panels.
And in case you were wondering—yes, the shack has hot water, electric heat, a kitchen, and a flush toilet. All in all, it's super efficient little hovel.
Earlier this year, we had a chance to check out a similar project: a home made from a repurposed, 308-square-foot shipping container. Designed by San Francisco architect Richard Springwater, the little dwelling comes complete with kitchen, bathroom, and Murphy bed.
The Skyline house is one of six rooms available at Portland's Caravan Hotel. Just another thing to think about when you're planning your next trip—or designing your next home.
Related Video
Up next