Refrigerators
To make a fridge smart, LG plugs in a $129 computer
This new smart fridge prototype runs on an Intel Compute Stick
LG has taught an old fridge some new tricks. All users have to do is add a tiny computer.
We were already impressed by LG's InstaView refrigerator, which can turn a glass panel on one of its doors transparent so users can see what's inside without opening the fridge.
Now, a European prototype running off Intel's Compute Stick turns that see-through door into an LED touchscreen. Knock twice on the door, and the 29-inch screen fades away to reveal what's inside the fridge.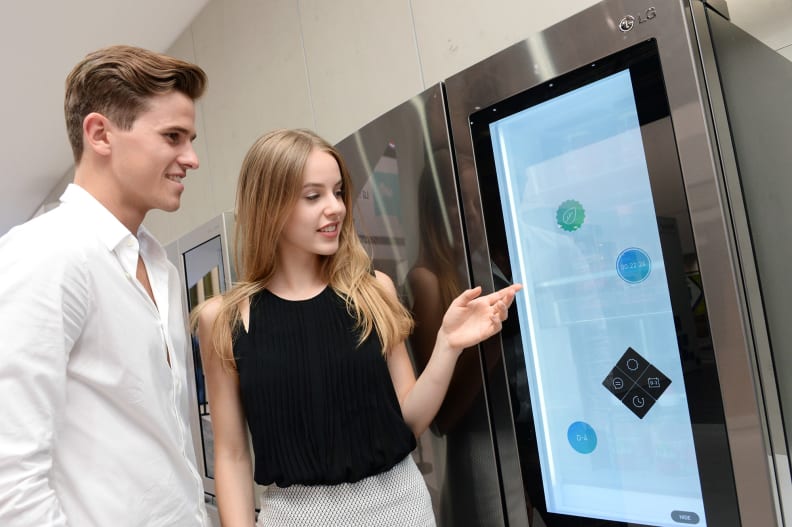 The fridge—or, rather, the Compute Stick—runs Windows 10, including the Cortana personal assistant, and comes with a few fridge-specific apps.
We haven't had a chance to try out the fridge in person yet, and there's no word on whether existing InstaView fridges can be upgraded. Still, LG's move is further evidence appliance manufacturers are betting the fridge will someday be the heart of the smart home.
The concept itself is nothing new: We saw a similar prototype from Haier at IFA back in 2012, and Samsung's Family Hub wowed attendees at last year's CES with its sleek user interface.
LG, however, is headed in a different direction than its Korean rival. Instead of creating its own ecosystem, like Samsung did, LG relies on the Compute Stick—a piece of off-the-shelf hardware whose most popular version retails for $129—to do the "smart" heavy lifting. The Compute Stick can already turn nearly any display into a Windows computer, so the fridge conversion doesn't seem like much of a departure.
Samsung's approach has its challenges, like limited app compatibility, but we suspect LG will struggle to customize an existing OS for fridge use.
Appliance manufacturers are betting the fridge will someday be the heart of the smart home
There's also the issue of cost. InstaView fridges are already expensive, and we can't imagine buyers paying much more if LG can't demonstrate the value of adding smart functionality. After all, aside from the see-through door, you could replicate many of this fridge's features by buying a Windows tablet and setting it in an attractive stand.
There's no word on how much LG plans to charge for adding the Compute Stick, but we wouldn't be surprised to learn more about it at CES in January.
Related Video