Refrigerators
This fridge lets you grow weed at home—and you can buy it
This smart automated grow box makes it easy to grow your own pot.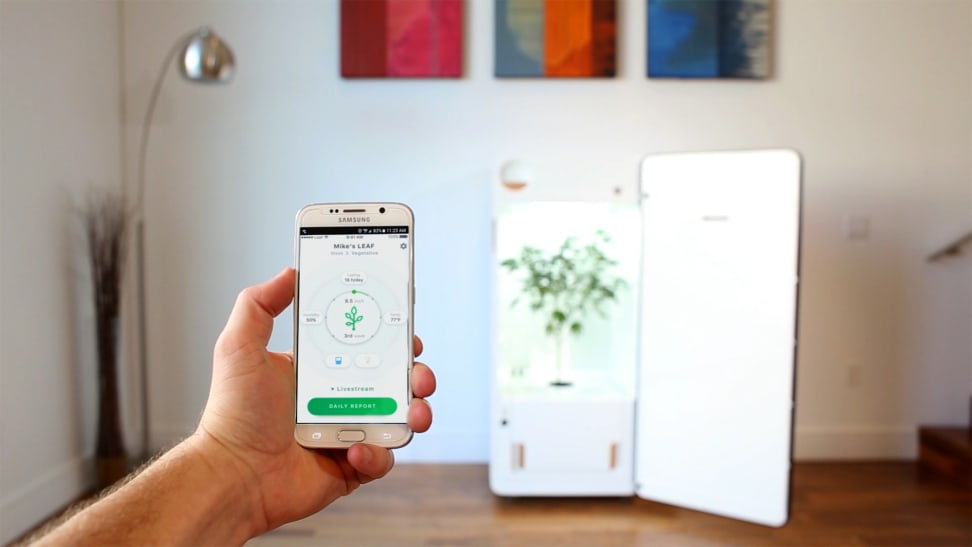 Credit: Leaf
Growing your own weed has some seedy associations: the rumored cannabis patch behind the local high school, the spacy dude with a basement full of hydroponic herb, or maybe just an illicit plant or two hidden in an otherwise-ordinary garden.
But with more states and lobbyist groups pushing for medical or recreational marijuana use, a startup called Leaf is trying to capitalize on the craze with smart, fridge-like grow boxes specifically made for growing marijuana at home.
The boxes are automated and connected, made to fit inside your home without taking up too much space or attention ("Think of it as a beautiful mini fridge," reads LEAF's website). An active carbon filter prevents your weed garden from lending the surrounding air that telltale pot smell, and the companion app helps both beginners and more advanced growers get the perfect herb.
×
LEAF
From the app, you can watch step-by-step instruction videos or check on your plants via a live webcam. The app also lets you monitor and alter grow conditions like air temperature, water temperature, pH, humidity, water level, and plant height. It even provides grow recipes, lets you find recipes created by other growers, or create your own. The whole process is precise and automatic, which means you can be as hands-on (or off) as you'd like.
It's not the first time we've seen a smart automated grow box, but Leaf's specialized focus on growing weed is what makes it unique. The device will be available for purchase this fall, and Leaf promises their first grow boxes will be heavily discounted for those who pre-register. There's no price tag assigned yet, but founder Yoni Ofir says to expect something in the $2,000 range. Still, the company claims its grow boxes will prove a big money-saver when compared with other methods of obtaining medical marijuana.
Maybe so, but I'll be blunt: Those are bold claims to make about a product that hasn't even been definitively priced yet, especially if you'll need to buy replacement cartridges of nutrients and the like.
Leaf will need to measure up to some high expectations.
Related Video