Refrigerators
Samsung RF28R7551DT Family Hub French Door Refrigerator Review
This fridge wants to become the center of your home—is it worth it?
Credit: Samsung
The Samsung RF28R7551DT (available at Best Buy for $3,509.99) wants to become the center of your home. It is a French-door fridge with a built-in screen and a smart platform that combine to form the Family Hub. Not only can it keep food cold, but it can show what's on sale at nearby supermarkets and even functions as a television. We think this fridge has the right set of features to help make your mornings smoother and grocery shopping easier. However, if you love the design but can do without the fancy tech, Samsung also offers the RF28R7351SG, a similar but simplified option.
This Samsung fridge is about more than just keeping your food cold, although it did so consistently in our testing. With the Family Hub, a 21-inch touchscreen located in one of the two French doors, the RF28R7551DT also becomes a message board, a photo gallery, a shopping helper, a TV, and more. Families with multiple schedules to manage may find it can act as a digital assistant as they track soccer practice, piano lessons, and whether the juice box inventory is running low.
However, if you're trying to spend more time unplugged, then this high-end fridge is not worth it. While our lab tests showed it kept a good temperature, we found that the storage in the main cavity to be a little cramped, partially because of the electronics in it.
About the Samsung RF28R7551DT refrigerator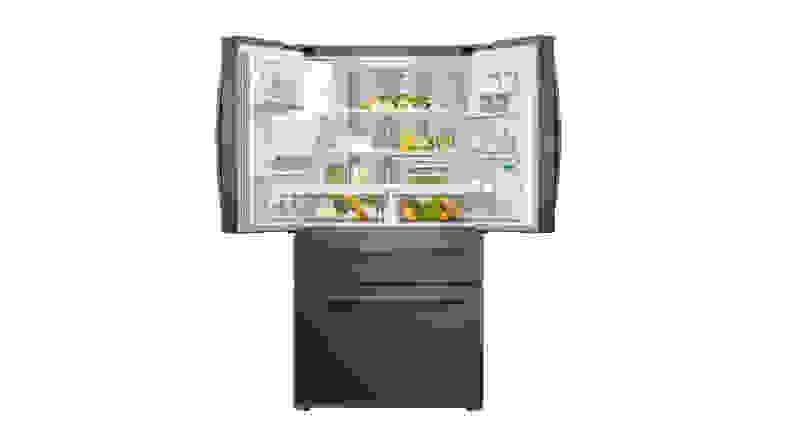 • Dimensions: 37.75" x 70" x 36.5" (W x H x D)
• Usable Storage: 9.6 cu. ft. (fridge), 4.6 cu. ft. (freezer), 4.2 lbs. (ice)
• Number of storage locations: 16
• Finishes: Tuscan Stainless Steel, Stainless Steel, Black Stainless Steel (all finishes are fingerprint resistant)
What we like
Smart features are actually useful
Normally, we have a pretty lukewarm opinion of smart features on appliances. Often times we feel that the smart features were added as an afterthought. Even the early Family Hubs felt like a tablet stuck on a fridge rather than an integrated system. However, the RF28R7551DT uses its 21-inch screen perfectly. After we spent a few weeks using the touchscreen, we've separated our favorite features into three categories: shopping, communication, and entertainment.
Shopping: The smart platform can easily access the weekly flyers of many major grocery stores like Star Market and Whole Foods. We found it easier to make a shopping list while standing in front of the fridge. If you're already at the store, you can dial into your fridge and see what's inside via three built-in cameras.
Communication: We liked the way this fridge aided in communications. You can use the screen to leave messages, complete with all of Samsung's emojis. We also liked the included apps to create and display to-do lists.
Entertainment: Finally, the Family Hub can play music and display video. The quality isn't terrible, about on par with most laptop speakers. But sticking a tablet and some speakers on a fridge isn't all that impressive on its own—seamless screen sharing is what really got us excited. With the Smart Things app, we quickly mirrored a video we were watching on our phone onto the fridge.
We envision sitting around the breakfast table with our children, a video (hopefully educational) playing on the Family Hub. With just a tap on our phone, the video vanishes because it's time to clean up and go. Maybe you don't want kids glued to the screen in the kitchen too, but there are some families who will likely enjoy this feature.
Storage drawers are flexible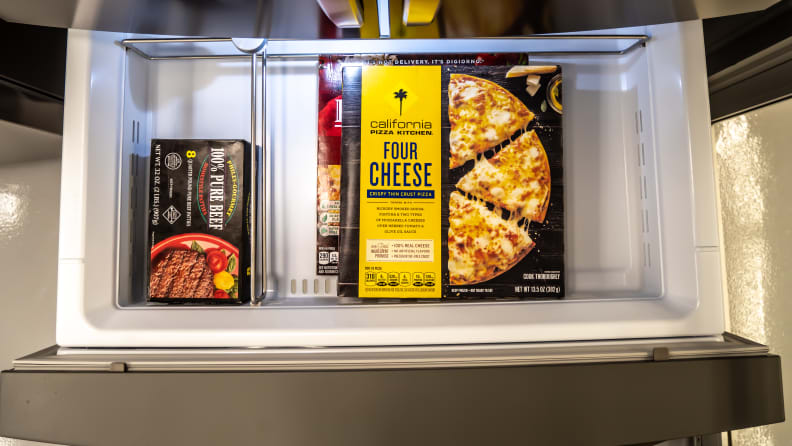 Aside from the fridge and freezer, the RF28R7551DT has a third storage area called the FlexZone. This drawer can be adjusted to a variety of preset temperatures ranging from 29°F to 40°F. We always welcome flexible storage. Day-to-day life is fluid and sometimes you need to store a deli platter and sometimes you need to keep a bunch of yogurts cool, but not so cold that it hurts your aunt's sensitive teeth.
Bright lights help you see all the way to the back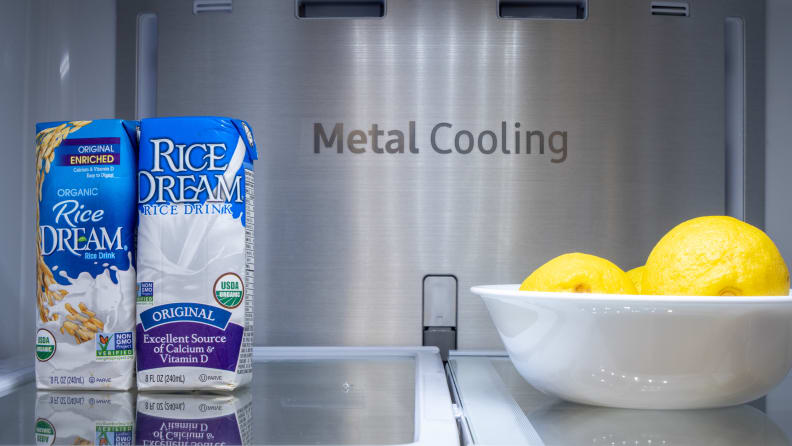 Bright LED lights will greet you when you first open the RF28R7551DT. The position of the lights perfectly complement the steel on the back wall. We appreciated how easy it was to find and see everything in the fridge, all the more important when using the internal cameras.
What we don't like
Storage is cramped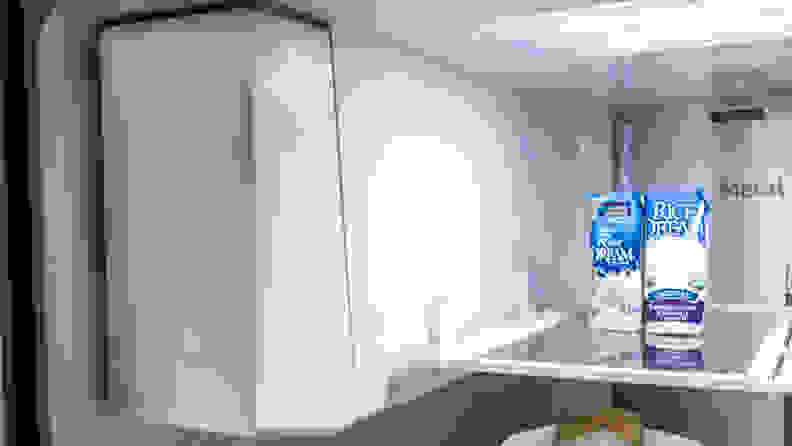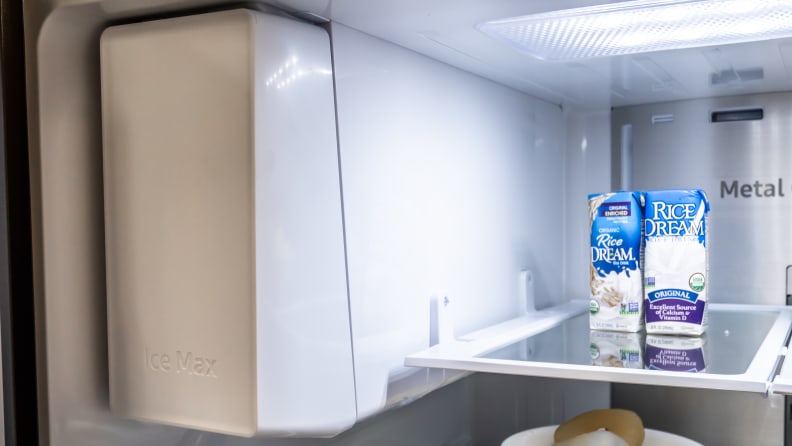 The RF28R7551DT's interior is pretty tight. The ice maker alone takes up almost an entire cubic foot of precious storage space. There are a few retracted shelves, but not enough for our tastes. Samsung advertises that the fridge cavity has 15.6 cu. ft. of storage, but that's only when there's no shelves or bins. Our measurements found that the fridge only has about 9.5 cu. ft. of room.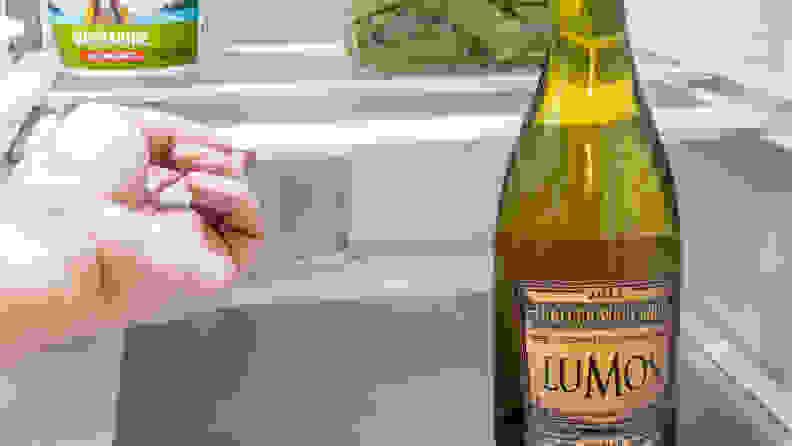 Smart features come at a cost
The Samsung RF28R7551DT costs more than most French-door fridges. A lot of that cost goes to the smart features. If you're not interested in the screen or connectivity, this is not the fridge for you. You can get the more affordable Samsung RF28R7351 that has a very similar but with door-in-door storage in lieu of a touch screen.
What owners are saying
Looking at user reviews from Home Depot, Appliances Connection, and AJ Madison, the Samsung RF28R7551DT averages about 4.46 out of 5 stars. Users say they like the finish, speakers, and flexible storage. However, some users say that more smart features mean more points of failure. They worry that the screen is just another thing that will break that they'll have to pay for.
Should you buy this fridge?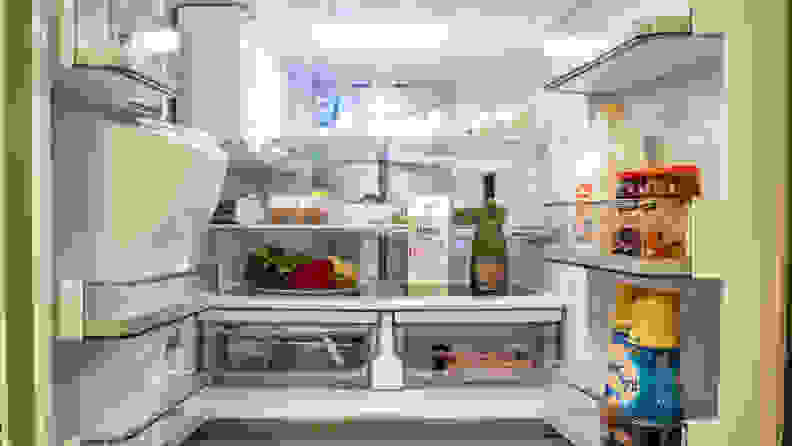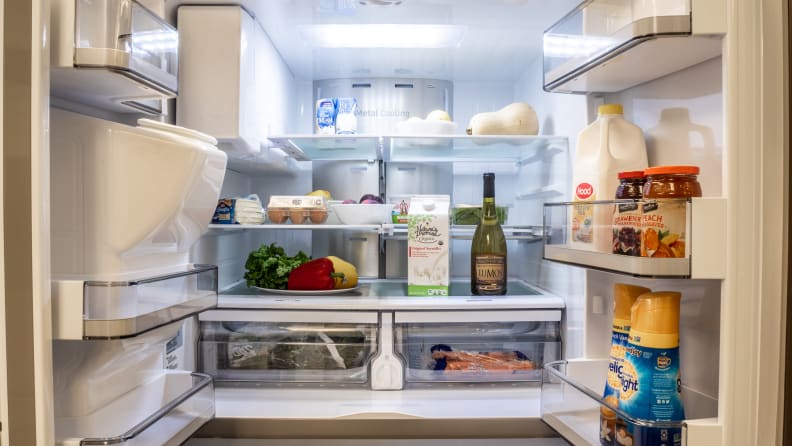 Anyone who ever wanted a fridge from the future should check this one out. The Samsung RF28R7551DT attempts to make smart features worth it with the Family Hub platform. We think this fridge is a prime example of how a smart appliance can make your day-to-day tasks easier. We do understand that most people probably won't want to drop so much money on a French door with a tablet built into the front. However, if you ever wanted to reinforce that your kitchen is the center of your home, this fridge will be a wonderful addition. It can help you shop, organize, and help keep the peace around the dinner table. If you're looking for a French-door fridge without all the added tech, we recommend the Samsung RF28R7551DT