Reviewed
Okidokeys Let You Choose Who Enters Your Home and When, Wirelessly
From RFID to CAC, Okidokeys uses acronyms to keep your home secure.

Credit:
Okidokeys—a serious security company with a funny name—showed off an all inclusive smart security system at CES 2014. The system is designed to unlock doors wirelessly using a host of protocols, including Bluetooth 4.0, NFC, RFID, and even secure audio signals that don't require a smartphone.
Using years of know-how from the hospitality business, Okidokeys debuted its first consumer-ready wireless lock at CES 2014, and it's both accessible and secure. You can purchase RFID cards that can unlock doors with the brush of a sensor, but those cards also let you choose exactly who has access to your house, and when. For example, you might decide that the guy who is repainting your living room should only be able to open the door during business hours.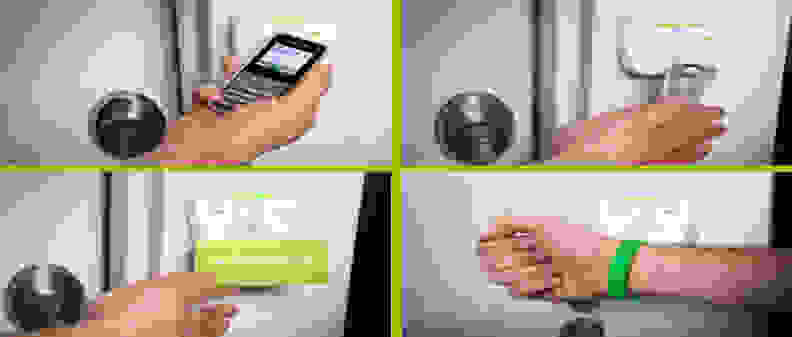 And that painter doesn't even need a smartphone. Using a protocol called Crypto Acoustic Credential (CAC), you can send him a text message that will trigger his phone to emit a sound which unlocks the door. It's a proprietary system that also makes sure a particular sound only unlocks a door once, so you don't have to worry about anyone recording it and playing it back for unauthorized access.
For maximum security, the Okidokeys suite can send you text alerts when certain keys are used, allowing you to keep track of the comings and goings under your roof.
Given all the smart home security systems that are coming out of the woodwork at this year's CES, Okidokeys impresses with its simplicity and—if you'll forgive the contradiction—secure accessibility. Priced at $269 for a comprehensive package, this may be a smart buy for smart technology.