Pros
Dual-power options

Booming bass

Smart camera for video chats
Cons
Scanty smarts

Limited streaming services

Facebook-First
A portable, but limited Facebook-first smart display.
In order to use the Portal Go, Facebook shoehorns you into a Facebook or WhatsApp account—a requirement for setting the device up. The same is going to be true for Facebook's Portal Plus, a 14-inch smart display that arrives at the same time as its more portable Facebook Go. Moreover, similar devices from companies like Google and Amazon are natively smarter than Facebook's Portal Go and will likely make a much better "hub" for your living space and managing your smart home.
That being said, the Portal Go is a solid video calling device, as long as you're ok with being tied to the Facebook ecosystem.
About the Facebook Portal Go
Resolution: 1280 x 800
Camera: 12MP ultrawide
Microphones: 4-mic array with 360-degree pick-up
Speakers: Two 5W, one 20W subwoofer
Colors: Light Grey
Smart-assistant support: Amazon Alexa
Video-calling apps: Facebook, WhatsApp, Zoom, Workplace, BlueJeans, GoToMeeting, WebEx
Dimensions: 6.9-inch H x 3.1-inch W x 6.9-inch D
Weight: 3.6 pounds
Connectivity: Dual-band Wi-Fi (2.4GHz and 5GHz), Bluetooth 5.1
Inside the Portal Go's box, you'll find the display itself next to a single power connector. It's a proprietary (re: don't lose it) charging puck that you rest the entire Portal Go on to juice it up; we wish it was magnetic, as it can be a bit of a pain to align perfectly if you're trying to just drop the display right on top of it.
Other than that, setting up the Portal Go was no more difficult than tapping through some screens and making some simple selections, save for the obvious elephant in the room: Facebook's Portal Go requires an active Facebook or WhatsApp account for you to set it up and use it. Full stop. That's probably not a problem for its intended audience—Facebook fans—but it makes the device a lot less ideal for your home if, or when, you decide to ditch your Facebook account. That includes deactivating it, too, if you're looking to take a little break. The Go supports up to five Facebook accounts.
What we like
Portability, and a battery that won't stop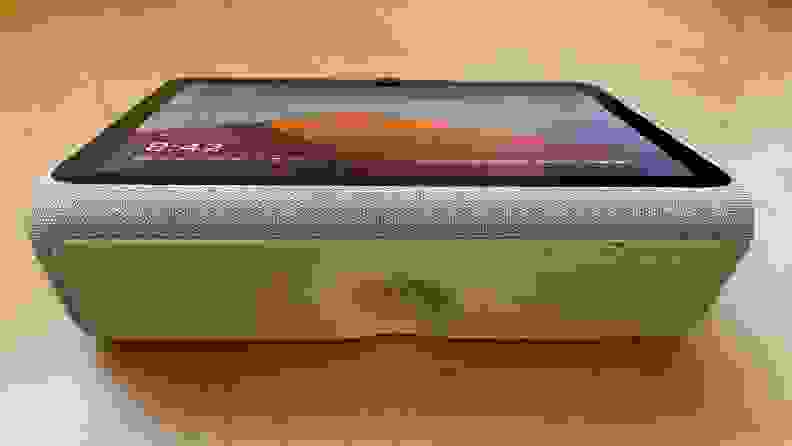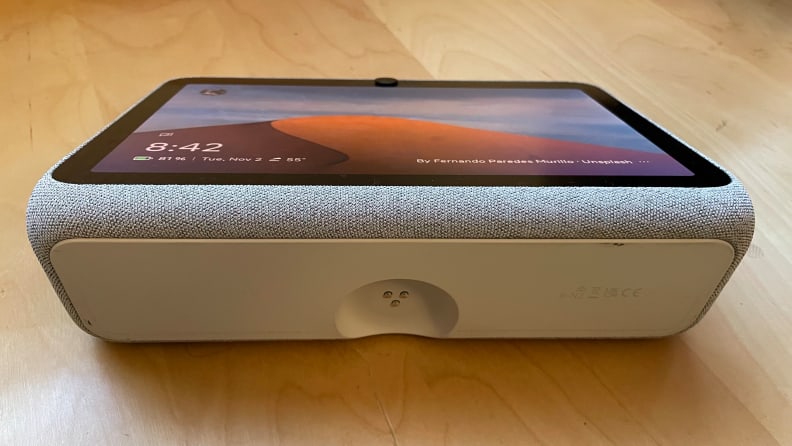 We give the Portal Go credit: It actually outlasted our ability to test its battery for music streaming. We started playing a gigantic Spotify playlist around 11 a.m., and by the time we came back to get ready for bedtime—ten hours and 30 minutes later—the smart display still had half its charge remaining. Based on this, you'll probably get even more than the 14 hours of battery life that Facebook promises the Portal Go can deliver for music.
It would fare well at the beach (as long as you've got Wi-Fi nearby), a typical friend hangout, or an all-day party. Just make sure you aren't repeatedly triggering the screen to turn on and off for no reason, and you'll be ready to rock out for a while.
According to Facebook, the Portal Go can also give you around five hours for video calls before you'll need to recharge the battery. We weren't able to test this directly, as our friends balked at sitting on a video chat for so long, but we have faith in Facebook's estimate given our testing, as well as just how well the smart display looked like it was going to blow past the company's battery predictions for portable audio.
The fact that it's battery-powered gives it an edge over smart displays from Google and Amazon when it comes to flexibility for your video calling.
Beats-like sound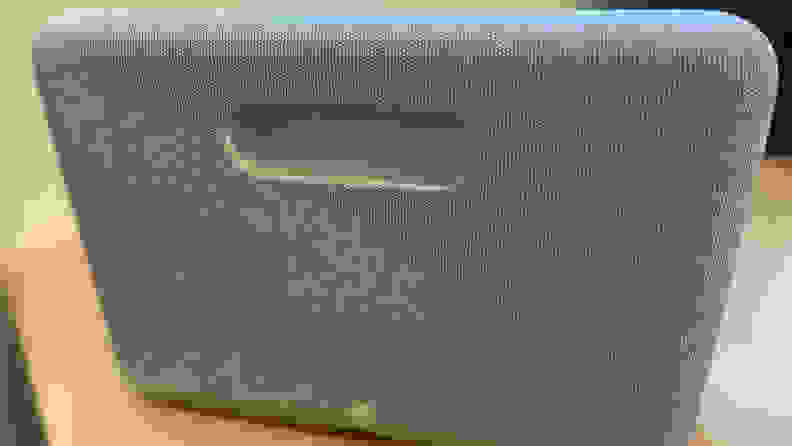 We were pretty blown away by the Portal Go's sound. Its incredibly bass-heavy sound signature makes this device great for carting to a party or friend-gathering. Even if you don't have Wi-Fi at the beach, you'll be able to stream directly to the Portal Go via Bluetooth with your phone.
This isn't the device for you if you want a more natural sound for your jams, though you can lessen the bass a bit by picking from one of four slightly-buried options in its Settings: Default, More Bass, Vocal Boost, or Less Bass. But even if you go with the fourth option, you're still going to get some oomph.
An intelligent camera
The Portal Go comes with an ultrawide, 12MP camera, but there's a little more magic to Facebook's smart display than that. As you move around during your video chats the Portal Go automatically attempts to keep your noggin' in the center of the shot. This is supported in apps beyond just Facebook Messenger, too.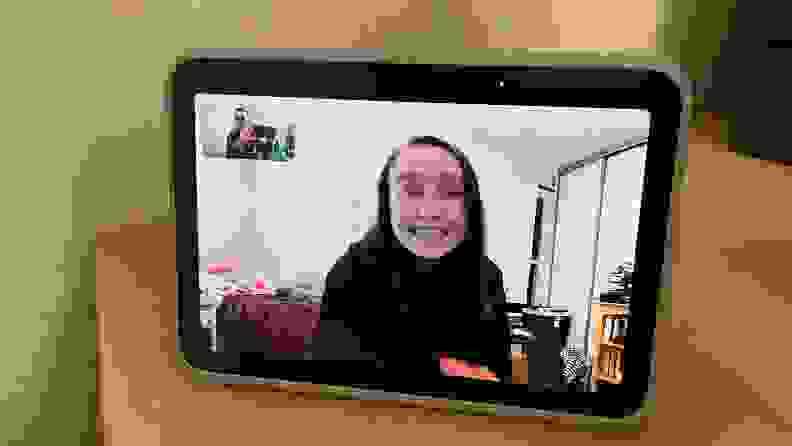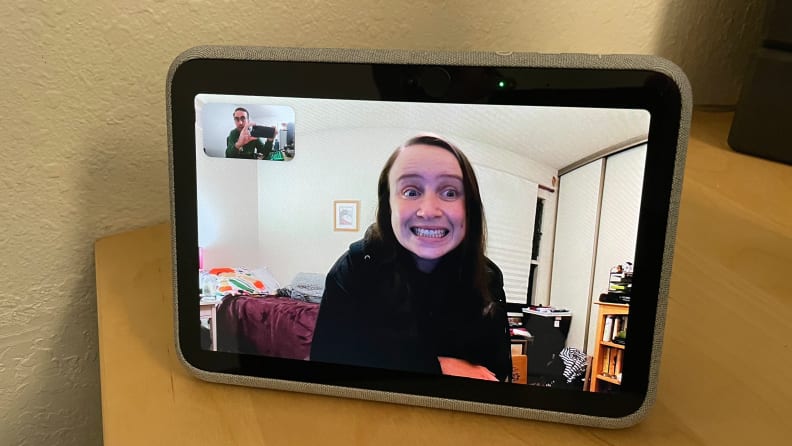 I didn't have anyone else nearby to test what happens when you stuff more people in the frame, but I've seen reports that the Portal Go can also give everyone else in a shot the same treatment. Basically, it's always trying to keep the primary object(s) in frame. You can also double-tap on a person to enable Spotlight mode, and the smart display's camera will fixate on them as much as possible.
The only downside of said ultrawide camera—an anecdotal comment a friend made while talking in a video chat—is that it might make your face look a little bigger, wider, or slightly distorted depending on your positioning. It's not the end of the world, and a trade-off you'll just have to deal with (if you notice it at all) for all that room you get in your shot.
Solid privacy options
The demands for a Facebook or Whatsapp account (and all that may entail) aside, the Portal does a good job with its onboard privacy features. This includes intuitive muting, screen locks, and an easy way to delete any recordings on the device. You can learn more about these features in the Privacy section below, but it's nice to see Facebook has at least put the primary privacy concerns for most users front and center.
What we don't like
Too much Facebook
We don't want to belabor the point, but it's important to know that any customizations you want to make to your Portal Go are going to be tied to something controlled by Facebook (i.e. Meta) or its subsidiaries, essentially. This means that you won't be able to pull in photos you've saved to any other service (including Google Photos or Amazon Prime Photos) if you want to, say, slap a slideshow on your device.
You can upload photos manually via an app, but that's not nearly as convenient (especially for desktop or laptop users who store their photos there). And we recognize that competing smart displays can also be a little unwilling to play nicely with others: Google's Nest Hubs, like the Hub Max, used to let you pull in Facebook photos, for example, but don't anymore.
Amazon Echo displays, like the Show 10, let you display Facebook photos via a skill, but it'll be a warm day in Seattle before the company extends the same red carpet to Google Photos. Such is the competitive landscape. That's no excuse, though, since Facebook's Portal Go feels closed-off to many of the essential apps and services we'd think most people might want to use on a smart display (be it a "hub" they park on a desk at home or a portable device).
No support for Google Assistant or Siri
The Portal Go comes with Amazon Alexa built-in, making it easy to control all of your Alexa-enabled smart home devices. You can also use the built-in Portal voice assistant by saying "Hey Portal" or "Hey Facebook" to set timers, make video calls to friends, play music, check the weather, and more. However, there's no option to invoke Google Assistant or Siri. Alexa is integrated into the Portal Go the same way you'd otherwise launch the Alexa app on your smartphone or tablet.
She's is an incredibly popular smart assistant, so that's better than nothing, but that means that your smart devices have to support Amazon's solution for you to be able to do anything with them. And even then, you're basically stuck using your voice; you can't add any tappable smart home shortcuts to the Portal Go's primary screen. Loading the Alexa app to get tappable devices each and every time is a cumbersome process.
Limited streaming apps at launch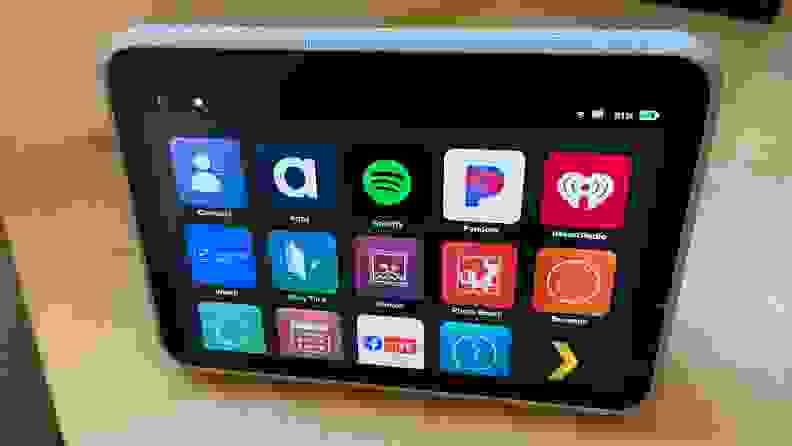 We were super-impressed to see the Portal Go support a downloadable version of Plex, turning this decently sized smart display into a great streaming conduit if you have that kind of setup at home. However, we're willing to bet that more people want to watch videos from silly little sites like YouTube, Twitch, Instagram, TikTok, etc.
As shipped, the Portal Go doesn't come with native apps for any of these services. YouTube, Twitch, and Instagram "websites" can be downloaded to your smart display, but they're glorified shortcuts that open the sites directly in the device's built-in browser.
So, yes, the Portal Go can stream YouTube, but it's a much uglier solution to navigate than you'd get from an actual app. Facebook seems to have thought that giving you access to a Food Network app is much more important than direct support for the world's largest video-streaming platform.
While the device supports Spotify, Pandora, and Tidal, there's no built-in app for Apple Music. The same goes for other major streaming services, including Amazon's Prime Video and Music, Hulu, and Netflix. Facebook wants to be the most important—and only—service in your life, but that's just not realistic or useful on a smart display.
Privacy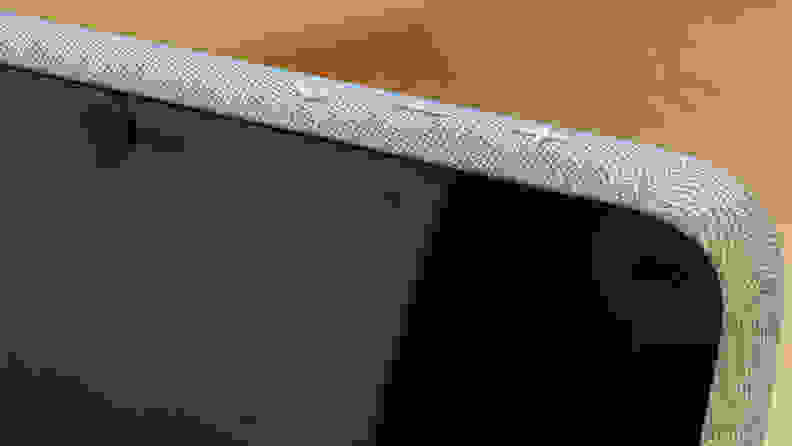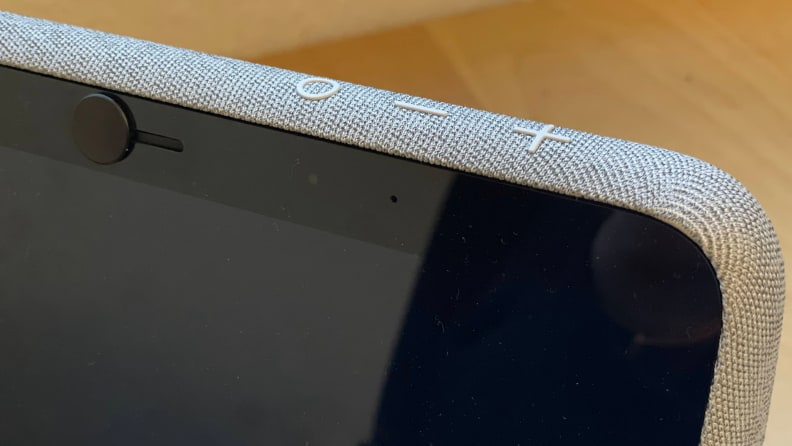 The Portal Go comes with two separate mechanisms for disabling its camera and microphone at any moment. Hitting a you-can't-miss-it physical circle on the top of the smart display turns off both and displays both a status message indicating so and a very obvious red light. You can also slide a built-in cover over the camera at any time. That won't disable the microphone, but it's a great way to ensure your camera is completely and fully blocked.
The Portal Go's settings allow you to set up a screen lock on the device, which we appreciate. You can even lock the device's Wi-Fi behind a passcode—ensuring it only connects when you want it to, not when you've brought your Portal Go somewhere new and someone starts messing around with it.
As part of the setup process, you're prompted to view, delete, or turn off any recordings made when you speak the magical "Hey Portal" command to the Portal Go, and you can revisit these options any time within the device's settings. Finally, you can limit other people in your living space from being able to use certain apps or even message particular individuals with Portal Go's ever-handy "Household Mode."
And, as always, since you must link a Facebook-owned account to even use the Portal Go, any mechanisms the company uses to protect your account—like two-factor authentication—apply as well. (Make sure you set those up, because it's bad enough when someone breaks into and locks you out of your Facebook account; worse if that then affects your enjoyment of a brand-new, $200 device.)
Should you buy it?
Maybe, but only if you love Facebook
If you're big into Facebook, feel like Facebook will always be a part of your online life, and want a booming, portable, video-enabled device that ties into your Facebook lifestyle more than any other, Facebook's Portal Go has no real competition. It's as simple as that.
Due to its limitations for smart-home connectivity and its dislike of most other, non-Facebook services that you likely use every day, this is not a device we'd recommend as the first or only smart display in your house. It's simply too limited to be a useful "hub." Yes, other smart displays can pose similar problems, but none are as locked up as Facebook's. And while the Portal Go's portability is a great feature, in most respects, it's not an actual rival to smart displays from Amazon or Google that cost similarly (or less) and deliver a lot more.
For most folks, we recommend looking at Amazon's much-cheaper Echo Show 8, which is great for controlling smart home gear (even if it doesn't come with a built-in Zigbee hub, compared to cheaper Echos), or Google's 10-inch Nest Hub Max, which will really let your music and movies (or YouTube favorites) fill your space with sound.
The product experts at Reviewed have all your shopping needs covered. Follow Reviewed on Facebook, Twitter, Instagram, TikTok, or Flipboard for the latest deals, product reviews, and more.
Prices were accurate at the time this article was published but may change over time.
Meet the tester
David Murphy
Contributor
@TheDavidMurphy
David Murphy reviews a lot of things for a lot of places.
Checking our work.
Our team is here for one purpose: to help you buy the best stuff and love what you own. Our writers, editors, and lab technicians obsess over the products we cover to make sure you're confident and satisfied. Have a different opinion about something we recommend? Email us and we'll compare notes.
Shoot us an email