Smart Home
These are the best smart home products of 2017
Looking to start your smart home? This is the very best gear we tested this year.
In just a few short years, we've seen an incredible proliferation of devices that want to quantify, connect, and regulate your home. While the potential is huge, the actual results vary widely. Some products, like the Amazon Echo and Philips Hue light bulbs, are nailing the fundamentals, while others struggle with basic functionality.
We tested 75 smart home products over hundreds of hours. In the end, we found eight stellar examples of how to do smart home right.
Best Smart Bulb: Philips Hue Starter Kit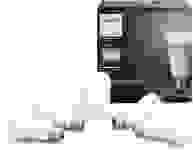 Across the board, the Philips Hue smart bulbs topped all of our tests thanks to an easy setup, a robust suite of features, and an intuitive app. Additional support with smart assistants like Alexa, Google Assistant, and Siri add tremendous benefit to an already impressive portfolio. Once you throw in the additional rainbow of possible light colors, these are without a doubt the best smart bulbs you can buy.
Unlike some other smart bulbs, the Hue bulbs do require a hub in order to work. Additional hardware isn't usually a strong point, but it's a small price to pay for the sheer performance and reliability the Hue bulbs offer—especially if you opt for the Starter Kit that comes packaged with the hub. Read our review.
Best Smart Thermostat: Emerson Sensi Touch Wi-fi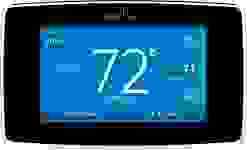 Smart thermostats have surged in popularity and they sure look attractive on the neighbor's wall. The only problem: they're tricker to install and to operate that most people expect. That's why we loved the Emerson Sensi Touch, which has the least stressful installation process, a helpful app, and great functionality.
The Sensi Touch looks nice and it's compatible with Alexa, Google Home, and Apple Homekit. (Just make sure there's a c-wire in that jumble of cables sticking out of the wall, because the Sensi Touch needs one!) Read our review.
Best Smart Plug: iDevices Switch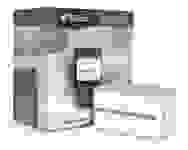 If you're looking for a smart plug that hits all the right notes, the iDevices Switch is the way to go. On top of Android and iOS compatibility, the Switch also offers in-depth energy monitoring and seamless integration with the two most popular smart home ecosystems: Amazon Alexa and Apple HomeKit.
We loved the sleek, minimalist casing and unique "night light" LED strip that can be set to any color in the rainbow. Mercifully, the Switch only occupies a single outlet on your wall panel, and its own outlet is positioned on the right-hand side—a real advantage if you want to position it snugly behind a couch or bookcase.
When you're out of the house, the remote control function made it easy to adjust schedules or turn the switch on and off. Energy monitoring functionality is robustly detailed, with daily, weekly, monthly, and yearly cost and usage estimates in addition to live power draw info. Read our review.
Best Smart Smoke Detector: Halo+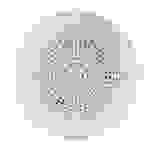 The Halo+ is a hardwired smoke detector and CO alarm that's easy to set up on your Wi-Fi network. We loved the speediness with which it issued notifications for smoke, CO, and even severe weather alerts.
The detector makes a voice announcement of rising smoke levels before the alarm sounds—a useful heads-up. It talks to your phone through the Halo app, which you can use to test the alarm as well as silence it, in cases of false alarms.
If that's not good enough, the Halo+ also does double duty as a nightlight. Read our review.
Best Smart Doorbell: Ring 2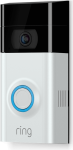 The second-gen Ring Doorbell (aka "Ring 2") was the most reliable of all the doorbells we tested by a large margin.
Its smartphone app connected to the doorbell's live feed faster and more consistently than the others. We also loves the fantastically clear night vision, as well as the ability to adjust the motion detection's sensitivity to prevent false triggers (such as a waving flag on your porch). And the fact that it can be wired in but also has a battery means there's no reason to worry about a power outage.
If you want to save and play back video clips, you'll have to pay $3/month or shell out $30 for a year of storage, with price discounts for multiple doorbells around your home. Read our review.
Best Smart Lock: Schlage Sense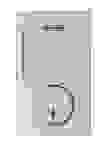 We loved the Schlage Sense, thanks to an interactive step-by-step guide in the app that made the lock easy to install and troubleshoot. The lock is intuitive and had the fastest average lock/unlock times (about two and a half seconds).
Then there are all the useful features. Not only is it able to store and remember 30 unique passcodes, but it comes equipped with built-in alarm sensors that will issue an alert if it senses an attack. It's also Apple HomeKit compatible, which means you can ask Siri to lock/unlock your door and even have remote control if you own an Apple TV as well.
Both Android and HomeKit-compatible, the Schlage Sense is a standout smart lock that should be on your radar. Read our review.
Best Indoor Security Camera: Logitech Logi Circle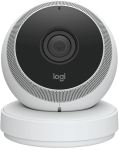 The Logi Circle bested the competition thanks to its incredibly simple setup process, minimalist but powerful app, and the fact that it has a built-in battery, so it can be temporarily placed anywhere in your home. On top of that, it has very good image quality in most circumstances, an extra-wide lens, and offers 24 hours of free cloud backup.
The Logi Circle also did the best job of all when it came to sending intelligent alerts. It didn't spam us with notifications whenever a bird chirped or one of our dogs wandered by, focusing instead on people and unusual events. Live streaming started quickly and rarely lagged, and scrolling through our timeline of auto-captured clips was painless. It's also easy to capture snapshots and download clips if you want to share them with friends, family, or law enforcement. You can even create a "Daily Brief," condensing all of the day's events into a sped-up montage video.
The night mode could stand some improvement, but we're more than happy to recommend the Logi Circle if you're looking for an indoor camera. Read our review.
Best Outdoor Camera: Nest Cam Outdoor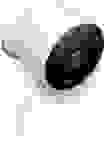 The Nest Cam Outdoor is the best smart outdoor security camera you can buy. It's packed with premium features, so expect to pay a little bit more.
"Nest Aware" is the feature that totally makes this camera, adding tons of useful features, like notifications that differentiate between people and pets; customizable activity zones that prevent areas with frequent, benign motion from triggering alerts; and the ability to create clips that you can share with family, friends, or law enforcement. Coolest of all, it adds a video history feature that records to the cloud 24/7. With a fast enough connection, you can scrub through the remote footage like it's on a local DVR. It's absolutely magical. Read our review.