Smart Home
This new smart speaker is cheaper than the Amazon Echo Dot—but is it worth it?
Your wish is Alexa's command.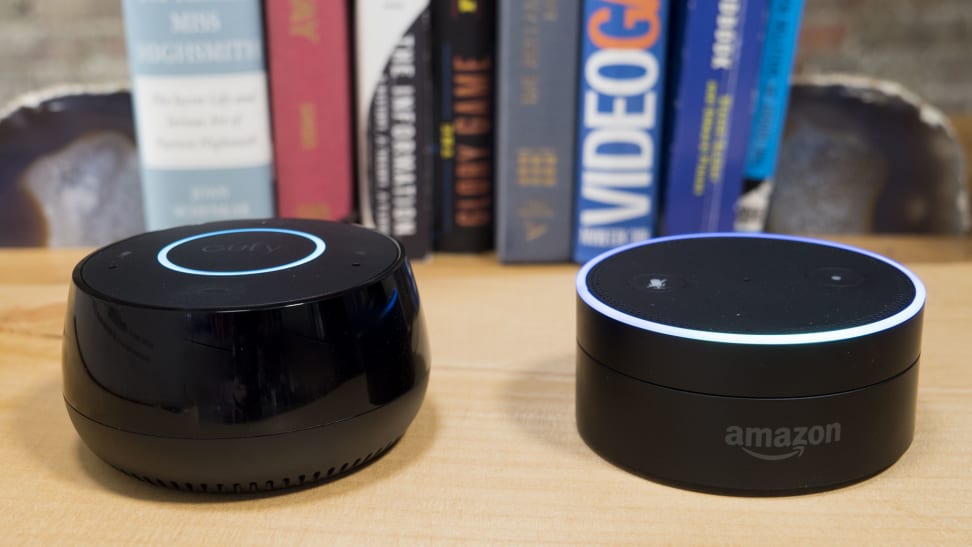 Credit: Reviewed.com / Jeremy Stamas
Smart home technology was once nothing more than a lofty dream, but we've finally reached a point where not only do we have a slew of smart devices to control nearly everything in our homes, but they're starting to be super affordable. Take the Amazon Echo Dot. At $49.99, this puck-sized smart speaker is a bargain for all the convenience it offers. And Anker, the makers of our favorite affordable robot vacuum, just released an even lower-cost version of the Dot—the Eufy Genie ($34.99).
We compared them side by side to see how they stacked up, and it turns out Eufy did a really great job replicating the quality and features of the Dot. The sound quality leaves a lot to be desired, but overall, it's a pretty solid smart device that can hold its own when pitted against the Dot.
What we love about the Genie
It delivers a great Alexa experience for less
The price point is a major perk of choosing the Genie over the Dot. Whether you're testing the smart home waters and aren't ready to make a bigger investment yet, or you're trying to better budget your spending, this device lets you enjoy the future of home tech for less. The Genie also offers an alternative, rounded styling if you aren't a fan of the Dot's harder edges and hockey-puck shape.
Setup is easy, breezy
When you get the Genie, you'll only need about 5 minutes to set it all up. The instruction manual and Eufy Home app make it so easy that the only 'tech knowledge' you need is your WiFi and Amazon passwords, an outlet, and the ability to download a couple apps.
Without looking, you won't know the difference
Once it's set up, Alexa comes to life. Her voice is clear and sharp, and she is loud enough to fill even a large room. If you want to use the Genie to play music, there's an included auxiliary cable to connect to a speaker for a full, more robust sound experience (see below).
The Genie integrates seamlessly into the Alexa app, allowing you to enable all your favorite skills. You can connect the Genie to Spotify, Amazon Music, iHeartRadio, and (eventually) Pandora, use it to set alarms and timers, ask for news and weather updates, and even order an Uber or a pizza. Plus, if you want to dive deeper into smart home tech, Eufy's smart home product line already includes affordable Lumos LED smart bulbs ($29.99 each) and the new Eufy RoboVac 11c smart robot vacuum ($299.99) that will easily integrate with the Genie.
What left us wanting more
It's not great as a standalone music player
The biggest issue I had with the Genie was the sound quality. Right off the bat, I asked Alexa to play some Guns 'n' Roses. The sound coming from the 2-watt speaker was tinny and shallow, not unlike a smartphone speaker. When I asked the Dot to play the same song, the sound was much richer.
And that's saying something. My biggest issues with the Dot is that it doesn't sound very good on its own (which is why Amazon strongly suggests connecting it to an external speaker for music playback), and that the Genie sounds worse on its own is worth noting if you want a standalone device.
A lower cost leaves you with fewer features
The Genie has fewer microphones, so it might not hear you as well as the Dot in a large space—but I had no issues from as far as 20 feet away. The light ring that lets you know Alexa heard you is on the top, compared to along the outer edge of the Dot, so you won't see if if you're at or below eye level with the Genie.
It is also not equipped with Bluetooth, so you can only hard-wire it to another device, and its power cord (this is so nit-picky) is lower quality. With the Dot, you get a micro USB charger, but the Genie comes with a micro USB wall adapter that was kinked and unsightly compared to the Dot's power cord. I suppose you could just hide the cord well, or use or buy a separate micro USB cable if it bothers you too.
Should you buy the Genie or the Dot?
The Genie is a great investment if you're looking to get smart home technology at a bargain price and are willing to look past the shortcomings mentioned above. This device would be great for a small room such as a bedroom, den, or dorm room, making it a great choice as a gift for a high school or college student. (They'll really love the ability to set and snooze alarms without opening their eyes.)
If you don't plan to use it for music, or you have a good speaker to connect it to, it's definitely worth saving the $15 and opting for the Genie.
On the other hand, if you've got a larger space and want to play music directly from a smart device (for the sake of minimalism), the Echo Dot is probably worth the added cost.