Smart Home
All the ways to connect your kitchen and laundry room to Alexa
It's a jungle out there...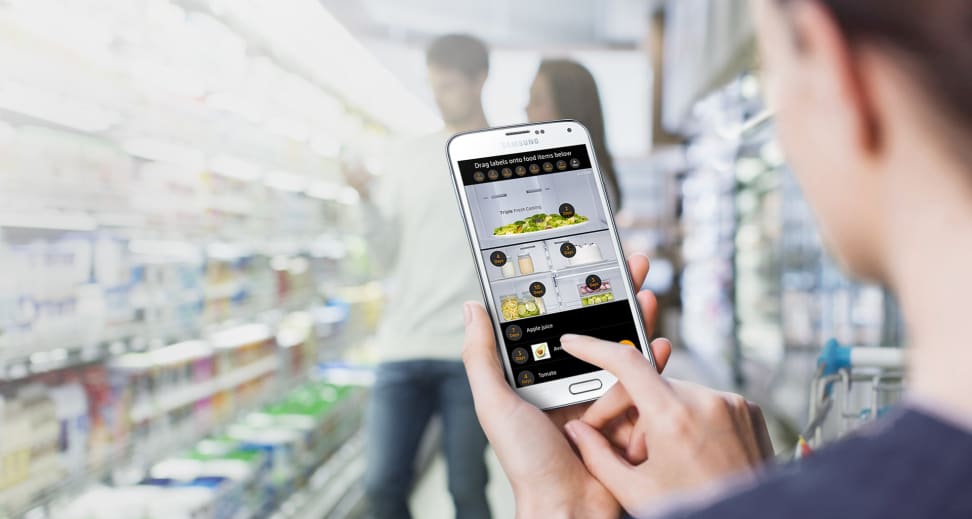 Credit: Samsung
Editor's Note
May 17thth, 2017
This story is up to date with new Google Home compatibility announcements from May 2017.
More appliance manufacturers than ever before are advertising "smart" connectivity, promising convenience features like remote control, automatic supply replenishment, or intelligent energy consumption. Each company also has its own word-soup of apps, standards, modules, hubs, and brands that might make the appliance smarter, but can certainly make a layman feel dumb. We're here to demystify all that.
We've tested and reviewed smart appliances from almost every manufacturer, and we've spent years evaluating hundreds of traditional appliances in our state of the art labs. But since every manufacturer is handling the transition differently, the only way for us to provide a comprehensive guide is to go one by one. We'll try to keep the list updated as details change.
The Standards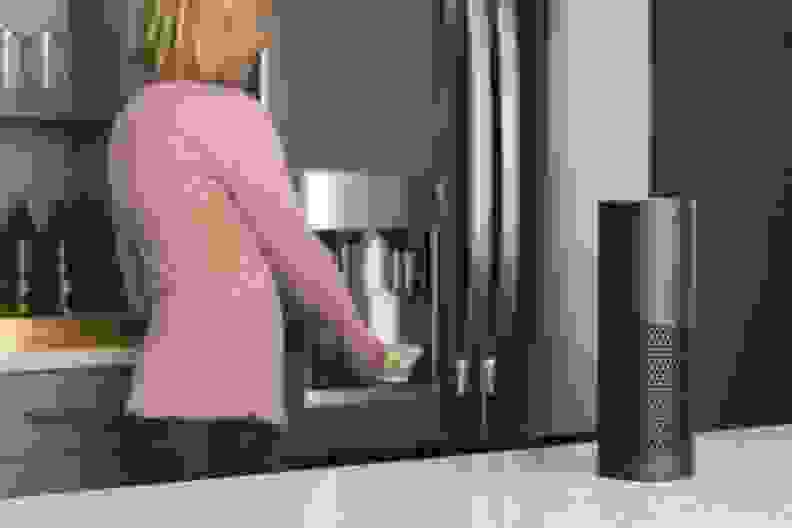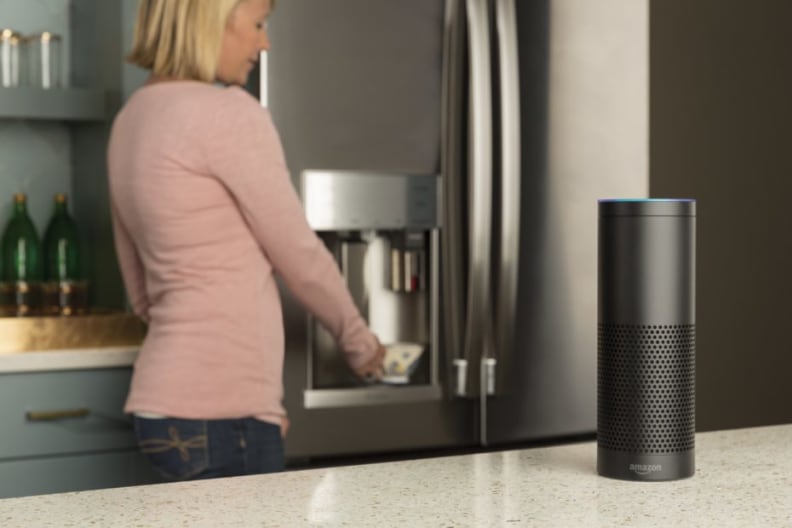 Alexa
Amazon's Alexa is a voice control interface, like Siri on your iPhone. Have you ever imagined an amazing future in which you can verbally ask your appliance, "How much time until my casserole's finished?" Alexa is one way for appliance manufacturers to easily support this functionality.
Echo
…In fact, manufacturers can support Alexa without built-in microphones or speakers, thanks to Amazon's Echo. The cylindrical Echo and miniature Echo Dot are devices placed around the home, and you can talk to them to interact with any connected device. So, if your oven supports Alexa integration, you can verbally tell it to preheat to 400°F using an Echo.
Dash
Dash Replenishment is another Amazon service. If your dishwasher, for example, supports Dash Replenishment, it will automatically count off the number of detergent pods it knows you have left, and automatically purchase new pods from Amazon which will arrive before you run out.
Nest
A Nest is a self-learning, programmable thermostat that automatically learns its user's schedule and temperature preference throughout the day. Since the Nest can also detect when nobody's home, certain appliances may use longer or louder cycles at times when it won't disturb anyone.
Google Home
Google Home is a smart speaker, just like Amazon's Alexa, and you can talk to it to interact with connected smart devices using Google's smart home standard: Google Assistant. Google Home connects with a variety of small devices, like Nest thermostats and Philips Hue lightbulbs, and a few manufacturers have signed on for large appliance connectivity.
The Brands
Bosch
Connected Large Appliances: 5


After announcing plans as far back as 2014, Bosch has finally made good on its promise to bring Home Connect, the company's smart home brand in Europe, to the U.S. Unfortunately, it came in the form of an appliance lineup that may not fit your kitchen.
A limited line of high-end, compact appliances, including a 24-inch wall oven, 24-inch refrigerator, compact washer and dryer, and built-in coffee maker is compatible with the Home Connect app, available on Android or iOS. Most American consumers will be interested in Bosch's connected dishwasher, which can automatically reorder detergent tabs through Amazon Dash replenishment. Connectivity is only available in a single model, however—not the entire lineup.
Dacor
Connected Large Appliances: 4

Dacor manufactures four ovens carrying the "Discovery iQ" moniker, from a 30-inch wall oven to a commercial-grade dual-fuel range that's yours for a cool $12,000. Each one has an LCD touchscreen in the center of its control panel, with software running Android OS (though both Android and iOS smartphones are supported for remote control and smart features).
Electrolux
Connected Large Appliances: 0
While Electrolux says it is currently developing WiFi-connected smart appliances, the company hasn't released a production model in the U.S.
Whirlpool
Connected Large Appliances: 25+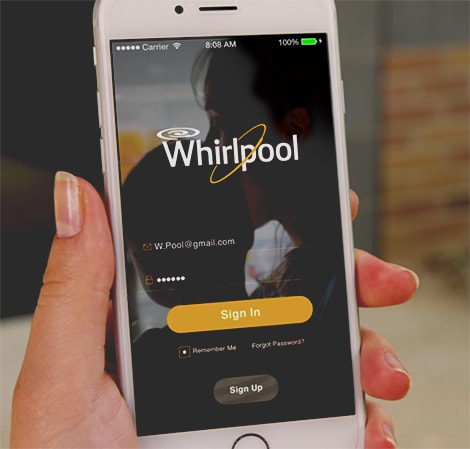 21 Whirlpool ovens, laundry machines, and refrigerators manufactured in 2017 will communicate with nearby Alexa-enabled devices like the Echo and Echo Dot. With Alexa voice commands, users will be able to adjust core appliance functions like timers, temperatures, or wash cycles. Whirlpool also recently announced 20 of its smart large appliances will be Google Home compatible in 2017.
Whirlpool also currently sells smart laundry pairs—a top load and front load set—in the U.S. They work with iOS and Android apps and feature native support for Nest thermostats. We thoroughly tested Whirlpool's 2016 smart washing machine and dryer, and while the smart features are nice, we found them overshadowed by the Cabrio series' innovative What To Wash / How To Wash controls.
GE
Connected Large Appliances: 70+

GE has perhaps the most robust smart large appliance offering currently available, including ranges, wall ovens, refrigerators, dishwashers, washing machines, and dryers. Plus there's the ConnectPlus module for certain appliances that don't have WiFi Connect functionality built right in. All models require third-party "middle man" software like IFTTT for Nest connectivity, but Google Home connectivity will roll out this year.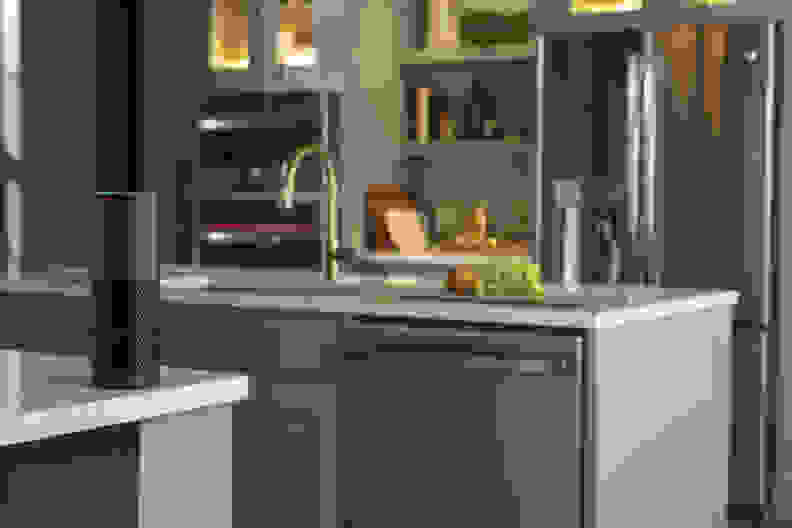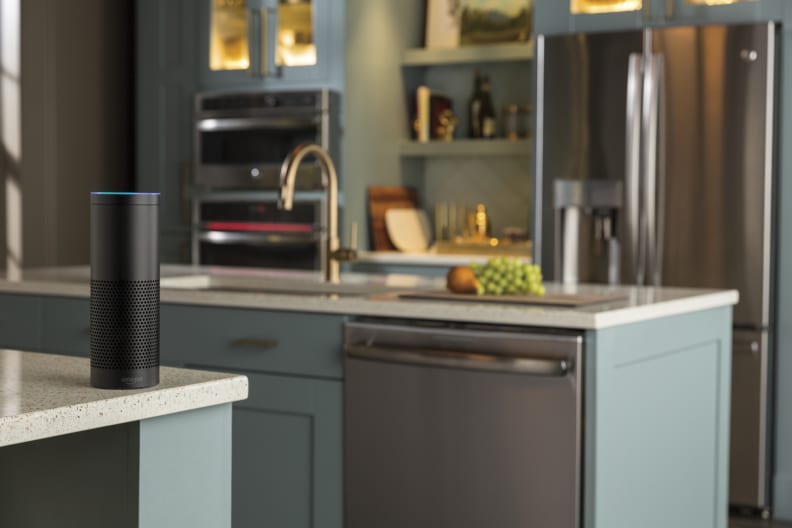 The models that do have WiFi Connect built in, and can therefore natively connect to Alexa voice controls, Dash Replenishment, and of course GE's own smartphone apps, are as follows...
Ranges
Profile Series PGB940ZEJSS
Profile Series PGB940SEJSS w/ Induction
Profile Series Dual-Fuel P2B940SEJSS
Profile Series PHB920EJES w/ Induction
Profile Series PHB920SJSS w/ Induction
Profile Series PB930SJSS
Wall Ovens
Click here to see the full lineup...
French Door Refrigerators
Café Series CFE28USHSS 27.8 cu. ft.
Café Series CYE22USHSS 22.2 cu. ft. counter-depth
Profile Series PFE28PSKSS 27.8 cu. ft.
Profile Series PFE28PMKES 27.8 cu. ft.
Profile Series PYE22PMKES 22.2 cu. ft. counter-depth
Profile Series PYE22PSKSS 22.2 cu. ft. counter-depth
Dishwashers
Profile Series PYE22PSKSS panel-ready
Profile Series PDT855SSJSS
Profile Series PDT855SMJES
Washing Machines
GTW860SPJMC
GTW860SSJWS
Dryers
GTD86GSPJMC Gas Dryer
GTD86GSSJWS Gas Dryer
GTD86ESPJMC Electric Dryer
Jenn-Air
Connected Large Appliances: 1


Jenn-Air has one smart appliance, the Connected Wall Oven, which comes in single-, double-, and combo-oven configurations. These convection ovens all connect to the Jenn-Air app on Android or iOS, which can be used to remotely control settings, automatically cook certain recipes, connect to a Nest thermostat, or shut the oven off if you forget.
Kenmore
Connected Large Appliances: 0
The only Kenmore appliances with smart functionality are small appliances. Click here for the complete list of Kenmore smart appliances.
KitchenAid
Connected Large Appliances: 0
KitchenAid hasn't rolled out WiFi-connectivity to its major appliances.
Samsung
Connected Large Appliances: 2

Samsung's smart home offering is one of the industry's most complicated. First, it's important to distinguish Samsung's SmartThings standard, which is designed for and predominantly used by smaller, single-purpose smart products made by many different manufacturers. The products that work with SmartThings are diverse, from lightbulbs to doorbells to valves and vents.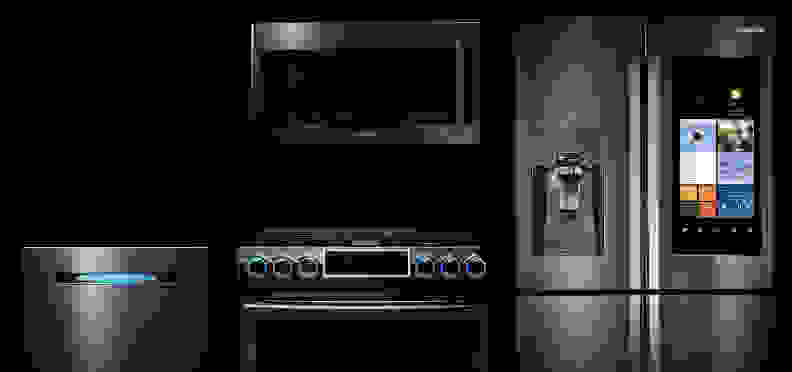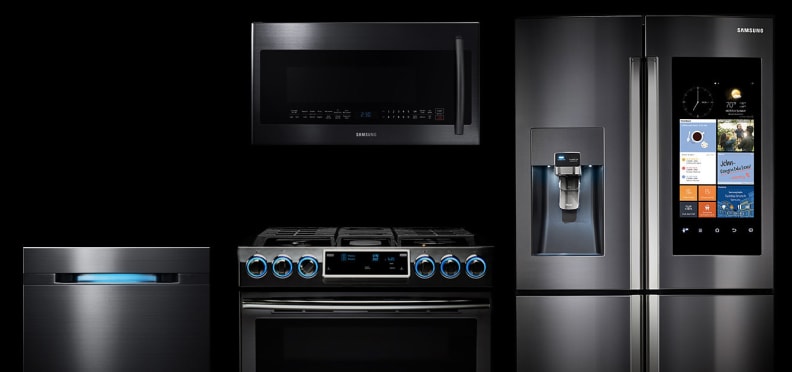 SmartThings also works with a few large Samsung smart appliances, including the NE58K9850WS range and black stainless version.
Certain other Samsung appliances are equipped with Smart Control, but this feature is intended mostly for troubleshooting, and requires a USB dongle sold separately.
LG
Connected Large Appliances: 1

LG's smart appliance brand is called smartThinQ, or at least it was. Every smartThinQ appliance solid in the U.S.—including laundry machines, refrigerators, and dishwashers—has gone out of production since the brand was originally introduced. But we do expect smart features to return in future products, even if they're not branded "smartThinQ."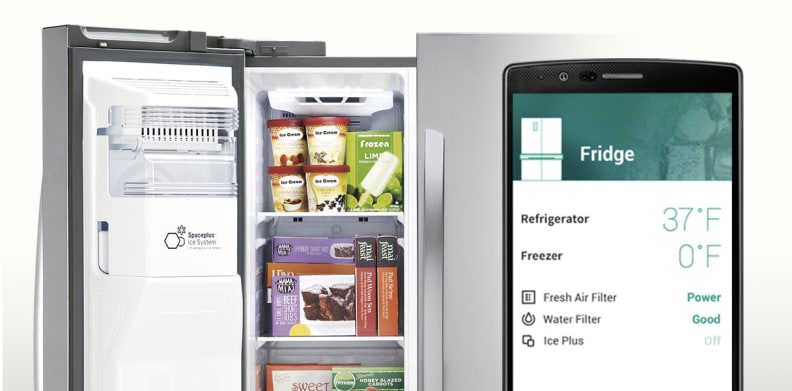 LG has also announced plans for Alexa connectivity, Google Home compatibility, Dash replenishment, and even a standalone smartThinQ hub, but so far only the company's new Smart InstaView fridge is confirmed for Alexa.
Thanks for reading! Again, we'll try to keep this article up to date as new WiFi-connected major appliances come to market or old ones go out of production. In the meantime, click here for all of our Home & Outdoor coverage.