Smart Home
Can Dyson's $600 heater end office thermostat wars?
Finally, a product that satisfies everyone in the room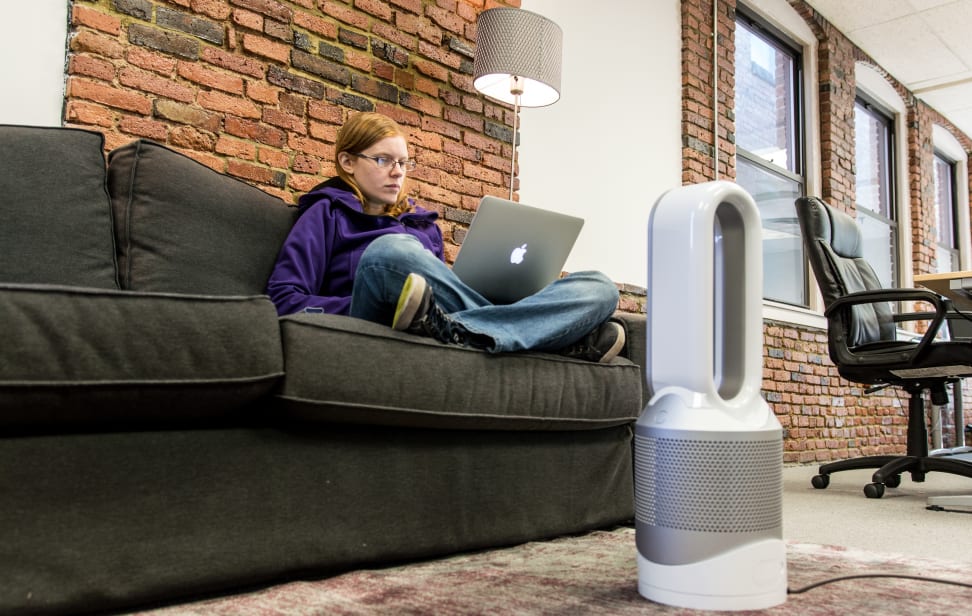 Credit: Reviewed.com / Jonathan Chan
Whatever the temperature is in your home or office, someone's going to complain that it's too hot or cold. Whether it's because of biology or patriarchy, no one temperature can satisfy everyone.
Case in point: I'm wearing jeans and a t-shirt right now, while our resident senior scientist is wearing a woolen cap, a scarf, and a fleece jacket. She's sitting not twenty feet away.
Rather than start an office-wide war for thermostat supremacy, we decided to try out the Dyson Pure Hot+Cool Link. The Pure is a $600 (no, that's not a typo) combination space heater, fan, and air purifier. It has a nine-inch base and no blades, and can sit on a desk or in the corner of a room.
With Julia representing Team Weak-to-Winter and me carrying the torch for Team Hot Bod, we tried out the Pure during an early autumn week in New England with a wide variety of temperatures to experience. We found that Dyson's new Pure may be ideal for keeping the peace—but it still requires an initial agreement on a pretty hefty investment.
Julia put the Pure right under her desk, which is what you'd expect a scientist to do. After all, she knows that heat rises. While a regular space heater might toast up your feet but not have enough power for the rest of your body, the Pure avoids this trap via two design choices. First, the base (which contains the air intake and HEPA filter) are roughly 11 inches off the ground. That means the Pure isn't wasting energy heating the floor. Secondly, the blade-free fan is oblong, allowing the Pure to more evenly distribute the heat across your body.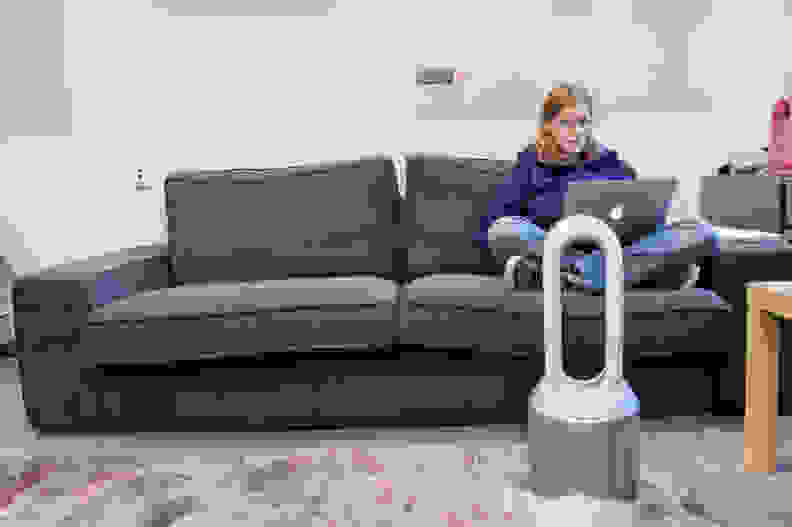 Our next test looked at spillover. Whether you're in a tightly-packed open office or sitting with a significant other on the couch, even a tiny space heater can warm up someone who can't take the heat. To combat that issue, the Pure has a Focus Mode which, according to Dyson, keeps the flow of air tightly constrained to the width of the fan.
So, we took the Pure out of the lab and put it in our break room. Sitting two feet away from Julia on the same couch, I could not feel the heat, while she remained nice and toasty.
Additionally, neither of us were disturbed by the noise. Standing roughly three feet from the Pure, our sound meter picked up only 45 dBA on low–easily quiet enough to sleep through. The unit also has a nighttime mode which dims the LCD display.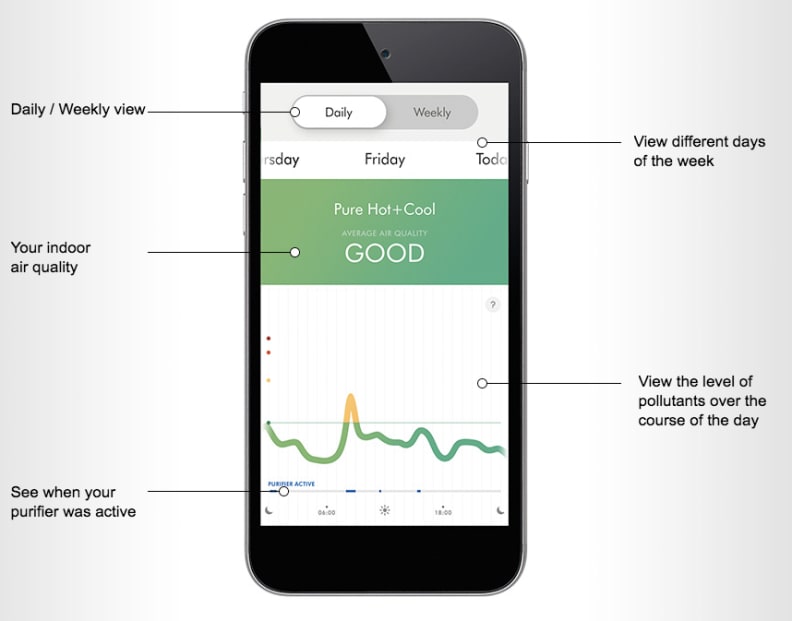 After spending a few days with the Pure, Julia was ready to plunk down six Benjamins for the promise of on-demand heat. Team Hot Bod, however, remained lukewarm.
That's because, when it comes to cooling, the Hot+Cool is little more than a glorified fan. Yeah, it's able to oscillate and spew out air at a 45° angle, but so can less-expensive models.
Both of us agreed that the tech options were pretty cool: All the Pure's functions can be controlled via a magnetized remote. There's also an accompanying app that can monitor your home or office's temperature and air quality over time.
If you don't need HEPA air purification—which requires replacing a disposable filter every 6 months at a cost of $69.99—you can save $170 and get Dyson's own AM09 Fan Heater. It has similar heating and cooling functions, but it lacks an air purifier and "only" costs $430.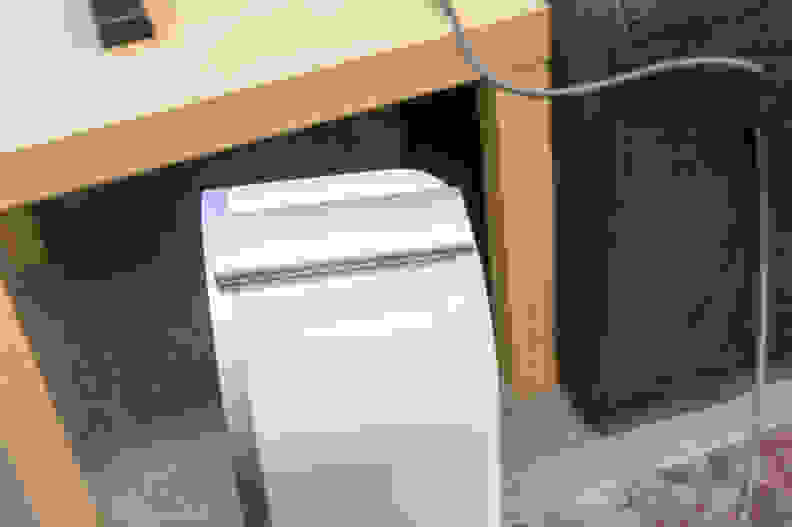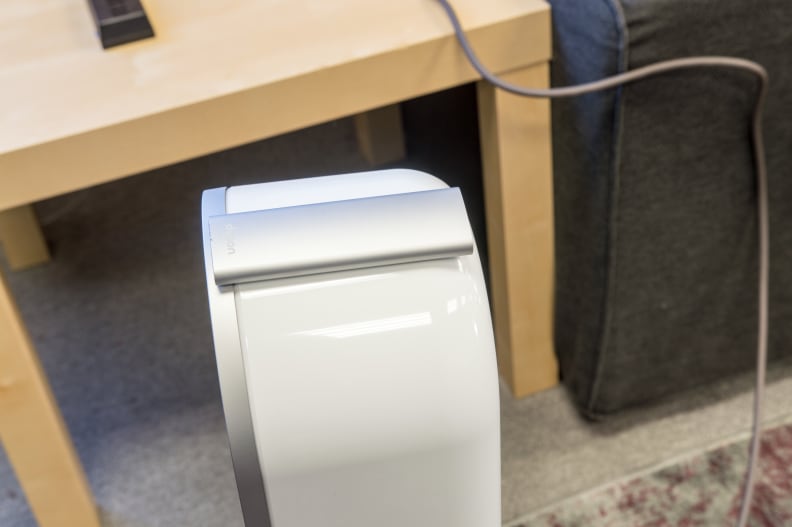 No matter which one you choose, Dyson's heating and cooling products fall into a familiar trap. In my years as a tech reviewer I've tested Dyson canister vacuums, upright vacuums, and even robot vacuums. They've all proven exceptionally engineered, but with prices that outstrip their utility.
After spending some time with the Pure, my view of Dyson remains intact: The Pure is well designed and a pleasure to use, but I think $600 is just too much money for a space heater. Were I the one wearing the hat and coat around the office, however, my viewpoint might change.