Smart Home
Virginia Tech's FutureHAUS Looks Like the Future
But the future isn't ready just yet.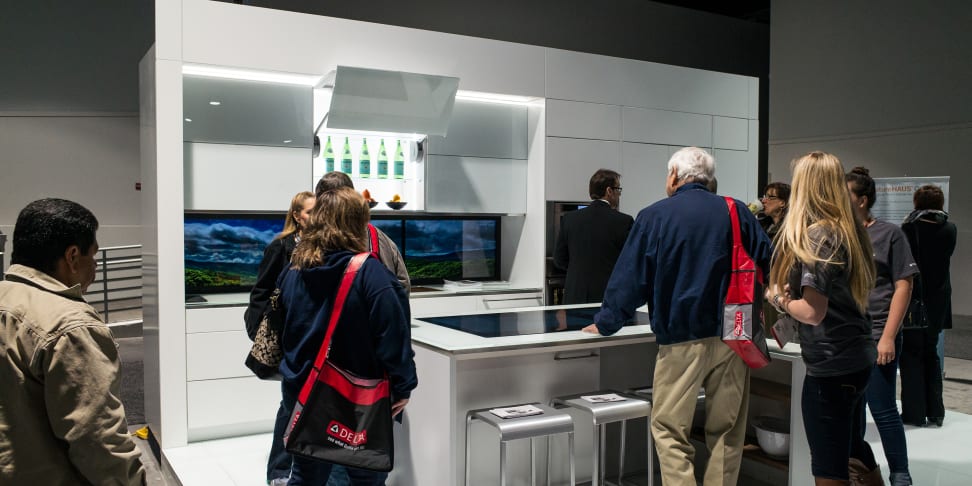 Credit: Reviewed.com / Ben Keough
At this point, everyone from smart home startups to multinational manufacturers like GE have taken a crack at dreaming up the house of the future. Well, add the Virginia Tech Center for Design Research to the list.
The concept was designed by a group of students and professors from the School of Architecture + Design, College of Engineering, and Institute for Creativity, Arts, & Technology. Don't expect to have this kitchen in your home tomorrow. FutureHAUS, as it's called, is still in a fledgling state; it's more of a science fair project than a finished product at this point.
But the futuristic kitchen draws a number of disparate themes into a single package, and is a more ambitious undertaking than a simple smart home. The minds behind FutureHAUS see it as a complete, modular housing system, letting buyers select readymade "cartridges" (for kitchen, bath, living, and more) that combine in stackable, high-density condominiums.
It's a bold idea, but is it ready for the real world? We visited the group's prototype display at KBIS 2015 to find out.
Sensing You, Sensing Me
"FutureHAUS, do we have any milk left?"
The most notable aspect of the current FutureHAUS kitchen concept is its use of sensors. The prototype kitchen on display uses an array of Jenn-Air appliances that have been altered (in collaboration with the school's Computer Science department) to work with simple weight sensors.
These sensors are present in the refrigerator, where they keep track of things like how full your milk carton is. So when you're at the store, you can check in with the fridge to find out whether you need to buy more 2%.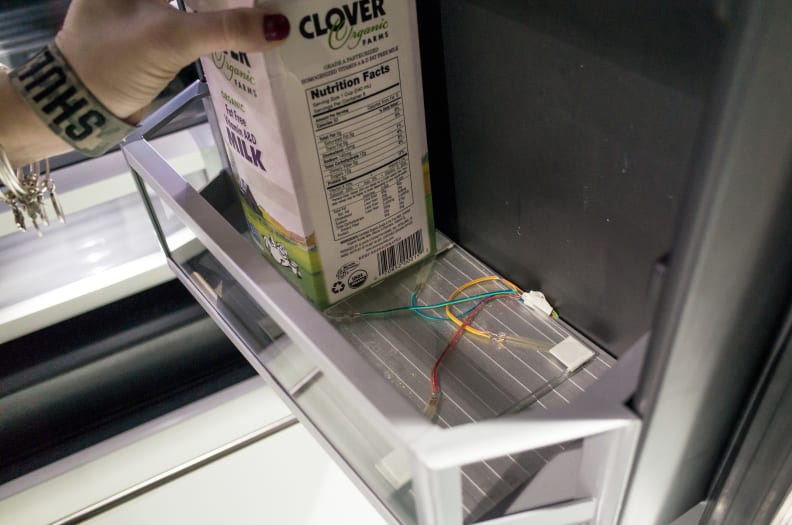 They're also in the dishwasher, where they measure the size of the load and instruct the washer to dispense just the right amount of detergent. It's really a rather clever use of simple tech to do a complex task—one that could eventually save you time and money.
You'll find more of the same sensors in the cupboard, where they coordinate with a central inventory system to keep track of how much oatmeal, granola, or flour you have on hand. A barcode scanner lets you enter each item into the inventory system.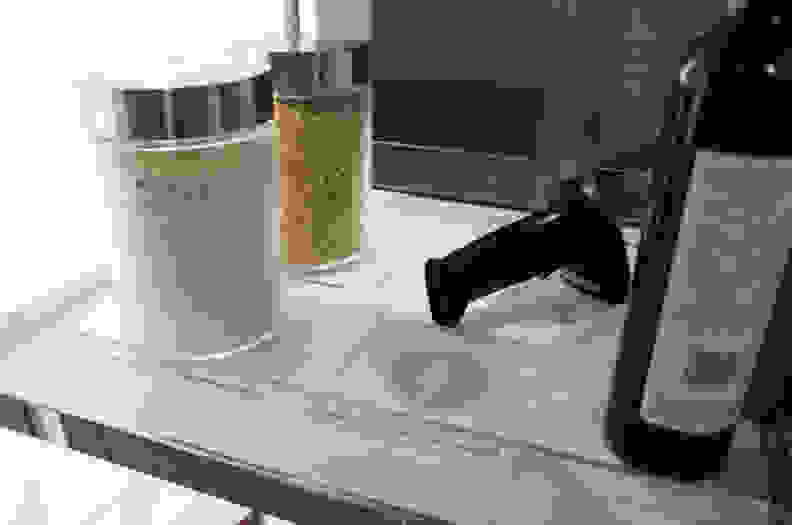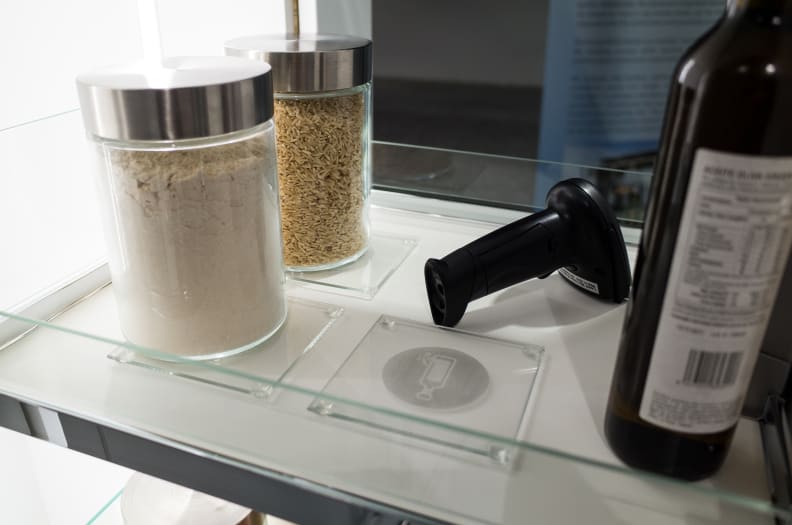 Apps Everywhere
Touching the future?
The FutureHAUS kitchen prototype is built around four large LCD displays—one embedded in what Virginia Tech representatives referred to as the "social table," and three serving as the backsplash for the sink, cooking surface, and countertop.
Running Windows 8, the giant tablet embedded in the social table can be used for pretty much anything a regular PC can, and (in theory, at least) you can fling webpages and YouTube videos to the three displays on the backsplash.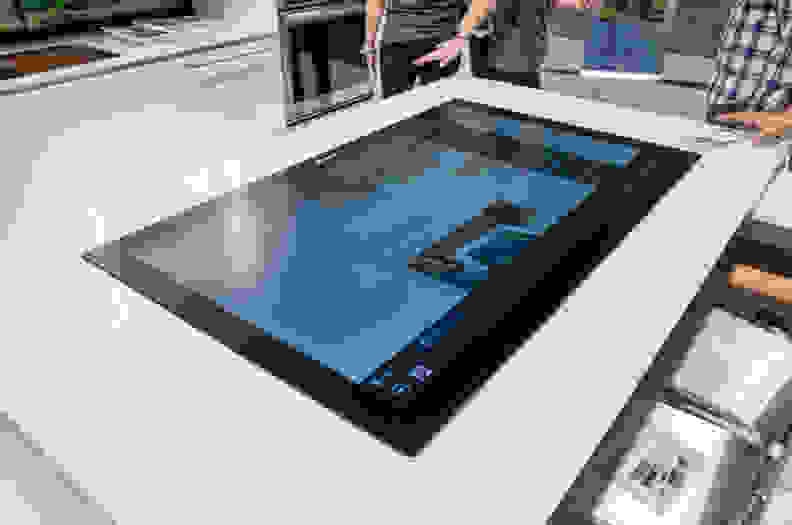 The prototype model is elevated above the countertop, but a helpful Tech student assured me the finished version will be covered with seamless Corning Gorilla Glass, making it entirely spill-proof.
The backsplash displays are also running Windows 8, but the final concept is meant to feel more like an artistic display than a computer or tablet. Your digital "window" image is interrupted only when you launch the apps associated with the kitchen's appliances.
Each appliance has its own touchscreen app, from the induction cooktop to the dishwasher. The cooktop app was running in the prototype kitchen when we visited, though not actually working. It looked to have been coded in a hurry—definitely not the prettiest user interface we've ever seen—but it certainly seemed usable.
We do have some concerns about putting the cooktop controls behind the cooktop itself.
We do have some concerns about putting the cooktop controls behind the cooktop itself. Sure, induction burners don't get hot to the touch, but the setup still has you reaching across boiling water and pots of simmering pasta sauce to adjust the temp. You can of course move the app further down the backsplash, but that might not be the most convenient arrangement, either.
The designers say the the FutureHAUS will adapt to owners' needs, automatically adjusting "temperature, security, lighting, and more based on voice recognition, touch, gestures, and motion." Little of that projected functionality was on display at KBIS, though.
Ergonomic Design
Apple's designers would love this look.
We've already seen one handle-free kitchen at KBIS 2015 (from German designer Bauformat), and the FutureHAUS kitchen takes the same approach. All of the cabinetry and drawers can be opened with a light press from your hand or foot, and it all opens slowly and silently—very nice.
The hardware itself is from boutique custom cabinetry firm Plain & Fancy, and absolutely screams quality. Above, overhead cabinets open with the flick of a switch, their fronts swinging out and up. Everything is tastefully hidden behind cabinet fronts, giving the entire kitchen an extremely modern, clean aesthetic.
Two cabinets on the back side of the social table swing out to expose bookshelf-style storage. Depending on the seating configuration you prefer, you can leave them open or close them up—it's a smart use of space.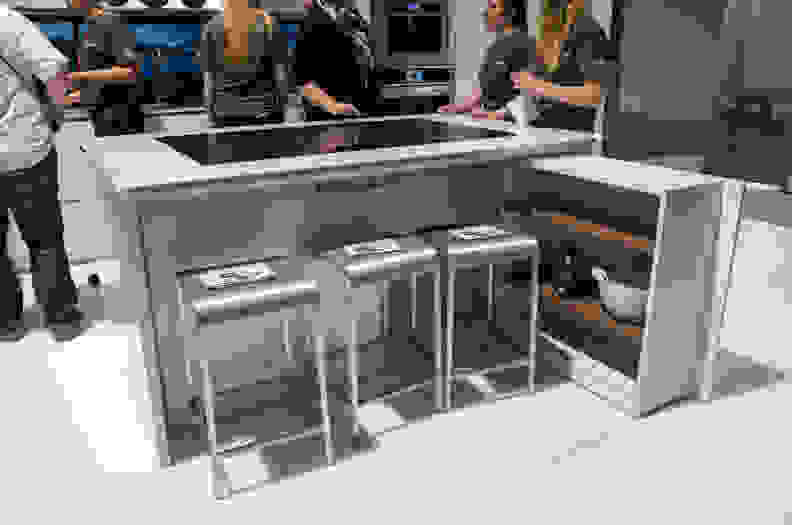 The drawer-style cupboard has built-in lighting and shelves that can be accessed from either side—a setup that ensures your spices and baking goods won't get lost in the dim recesses of a cabinet.
Virginia Tech's designers even put some serious thought into the sink and faucet. The former has a beveled edge that can play host to a variety of accessories (cutting boards, drying racks), while the latter is gesture-controlled—you simply wave your hand to turn the stream on or off, and right or left to raise or lower the temperature.
Will It Fly?
Maybe... in the future.
There's a lot going on in the FutureHAUS kitchen, but it's hard to tell in these initial stages if this is a setup we'd actually want to live with.
Most of the sensor tech on display is in proof-of-concept form. The computer controlling everything is a block of wood encrusted with circuit boards that's tossed in a drawer. And those LCD backsplashes? Well, they weren't exactly working flawlessly.
Virtually all of the FutureHAUS's smart functionality is conceptual at this point.
Virtually all of the FutureHAUS's smart functionality is conceptual at this point. Inventory management sounds great, but information is scarce on how it would actually work. Logging each item with a barcode scanner doesn't sound like an ideal solution, and the weight sensors in the fridge and cupboard mean you would need to put the same items in the same place every time. (A neat freak's dream come true?)
The stackable, modular "cartridge" design is also far over the horizon for now. And while we like the ergonomics and design sense on display, most of that is imported from other companies and available today for buyers with the right budget.
So, for now, the FutureHAUS is a beautiful idea and a slightly underwhelming reality. We look forward to coming back to KBIS next year, and hopefully seeing a vastly improved version 2.0.
Up next
Get Reviewed email alerts.
Sign up for our newsletter to get real advice from real experts.