This year, the Sony Xperia Z5 Compact (MSRP $599.99) occupies the same spot the Z3 Compact once did, as the smaller of the two Sony flagship smartphones. Don't let its small stature fool you, however—the Z5 Compact is stuffed with powerful hardware and useful features. From its waterproof design to its top-shelf camera, this phone is built to perform at a high level.
At the end of the day, however, it still ends up feeling like a phone that's less than the sum of its parts. I suspect that for some people—especially previous Xperia owners—there's enough here to double down on the Sony brand. For people seeking something thinner and a little more powerful, the similarly-waterproofed Samsung Galaxy S7 remains the more enticing (albeit more expensive) option. If the Z5 Compact's asking price is too much but you're still itching for a bite-sized smartphone experience, there's always the iPhone SE, which rivals the Z5 Compact in pretty much every category other than camera quality.
Design
Great at times, frustrating at others
The Z5 Compact is a 4.6-inch smartphone that looks and feels more sturdy than it does elegant, but that's not necessarily a bad thing. The phone's frosted glass backside is the only premium design flourish; the rest of the aesthetic elements are more functional in nature. The beefy look is somewhat off-putting at first, but trust me—you'll warm up to it.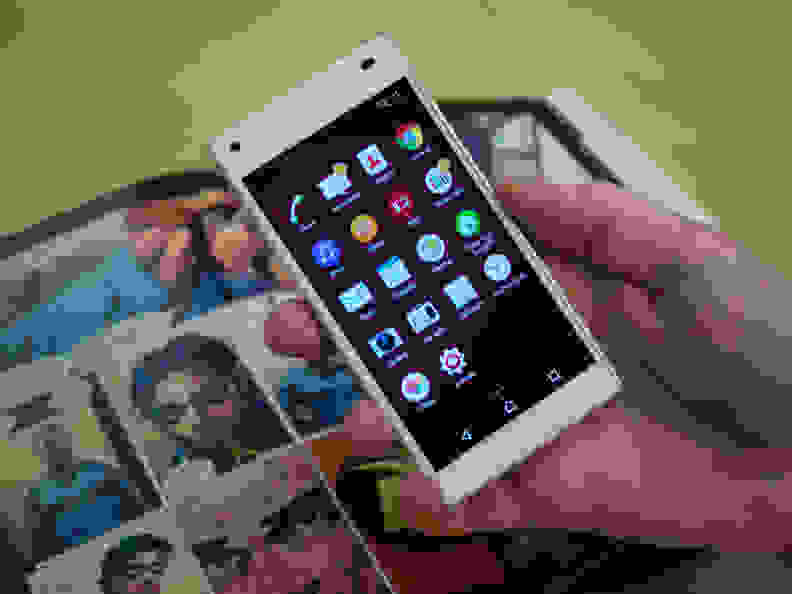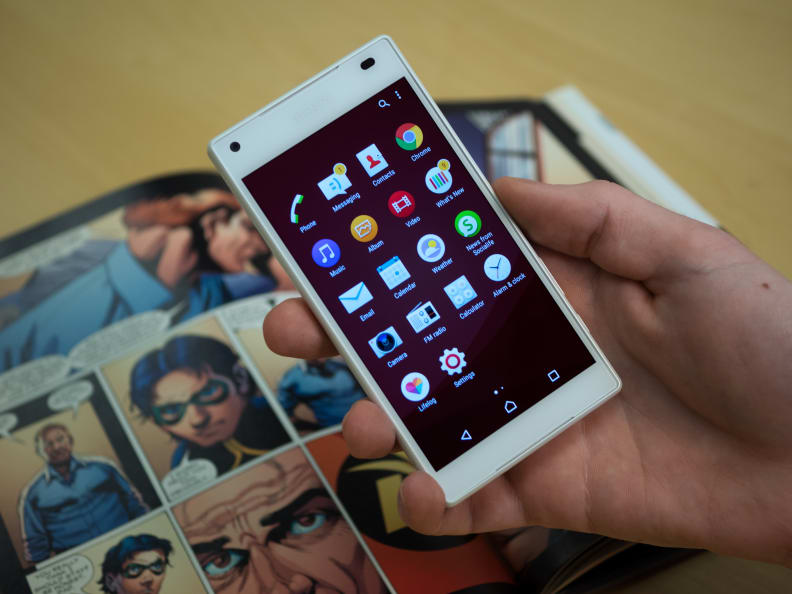 Ergonomically speaking, the Z5 Compact has an unfortunate case of Jekyll and Hyde syndrome—it's comfortable to hold but not always practical to use.
It looks and feels more sturdy than it does elegant, but that's not necessarily a bad thing.
First, the good stuff: Despite being significantly thicker (0.35 inches) and more brick-like than pretty much any other mainstream smartphone, the Z5 Compact is remarkably easy to grip. Its chunkiness might turn off the crowd seeking a slimmer, sleeker smartphone experience, but for my money, a smaller phone with a thick profile is always preferable to a bigger phone with a narrow silhouette.
But things start to fall apart the moment you reach for a button other than the power switch. The volume rocker is located on the bottom half of the phone's right side, which means you've got to strain your thumb in order to reach it. Once you actually maneuver yourself there, you might find the rocker itself to be as frustratingly small as I did.
Below the volume controls is a camera button that's really only accessible if you're already holding the phone in landscape mode. I suppose the idea is that you position the phone this way before launching the camera app, but I didn't find myself following this order of operations often since I usually hold smartphones upright.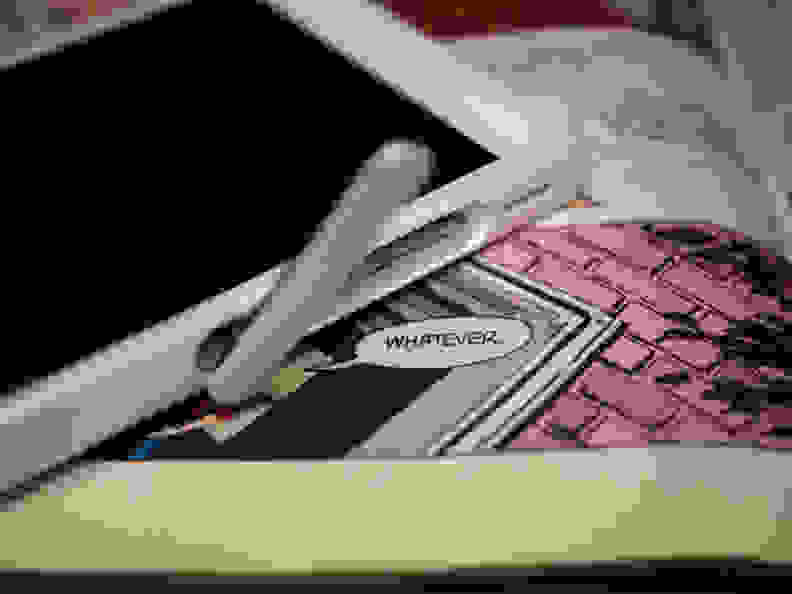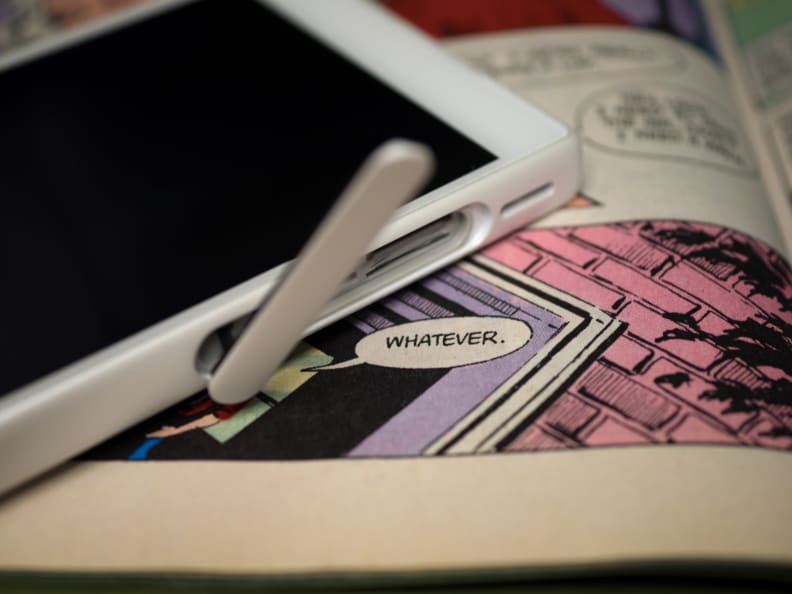 On the left side of the Z5 Compact is a partially-removable plastic flap that covers up the phone's microSD and SIM card slots. It's straight out of a bygone era in electronics design—like something off a 2003 cell phone—and frankly, it bugs me. To be fair, it's one of the components that helps waterproof the device, but flaps like this aren't really necessary anymore from an engineering standpoint—other smartphones are waterproof without them.
Hardware & Performance
Sony means well, but its UI has problems.
Packed into the Z5 Compact's boxy case are premium parts that zip along gracefully. The hardware isn't revolutionary, but like other flagships, the Z5 Compact is well-equipped to last at least a couple years without dragging you down.
The bottom line is that the Z5 Compact is well-equipped to last at least a couple years without dragging you down.
Under the hood is a Snapdragon 810 processor backed by 2GB of RAM and 32GB of internal memory. If 32GB sounds stingy, relax: There's a microSD slot that supports up to 200GB of off-loadable storage (it's under that really silly plastic flap we talked about).
When the Z5 Compact was first unveiled at IFA 2015, its hardware specs were more or less the best you could ask for. The industry moves quickly, though, and nowadays we're living in a post-Snapdragon 820 world. Nevertheless, the Z5 Compact chewed through our processing tests with ease, doing about as well as you'd expect for a smartphone in this price range.
Perhaps our biggest hangup comes from Sony's software. Admittedly, I've never been a fan of Sony's Android skin (or any custom Android skin, to be honest). But there's a way to design a minimal UI that closely resembles the pure Android experience you'll find on phones like the Google Nexus 6P or the Nexus 5X. The newly-released HTC 10, for example, is equipped with a skin so transparent and non-intrusive that you wouldn't otherwise know it's even there.
Sony's UI is sluggish and tough to get the hang of.
Sony's UI is sluggish and tough to get the hang of. Everything operates on a half-second delay, from opening and closing apps to cycling between many of them at once. Shortcuts and icons often step all over one another, making it difficult to tap the selection you're going for.
The phone's stock camera app settings inexplicably reset upon re-opening the app, which is especially frustrating when you go to snap a photo only to find that you've been booted out of manual mode and your resolution preferences have restored to their defaults.
In fairness, as someone who handles a lot of smartphones, I'm probably more bothered by details like this than your average consumer, so your mileage will almost certainly vary. But if you're sensitive to cumbersome user interfaces, there's a good chance the Xperia UI will stick in your craw.
Battery life
When it debuted in 2014, the Xperia Z3 was the smartphone to beat when it came to battery life. Since then, the introduction of higher-capacity batteries and the advent of AMOLED displays has upped the ante.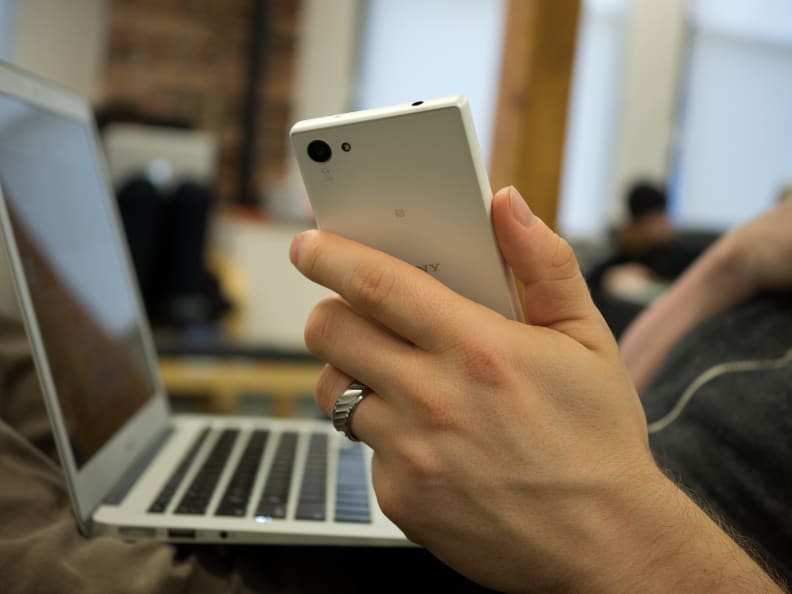 Nevertheless, the Z5 Compact managed to nudge its way into the upper tier of our battery test results, performing better than most phones in its class but still not as good as the devices outfitted with an energy-saving AMOLED display.
Users can expect over a day of normal use and morning-to-night performance when the phone's getting some extra work in.
What the Z5 Compact does have going for it is its relatively small, 4.6-inch LCD display, which likely plays a role in its overall efficiency. Users can expect over a day of normal use and morning-to-night performance when the phone's getting some extra work in.
Oh yeah—it's water resistant, too.
Like its predecessor, the Z5 Compact is water-resistant for up to thirty minutes in 1.5 meters of water. It's a feature that's seen a revival on account of Samsung's Galaxy S7, and one of those things that seems superfluous until you dunk your phone in the toilet.
The device's IP68 rating means that you can forget worrying about the rain, the sink, or spilled drinks ruining your Z5 Compact. It's both peace of mind and a party trick; if we scored for cool-factor, waterproof smartphones would be the gold standard.
Camera
An impressive camera sensor clashes with a poor stock camera app
The Z5 Compact shoots like a dream, but dimly-lit settings are where you'll really notice a difference between the Z5 and its competitors. In fact, I'd wager that its low-light performance is among the best I've seen out of a smartphone camera. That said, its autofocus abilities aren't quite as fast as its competitors, and more often than not the camera hunts for its subjects indecisively.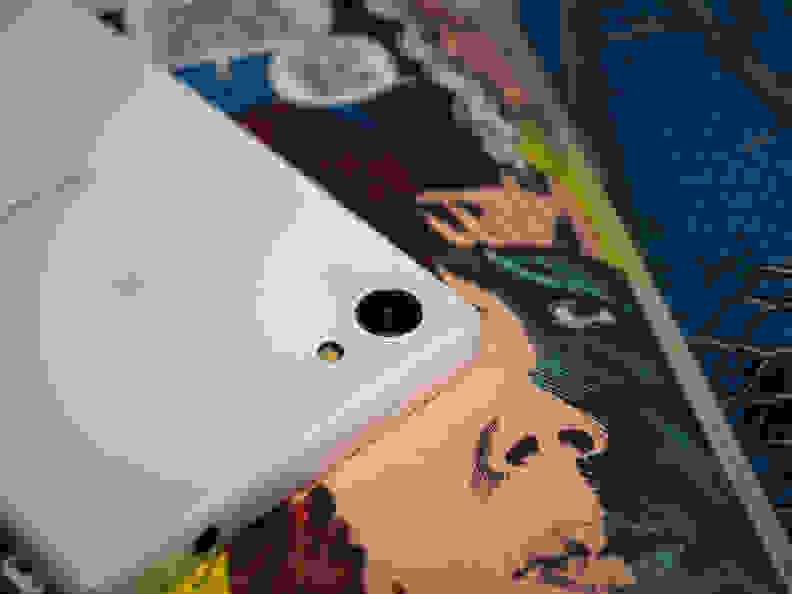 But when you capture the shot you're looking for, hoo boy—chances are it's gonna look good. Real good. The Z5 Compact's ability to adjust its white balance on the fly is seriously impressive, and the sheer amount of detail that can be wrung out of the 23-megapixel sensor is absurd.
Buried deep within the camera settings you'll find an option for 4K video, which will no doubt win over aspiring filmmakers armed with stacks of microSD cards. 4K video is cool in and of itself, but the Z5 Compact captures motion more smoothly than just about any smartphone I've seen—there's virtually no interference or choppiness to speak of.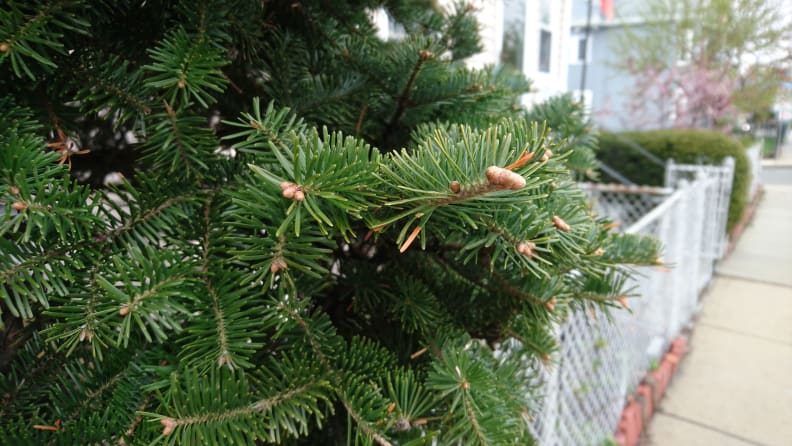 ×
Sony Xperia Z5 Compact Sample Photos
But in order to fully appreciate what we're working with here, I'd highly recommend ditching Sony's stock camera app in favor of a third-party solution. As I mentioned previously, the camera app sort of has a mind of its own. Worse still, it's just criminally slow when opening, switching between modes, and squaring up subjects. Sure, the photos end up looking great, but it's still a serious bummer that Sony can't put together a decent software experience. Cameras are in Sony's DNA, after all.
At the end of the day, though, the Z5 Compact is about as good of a camera as your standard point-and-shoot, and maybe even a little better. That level of quality is still hard to come by in smartphones today, especially in a device that's priced significantly lower than other flagships that clear a similar bar.
The Verdict
A high-powered device that isn't quite the sum of its parts
The Sony Xperia Z5 Compact managed to accumulate high marks in just about every category we test for, but the day-to-day experience of using one tells a slightly different story. It takes beautiful photos, but the process of taking them isn't very fun or intuitive. It crushes our hardware benchmarks, but its less-than-stellar UI feels more intrusive than helpful. It fits in the palm of your hand almost perfectly, but its physical buttons leave a lot to be desired.
The Z5 Compact is equipped with a 23-megapixel camera sensor that rivals most point-and-shoots.
That said, the Z5 Compact makes up for its minor blemishes in some key places. Its battery life is great, which will please pretty much everyone. And even though it's stock camera app is wonky, the Z5 Compact is equipped with a 23-megapixel camera sensor that rivals most point-and-shoots. Plus, it captures 4K video, and it does it better than pretty much any other smartphone in the game.
And did I mention how cool waterproof smartphones are?
It's hard to imagine fans of the Xperia Z3 suddenly finding themselves disappointed in the formula Sony followed for the Z5 Compact; it does everything its predecessor did and even makes some improvements here and there. However, I suspect newcomers to the Xperia line might find themselves disappointed in the oft-clunky presentation that accompanies the phone's otherwise-sensational hardware.
I suspect newcomers to the Xperia line might find themselves disappointed in the oft-clunky presentation.
Still, the Z5 Compact is significantly less expensive than the Samsung Galaxy S7, the HTC 10, or the iPhone 6s, and its camera certainly gives both a run for their money. If you've got the patience to overcome software that isn't always as reliable as it could be, the Xperia Z5 just might be a good way to nab a top-notch Android phone that fits in the palm of your hand.
Related Video
Meet the tester
Michael Desjardin
Senior Staff Writer
@Reviewed
Michael Desjardin graduated from Emerson College after having studied media production and screenwriting. He specializes in tech for Reviewed, but also loves film criticism, weird ambient music, cooking, and food in general.
Checking our work.
Our team is here for one purpose: to help you buy the best stuff and love what you own. Our writers, editors, and lab technicians obsess over the products we cover to make sure you're confident and satisfied. Have a different opinion about something we recommend? Email us and we'll compare notes.
Shoot us an email