Or, perhaps you read our recent review of the Xperia Z5 Compact and were intrigued, but you just can't bring yourself to consider a tiny, 4.6-inch smartphone.
Whatever may have brought you here, let's talk about the Sony Xperia Z5 (MSRP $599), a smartphone so close to being flawless that its handful of issues seem that much more disappointing.
But let's consider the Xperia Z5's strengths: Its camera is one of the best on the market, its battery life is well above average, and the hardware under the hood is powerful enough to assure you at least a couple years of top-shelf performance.
Were it not for the Z5's somewhat-clunky design and Sony's disappointing software, we might have a contender on our hands for best Android phone on the market. As it stands, the Xperia Z5 is simply a remarkable phone in a marketplace crowded with them.
But that certainly doesn't make it a failure—not by a long shot.
About the Xperia Z5
It's not everyday a phone comes along that not only aces our performance review, but also snaps photos that stand toe-to-toe with those taken on a point-and-shoot camera. Here's what buying the Z5 gets you:
Display: 5.2-inch LCD (1080x1920) Memory: 32GB, 3GB of RAM, microSD slot for up to 200GB of expanded storage Processor: Qualcomm Snapdragon 810 Primary camera: 23MP, f/2.0, with phase detection autofocus, 4K video, and LED flash Charging port: Non-reversible microUSB 2.0
Unlike the Z5 Compact (which clocks in at a robust 0.35 inches thick) the Z5 features a thin profile that isn't as easy to grip as its compact counterpart but is still nevertheless easy to hang onto.
×
Sony Xperia Z5 Design Shots
The Z5's primary camera sits on the top left of the phone's frosted glass backside. After the smudgy, fingerprint-laden glass used in the Xperia Z3 and Z3 compact, I appreciate the move towards frosted glass, but the material is still prone to scratches and cracks, so butterfingers beware.
The phone's physical buttons—power, volume, and one to launch the camera app—rest on the right hand side of the Xperia Z5. Essentially, you're signing up for a wide, brick-like smartphone that looks moderately attractive and comes equipped with a ton of powerful hardware; its design is more utilitarian than anything, so don't expect to turn too many heads.
What We Like
A best-in-class camera I'm going to cut right to the chase: One of the best reasons to nab a Z5 is for its incredible, 23-megapixel camera, which is easily one of the best on the market today.Avid photographers will no doubt miss the option to shoot in RAW, but the Z5's remarkable auto white balance software and in-depth manual controls goes a long way in making up for RAW's absence.
But the Z5 makes up for the lack of RAW photography with 4K video (3840x2160), which it does it really, really well. Like the Z5 Compact, the Z5 captures motion fluidly with minimal interference, making it a fine choice for shooting a ball game, a graduation ceremony, or anything in between.
We still have some hang-ups about Sony's camera software (which I'll address shortly), but in terms of sheer performance, you're not going to come across very many smartphone cameras that reach similar peaks as the Xperia Z5's.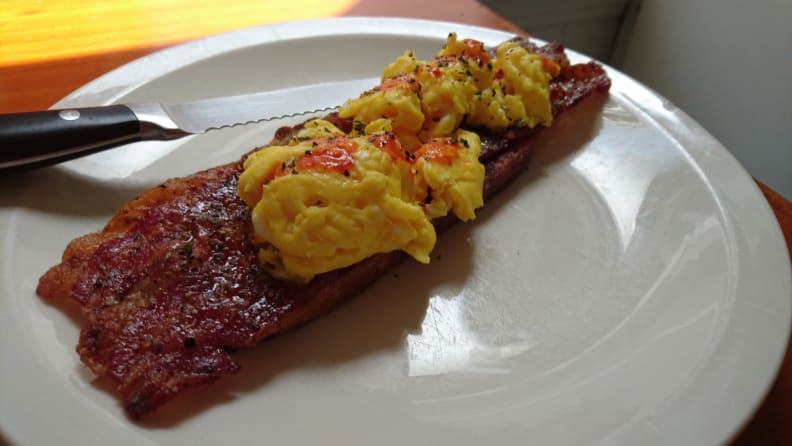 ×
Sony Xperia Z5 Sample Photos
Premium hardware equals premium performance Another thing we love about the Z5 is its sheer processing power. Yeah, it's not packing a Snapdragon 820 backed up by 4GB of RAM like the Samsung Galaxy S7, but a Snapdragon 810 coupled with 3GB of RAM is more than enough for the vast majority of users.
Whether you're a serious mobile gamer or just someone who uses a ton of apps at once, you're not going to feel handcuffed by the Z5's hardware. And, with a microSD slot that supports up to 200GB of expandable storage, you're not going to feel the pinch of the Z5's 32GB of internal memory, either.
Better-than-average battery life that'll get you through most days In terms of battery life, the Z5 doesn't squeeze as much juice out of charge as, say, the Samsung Galaxy S7, but you can expect better-than-average battery life that will last you over a day with moderate use.
In general, I was able to get a day-and-a-half of battery life out of the Z5.
In my time with the Z5, I never had it fizzle out before going to bed, even on days when I was extra busy with Instagram and work emails. In general, I was able to get a day-and-a-half of battery life out of the Z5 before needing to reach for my USB cable.
Water-resistance for particularly clumsy days And then there's the Xperia Z5's IP68 rating, meaning it's waterproof for up to a half hour beneath a meter and a half of water. There's been some confusion about the Z5's ability to withstand a complete dunk underwater, so it's probably best not to swim around filming fish in 4K. Still, the Z5 should hold its own against torrential downpours and the occasional spilled beer.
What We Don't Like
All the processing power in the world can't fix broken software If you read our recent review of the Xperia Z5 Compact, it won't come as a surprise to learn that the Z5's got a software problem, particularly when it comes to its Android skin.
Basic functions—launching and cycling through apps, in particular—take a moment longer than they ought to. The Z5's blistering performance test results never seem to reflect the experience itself. To be clear, the UI isn't sluggish to the point where it's unusable, but people expecting the sort of silky-smooth response times of iOS or pure Android might find themselves limited by Sony's Xperia software.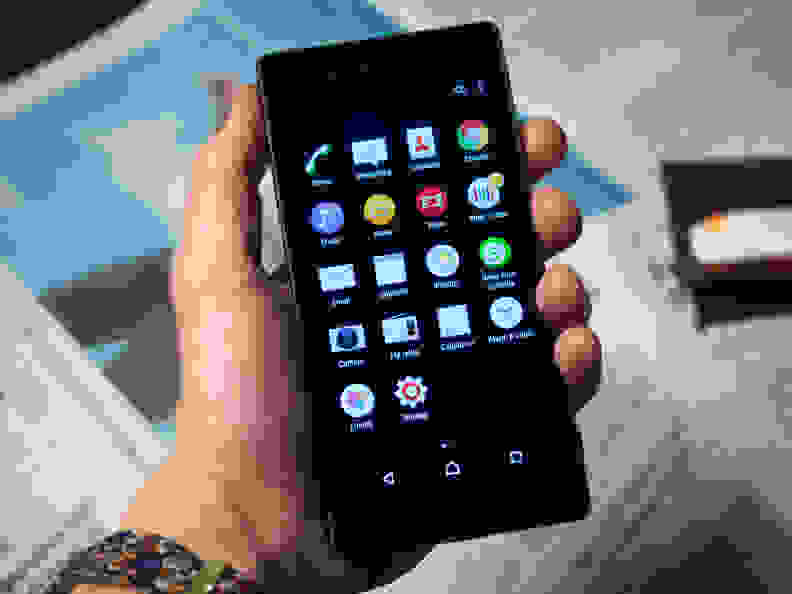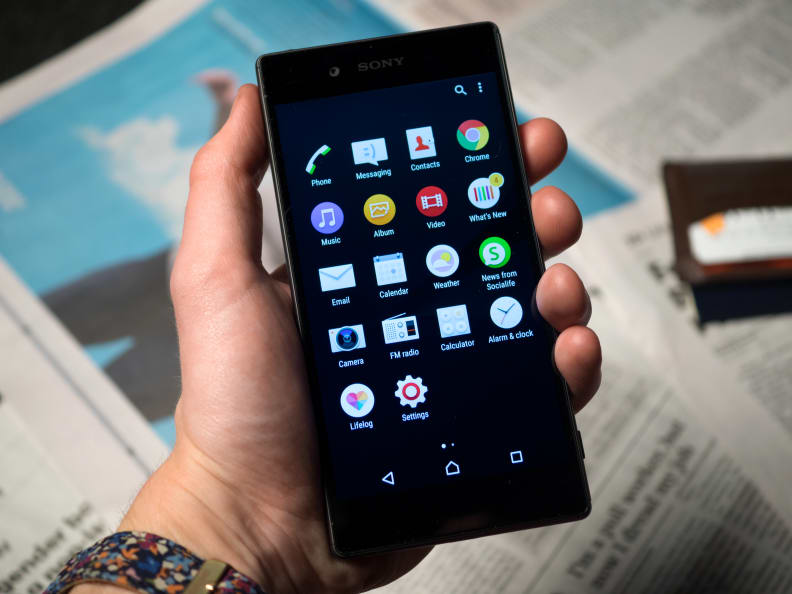 The keyboard, too, feels like it's operating on the slightest of delays, which leads to a very special type of subconscious frustration that slowly drives you mad, particularly after a lengthy bout of email responses.
And then there's the actual look of the Xperia skin itself, which doesn't hold a candle to Google's most recent stock Android software. I suppose one saving grace is the decent amount of personalization available, but most of the time I just wanted to nix the Xperia skin altogether.
Nowhere is Sony's software trouble more evident than the Xperia Z5's stock camera app. Sure, it's got a ton of granular controls (which make it easy to implement super-fine in-camera adjustments), but the app itself is clunky, difficult to navigate, and altogether sluggish. Set the app to manual mode, for example, and there's a good chance it will have reverted back to auto the next time you launch the app.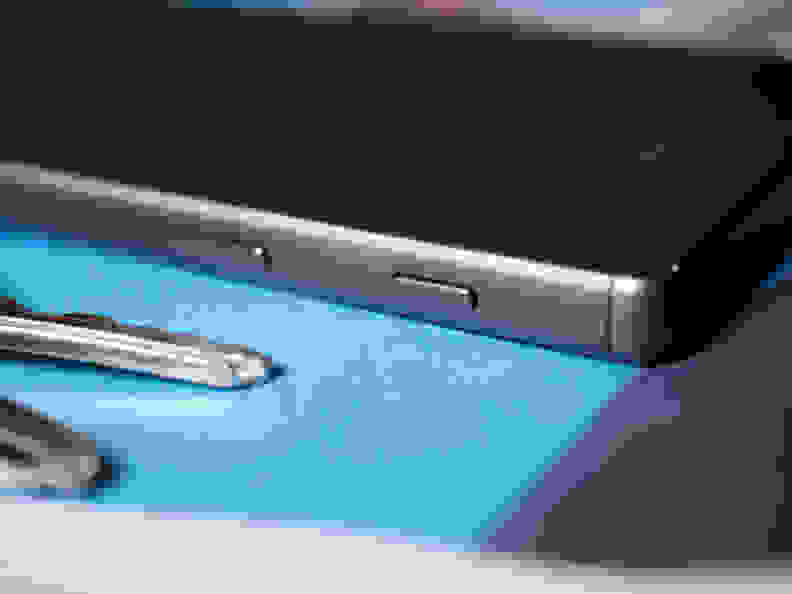 A somewhat cumbersome physical design But it's not just the software that leaves a lot to be desired—the Z5's physical design is not as great as it could be, either. I dig the fact that Sony moved away from the smudge-magnet glass that was found on the back of the Xperia Z3, but the frosted glass of the Z5 is still super vulnerable when it comes to scratches, nicks, and cracks.
The Z5's physical design is not as great as it could be.
The phone's physical buttons are a bit of a bummer, too; I never got used to the small, squishy volume rocker that felt more like a single-function button, and the designated camera button only makes practical sense if you're already holding the Z5 in landscape mode.
Should You Buy It?
If you're searching for a fantastic Android flagship at a price that isn't quite as steep as the HTC 10 or the Samsung Galaxy S7, you could do far worse than the Xperia Z5, which rings the till at around a hundred bucks less than both of those phones.
There are very few smartphone cameras capable of the type of performance we've seen from the Xperia Z5.
The people who will get the most out of the Z5 are the ones who want a top-notch smartphone with an emphasis on camera performance and speed. As it stands, there are very few smartphone cameras capable of the type of performance we've seen from the Xperia Z5. If the Z5's 5.2-inch screen size is intimidating, the Z5 Compact is more or less the exact same phone, just shrunk down into a chunky, iPhone-like 4.6-inch frame.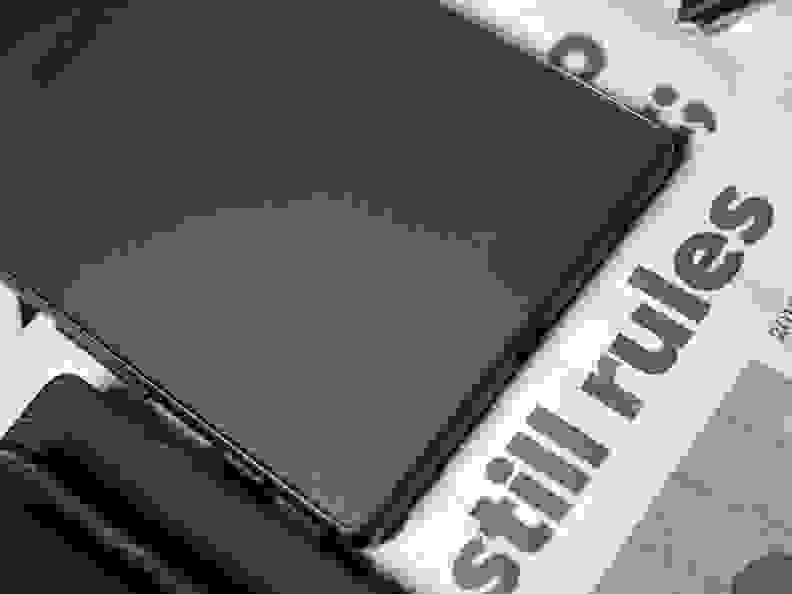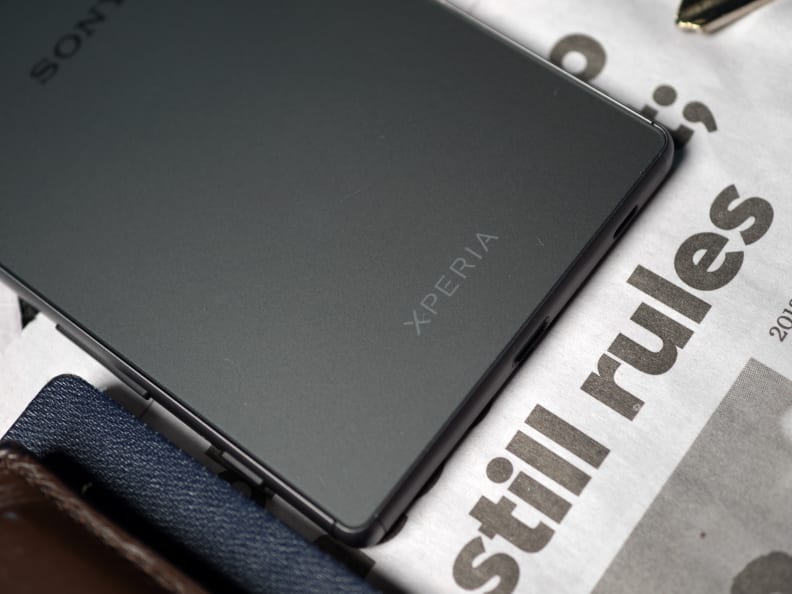 People who want their phone to be somewhat of a fashion statement, however, might want to keep looking—the Z5 just isn't the type of sleek, stylish smartphone that generates oohs and aahs in 2016. It's certainly not ugly, but it's plain, square shape and right angles add up to a phone that looks like yet another generic slab of pure tech.
People who want their phone to be somewhat of a fashion statement might want to keep looking.
The Xperia Z5 is a powerful smartphone that gets the job done in a no-nonsense, business-like manner. It also happens to be equipped with a jaw-droppingly good camera and a relatively affordable price tag, which goes a long way in making up for its cumbersome software and physical design. Unfortunately, both the Z5 and the Z5 Compact are still somewhat tricky to track down in the US, so you might need to order through an online retailer if you're hoping to nab one.
Related Video
Meet the tester
Michael Desjardin
Senior Staff Writer
@Reviewed
Michael Desjardin graduated from Emerson College after having studied media production and screenwriting. He specializes in tech for Reviewed, but also loves film criticism, weird ambient music, cooking, and food in general.
Checking our work.
Our team is here for one purpose: to help you buy the best stuff and love what you own. Our writers, editors, and lab technicians obsess over the products we cover to make sure you're confident and satisfied. Have a different opinion about something we recommend? Email us and we'll compare notes.
Shoot us an email