Smartphones
7 Great Samsung Galaxy S7 Cases Available Now
Here are our favorite cases for your shiny new toy.
Credit: Samsung
The next generation of Samsung Galaxy smartphones is upon us, and whether you're anxiously waiting for the postman to deliver an S7 Edge or you're tearing into the packaging while reading this, one thing is certain: No one wants to be the person who breaks their new flagship smartphone on account of carrying it around without a case.
Thankfully, we've already done most of the heavy-lifting for you and compiled a handful of cases, most of which can be purchased right now.
Remember, kids—a smartphone is only useful if its screen isn't spiderwebbed. Don't let your new investment fall victim to your butterfingers.
Spigen
Not just a really fun word to say, Spigen is a well-respected smartphone accessory manufacturer that's been stepping up the case game for a while now.
This two-piece, bumper style case has a single objective—to outfit your S7 with military-grade protection without bulking up your smartphone.
The TPU designation refers to thermoplastic polyurethane; a soft, rubbery plastic that provides a solid grip while still allowing the phone to be taken out of a pocket without much resistance.
Consider this case if you want a reasonable level of protection without turning your smartphone into a hefty, chunky slab.
---
In the words of Hannibal Buress, "Phone, keys, wallet. PKW." Always check for all three before you leave someplace.
Spigen's synthetic leather wallet case is for those of us who still struggle to remember the PKW mantra, since it puts your smartphone, cards, and money into one place.
The wallet case has three card slots, a pocket for cash, and a magnetic clip to keep everything in one place. It's also currently under $20, which is a pretty good price given the case's functionality.
Obliq
Sometimes, all you need is utility. If minimalism is what you're looking for, check out this basic, clear plastic case by Obliq.
Around the perimeter of the case you'll find a TPU bumper that protects your precious S7 from drops. There's also a magnetic kickstand that props your phone up for on-the-go video watching.
Is it the fanciest option? Heck no. But it does what it needs to do without covering up the S7's elegant design flourishes.
OtterBox
Maybe minimalism isn't your thing. Maybe you're the bold, fashionable type; someone who sees your phone as an extension of your outfit.
The Symmetry Series from OtterBox protects your S7 from minor hazards but does so in style—with bright color combinations and patterns.
These cases won't give you nearly as much protection as something like the Spigen bumper style case, but it should protect your Galaxy S7 from minor falls.
And, if you do happen to drop your new phone, at least it'll look good on the way down.
Lifeproof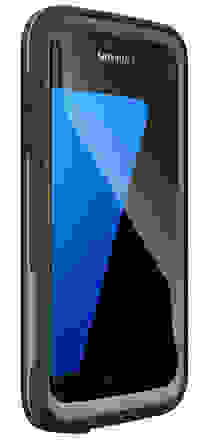 Surely you've heard about the Galaxy S7 and the S7 Edge's IP68 rating, which is a complicated, nerdy way of saying "waterproof and dustproof." The Samsung flagships are so waterproof, in fact, that they can be fully submerged up to 30 minutes. Pretty cool!
But if that's not enough to overcome your accident anxiety, consider pre-ordering the Lifeproof Fré via their website. It's a surefire way to ensure that your Galaxy S7 isn't a short-lived investment.
It's a perfect fit for anyone who spends a good amount of time outdoors.
At $79.99, it's not exactly affordable, but the Fré's heavy duty form will lockout dust, water, and snow. We've used them on a variety of other phones and they really hold up to some abuse—perfect for hikers, skiers, or anyone who spends a good amount of time outdoors.
Samsung
All right, I'll admit it: Not all of these cases are shipping out at the time this article was published, but these next two are available for pre-order via Amazon and should arrive shortly after your phone.
If you're into brand loyalty, these ones are for you.
Unlike the cases above, these are the official, first-party cases for Samsung's new flagship smartphones. They're a little more expensive than third-party cases, but that's how it goes with most phone companies. So if you're into brand loyalty, these ones are for you.
What sets this handsome leather case apart from its peers is its front cover, which conveys key information such as the time, battery life remaining, and phone notifications when the case is closed.
The case also has some extra storage inside, with the space to store up to three credit cards or some cash.
---
If covering up your Galaxy S7 Edge's gorgeous display is not something you had in mind, consider the S-View cover.
The window on the front of this matted case provides easy access to a customizable collection of functions—simply swipe the screen for instant access to your camera app, music, or contacts.
You can also find a complete list of Samsung-made Galaxy S7 and S7 Edge accessories on the manufacturer's website.
Related Video