Smartphones
Why the Next iPhone Might Have Two Rear Cameras
Huawei and LG are testing new waters in camera design.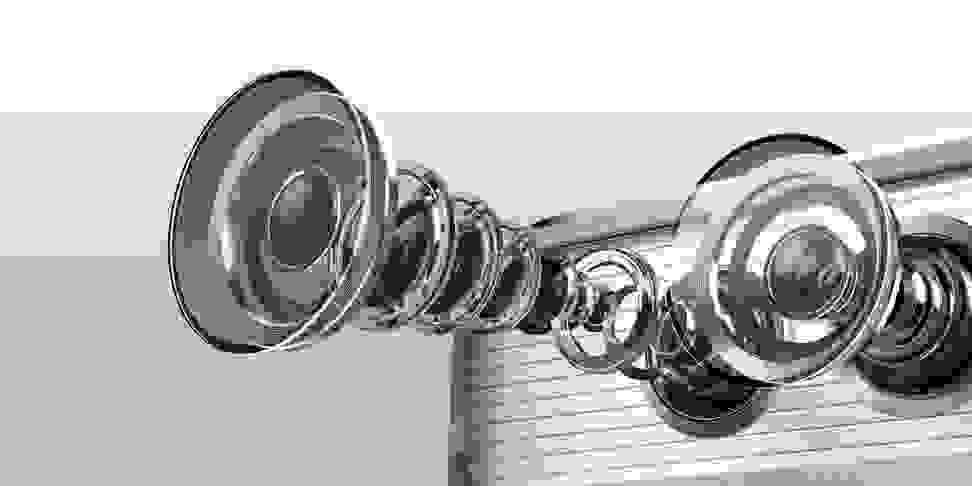 Credit: Huawei
Smartphone cameras have improved by leaps and bounds over the last few years, but engineers are quickly running into a serious problem: today's phones are simply too thin to accommodate bigger and better cameras. Many already have lenses that bulge out of the back, and there's simply no more room to grow.
Several manufacturers are now turning to a new solution: dual cameras. By adding a second camera on the rear of their phones, they can improve image quality in several ways without making the phone any thicker.
We've already seen the tech in two flagship phones this year, the LG G5 and the Huawei P9—the latter of which features a dual-camera system co-designed with Leica. But while both phones have two rear cameras, they tackle the problem of boosting image quality in very different ways.
LG G5
The LG G5 uses two rear camera modules. One is a 16-megapixel camera with an f/1.8 maximum aperture and a 75° angle of view, similar to what you'd get with a 21mm lens on a full-frame DSLR. It also has an 8-megapixel camera with a 135° angle of view for wide-angle pictures like landscapes and group photos.
While there was some speculation that LG would use the two cameras simultaneously to pull off some fancy camera tricks, that isn't the case. When you launch the G5's camera app, the phone defaults to the 16-megapixel shooter. If you pinch to zoom out, the phone switches to the wide-angle camera. That's pretty much it.
The wide-angle camera doesn't work with any third-party apps, so you have to use LG's stock camera app to access it. This is a fundamental issue with Android, which bakes camera control deeply into the operating system but doesn't offer support for bespoke hardware like laser-assisted autofocus, physical shutter buttons, or dual camera units.
Huawei P9
Huawei and Leica are doing something a little fancier with their dual camera setup, which uses two virtually identical 12-megapixel cameras. The main difference is that one camera shoots in full color while the other shoots only in black-and-white.
Black-and-white photography is one of Leica's specialties, as evidenced by its recent Leica M Monochrom digital cameras. But why create a camera that only shoots in black and white?
In a nutshell, all camera sensors shoot monochrome images by default. To get color photos, camera makers use special red, green, and blue filters over the sensor and then mix the results together. But since these filters aren't transparent, they block out some light. That means color camera sensors aren't as light-sensitive as they could be. In ditching the filters, a true black-and-white sensor gathers all the light that it can. This keeps noise to a minimum and produces sharper photos.
That's Huawei's aim here. By combining images captured with both cameras, the P9 will be able to produce better photos in a wider variety of lighting conditions. Huawei will also be able to pull off some tricks it couldn't with the more conventional Huawei GX8, like sensing depth to focus faster and producing shots with beautifully blurred backgrounds.
So What's Next?
While Huawei and LG are the first to venture into the dual camera waters, there are certainly more companies looking to take the plunge. Sony has already announced that it's producing dual cameras for other companies, and we've read countless rumors about Apple putting a dual camera setup in the next iPhone.
A dual camera could allow Apple to keep the camera hump complainers quiet while significantly improving image quality.
It's easy to see why. A dual camera could allow Apple to keep the camera hump complainers quiet while significantly improving image quality. And since camera modules rarely add more than $15 or $20 to the cost of a phone, it wouldn't hurt Apple's margins to use this kind of setup.
In truth, the LG G5 and Huawei 9P are just scratching the surface. Dual cameras have been a subject of intense research for years, and there are loads of practical applications. In a few years, your smartphone may be able to produce photos on par with a high-end DSLR, simulate a long zoom lens, or instantly map an object in 3D.
At the very least, we expect dual cameras to simply produce better photos without making our phones any thicker. Beyond that, the possibilities are endless.
Related Video
Up next
Get Reviewed email alerts.
Sign up for our newsletter to get real advice from real experts.