Smartphones
Flip Phones Are Back, and They're Running Android
The 2000s called—they want their phone back.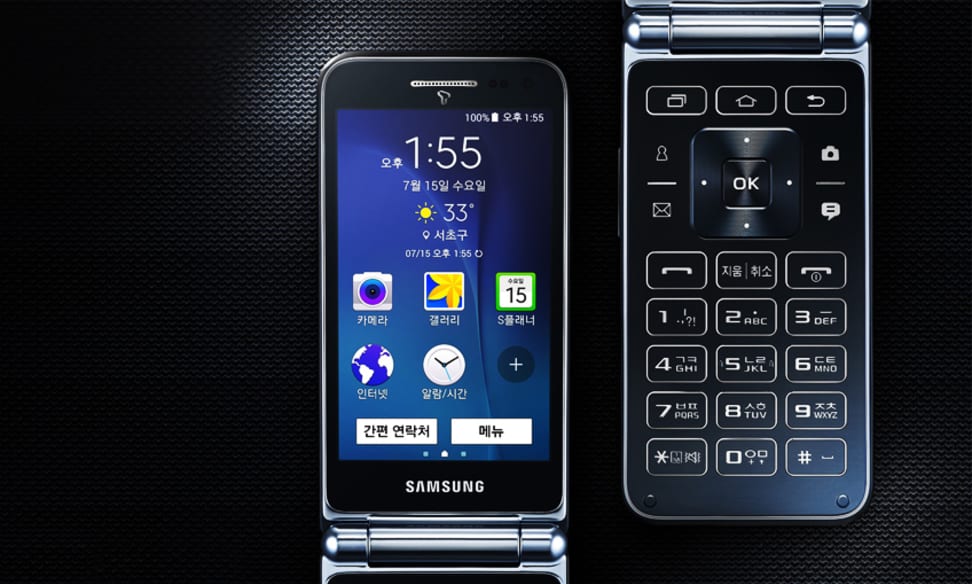 Credit: Samsung
Love 'em or hate 'em, flip phones have become an enduring icon of 2000s-era technology. And though it's only been about a decade since the Razr went the way of the dodo, both LG and Samsung seem to have a picked up a touch of nostalgia—or else they're just paying attention to their home market.
Korean customers can now purchase brand-new flip phones from either company, both running recent versions of Google's Android OS. The phones sport fairly rudimentary hardware, but serve a growing demand for simple, folding-style mobile devices. Whether the appeal is functional or aesthetic, it appears it's strong enough to get two of Asia's biggest manufacturers on board. (As it turns out, the retro gadgets are also extremely popular in Japan.)
The phones sport fairly rudimentary hardware, but serve a growing demand.
LG's Gentle is a 4G LTE, faux-leather flip phone running Android 5.1 (Lollipop). It includes a 3.2-inch, 480 x 320 screen, 3-megapixel rear camera, 4GB of storage, and 1GB of RAM. It may hearken back to the days of cheap cell phones, but its ₩200,000 (US$175) price tag sure doesn't.
Samsung's contender, the Galaxy Folder, is similar in most respects. It features a 3.8-inch touchscreen display, 8GB of internal memory (expandable to 128GB), and an 8-megapixel rear camera. It also includes a standard 1,800mAh removable battery.
"The folding-style design combined with smartphone features, including the Internet, messenger and social networking services, will add to the device's convenience," Samsung said, in a statement.
Neither phone is destined for American shores, but these clamshell oddities could be the precursors for a new wave of global technological nostalgia. Personally, I think something has to be at least 15 years old before nostalgia kicks in. But that's just me, clutching desperately to my iPhone.
Related Video