Style
Dolly Parton Amazon Merch T-Shirt Review
I bought a Dolly Parton concert T from Amazon to see if it looks as good as the real deal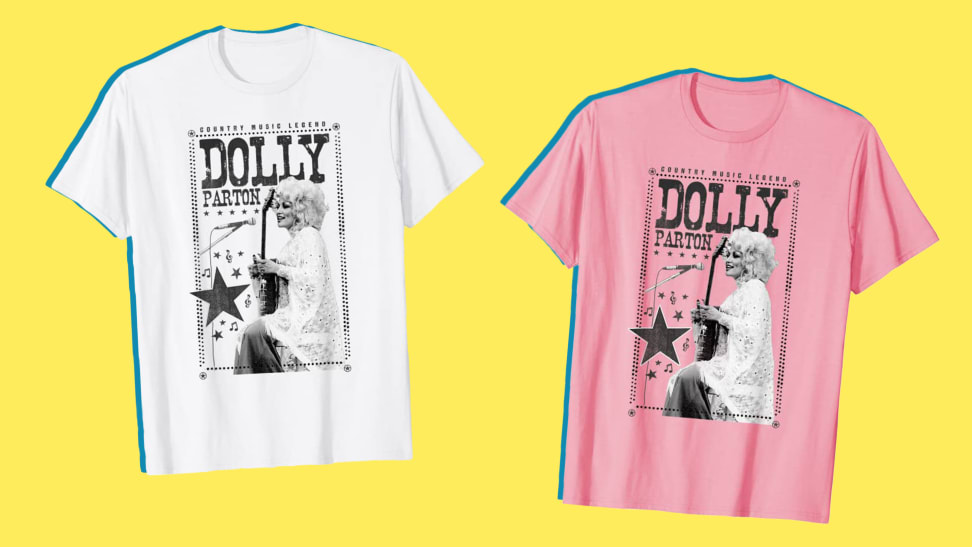 Credit: Reviewed / Dolly Parton
Dolly Parton Country Music Legend T-Shirt

Pros

High quality print

Customizable options
I'll be the first to admit that my favorite part of a concert is the merch table—I am the style editor at Reviewed after all. There's nothing quite like the thrill of sporting a beloved band's logo or a legendary artist's face emblazoned across a fresh T-shirt. It's a physical connection to the fan community and also a tangible reminder of the concert itself.
But what happens when your favorite star isn't playing a show nearby—or worse, you weren't able to snag a ticket in time (paging Harry Styles)? Thankfully, Amazon has made it easy to stay ahead of the game with its Merch by Amazon line, featuring official merchandise from a huge selection of artists including Whitney Houston, The Rolling Stones, Justin Bieber, Elton John, and much more.
While seeing Dolly Parton in concert remains an ultimate bucket list item for me, I jumped at the chance to add the Dolly Parton Country Music Legend T-Shirt to my collection of artist merch. After wearing the tee throughout the last few weeks, I'm feeling an even deeper connection to the "Backwoods Barbie" herself and wondering what else to pick up from Dolly's Amazon storefront.
What are we wearing?
Sign up for the Style Check newsletter for advice, reviews, Q&As with our stylish friends, and more.
What is an Amazon Merch T-shirt?
Merch by Amazon offers official merchandise from some of the world's top musical talent. In addition to T-shirts, you'll find sweatshirts, hats, and even phone accessories with licensed images, logos, and slogans featuring your favorite artists. Select apparel also offers on-demand printing, allowing you to choose the base color and size of the garment that will be printed with the insignia of your choice—a level of customization that isn't available with traditional concert merch.
The Dolly Parton Country Music Legend T-Shirt is available from Amazon for $25 and features an image of Parton seated at a microphone with a banjo in hand. It comes in men's, women's, and youth sizes from small to XXXL in 10 colors.
What I like about the Amazon Merch T-Shirt
The T-shirt and the print are high quality
I tend to be weary of on-demand printing. I've been burned before by poor quality tees whose designs rub or peel off with little effort or fade and crack in the wash. The Dolly Parton T-shirt has the highest quality printing I've seen in an on-demand print. The ink sits well on the fabric of the shirt and shows no signs of deterioration after a few laundry cycles.
The T-shirt itself is also well made. I ordered it in a solid white, made of a lightweight 100% cotton (the heather gray option is a cotton/polyester blend, which I generally try to avoid because I prefer the feel of all-cotton material). Though I would have preferred a heavier-weight cotton to this lightweight one, the shirt feels sturdy and long-lasting.
You become part of a community when wearing it
I'd been wearing this T-shirt for less than 10 minutes when a barista stopped me to ask where I'd found it and discuss how much she loves Dolly Parton. That's the thing about concert merch: You're not just showing your love for an artist, you effectively become part of a community of people who connect over a shared affinity. Admittedly, this isn't my first Dolly Parton T-shirt, and this isn't my first bit of celebrity merch either, but there's something about the "Jolene" singer that brings out fans and superfans alike. Concert merch encourages camaraderie, and this T-shirt is no exception.
What I don't like about the Amazon Merch T-Shirt
The T-shirt shrunk slightly after the first wash
As excited as I was to try on my new T-shirt when it arrived, after washing it only once, I was disappointed to see that it had shrunk some. I purchased my shirt in an XL—my usual size—and while it fit like a glove when it was delivered, it was rather snug after it had been laundered the first time. Though the T-shirt stretches out a little after wearing it for 10 minutes, it means that I'm less likely to reach for it when I'm in a rush to get out the door.
Is an Amazon Merch T-Shirt worth it?
Yes, but you may want to size up
It's too soon to say whether or not I will always love this T-shirt, but for the value—and for someone who may not be able to visit an artist's merch table in person—Merch by Amazon is a terrific option. The ability to choose your base color and have a print done on demand is a value-add, though the slight fabric shrinkage (at least of the all-cotton white shirt) could be an issue for those who are in between sizes. Whether you're pairing this with blue jeans and cowboy boots or a coat of many colors, a purchase from the official Dolly Parton Amazon Merch storefront not only supports the queen of country music, but allows you to telegraph your membership in her worldwide community of fans.
Get deals and shopping advice delivered straight to your phone. Sign up for text message alerts from the experts at Reviewed.
The product experts at Reviewed have all your shopping needs covered. Follow Reviewed on Facebook, Twitter, Instagram, TikTok, and Flipboard for the latest deals, product reviews, and more.
Prices were accurate at the time this article was published but may change over time.
Dolly Parton Country Music Legend T-Shirt

Pros

High quality print

Customizable options