Style
Clarks Desert Boot Review
Clarks' Desert Boot is a soft suede shoe that serves as a fine starter chukka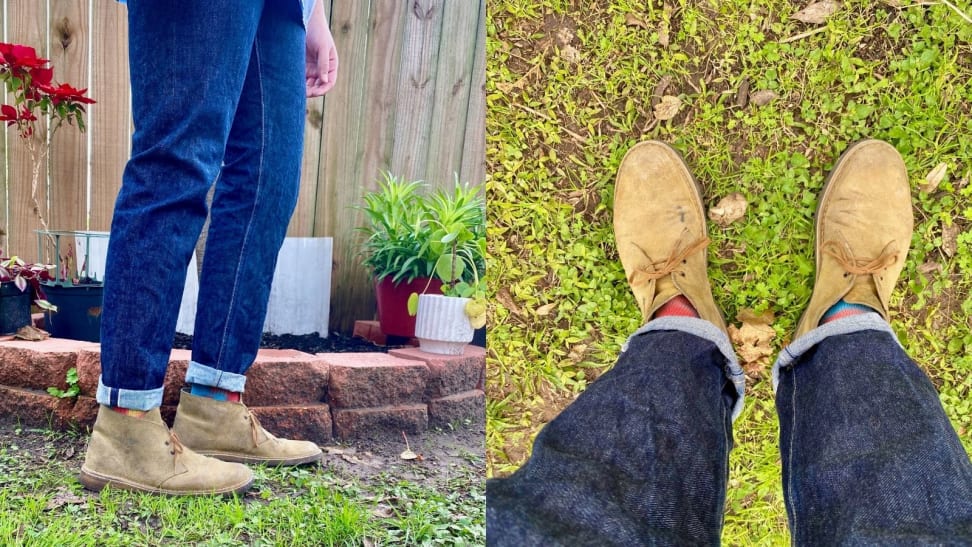 Credit: Reviewed / Danny Perez
Clarks Desert Boot

Pros

Comfortable to wear

Easy to style

Great starter chukka

Cons

Slippery soles

Not durable
As someone who grew up in Houston, it isn't a stretch for me to say boots abound in my world. Of course when you hear "Texas," you may think of traditional cowboy boots and the locals who won't wait until the next rodeo to break them out, or the steel-toe variety that oil and gas workers wear for safety. Boots are definitely Texas year-round wear.
However, my personal style never fell into either of these camps, and for the longest time I was vehemently against wearing them, lest I dress the cliche. That is until I discovered the chukka boot, with its mid-ankle height, simple two-eyelet lacing, and a sole that isn't thick enough to carry spurs. Worn by indisputable cool guys like Steve McQueen and Anthony Bourdain, the chukka was the first boot that could be dressed up in a way I saw myself wearing it. After some quick research over a decade ago, Clarks' Desert Boots, invented by Nathan Clark in the year 1950 and currently priced at $150 and available in men's sizes 7 to 14 and women's sizes 7 to 13, called to me as my inaugural pair—and 10 years later, I have not been disappointed.
What I like about Clarks Desert Boots
Full disclosure: The first time I ever saw a pair of chukkas was watching the 1968 classic film, Bullitt. The movie sees Steve McQueen chasing down bad guys in an even badder Mustang, and his foot on the gas pedal is encased in a tobacco brown chukka boot that caught my eye. An endorsement like that, without a doubt, was the catalyst for purchasing my first pair of Clarks Desert Boots.
Right out the box, the Clarks Originals Desert Boot is unexpectedly lightweight. I didn't think they would be as clunky as a work or cowboy boot, but I expected some heft to them—I was pleasantly surprised to find they feel more like a pair of broken-in dress shoes. My pair is flexible at the ankle and stretches quickly, thanks to the soft leather uppers, and well-cushioned by the crepe coagulated latex sole (taken from a Pará rubber tree, by the way). Unlike some other leather shoes I've tried, Clarks Desert Boots have absolutely no break-in period. I've always heard that the rule of thumb with boot sizing is taking a half to whole size down from your usual size, so instead of going with my typical men's 10.5, I went with a 10. The fit is spot-on—I don't have to tighten the laces much, which is good because I hate the feeling of choking out my instep. The two-eyelet lacing makes them easy to pull on and kick off in a snap, which in my opinion, is ideal for travel—they're also so soft that it makes packing them into a carry-on bag or suitcase easy.
The boots are sleek enough to dress up with a suit or pair of trousers, but their toe-box isn't narrow or pointy like you find on typical dress shoes. These give you enough wiggle room to be comfortable, while the softer soles make for an easy day on your feet if you're constantly up and about. Another revered detail of the Desert Boot is its stitched-down construction. Instead of just gluing the pull up leather upper to the outsole, it's sewn on and can be sent back to Clarks for replacement, which offers a longer lifespan.
For the most part, I've spent the last decade wearing a pair and I think they look best with a pair of jeans. The distressed Teak color (which is unfortunately now discontinued) doesn't show wear like a lighter suede pair would, so these boots are go-tos for concerts and camping as much as weekend hangs. (It also doesn't have the Goodyear welt that has been featured in the updated design.) They've seen me through plenty of weeks of school and work, and always fit in on a night out. If I were to buy another pair, I would probably go with a darker color so I wouldn't have to worry about tiny scuffs or cleaning them as often.
What I don't like about Clarks Desert Boots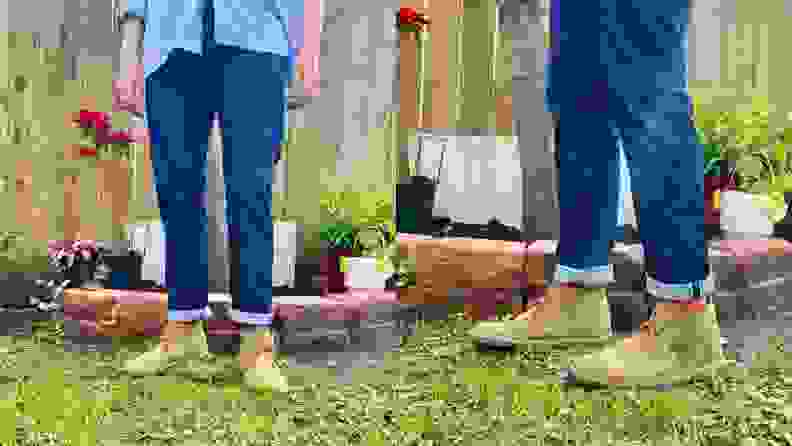 Although the Desert Boot is a well-made shoe, the flimsy suede leather upper could be sturdier, and the soles grind down rather quickly with wear. Replacing the sole is possible, but can be a hassle for a cobbler because its midsole, which is also crepe, is glued to the uppers and stitched down to the outer sole. You're probably looking at a $100 resole job, which will likely not come out how you prefer due to that glued midsole. Plus, at $100 you're almost at a new pair. Yes, I've owned my pair for a decade, but I still prefer a boot that I know can extend the life of with a resole, like a Red Wing or Blundstone, though I understand that for some, $150 is an investment in itself. Clarks Desert Boots also are best for those with flat feet, as they offer little arch support.
Speaking of soles, even a brand-new one offers almost no traction on rainy streets and smooth floors. On more than one occasion, I had to catch myself from slipping while traversing a slick crosswalk. Falling hurts, but almost falling is terrifying.
Finally, for a company that's over 70 years old, one potential downside of the Desert Boot is its ubiquity. If you prefer to stand out in something unique, you'll have to dig deeper, as finding a pair of these chukkas out in public is no game of Where's Waldo.
Are Clarks Desert Boots worth it?
In short, the answer is yes. Clarks Desert Boots are as stylish as they are comfortable enough to wear for long periods of time. At $150, a pair won't set you back too far, and many people are happy to wear them into the ground before buying a new pair rather than going through the hassle of sending them into Clarks for a resole. These boots go with everything and can be dressed up for more formal occasions if needed.
However, I personally view the Desert Boots as a good starter pair. Plenty of options from other brands offer their own takes on the chukka design using better materials and with more interesting details, like Red Wing and Huckberry. Still, these Desert Boots stir a certain nostalgia for me, recalling a time when I was in college and wanted to revamp my style—back when I didn't have the gritty confidence of Police Lieutenant Frank Bullitt—let alone the money for a new tricked-out Mustang—but just enough for investing in a new pair of boots.
The product experts at Reviewed have all your shopping needs covered. Follow Reviewed on Facebook, Twitter, Instagram, TikTok, or Flipboard for the latest deals, product reviews, and more.
Prices were accurate at the time this article was published but may change over time.
Clarks Desert Boot

Pros

Comfortable to wear

Easy to style

Great starter chukka

Cons

Slippery soles

Not durable